Top 10 UI UX design courses to take now: free and paid (UPDATED)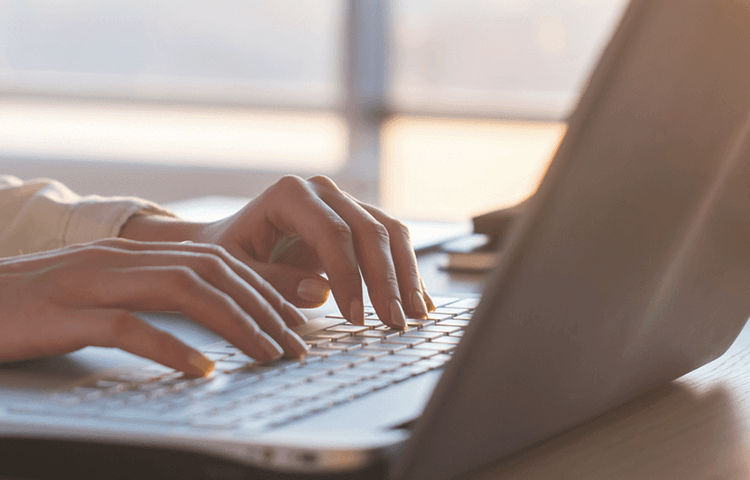 Looking to get ahead in your UI/UX design career? Look no further. We've gathered the best of both online and in-classroom courses to boost your CV!
User experience is hot right now. 20 years ago, no one except Don Norman had heard of UX. These days, not only has everyone heard about it, but sometimes it feels like everyone and their mom is a UX Designer. But, as most established User Experience professionals will tell you with a sigh, getting into UX is far from easy and requires time, effort, expertise and investment.
---
Get to grips with the Justinmind prototyping tool – a great skill for any UI/UX designer CV!
---
Even if your agenda doesn't allow for a return to full-time study, enrolling in an online UI UX design course can give your user experience career the kickstart it needs. If you're looking to get into or improve your visual or interaction design skills, there's a UI design course out there for you. But why stop there? A great UX design course will help you integrate your UI design knowledge with what it takes to help users accomplish their goals.
And it doesn't even have to cost the earth. The Justinmind team has rounded up the top 10 best UI UX design course providers right now – free and paid!
Bonus courses! We updated this post in 2019 with even more UI UX courses. Here's what you'll find in this post:
Face-to-face UI/UX courses in the United States
In-classroom UI/UX courses in Europe
In-classroom UX courses in Asia
Online UI/UX courses
1. Top UI UX design courses at the Interaction Design Foundation
There's a lot of buzz around the Interaction Design Foundation's courses and resources – even Don Norman describes the Scandinavian-based outfit as "a goldmine of information on interaction design", which is a pretty good recommendation. And the numbers are just as compelling: over 1000 universities use IDF resources and almost 140 companies are signed up to their learning materials.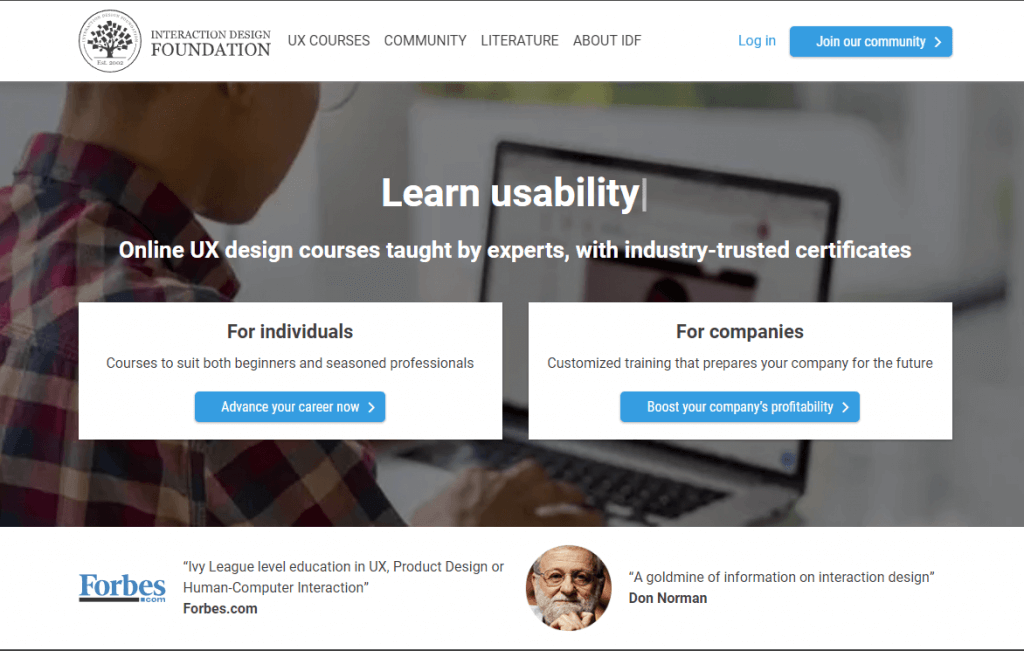 So what do they do that attracts so many people? Variety and depth. IDF offers 34 UX design courses, all online and self-paced, in a range of user experience based topics – from the classics like Human-Computer Interaction and User Experience: The Beginners Guide, to specialized offerings such as The Psychology of Online Sales, and User Research: Methods and Best Practices. All of the courses are instructor-led, feedback on work is given, and there's a lively community of fellow learners to talk shop with.
Price point? IDF courses are "free to members"; IDF annual membership starts out at around $13 a month. Get your online UX certification now!
2. Springboard
Springboard promises to take you from total beginner to luanching a UX portfolio. Their course covers user research, UX fundamentals, tools and methodologies and building a winning portfolio. In two months you'll be ready to apply for that first UX job. Plus you'll have regular access to a UX mentor who will guide you, and plenty of chances to build online networks with other Springboard UXers. A good beginner introduction for newbie UXers.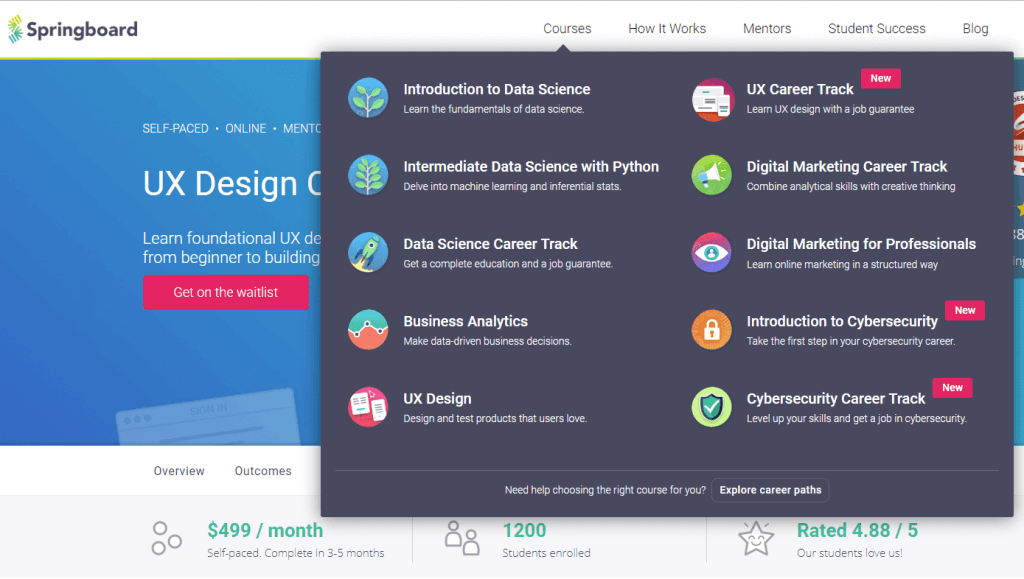 Price point? $499 per month of the 2-4 month self-paced course
3. The School of UX Design
UK-based School of UX Design has some amazingly attractively priced courses. The courses cover everything from visual storytelling and design thinking, to chatbot design and usability reporting. Most of the offerings last around 3 hours and are held in London in-person. But don't worry if you're based Stateside! You can purchase a video recording of the course you're interested in. Everyone, including PMs, BAs and developers, are encouraged to get involved.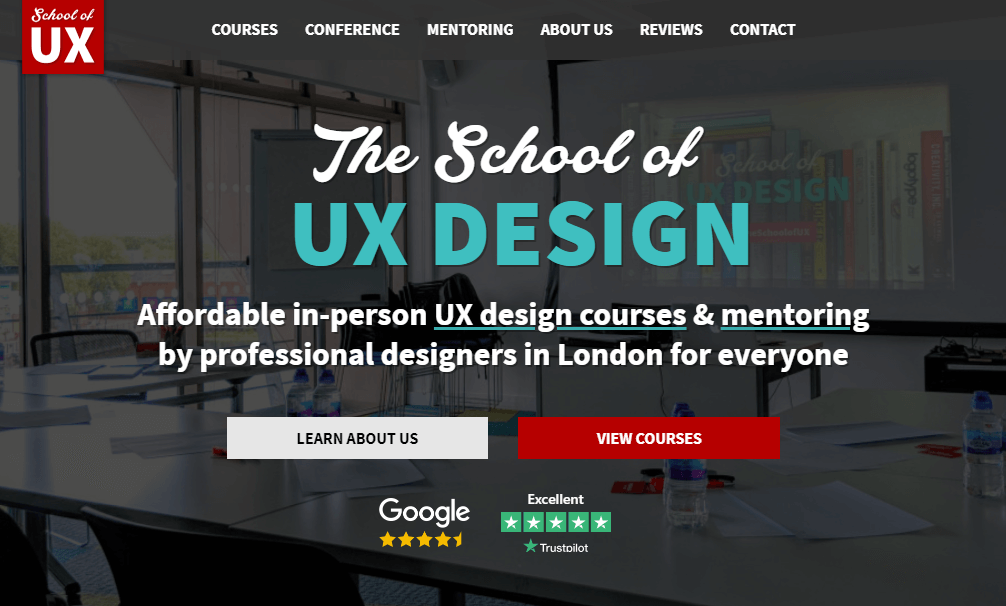 Price-point: From 29 GBP
4. Career Foundry's awesome user experience course
Career Foundry claims to be able to take you from UX zero to hero in 3 months, with courses that convert you "from beginner to working professional". They even offer you a 100% refund if you don't get a job you love within 6 months of graduation. With that kind of safety net it's definitely worth checking out their course offerings – pick from Web Developer, UI Designer, UX Designer or iOS Developer. The UX design course provides you with access to both a tutor and a mentor, who help you work through 60+ practical challenges and teach vital skills in prototyping, user testing and design. At the end of the course you'll have designed and tested a complete web app, and have an interview-ready portfolio to show to potential employers.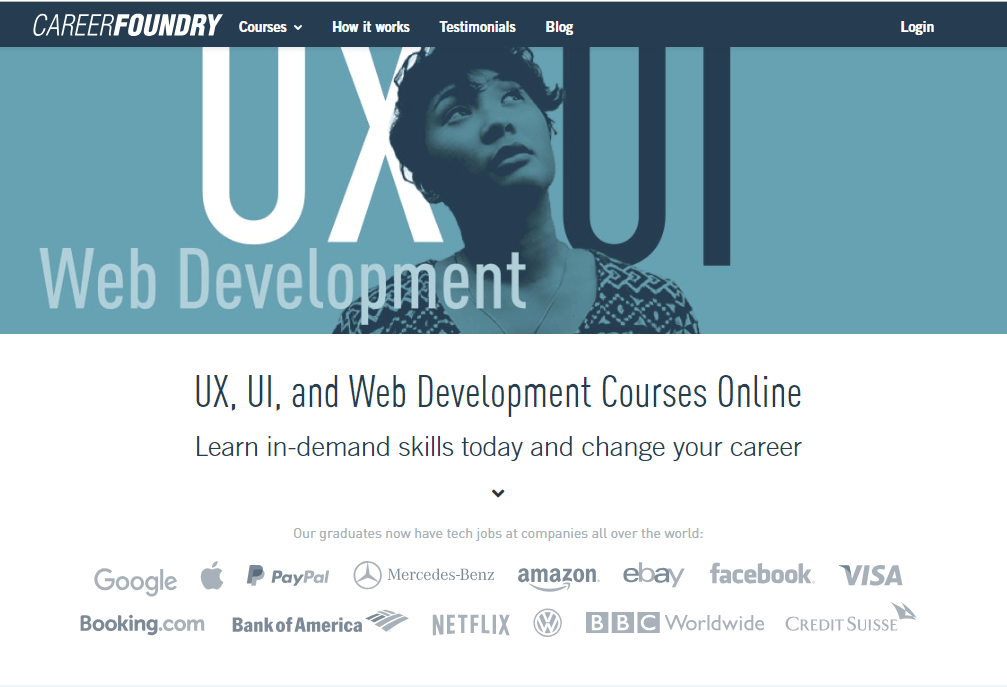 Price point? 1 course of 6 months comes home at $2499
5. HackDesign's UX design course for user experience newbs
HackDesign is one of the best online resources for budding UXers. Billing itself as an "easy to follow design course for people who do amazing things", HackDesign's course is basically made up of the best existing resources out there on the web, organized systematically to direct your learning. HackDesign delivers weekly lessons to your inbox, with input from some of the biggest names in UX and interaction design – think the likes of Nir Eyal, Luke Beard and Grace Ng.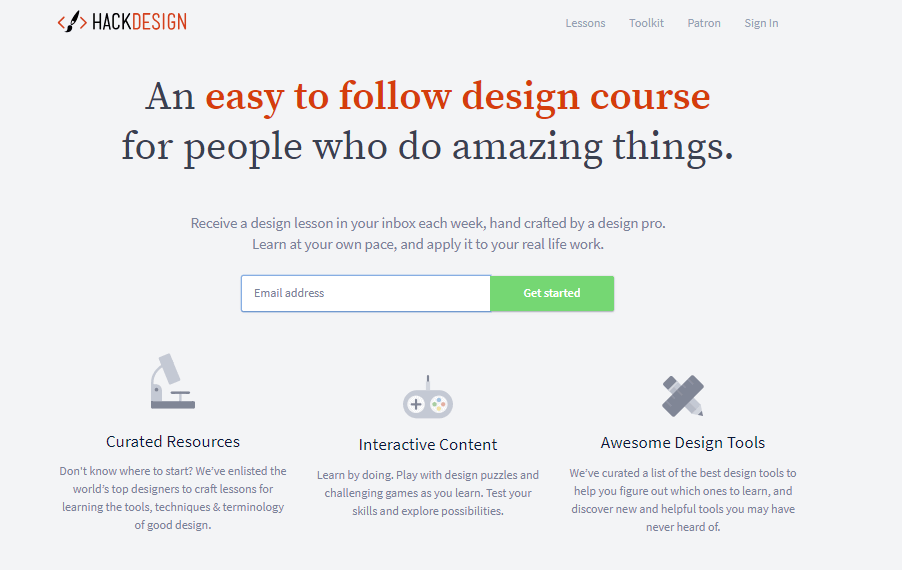 Lessons are engaging and unexpected, with interactive content allowing you to test your learning and explore possibilities. The first week's content delivery sees you watching design documentary Objectified, which aims to "get you amped up on the potential product design has to make a positive impact on people's lives." Following weeks include resources on the user interface, interaction design and product design.
Price point? And the best part? It's totally free.
6. Web design and UX design course selection at Treehouse
Treehouse is a tech geek's dream come true. Focused on "the democratization of technical education", the learning platform provides over 200 courses in everything related to web development and software design. Their UX Basics course is based around over 2 hours of video classes, with exercises and quizzes to consolidate learning. This is definitely an introduction to the basic tenets of UX, so doesn't cover topics like prototyping, but it's a good start and contributes to an important online UX certification.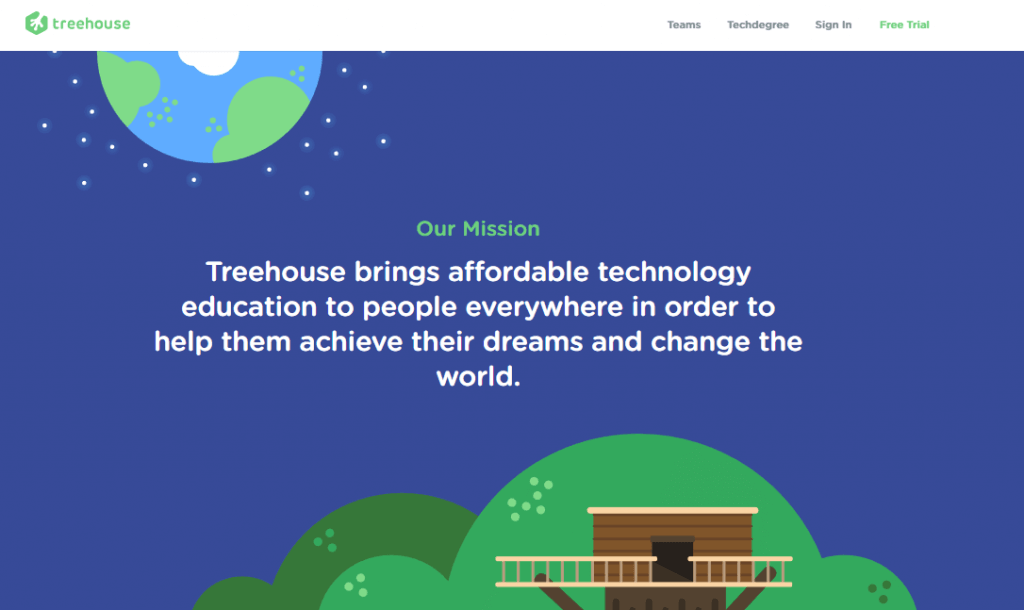 Price point? Starting from $25 per month for a Basic Plan, up to $199 to go Pro
7. UI UX design courses at Skillshare
Less a traditional course provider and more a community for mutual learning, Skillshare allows you to be both teacher and student. Platform members attend online classes, create online portfolios of their work, take part in discussions and debates, and can even earn cash by stepping into the teacher role. Classes cover subjects such as HTML, web development, prototyping and, of course, UX Design: you can choose to specialize in User Interface Design, Moving from Graphic to UX Designer, or other career-focused short courses. The courses range from 1 to 12 hours in length and are delivered as friendly bite-size chunks, meaning even busy folks can fit in study time.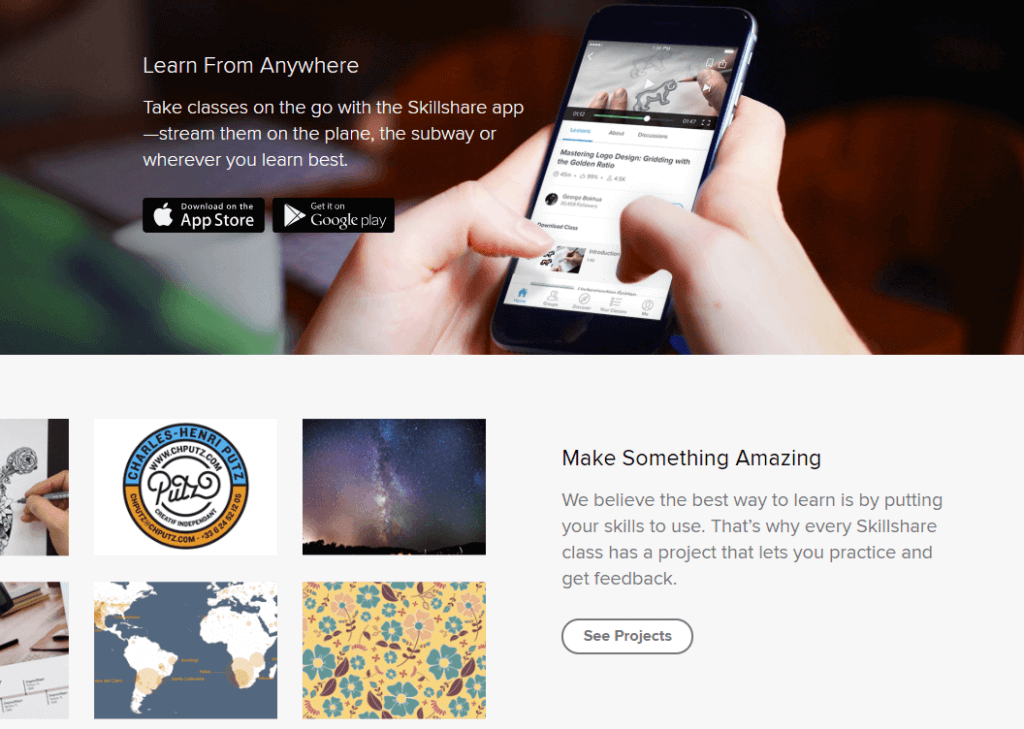 Price point? $12 a month or $8 for the annual membership.
---
Pair your UI UX design course with Justinmind to boost your UX career
---
8. Choose from the ID, IA and UI design course range at Coursera
The grandaddy of MOOCs (Massive Open Online Courses), Coursera works with some of the world's most renowned universities to bring their courses to the masses. Pretty much anything you want to study, Coursera has it, be it electrical engineering, Mandarin Chinese or Kierkegaard. Their UX related courses are solid, ranging from UI Design and Interaction Design to Information Architecture and Design Thinking. You'll be learning from the guys at the top of industry, with the University of California San Diego, Princeton and Johns Hopkins all delivering classes on Coursera. The video modules are supplemented with online exercises, to make sure you're paying attention.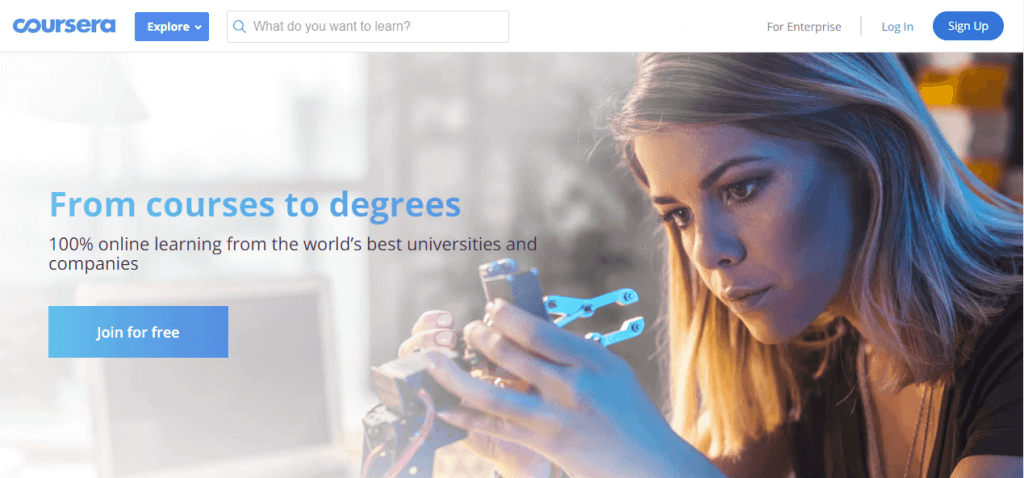 Price point? At the moment all courses are free, with the option to pay to join the 'Signature Track' for extra benefits.
9. Top UI design and UX design courses at Designlab
If you're looking for a UX UI design course with interactive elements, then Designlab is your site.  Expert mentors from sites such as Basecamp, Dropbox and Nike guide you through interactive projects and give you detailed feedback on work; you even get a weekly Skype session with your mentor to talk about your progress. You can choose from two tracks – UX Research and Strategy, or Interaction Design – and a Prototyping and Testing track will be coming soon. Whichever option you choose, you'll be expected to create professional standard deliverables and to get your hands dirty on projects.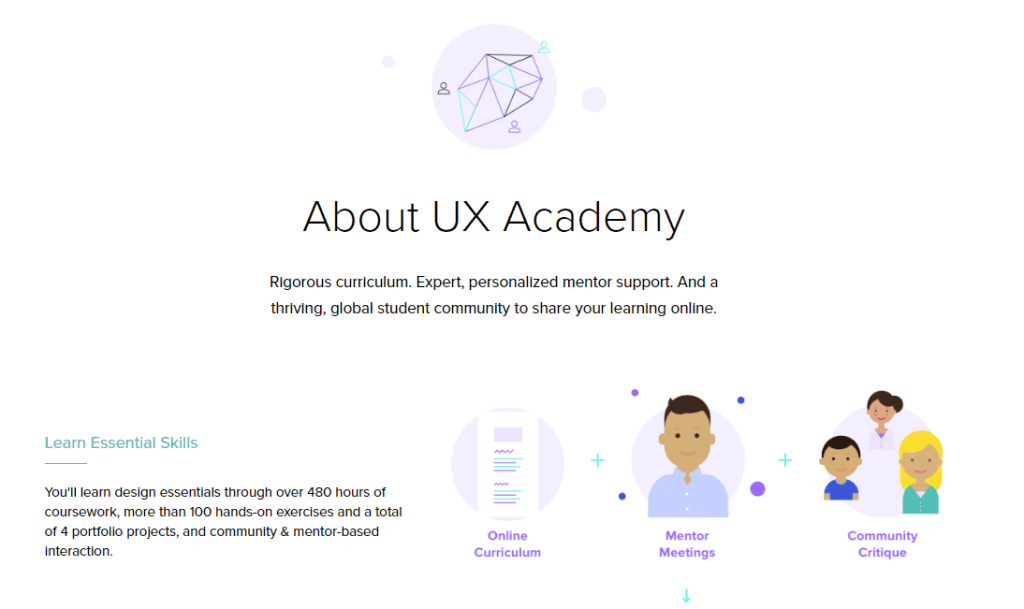 Price point? Expect to spend around $300 per 4 week course
Don't miss our interview with Basecamp Designer Jonas Downey!
10. Udemy's UX courses
Udemy is like a hive-mind of all things tech and professional development: instead of culling courses from established universities, the platform allows experts to create and offer their own courses, either for free or paid. Of course, this model means that you have to be careful which course you plump for, but reactions from Forbes, Mashable and Fast Company have been positive. Udemy's UX design courses provide arching overviews of user experience, intended to set you up for a professional start in the industry.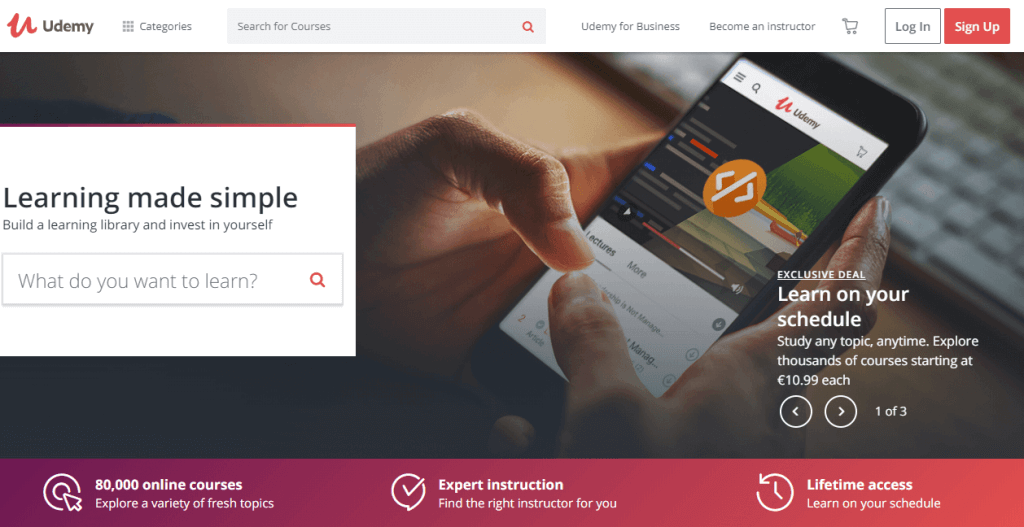 Price point? Pay per course, from $19 and skywards
In-classroom UX design courses across the globe
Face-to-face UI/UX courses in the United States
1. UX certificate in the American Graphics Institute
This UX course stretches across several weeks and covers all things UX-related. Special attention is given to touch-sensitive design, although students learn to use different tools of the industry and cover design for all sorts of devices. New courses start every 30-45 days, which gives potential students plenty of room to plan and enroll. You can start the course directly in the Boston campus or online – although not all classes of the certification are available online, which makes being in Boston a must.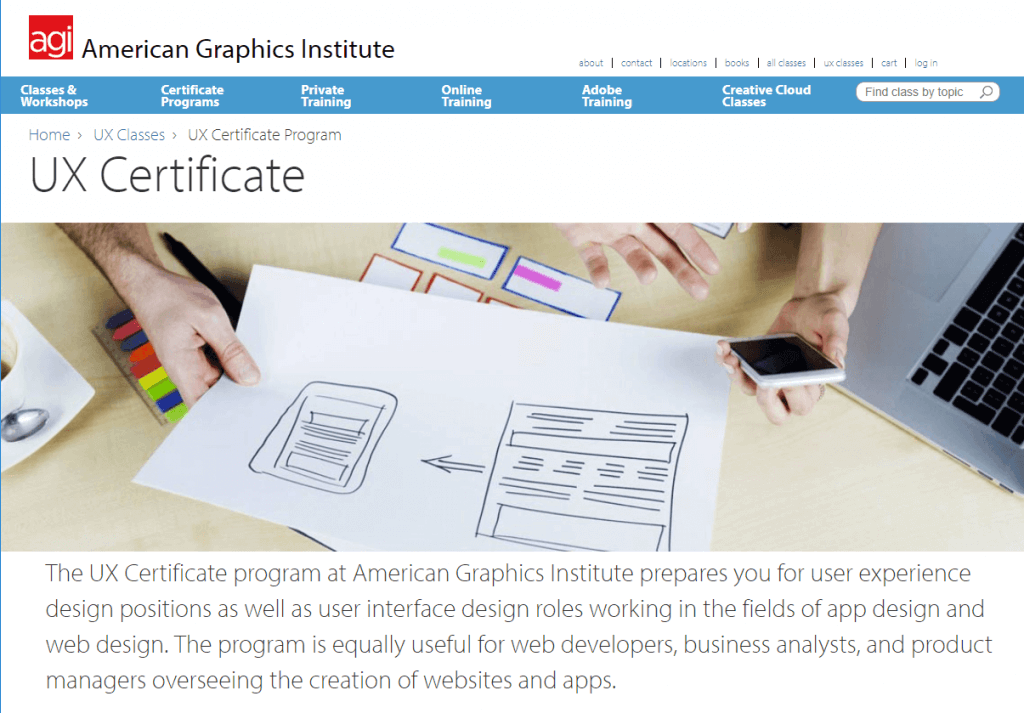 Course duration: 5 weeks
Tuition fee: $4,800
Place: Boston, MA
Check the official webpage
2. UX certificate in Bentley University
Students are required to take 3 mandatory courses, which focus on central UX design aspects such as usability testing, as well as 6 extra courses which are chosen by the individual student. This allows students to focus on any particular area or expertise they like, while still covering the important basics. You can check out the full list of available UX courses here. Courses can be taken in the classroom or remotely.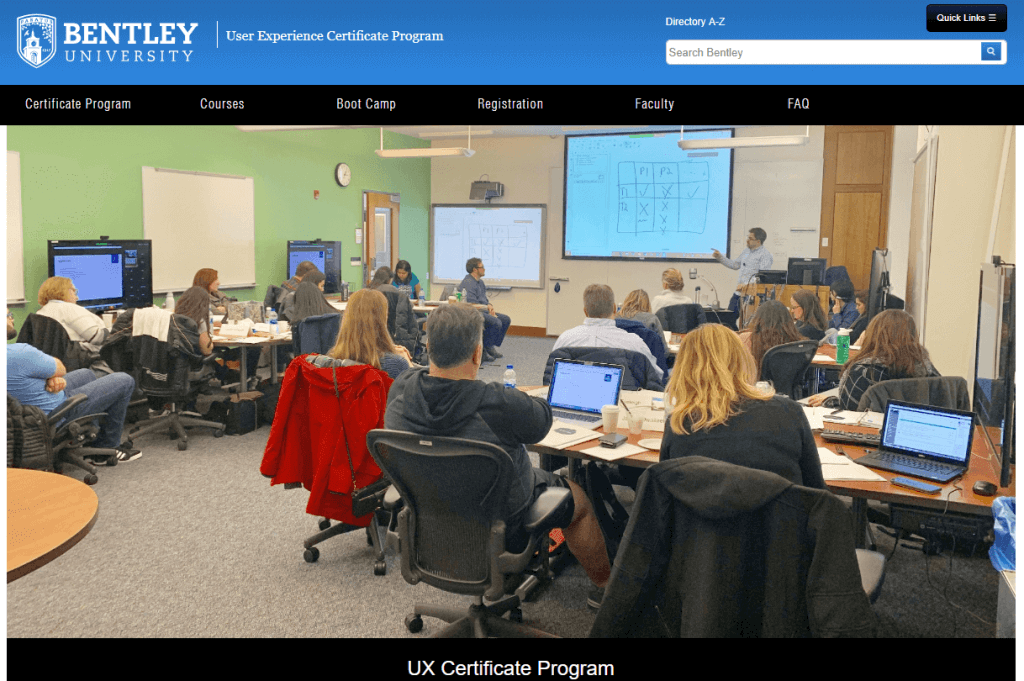 Course duration: approximately 1 year
Tuition fee: $1,400 per course
Place: Waltham, MA
Check the official webpage
3. UI/UX Bootcamp at Flatiron School
This program may be a Bootcamp but it's quite long and complete in its syllabus. The program lasts for 24 weeks – and students receive help from the school with landing a job once they finish the UX course. Classes are divided into online and in classroom, with both focusing on hands-on practical learning. Check out how the course is split up into different sections here.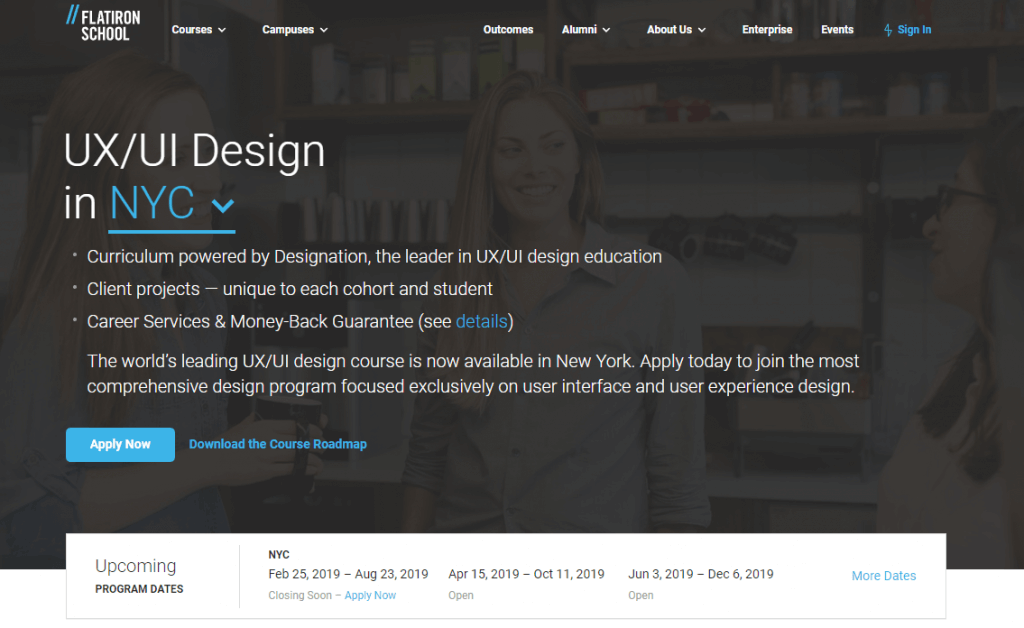 Course duration: 24 weeks
Tuition fee: $17,000
Place: New York, NY
Check their official webpage
4. UX Design certificate at Eastern Washington University
Students who graduate from this certificate will have not only solid knowledge about UX design, but will also know other aspects of design that other schools might overlook. For example, students here will learn about classic usability issues but will also have classes on HTML and coding.
This UX course comes with some admission requirements that other programs on this post do not – but it would still be worth the extra trouble! According to their website, Eastern Washington University establishes that students must have a GPA of at least 3.0 from their previous school – those who fall short of the 3.0 GPA can be admitted but on a probationary basis and will need to pass a readiness test in order to be fully admitted.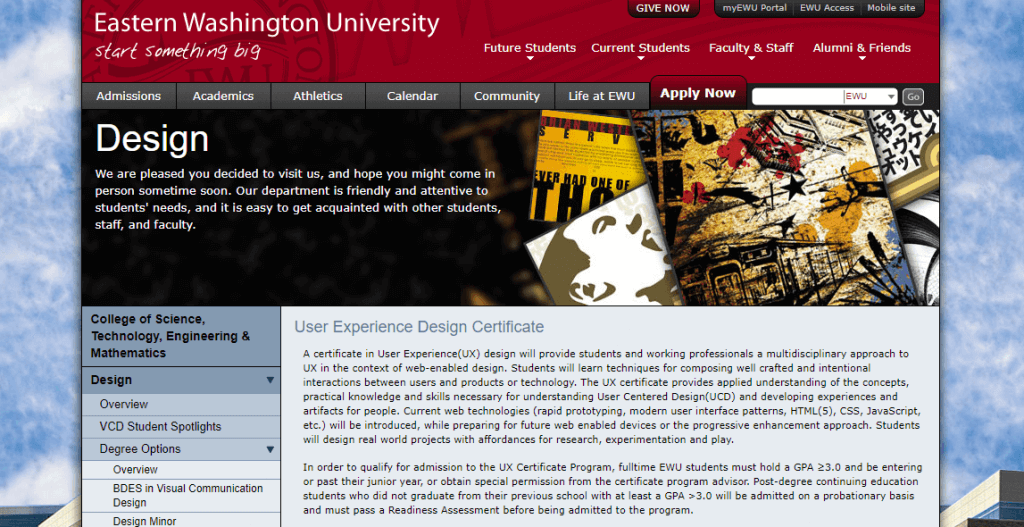 Course duration: available upon request
Tuition fee: available upon request
Place: Cheney, WA
Check their official webpage
5. UX course at Brainstation
We love that this program offers its students a self-paced prep-course so that everyone already has the bare basics of UX design before they actually start the UX course. The actual UX course touches everything from responsive design to user research and strategy. Every project you work on during the course becomes another piece of your final portfolio. A nice plus is that students get to be interviewed by real-life UX recruiters and receive feedback on their performance.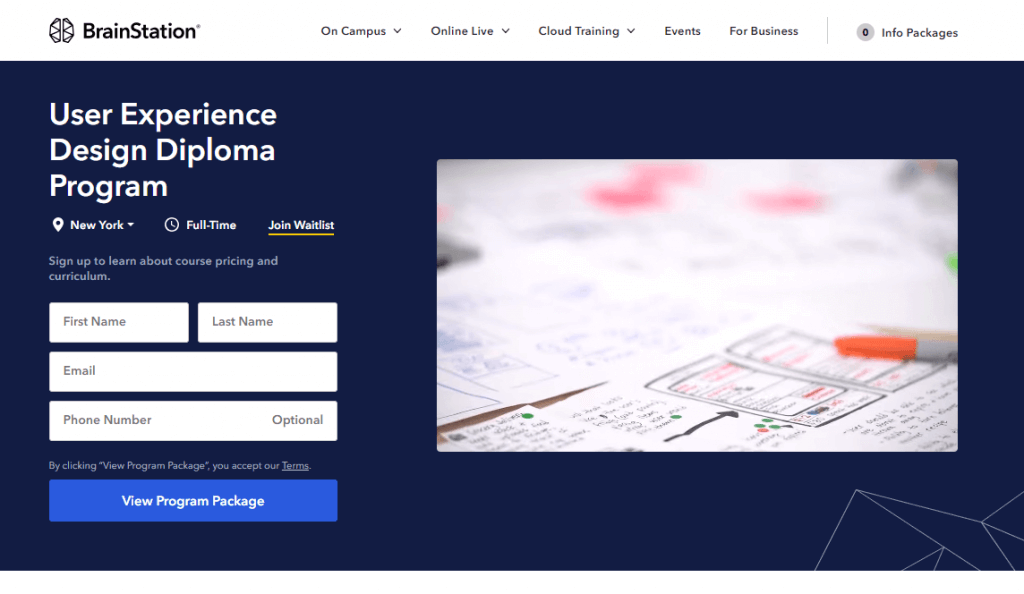 Duration: 12 weeks
Tuition fee: available upon request
Place: New York, NY
Check their official webpage
In-classroom UI/UX courses in Europe
1. UI/UX, prototyping, coding and portfolio course by School of UX
This UX course only lasts for 5 days but offers students a large amount of knowledge in that short time span. Aside from working with prototyping tools with students, the School of UX focuses on coding and HTML for an entire day of the course. The course is suitable for complete beginners, which makes this perfect for those who are starting out and aren't too clear on the basics.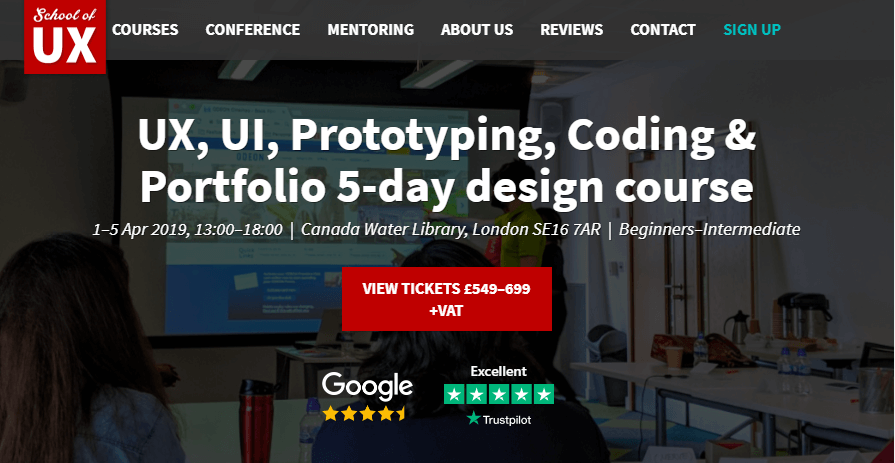 Duration: 5 days
Tuition fee: £699 + VAT regular ticket
Place: London, UK
Check their official webpage
2. UX course by General Assembly
This UX course is a true immersion into the art of UX design. Students get their hands dirty with design projects with the help of top professionals in the field – with topics like prototyping, testing, teamwork and collaboration are all covered. The course checks all the boxes: a complete syllabus, career services and job preparation.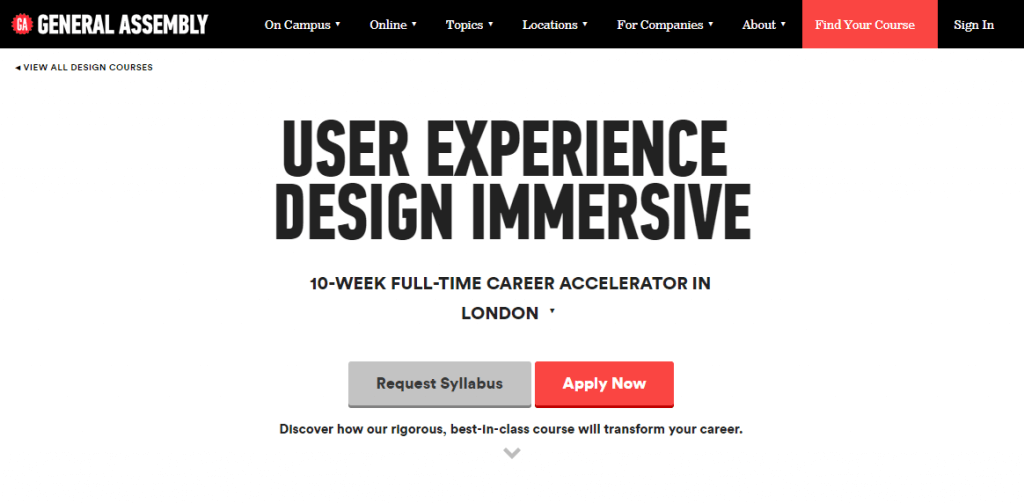 Duration: 10 weeks
Tuition fee: £9,000
Place: London, UK
Check their official webpage
3. Master of Arts in Visual and Experience design at the University of Applied Sciences Europe
As you can image, this UX course is more demanding as it's a full post-graduate degree. Entry requirements include having completed a Bachelor's degree in a related field of study and proof of sufficient knowledge of the English language. The UX course offers some great bonuses to students, such as international field trips and a top-notch scientific lab that would make most UX designers swoon with joy.
Duration: 1 year / 2 semesters
Tuition fee: available upon request
Place: Berlin, Germany
Check their official webpage
4. UI/UX course with Ironhack
The course is divided into 3 modules, and offers students an entire week of career development – you can expect workshops on interviewing for UX jobs, portfolio preparation and plenty of job hunting advice. The program is full-time, with students studying every day from 9AM-6PM. Ironhack offers this same course in several european cities, with slight variations in the tuition fee depending on which campus you choose.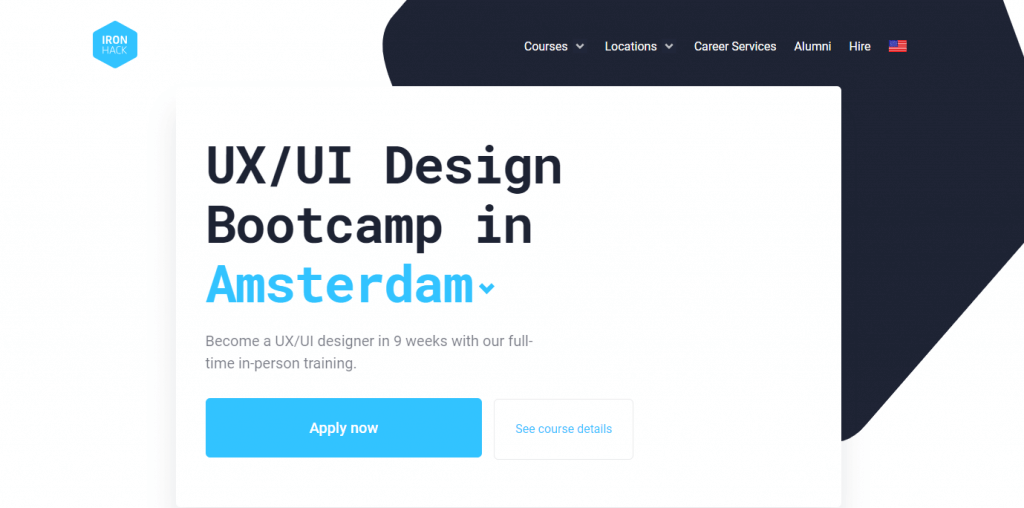 Duration: 9 weeks
Tuition fee: €6,000 (in the Amsterdam campus)
Place: Amsterdam, Netherlands
Check their official website
5. Masters of Science in UX design by the University of Brighton
Students have the option of pursuing this UX course full-time or part-time – working students, rejoice! This program covers all the basics such as interaction design or research methods for UX – it also places students in the shoes of project managers with a large project that stretches throughout a large part of the course. Students also get to choose several optional modules, opening the door to a personalized education depending on your goals.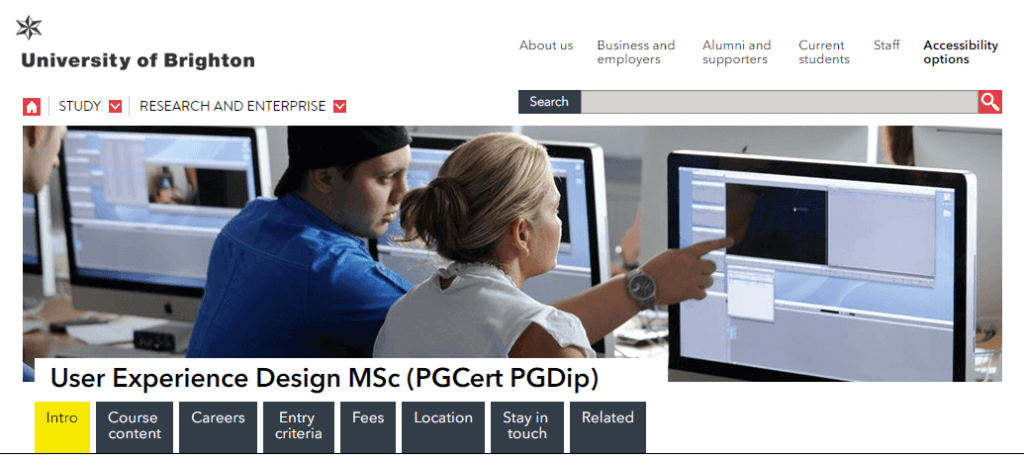 Duration: 1 year (full-time)
Tuition fee: £6,426 (for UK citizens)
Place: Brighton, UK
Check their official webpage
In-classroom UX courses in Asia
1. Interaction design specialism course at Hong Kong Polytechnic University
This program is meant to act a postgraduate degree to those with a Bachelor in a related field. The university encourages people with a background in psychology, visual communication or any sort of design to apply for the course should they desire to make a change in their career. Classes are during daytime on weekends. Students must take the core courses which cover central aspects of UX design but can also choose from a list of selective classes.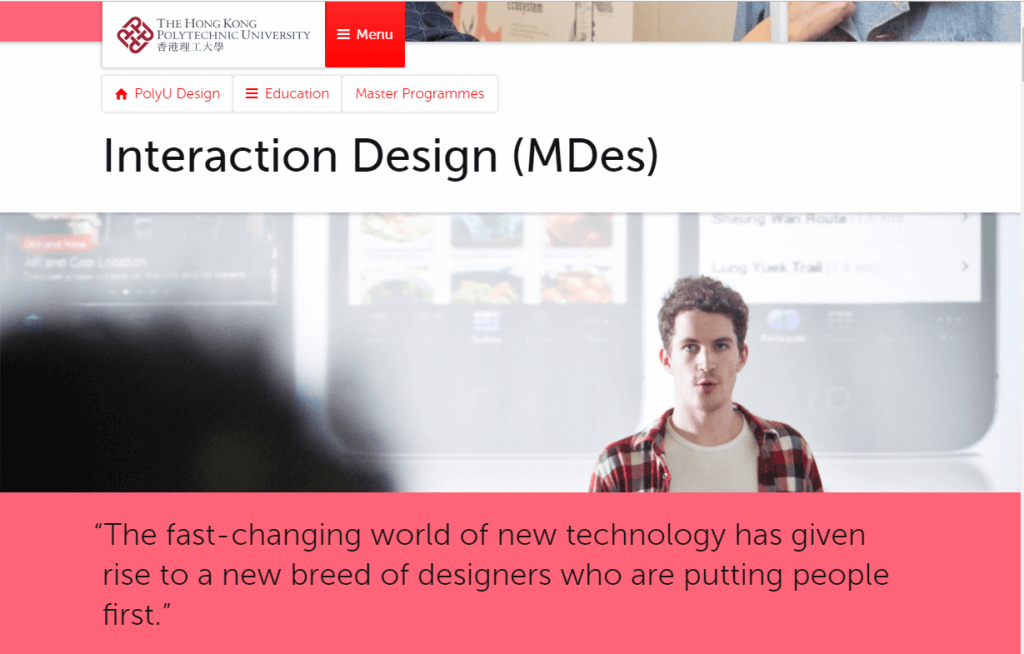 Among the entry requirements you'll find letters of recommendation, Bachelor's degree certificate, letter of intent and proof of English.
Duration: 1 year
Tuition fee: HK$162,000 (local) / HK$183,600 (non-local)
Place: Hong Kong, China
Check their official webpage
2. Digital user experience design course at the National University of Singapore
This UX course is slightly shorter than its counterparts, lasting for only 3 days. It's meant to be an introductory course, which makes it a perfect fit for those who are just getting started in the world of UX design. Students will use case studies and hypothetical scenarios as well as hands-on workshops.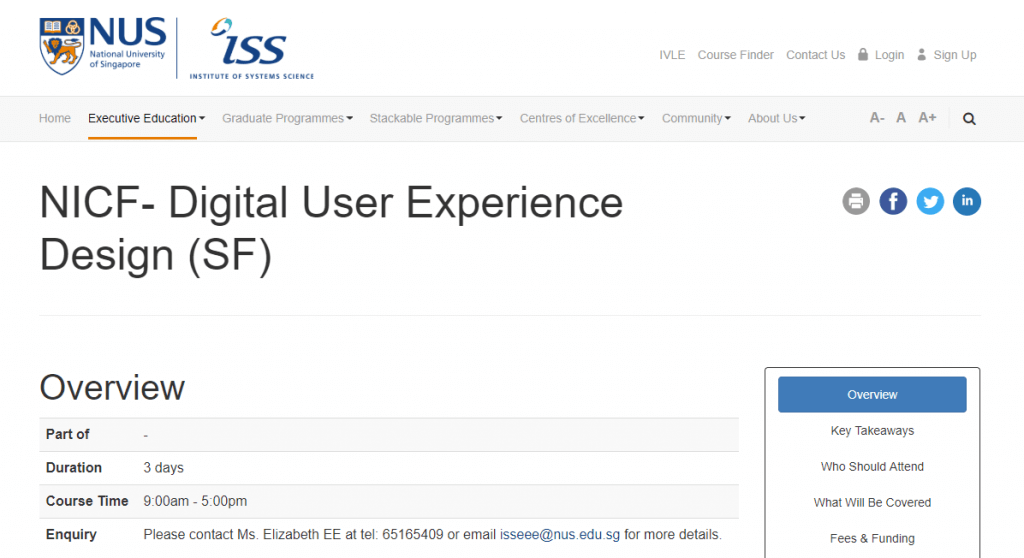 Duration: 3 days
Tuition fee: S$2889 for foreigners / S$866.70 for locals
Place: Singapore, Singapore
Check their official webpage
3. Specialist diploma in UX and digital design at Singapore Polytechnic
This UX course got our attention because it's 2 separate post diploma certificates in both UX design and digital design – students pursue one certificate per semester, for the total of one year of the course. All applicants need to have a Bachelor's in a similar field or be able to demonstrate the equivalent work experience.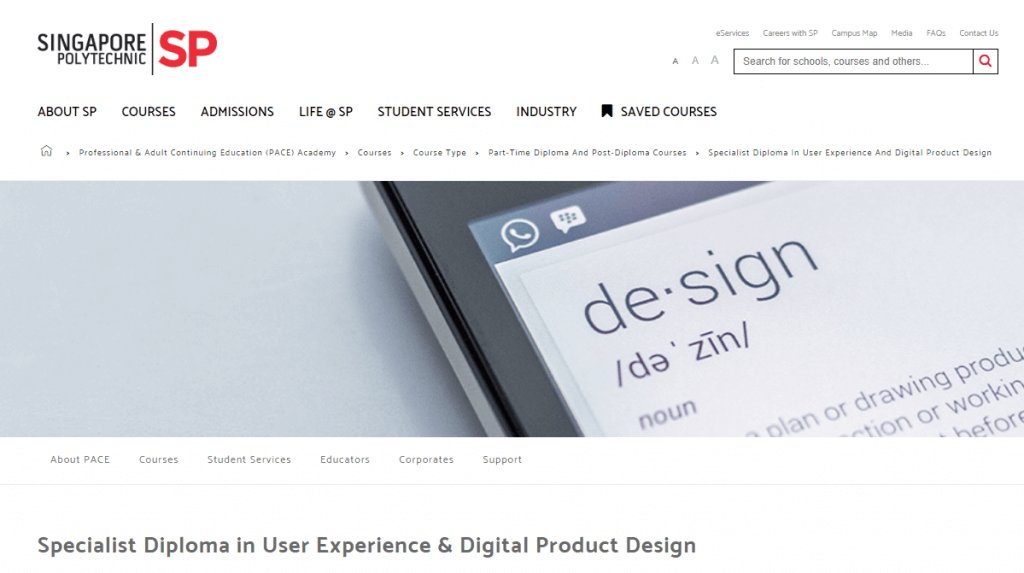 Duration: 1 year
Tuition fee: $5,418.48 for foreigners (check other pricing on website)
Place: Singapore, Singapore
Check their official webpage
4. Interaction design/UX course in the Indian School of Technology Bombay
This course covers basic design concepts such as Typography while also touching on current trends in UX design – with special attention given to interface design. All students have access to the school's tech lab, with encouragement given to students who wish to pursue more than one course. This is an extensive course, which means a lot of ground is covered – with plenty of selective classes available. Students are also required to create and present a large project that will work as an example of the knowledge the student gathered from the course. Sounds exciting, doesn't it?
Duration: 2 years
Tuition fee: available upon request
Place: Mumbai, India
Check their official webpage
5. Certificate in UI/UX design in Arena Multimedia
This UX course offers its students a great deal of flexibility as classes are held for 2 hours/3 days a week – but each student has the option of increasing those hours and complete the course faster. Students can expect workshops, lectures, career seminars and so on. Topics covered include classics such as Information Architecture and usability testing aside from focusing on developing student's visual abilities.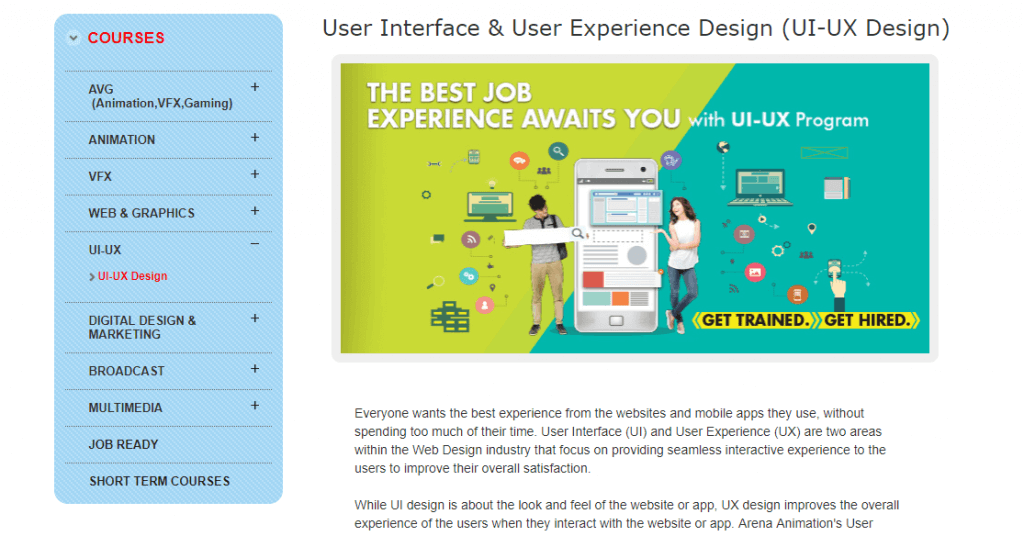 Duration: 11 months
Tuition fee: available upon request
Place: Bangalore, India
Check their official webpage
The wrap up
UX design is a field that keeps evolving and attracting fresh talent – and there is no shame in jumping aboard now! These UX courses have the power to give you that extra traction needed if you're changing career lanes or to develop on what you already now. Elevate yourself to a full expert or manage enough experience and credentials under your belt to get your foot in the door. What really matters is that you'll be learning valuable knowledge that will help you build on your future as a great UX designer!

FOUND THIS USEFUL? SHARE WITH
Cassandra Naji
Cassandra is Marketing Lead at Justinmind
Related Content
Card sorting: your complete guide

Card sorting is a simple, yet powerful technique for improving the overall intuitiveness of your website. In this guide, find out how you can use card sorting to improve your website's information architecture and see our list of the best online tools to get the job done.

A/B testing tools: the top 14 in the game

A/B testing tools are all about letting the numbers speak for themselves. But between all the available options, which A/B testing tool is right for you?