20 must-see user persona templates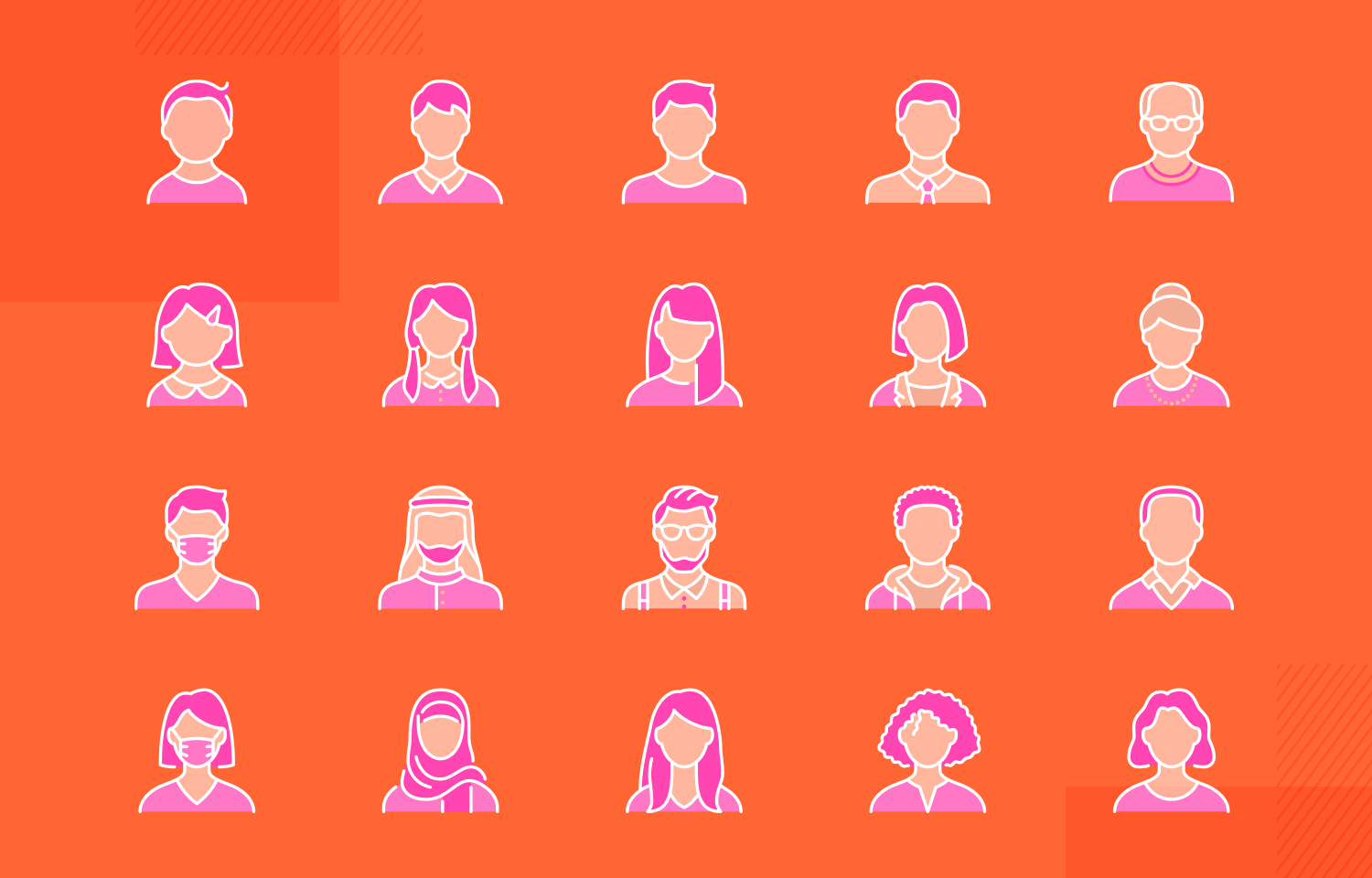 User personas are essential in helping you design your website or app to meet the needs of your users. Here are some user persona templates you must see!
User personas are now widely recognized as being an integral part of the user experience. Everyone involved in each stage of the development process should be invested in the personas, from stakeholders and designers to developers – who we'll refer to in this post as "end users".
However, creating user personas can be time-consuming and requires some good old-fashioned rolling up your sleeves and getting your hands dirty with empirical data. Choosing a design that not only complements your hard work but helps you get the most out of it is no trivial task either.
---
Start prototyping for your users today with Justinmind
---
Fear not though, because Justinmind is here to provide you with 15 of the best user persona examples out there, as well as to give you some quick tips on putting them together.
Make sure everyone's on board
The guys over at Nielsen Group emphasize that informing other departments about the extent of research that went into each persona is crucial, otherwise you risk having them seen as just a nice piece of fictional artwork, a by-product of the design process instead of the fulcrum.
But a persona is not a work space decoration – it's something to be used in every step of the design and development process. One way of keeping everyone on the same page is to involve the end users of your persona in its very creation, and to continue to request their feedback throughout the persona design process.
Another way is to ensure that you choose a user persona design that helps to convey the maximum relevant information possible, while being memorable and easy to scan. Once all the data is gathered, a great user persona usually looks like it was quite easily put together, even though we know this is far from the truth – a lot of thought must first go into the design.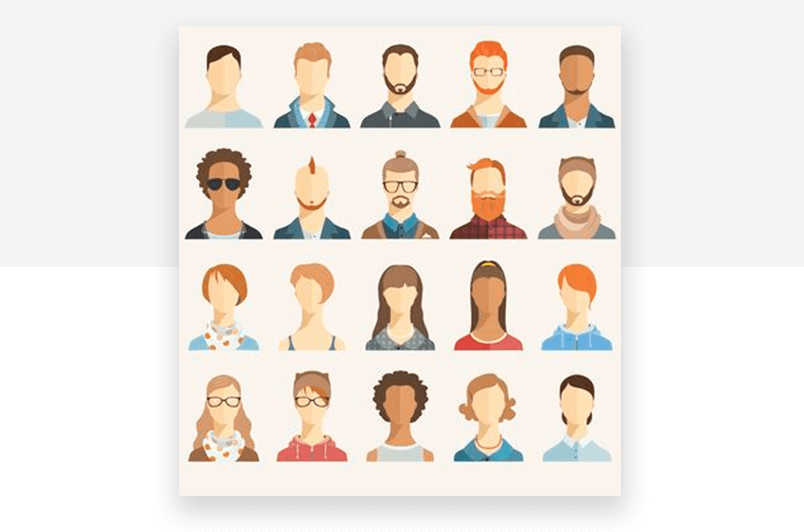 What to include in your user persona design?
When it comes to design, apart from some general best practices, there are no rules as to what your user persona should look like – the sky's the limit! The type of persona that best fits your purpose will be determined by what kind of app or website prototype you're designing, as well as the scope of your product, the userbase the persona template will represent and your company culture.
Keep in mind the effect you want it to have on whoever views it – you'll want it to be memorable. How much detail you choose to include depends on what's relevant, but the general rule of thumb is that less is usually more when talking about user personas.
One great piece of advice from Twistlab Marketing is that a user persona's design should ideally be based around the Pareto Principle, whereby they will represent that 20% of your userbase that will use 80% of your products' features, or that will account for 80% of your revenue.
When deciding what information to include in the persona template, bear in mind that while certain details might be relevant to one project, they could be irrelevant for another. Sometimes, depending on budget and time-restraints, a well-researched user persona is in order, whereas, in other cases, a lean persona template might suffice.
Whatever the case may be, you should always bear in mind that too much detail can suffocate a persona, make them boring and less memorable for the end user. You want something you can refer back to again and again through the design process, even as you put your favorite prototyping tool to good use. Below are some general best practices to keep in mind when choosing your user persona template.
Best practices:
Goals and pains should more-or-less take center stage. These are usually the key factors in coming up with your product design and development solution.
Try to make sure that your user personas don't overdo text – the simpler the better, as they will be easier for your end users to internalize their details and mindsets while the product is in development.
Try and make it as visually appealing as possible – you will have put a lot of work into your persona and you want it to stand out – using an attractive color scheme that's indicative of your persona's characteristics, as well as icons and graphics can help in understanding who they are.
Include psychographics – behaviors, attitudes, opinions, and motivations are what make your personas human.
Use an image of the persona. It can be a photograph, a cartoon or a sketch, but it must represent the person well in terms of age, lifestyle and occupation. Never – and we repeat – never use an image of a celebrity or someone from your company. If you do this, you risk creating a bias view of that persona.
Try to include brands. This secondary information can provide great insights into the user's likes and hobbies, which may even include competitor brands.
Maintain a unified design – it not only makes it easier to compare persona traits, but also makes it easier to recall the main facts about all of them.
Certain demographics can be useful, depending on the scope of your app or website. Where they live and their salary range are usually important factors to consider including.
Now you're ready to explore our selection of 20 great user persona templates and decide on which design best suits you purpose!
Our persona template of a UX designer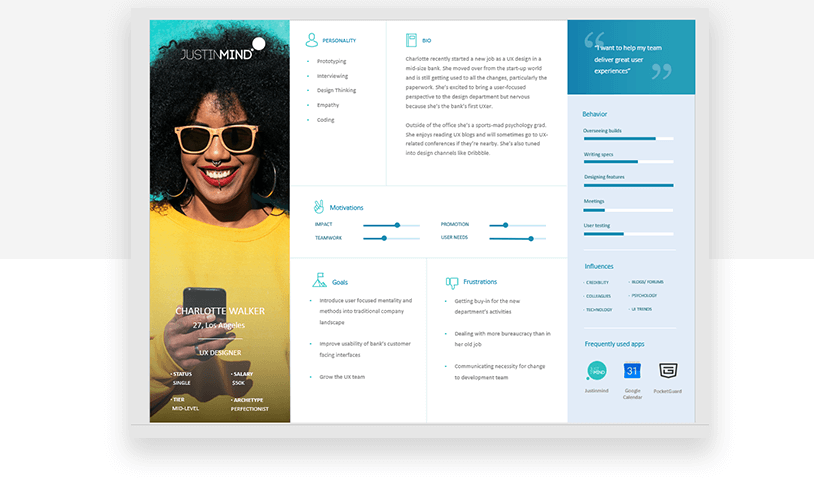 First up on the list is our template of a UX design persona. In this user persona template we've provided all the important demographic information on the left-hand side superimposed on a colorful photograph of our persona to give an instant impression of lifestyle and personality.
In our example, motivations are in the center to help the end user work towards a design that helps the persona achieve what they aspire to, while having the goals and frustrations close to hand to build a design that answers their pains.
---
Get the awesome free Justinmind user persona template. 
---
The bookworm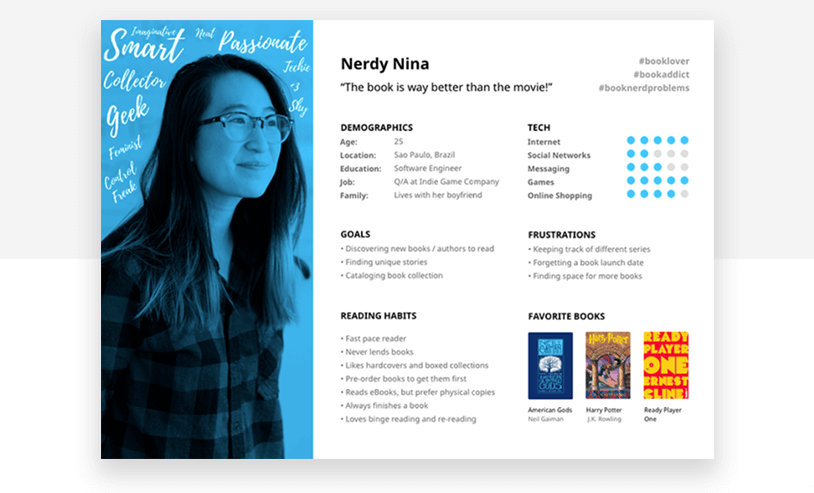 The principal aim of this user persona template from Ctrl Metrics seems to be to have a firm image of the user's essence: the emphasis is on the photograph with personality adjectives and nouns to sum the person up as succinctly as possible.
This persona template is a good example of how a nickname can provide a heap of information about a user. In this case, "Nerdy Nina" followed by a quote which could be thought of as a mantra for the end users to remember her mindset easily.
The overall layout is very clear and easily scannable with clever use of hashtags, infographics and even some examples of the type of books popular in her demographic. It fulfills the main aim of a user persona: to help the end user learn as much about a person in as little time possible.
The project manager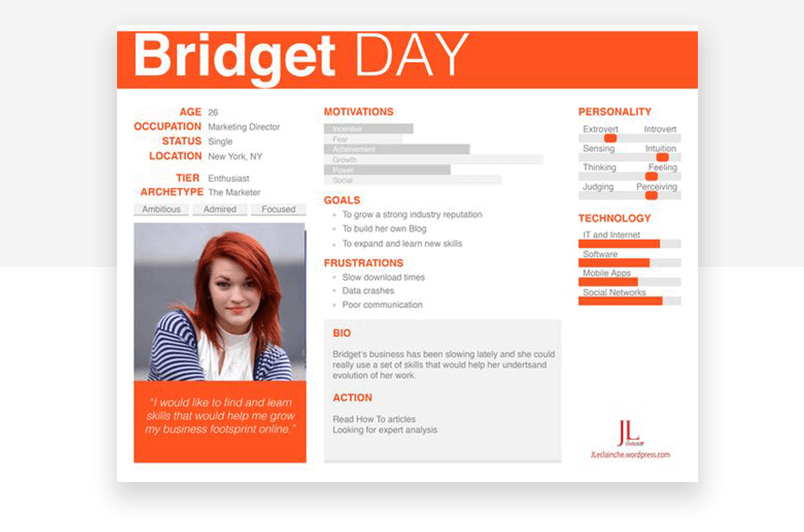 While being a little busier than the previous persona templates, this persona from Fake Crow is put together in such a way that the main characteristics jump out.
We like it because there's an attention-grabbing, bold and bright color scheme at play, making this person look interesting and vibrant.
Goals, frustrations and motivations take center stage and there are plenty of graphical representations to provide a quick overview at a glance.
The health conscious banker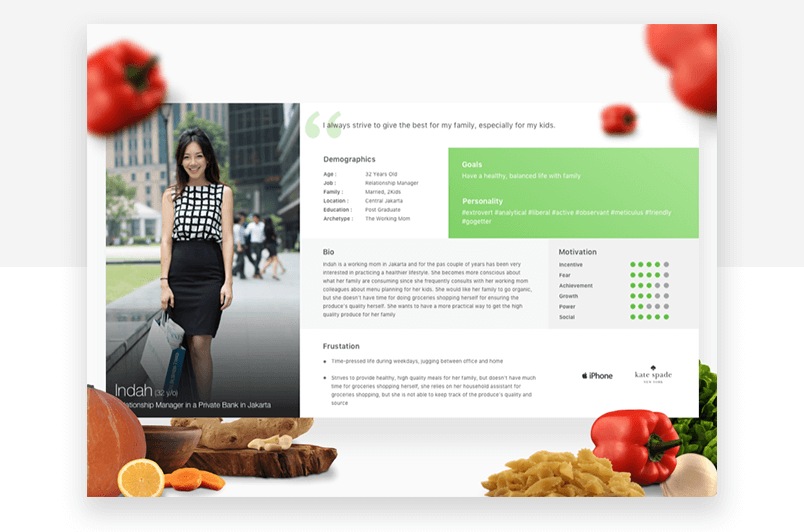 This persona template clearly illustrates what this 32-year-old mom of two is all about – food. This is very evident from the graphical images of ingredients that can be seen to be quite healthy. It is clear already, before reading any text, what is on her mind.
A quote at the top of the persona template shows what her core focus is – providing a healthy diet for her children. Money isn't an issue, but time is. The brand logos clue us in that she is a modern and fashionable consumer, possibly indicating that she isn't afraid to try new stuff in the kitchen.
The influencer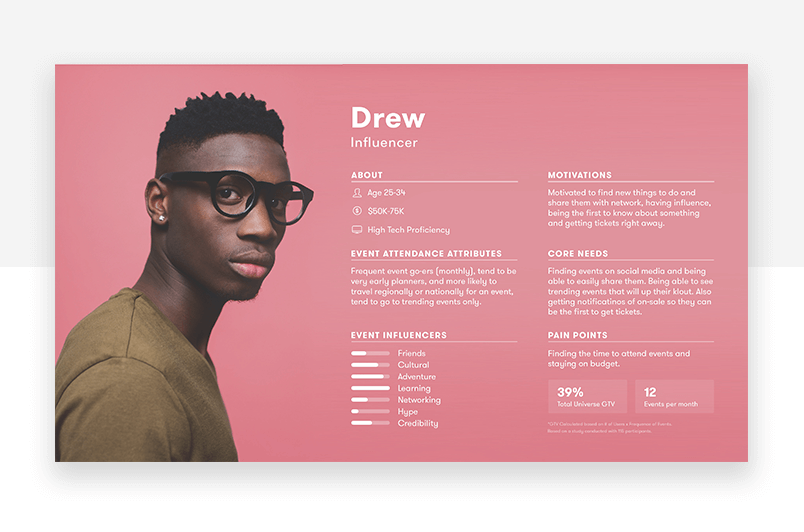 Here we have another great user persona template from Universe User Personas, using color to grab attention, with white font standing out against a pink background.
The end user is drawn in to the persona with the large image that places personality at the forefront.
What we like about this persona template is that there is plenty of graphical display using icons, large numerical representations and bar charts to offset the text which is succinct and gets straight to the point. Each section is clearly labeled for clarity and quick absorption of information.
The interior designer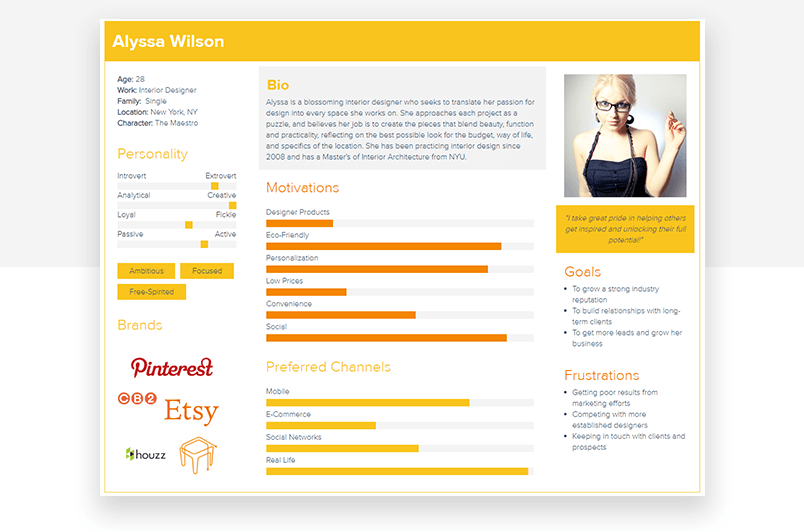 This persona template from Xtensio is all about grabbing your attention. Its loud yellow and orange color scheme screams for attention.
The photograph in this one is strategically located on the right of the persona template, drawing the eyes across the page, making the observer take in the whole page, before returning to the left-hand side to read the details.
A quote lies just under the photograph, helping the end user associate the persona's mindset and philosophy with her image.
The motivations and preferred channels stand out in a clear and colorful bar chart representation and the brand logos represent the user's browsing habits.
The UXer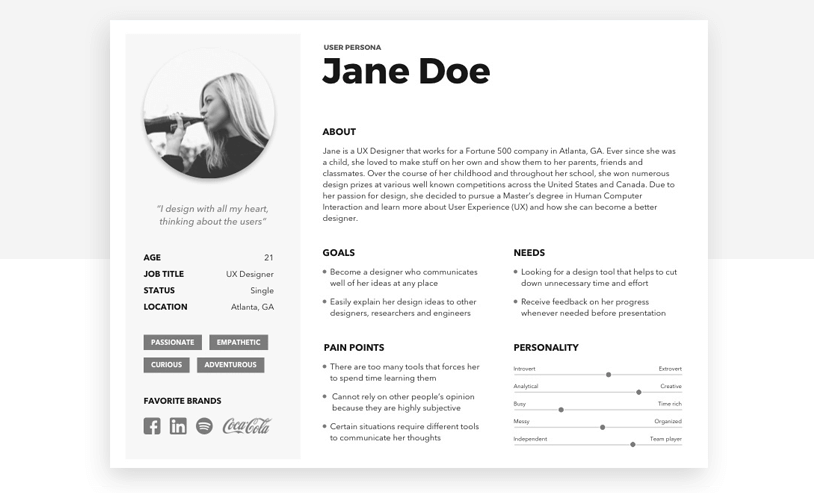 Jane the UXer is an interesting take on the persona. This persona template helps demonstrate the vast extent of design options available if you are willing to get creative.
Of course, your persona should always be designed to suit the project at hand. As we mentioned earlier, there will be facts that are relevant and others that don't need to be included.
The scope of this user persona template is to draw the user in with an objective design, taking notice of the persona's own design skills and standards. We particularly enjoy the overview o the UX designer's personality and general life, from their creative nature to their team player abilities.
The Mailchimp user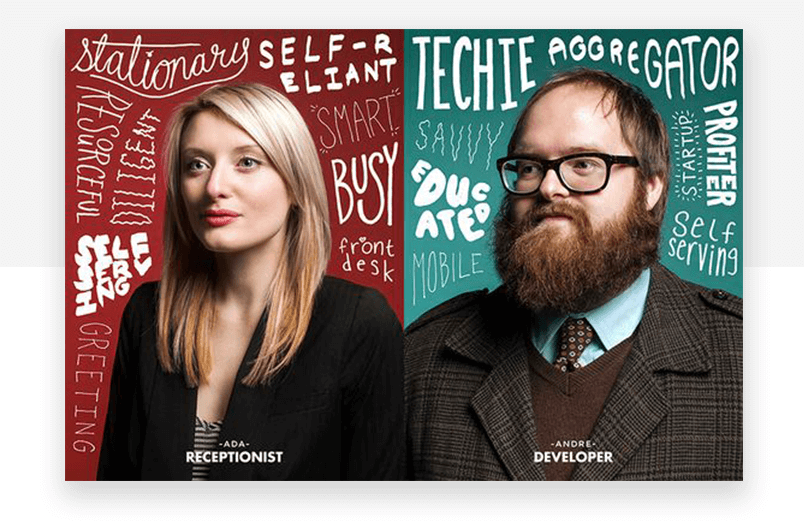 Mailchimp's user persona template, like in the previous example, uses a scattering of nouns and adjectives based on research, laying everything out in a way that makes it fun to discover more about that persona.
A lot of space is dedicated to the image in these simple but powerful persona templates, with the characters sharply dressed according to their profession. Everything is laid out against a bold backdrop of color which can help serve as a memory aid for the adjectives and nouns.
Like in the above example, Mailchimp's persona templates are aimed largely at creating a solid concept of the person in the end user's mind, rather than relaying copious details.
Generic Eric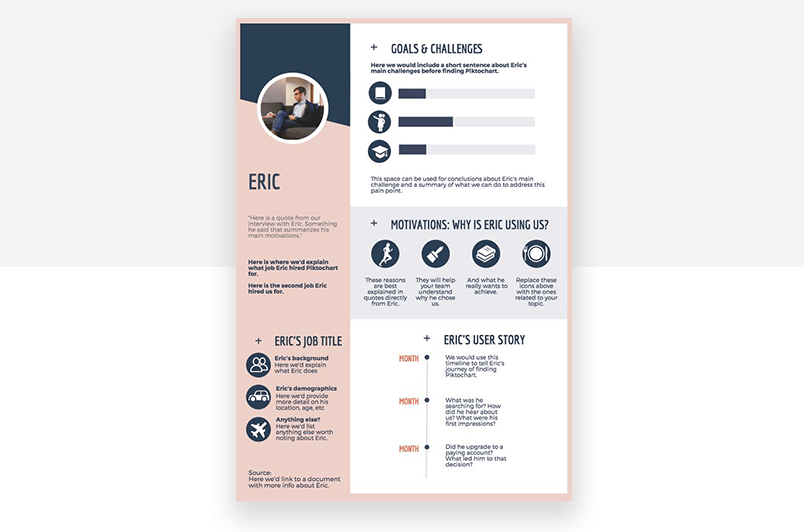 This persona template provided by Piktochart is a great way to showcase how iconography and graphics can combine to make a powerful impression on the end user.
What we like about this persona template is that it's a bit different in the sense that it includes a user story to help further illustrate his goals and motivations, as well as a link to a document containing further information about the persona.
Overall, this user persona template could help provide a strong and memorable visual representation of your user persona.
The Energy Consumer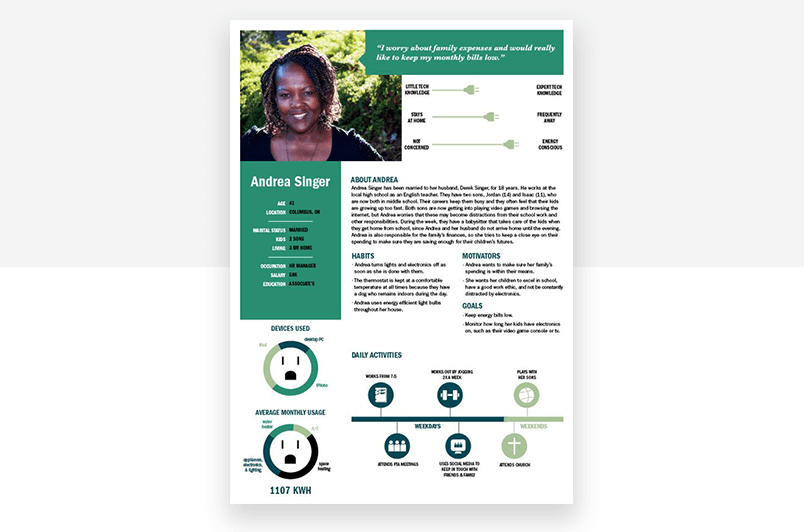 In a similar way to the above example, this user persona template from Behance uses striking graphics to help absorb information about the person with plugs as scalers and electrical outlets as pie charts, that you can easily substitute for something else.
Another element that makes this persona template standout is the fact that it incorporates the use of a user timeline, which is a useful way to gain a lot of information about the user with very little text.
Right in the center are the bio, motivations, goals and habits for whenever the end user wants to go into more detail, otherwise the graphical representations serve to provide insights at a glance.
The aviation analyst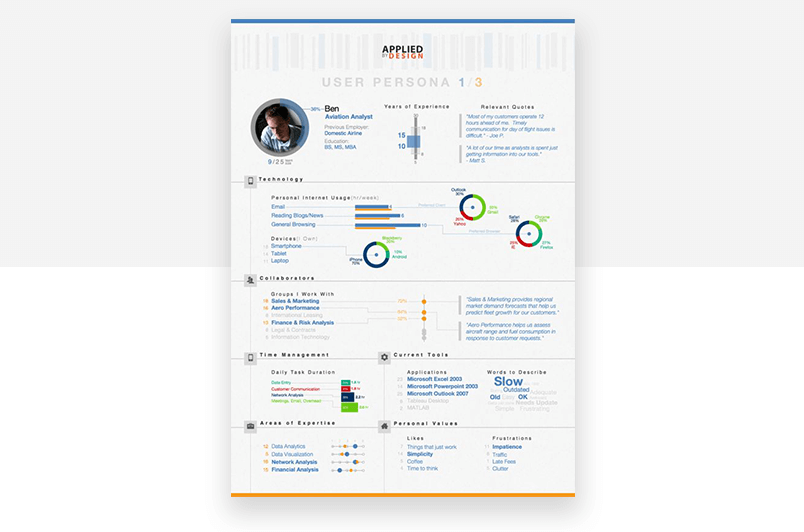 In this great user persona template from Applied By Design. This user persona obviously required a lot of quantitative research to aid with the task that its end users have to carry out.
As a result, there is a lot of analytical data that needs to be displayed on the page. That data needs to be represented in a way that it is easily digestible and memorable.
This user persona template achieves just that by using plenty of color differentiation, bar charts, pie charts, icons and numbers. Each section is also clearly labeled and organized in a way that certain pieces of information will be easy to find when an end user refers back to it at different stages of the development process.
The marketing manager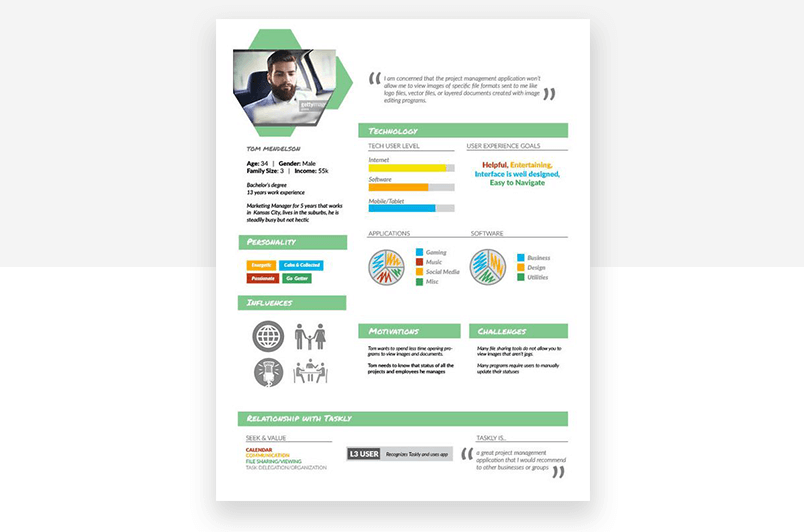 This persona template from Behance of a marketing manager's user persona could be a great way to represent a current userbase, though it could also be used before an app or website is developed.
The overall design features hint at someone who is very tech savvy. The colorful graphics not only make the visual data more interesting, but they also help make it easier to memorize the statistics.
Another thing we like about this persona template is that it switches it up a little – some sections are denoted by text, some by graphical statistics and one – is represented entirely by images.
The 26-year-old nurse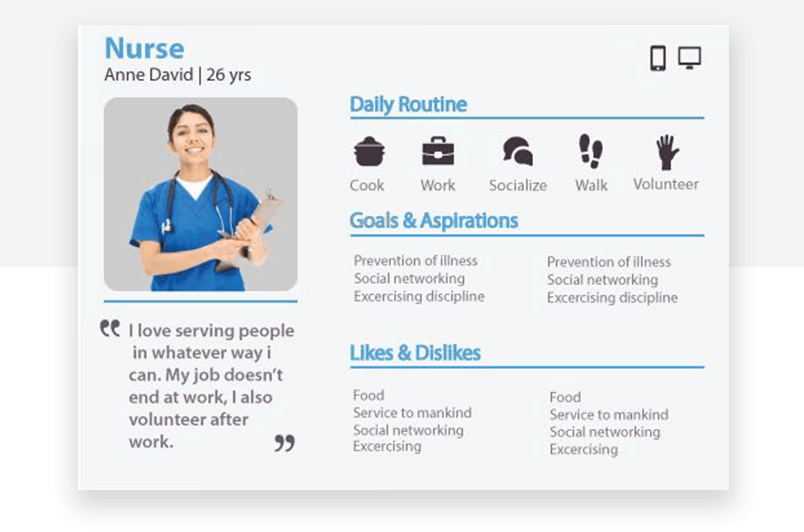 Sometimes it's best to keep it simple. This persona template works if you're trying to convey information about a persona's daily routine, job, hobbies, likes and dislikes but in as brief a way as possible.
The "daily routine" section displays a wealth of information about a day in the life of the persona in question, using just icons and single word descriptions. The quote just below the image sums this all up pretty well.
All in all, it's a great example of a persona that provides useful insights while, at the same time, being easy to remember.
The 43-year-old nurse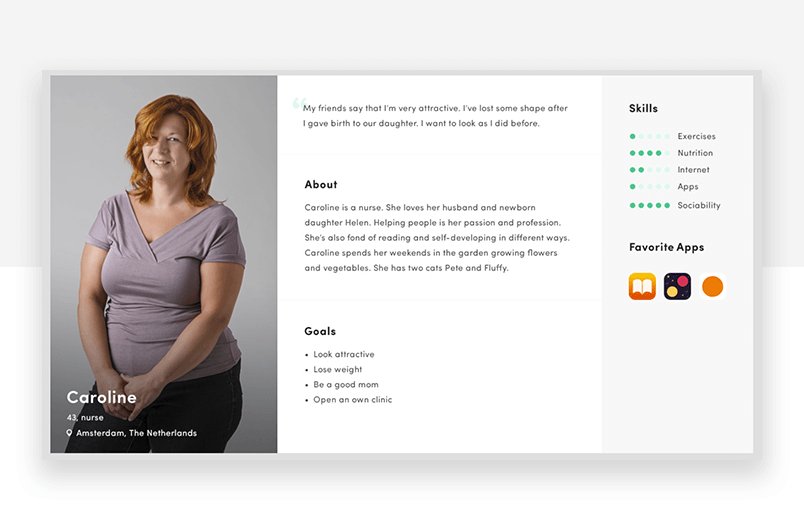 In this example from Alexey Tretina of a mainly text-based user persona template, we can see a minimalist design at play that's not just informative, but easy on the eyes and easy to remember.
The persona template includes a photograph of a friendly female nurse and a quote and bio that sum up her life perfectly at the age of 43, in addition to her goals being clearly listed out.
Her skills are clearly highlighted through the use of shape rating and the "favorite apps" section give a indication as to her mobile habits.
The alternative consumer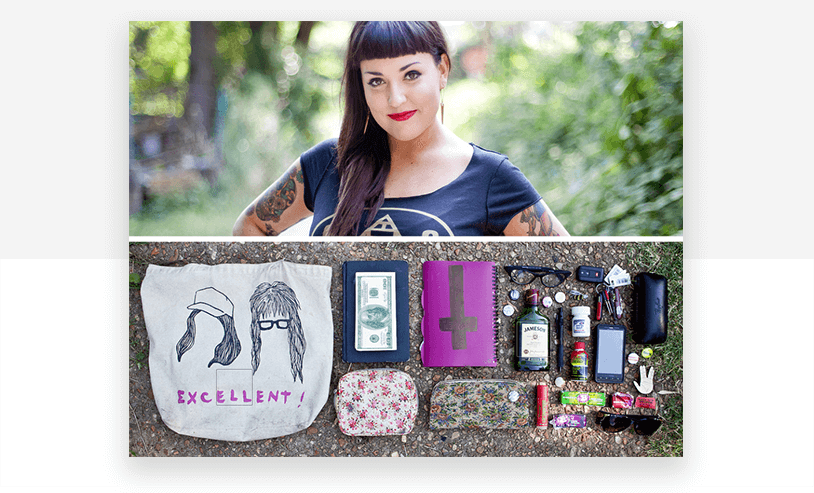 This imaged-based design template from Jason Travis is a unique take on the user persona. When we said that the sky is the limit – we weren't kidding!
Depending on what type of app or website you're designing, sometimes it may make more sense just to use visual representations. After all, an image can tell a thousand words!
In the above example, we have a photograph of the user persona in her everyday life. She has an alternative appearance and judging by some of her belongings, she likes partying and having fun. The fact that her money is laid out suggests that she enjoys spending and consuming.
The inconsistent reader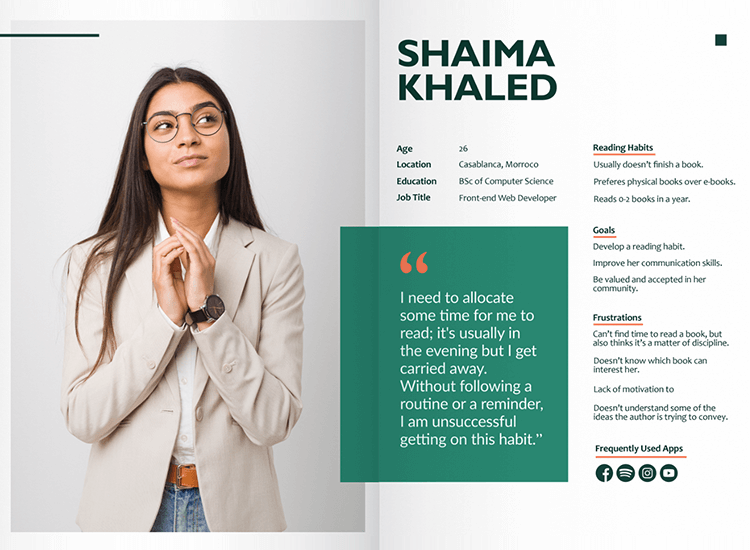 What we like about this user persona template for a reader habit tracker is the fact that everything starts with an attention-grabbing quote that sits right in the middle of the document, in addition to an image of the persona.
Normally, we might think the quote is a little long and contains subjective information, but that isn't the case with this one; it's readable, succinct and defines the entire tone of the template. It's complemented by other details such as reading habits, goals and frustrations that develop the information provided in the quote a little further.
This user persona template is yet another perfect example of a way that a design team can get to know their users at a glance, as scanning this template takes at most ten seconds, yet provides you with everything you need to know.
The nutrition expert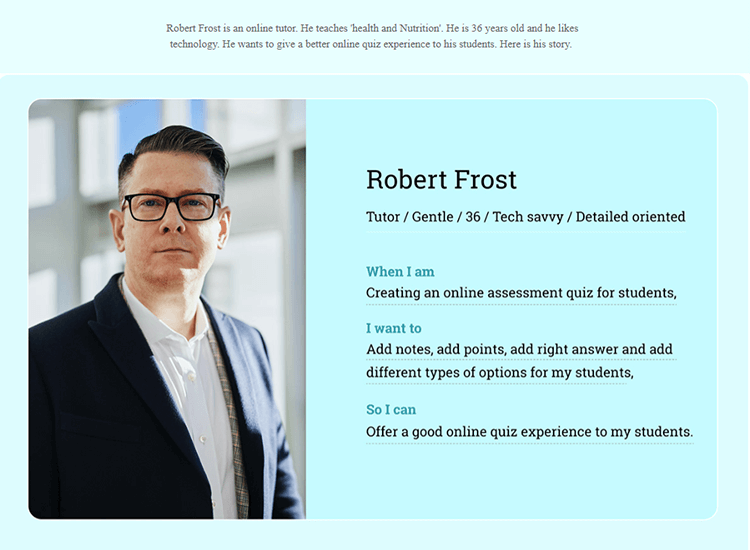 This nutrition expert user persona template from is a marvelous example of a lean persona, keeping it simple with a large picture, taking up about a quarter of the document, a name, small bio, and a sentence for the persona's main goals and motivations.
What we particularly like about this persona is the "When I am…I want to…So I can…" construction. The user persona in this template, Robert Frost is a "gentle" health and nutrition tutor who wants his students to have a better survey experience. The turquoise blue color, which is relaxing, reflect's Robert's gentle nature.
The combination of the simple sentence construction, along with picture, quick bio and color scheme serve as an at-a-glance way to etch this persona into your mind while you're designing.
The freelancer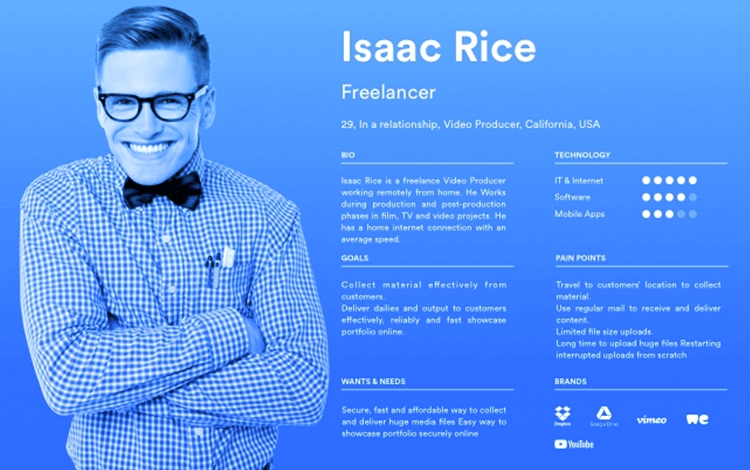 Here's a user persona template for a freelancer that stands out from the rest. Isaac Rice, the freelancer, is blended nicely into the cool, intellectual blue background.
This user persona template also doesn't mess around and gets straight to the point with Isaacs' goals and needs. We also like how it provides bullet points to reflect the different types of software that he uses, along with the main brands of the products that he uses so we can get a feel for what kind of UI he would feel comfortable with.
No matter what modification you might make, this user persona template provides you with a great layout. The fact that the image is also colored along with the rest of the document makes it easy to remember the persona and is great for if you're using more than one because, that way, you associate each persona to a color.
The data analyst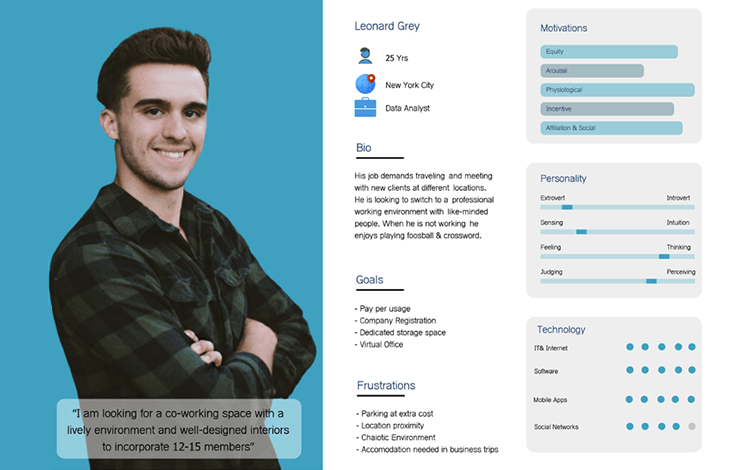 This data analyst user persona template largely represents the young working professional. Over a third of this user persona template is designated to a charismatic photo of a young data analyst, with a quote that sets the tone for the rest of the document.
This template gets stuck-in explaining the most important parts, such as a short bio, along with Leonard's goals and frustrations with text.
In true hierarchical fashion, slightly less immediately important categories are denoted with lively infographics, such as Leanorad's personality, technology used on the job and his motivations, to make them easier to retain and revise at a glance.
The customer support specialist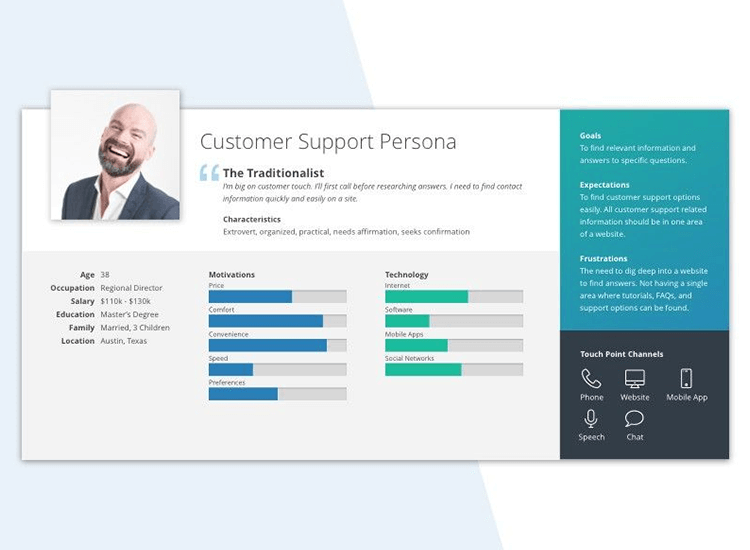 We've gone ahead and decided to include this customer support user persona template as it is a little different from the rest. How? It gives front stage to colorful bar chart graphics to make this regional director's motivations and tech use easy to remember.
Instead of a paragraph or two of a bio, this template kicks off with a quote from the persona to define the rest of the document. Interestingly, the goals, expectations and frustrations are left to a small section to the right of the document. This shows us that the other stats are meant for quick glances while designing, whereas the goals and motivations require more close reading.
The touch points for which this person interacts with his customers through are also included. However this can be adapted to add in other details, like brand logos or the types of technology that the user persona uses on the job.
The wrap up
User personas are a fundamental part of ensuring the success of your website or app. It's important to make sure you choose the correct design for your persona, and to ensure that the information it conveys is relevant and beneficial to all teams involved in the development and design process.
If done right, personas can capture your attention and forge a memorable impression in your memory, so that they're with you every step of the process.
FOUND THIS USEFUL? SHARE WITH
Joseph Downs
In-house UX copy-slinger, foodie and classic motoring enthusiast
Related Content
What are agile user stories and who are they for? Find everything you need to know, including how to write one in this guide.

Find out how this basic yet powerful technique can help organize your team and boost your product's UX. Discover useful tools and books to help you get it done.

Two different documents with similar goals. Discover the differences and which one you should be using for your next feature design.