When prototyping meets crowdfunding: SHARPX
The Founder of SHARPX talks to us about showcasing his innovative new grooming & styling mobile app prototype in his Kickstarter campaign with the help of Justinmind.
This week we got chatting with budding entrepreneur Patrick 'PJ' Dunlop about his brand-new grooming platform SHARPX which he's currently presenting on Kickstarter. The "Netflix for personal grooming" mobile app is a subscription-based solution for users who want more out of their barber shops, nail techs and stylists.
---
Download Justinmind today and create awesome mobile app prototypes!
---
We're revealing all the details about his Kickstarter campaign, featuring his Justinmind high-fidelity mobile app prototype!What's the best way to present an idea before coding? Well, high-fidelity prototyping of course!
SHARPX: your personal network of barbers & salons on retainer
Kicking off on Kickstarter
SHARPX intends to bridge the gap between the businesses and customers by taking the effort out of your personal grooming routine and making it easy and enjoyable all over again. They launched their Kickstarter Campaign last Friday, June 10th and are hoping to raise $45,000 by Sunday July 24th – thanks to their Justinmind prototype!
Improving the user experience with Justinmind
"Why isn't there an app for this?" PJ
Despite his experience with Software tools and services, SHARPX is PJ's first personal venture into the world of mobile app design. "Necessity is the mother of invention": the idea for the app came to him a few months ago when his local barber shop shut down.
Having been a regular at this place, PJ didn't know of any other decent shops. This brought to mind a series of questions: "If wanting to look good is a basic want, what is it that's stopping us?" Answer: the decision making process and subsequent second-guessing that occurs before a trip to the barbershop or salon. "What if we could remove this barrier?"
It occurred to PJ that there was gap in the market for a digital solution to this, and so sprouted the idea. PJ and team have been developing this ingenious idea with Justinmind ever since.
The idea behind the app is that you bulk buy a pack of appointment passes and that's you sorted for a whole month – no more rushed trips to the ATM or unnecessarily high card fees. Pay Once. Book. Swipe. You can use those passes at any participating shop. Swipes renew each month, and the more swipes you buy, the less you pay for each. SHARPX is to be integrated with secure, trusted digital payment systems such as Apple Pay and Samsung Pay.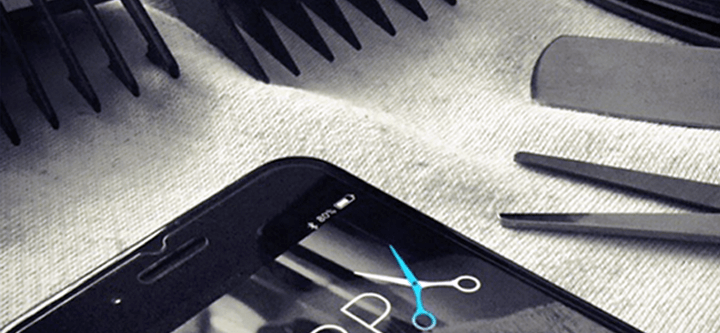 The UI design process made better with an interactive prototyping tool
"You want people to be able to see it, feel it, mess around with it themselves to get it just right. Prototyping is that missing piece in the puzzle; allowing us to break the bounds of innovation, without straining our resources." PJ on the importance of prototyping before coding
With paper prototyping and sketches, PJ started from the ground up defining the main objectives of the app. Once all project requirements had been determined, PJ began to build up from the core concepts of the app model into Justinmind high-fidelity prototypes that included content, the graphic design framework and finally interaction, with mobile gestures such as swipes and taps. Beginning in January, it took PJ roughly 2 months to get from paper to high-fidelity models of the app with Justinmind.
Without prior mobile UI or prototyping knowledge, PJ was able to learn how to use Justinmind quickly and easily, iterating until he eventually came up with the final prototype, now on display to view and interact in the Kickstarter campaign. He tells us that he found Justinmind to be so intuitive that he was able to change core elements of the user interface in just a few clicks – something that was of great value up against the clock.
Presenting the app prototype to the team and investors
Once a prototype is underway, Justinmind offers its users various ways to present it to team members and independent parties, such as potential investors or external developers. In PJ's case, he chose to present his work to the rest of the team on the actual device, which gave them all a better idea of how they could hope their final app to look and work.
PJ's teammates were also able to review the app themselves, so that they could leave feedback and play around with it at their pace. PJ loves the fact that changes can be made and seen by all instantly by using our Commit All option available through our Teamwork features!
When the Kickstarter campaign is done, SHARPX plan to outsource the app development. With the help of Justinmind, PJ was able to invite the external software development team to view the app through a private link via email so that they could give PJ an accurate estimate for the next steps of the process. PJ has also been using our public link to show the prototype to interested parties, including potential investors.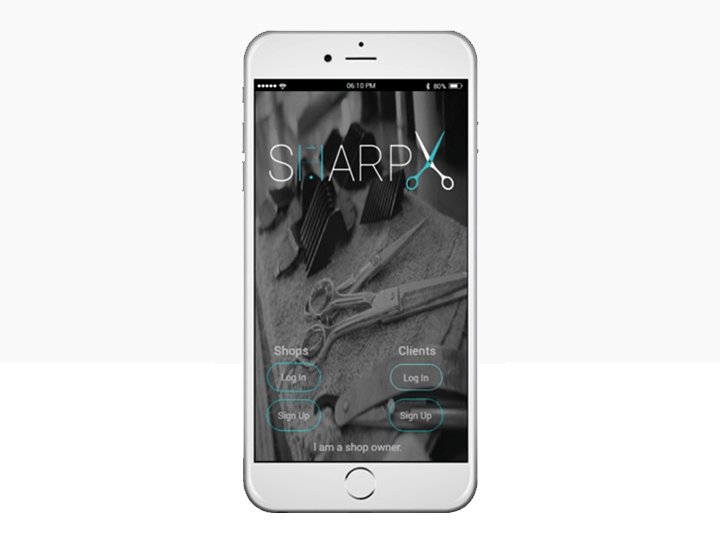 Mobile UI Animation the way you want it
"Let's take customer loyalty to the next level." SHARPX
PJ loved the Justinmind Events system, which allowed him to include smart animations and triggers as well as smooth swiping mobile gestures in the app.
Our tutorials helped PJ to create a scrolling effect in the mobile app prototype, as well as an input form with a keyboard optimized for typing in different fields, such as a Name (letters), email address (@), or Cell (numbers).  Input fields with required fields help to ensure that the user fills in all necessary fields in input forms.
With Justinmind's scenario simulation feature, PJ can guide the user through the possible navigation flow of the SHARPX app. He wants to be able to show customers how quick and easy it is to book an appointment and buy swipes with SHARPX.
The people behind the app
PJ on SHARPX: "You always want to look your sharpest, right? But for most of us, there is a balancing act between how often we're willing to spend and how long we're willing to wait before going to a shop. What if we could strike the perfect balance that will bring you into the shop as often as you like, while also making it worthwhile for the professionals that serve you?"
Washington D.C. PJ leads his team with over seven years of experience in Project Management and Scheduling for Enterprise IT contracts with major Software players such as Microsoft, Oracle, and SAP Software Solutions.
His modest team, with a breadth of knowledge in Product Design, Branding, and IT security consulting, has partnered with the software development experts at West Agile Labs to fine tune SHARPX v1. PJ is joined by Chief Technical Officer and resident Programmer Derrick, and Graphic & Brand Designer Takeia, responsible for the graphic elements and branding of the app.
Plans for development of the mobile app prototype are already afoot, with the launch scheduled for December. Once the business model is finalized and the beta app launched, PJ and team are hoping to expand their target base to hair salons, tattoo parlors, and shops worldwide. We're excited to see how their plans unfold and you should be too!
Making an app prototype with Justinmind and want to tell us about it? We'd love to hear from you!

FOUND THIS USEFUL? SHARE WITH
Emily Grace Adiseshiah
Emily is Marketing Content Editor at Justinmind