Why prototyping is a vital step in the design process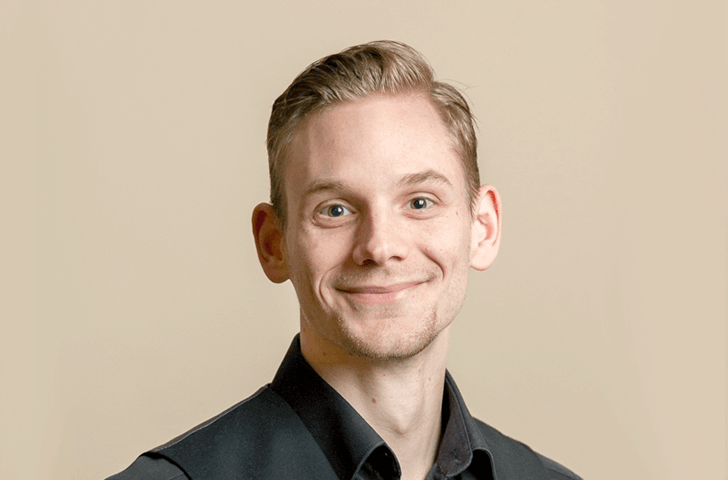 Why is prototyping an important step in the design process? In this chat, a social designer and business analyst give their take on this crucial element of design
If you've ever wondered why is prototyping an important step in the design process then look no further than these two designers using Justinmind to power up their workflow. Meet Wouter van der Kemp and Maksym Murzak.
Wouter is a social designer based in the Netherlands who has over 10 years' experience in the industry.
As a long time user of Justinmind, Wouter understands the value and importance of prototyping. He is involved in creating products and services in the name of social innovation at startup Connect to Innovate. It's there where he gives lectures, organizes workshops and helps build the products of tomorrow's society.
Maksym Murzak is a business analyst at Ciklum, based in Ukraine. Ciklum is a software development company that helps Fortune 500 companies thrive and succeed.
Maksym is no stranger to the world of design and uses his prototyping prowess to create robust prototypes for his development team before they get put into production.
Both designers share their tips and tricks for using Justinmind in the most efficient and effective way; highlighting powerful features like Events and Dynamic Panels – essential for boosting the user experience of your prototypes.
The world of design and project management often have to cross paths and thankfully both Maksym and Wouter are able to articulate ideas to non-designers alike and smooth out their handoff process thanks to Justinmind.
"Justinmind lets you create a product that describes a feature much better than with words".
During this conversation, both designers share their story on why prototyping is an important step in the design process, how to prioritize and manage requirements, and bring life to your prototypes.
---
Bridge the gap between idea and prototype. Download Justinmind.
---
Can you tell us a bit about your working environment?
W: The company is really open and friendly. We're a growing startup and the atmosphere is pretty informal, more like working together with friends than actual colleagues. Most of the business information is discussed openly and we regularly give each other updates about pretty much everything that concerns the business.
Because of our size, it's really easy to quickly hang things up on the wall and go through them to get everyone up to speed. After that, we make decisions based on everyone's opinions and arguments.
M: My team is currently working on an application for one of our customers, R.R. Donnelley, a Fortune 500 company that provides print, digital and supply chain solutions. I work primarily with the Product Owner and Product Designer at RRD.
They send me their business requirements and prospective features. My job is to prepare and distribute prototypes to the development team, using Justinmind.
How do you think your design process stands out above others in your space?
W: I think our design structure is unique because we focus on ownership, proximity and framing. This results in more co-creation. And we are active throughout the entire design process, from Scope definitions to Implementation.
Can you talk us through your design process?
W: The first step for me is to draw my sketches. Then, I use Justinmind to recreate these sketches and I add interactions to see what works and fits well. I add interface animations at the last stage of the prototyping process.
The most important thing for me is knowing where things will go and how things will move, then I can place them accordingly. The Justinmind dynamic panels really help me to create interactive animation.
M: Whenever the RRD team requires a dynamic feature, that's my cue to create a new, interactive prototype. A lot of what I use Justinmind for is to link pages and add interactions into the prototype. I need to know how many screens I'll need, what controls I'll be using, and whether to include dynamic panels.
Then, it's just a case of putting it altogether. Being able to use and link multiple screens together helps me to prepare widgets before adding them to the relevant screens within my prototypes. I usually end up with between 1-3 screens in total.
How do you identify and prioritize new requests and requirements?
W: Right now, we are prioritizing our design stages based on the required deadlines and depending on how one deadline affects others. Because we're growing rapidly, it's hard to plan precisely amidst the chaos, so most of it happens spontaneously. When a realization party is involved, we work in SCRUMS, and many a post-it has been sacrificed!
M: The Product Owner drafts prioritizes and hands the features off to me. Together with the Product Designer, we ideate on the design of the new features and decide if a dynamic prototype is necessary. If so, I get started with the prototype.
How do you hand off to the development team?
W: The development team works with us in our building, so it's really easy to hand off to them. Once we've defined our design and building plans, we sit together, and go through them and whenever someone has questions we are able to give them immediate feedback, and vice versa.
M: Once I've created the prototypes, I share them with the development team by saving them and then publishing as HTML—this is a great way to send wireframes and prototypes to colleagues and other collaborators.
So about Justinmind, how do you find the learning curve?
W: There is a small learning curve, but it's definitely easy to work out yourself. There are times when I encounter something in Justinmind and I think, this is ingeniously done. Plus the active Justinmind community is also a big help. They've helped me out multiple times.
M: I've been working with Justinmind for the past 5 months. For me, the best way to learn Justinmind is to focus on the tutorials and cover the courses, discuss the features with colleagues, and practice as much as I can. An added bonus is having experience with other, similar tools—it definitely makes you more comfortable with each of them.
How have you incorporated Justinmind into your design process?
W: Our company relies heavily on prototyping combined with participatory design and so Justinmind plays an important role for us. I've noticed that when you're working with people who are not designers, you need to be able to create a prototype that has more body and feel. With Justinmind, you can achieve this easily.
M: Justinmind allows you to create a product that describes a feature much better than with words. It's a platform that helps me to make interactive examples to show the Development and Quality Assurance Teams how the features could be.
What's the most powerful part of Justinmind for you in your work?
W: I really like the events! They make it easy to add more life to the prototype. The tutorials in the Support section are also great. One that I found particularly useful was to create a slide menu for a mobile app prototype, and making it swipe.
Also when gathering feedback from remote stakeholders, I tend to share my prototypes with the easy, clickable link and send them through. Through the sharing features, we can also add the Justinmind prototypes to our newsletters.
M: The events are a great feature! Without them it would be impossible to trigger some interactions. I also use the dynamic panels a lot: it's much easier to do what you need to with them. Also that fact that you're able to group widgets.
Thanks so much for all of your feedback guys! It looks like you're both really enjoying using Justinmind. Do you have any advice for anyone considering Justinmind as a prototyping platform?
W: Well, it really is a helpful tool to communicate with not only developers but also other relevant and important stakeholders in the design process. I always recommend it to others whom I work with.
Apart from my day to day job, I am involved in multiple lively discussions about prototyping techniques. When it comes to which platform to use; I always recommend Justinmind when there is a need for more advanced and complete prototypes that are to be shared with stakeholders.
M: I really enjoy working with Justinmind. It's one of the more sophisticated prototyping tools in the market in terms of functionality, usability and what you can do with it.
So there you have it! To learn more about how prototyping could help you with your design process, download the platform today!

FOUND THIS USEFUL? SHARE WITH
Emily Grace Adiseshiah
Emily is Marketing Content Editor at Justinmind