How prototyping has helped launch networking mobile app, Deets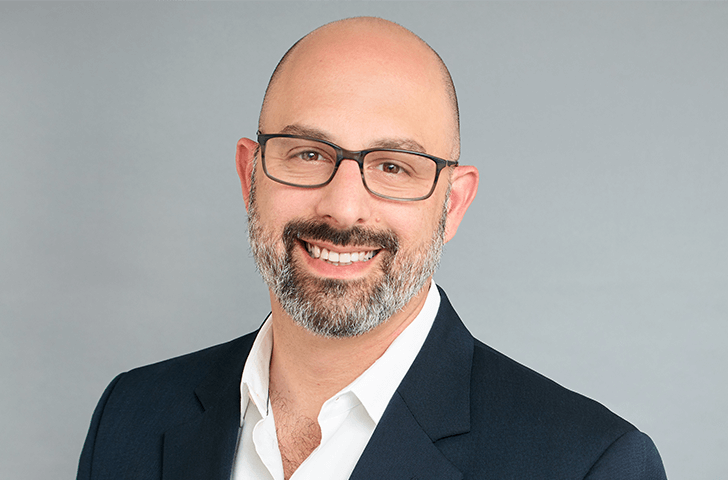 Intuitive, mobile-first prototyping with Justinmind has helped Yahoo Mobile creator design the easiest way to share contact information
Creator of Yahoo Mobile and all-round digital business whale, Evan Krauss has been creating innovate web and mobile software for the past 20 years. Now working on a new mobile app – Deets, the soon-to-be big daddy of online contact sharing solutions – Evan has been prototyping his ideas with Justinmind.
The app is currently in the testing phase, so we checked in with Evan to see how he has implemented Justinmind in the design process.
The networking mobile app to bring business cards into 2017: Deets
Tell us about Deets! "Well it's a startup, so naturally everything's changed since 3 days ago", Evan jokes. After many years of pulling teeth trying to find a better way to share contact information with people you network with, Deets was finally was born this year.
Currently in the user testing phase, Deets is a mobile app interface that helps people manage their contacts better. The idea is that two people who meet face to face will have something that connects them to each other, without the need for cumbersome business cards.
According to Evan's research, "over 90% of us throw away the business cards that we collect, not giving them a second thought. It's an epidemic."
Warming up with Justinmind
"Can you do XYZ with Justinmind? Yes, and there's a video to teach you. I became a PRO user as soon as I figured that out."
Pre-Deets, Evan's solution to tackle the bore of business cards was to use a photo of his business card as the image that appeared on the lock screen of his smartphone. When he met people, he would get them to take a picture of the screen so that they could stay in touch.
"That's when I started to connect the dots", he says. The idea behind Deets began to unfold: virtual contact details to remove the clutter of networking.
It was at this point when Evan started to look at prototyping tools that could make Deets a reality. He's been prototyping the Deets user interface with Justinmind for the last 5 months.
Plowing his way through the features, Evan recalls how he was easily able to "dive in and start hacking his way through Justinmind", and still uses the YouTube video tutorials to bring his more adventurous ideas to life – such as creating a database (see below).
---
Download Justinmind now and start prototyping mobile-first
---
Prototyping for the mobile-first generation
"With mobile, the interface IS the app. It has to be perfect."
The idea behind Deets had been thought up before, but with no joy. The problem, Evan explains, was that both participants needed the same app on their phones – a major chicken and egg problem that no one seemed to be able to get past.
"Business cards are relatively expensive, inconvenient but most importantly no longer deliver on their value proposition. With all the technology that lives around us, why the hell do business cards still exist in 2017?"
Deets has solved this problem with the use of text messaging and mobile phone cameras – so anyone with a mobile phone with a camera can use it. Just take a picture of someone's phone screen and text it to Deets. Shortly after, you'll receive a text message with their contact details attached.
Users can upload contact information from different business cards, if they so wish.
For Evan, having a fully-functional mobile app prototype was critical for presenting this idea to investors and customers. In his words, "web is a more forgiving design environment". Even if you hate a website, you'll still probably use it because you basically get what you need out of it.
But with mobile, the interface is the selling point because we depend on it for a number of immediate needs. Getting things right for mobile is a no-brainer, it has to be perfect. Justinmind made this possible for Evan.
Intuitive design, no mess
Evan was tired of prototyping with browser tools that weren't rich enough. He wanted to get away from tools that made him lose work and required that he always be online for stuff to get done. He loves that Justinmind is a drag and drop desktop tool.
He can easily place UI elements and events in his prototype and build up the functionality in just a few clicks.
"It's intuitive and easy to use", he says, adding that "it felt real, super quickly, and over and over and over again." In fact, he's counted the number iterations he can perform – up to 16 iterations in the same day! He says the secret to Justinmind's intuitiveness is in the small things. Hint: "the UNDO feature is unparalleled".
Power sharing features
With Justinmind, Evan can simulate his app prototype in a matter of seconds, both on mobile and desktop. Impressed with the power of Justinmind's simulation, he started showing his ideas to partners, investors, potential stakeholders – basically everybody and (their mothers!). He got people talking about Deets by showing them his prototype:
He presented his designs to investors face to face on his mobile device.
He invited partners and sales people to review and give feedback on both iOS and Android prototypes by sending them a public link.
And, with the people more closely linked to the app, Evan got them to work directly with the tool, using its teamwork features. They were able to access the prototype and make changes directly, for an all-round cleaner experience.
High-fidelity, interactive prototyping: I can't believe it's not

butter

a real mobile app!
"My developer didn't believe me when I told him my prototype wasn't a real app. It felt and executed as much like an app as anybody could get it to."
Being able to show the viewer exactly how his ideas have come to life on screen has been a turning point for Evan. More than anything, it has helped him with early user testing, because people have been able to preview the product before production and visualize it in real time.
The 'realness' of his designs started to take shape once he started to build up his mobile app prototype with Justinmind's industry standard UI widgets and Events system. And what really made the prototype pop was the use of real data to simulate fake sign-ins and registrations by essentially creating a database.
He used data masters with a mixture of raw and sample data, via Justinmind's data-driven prototyping features.
What's next for Deets?
With the mobile app at the testing phase, Evan's keen to try out Justinmind's integration with user testing tools. He'll be able to integrate his prototypes directly with user and usability testing tools, without exporting the prototype. This means even faster feedback and more efficient implementation of changes needed.
Evan is also looking into customizing and creating his own UI widgets and libraries. He'll be able to break down our atomically designed UI elements, and tweak them where necessary to personalize them to Deets' requirements.
Want to be featured in a Justinmind case study? Get in touch via our Twitter handle now!

FOUND THIS USEFUL? SHARE WITH
Emily Grace Adiseshiah
Emily is Marketing Content Editor at Justinmind