How SEI changes the future of healthcare with Justinmind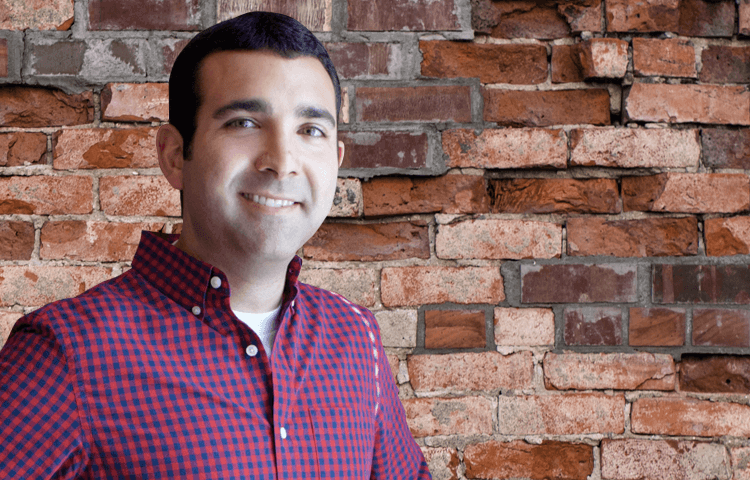 SEI helps companies to create better products, shaping the future of healthcare. Read on to see how they do it and the role that prototypes play in the game!
SEI works with both businesses and organizations to help them create new products and get them to market. We got together with Jeremy Yanowitz, SEI consultant, to talk about how SEI pushes innovation with prototyping as their main tool.
Capture the proof of concept with Justinmind prototypes
Download Free
Working out of Washington D.C, Jeremy uses Justinmind everyday both for communication with clients as well as developers and other stakeholders. One of the most important aspects of his role includes taking complex workflows or ideas and transforming into something that people can truly use. Armed with Justinmind, he and the SEI team have modernized and innovated in many aspects of healthcare in the United States.
In the first few stages of the classic design process, SEI's stakeholders are usually organizations that have complex workflows and rely heavily on manual work. Often depending on shared drives and excel sheets, there's a true need to streamline and modernize the way things are done. That's when SEI comes in with Justinmind to save the day.
They say 'can we streamline this process?' That's when we go to design an automated workflow in Justinmind.
Using Justinmind to create both the initial wireframes and final proof of concept, Jeremy can help businesses revamp their processes and come to a new era of efficiency. However, private businesses aren't the only ones that benefit from SEI's brand of human-centered design.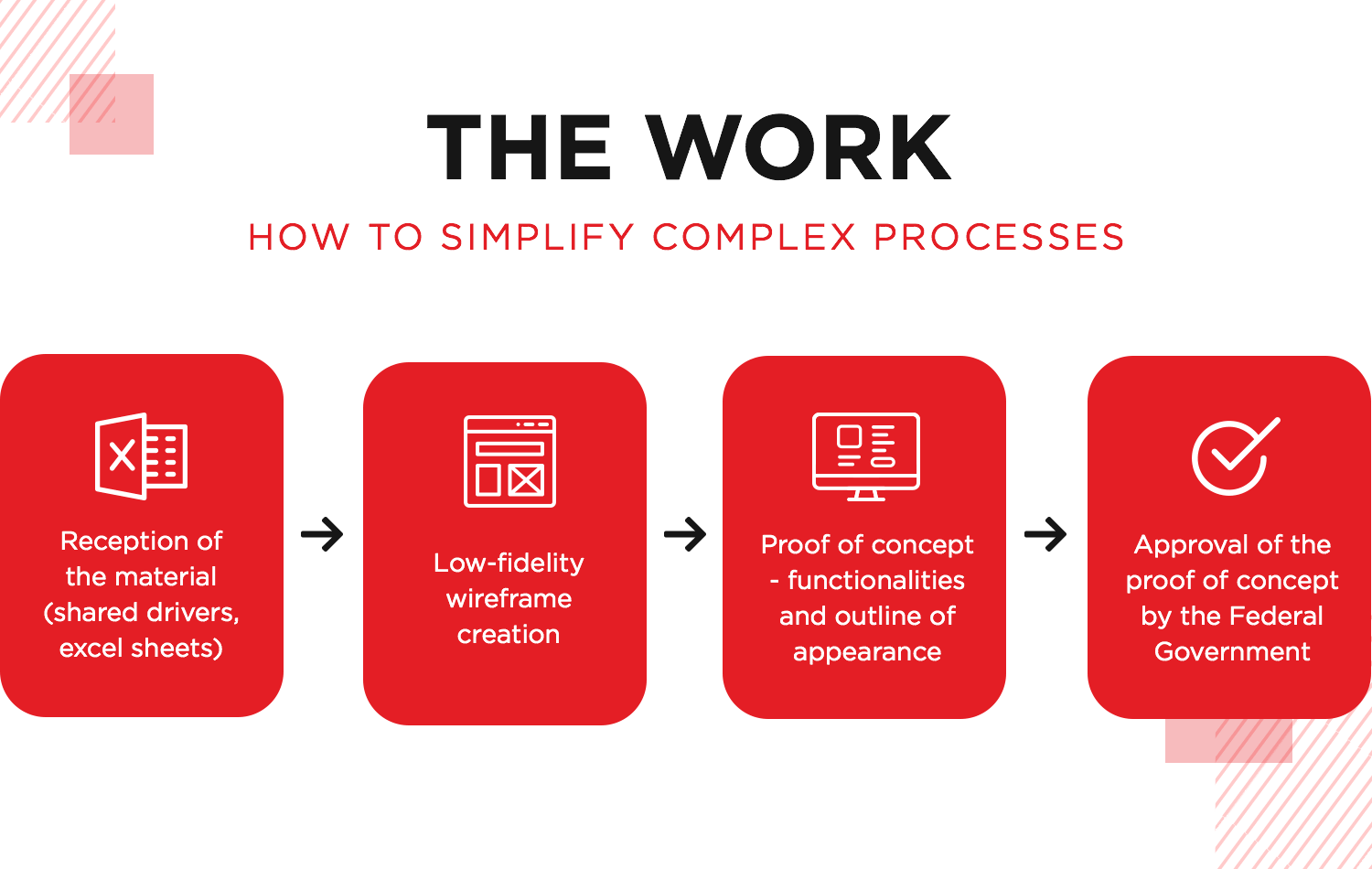 With the Centers for Medicare and Medicaid Services (CMS) being one of SEI's main clients, the team at SEI helps their customers from CMS and the CMS Innovation Center present their visions to the agency in order to secure funding and keep pushing the needle forward with innovative solutions.
For the folks at SEI, everything starts with working first to create a low-fidelity wireframe and then elevating it to the status of proof of concept – something that shows exactly what the solution would do and more or less how it would look.
Once the proof of concept gets the green light, factors like screen design and UI components come into play. Folks at SEI are free to build on the solution based on continuous customer feedback, slowly making their way to a high-fidelity prototype and ultimately to system development. An accurate representation of the desired outcome before any costly development work is crucial – making Justinmind a perfect fit for SEI.
It all started in a similar way to other projects: an organization with the desire to streamline their process. "This is when we get a little meta" warns Jeremy. This first project was about creating a solution that would guide people through the process for creating solutions for the agency. In other words, they needed a solution that helped the agency's Office of Information Technology bring new products to life, from vision to go-live, improving the overall experience for all types of agency customers.
Here in Justinmind, we couldn't agree more. This was about giving people the tools and information they needed to innovate in the healthcare frontier – much like Justinmind aims to help designers innovate in UX design. For the SEI team, it was important that this solution helped to guide people in finding better ways to build healthcare-oriented products.
Using Justinmind, the SEI team created a proof of concept for this guiding tool. It proved to be a success, with them getting the green light to build on the solution. Over time, this evolved into several smaller projects, with Jeremy and the SEI team using Justinmind in each and every one.
First things first. Folks at SEI dedicate time and effort into understanding the relevant pain points and all the factors at play. Things like problem statements and defining an elevator pitch all help to create a better understanding of the problem at hand, guiding them to the ideal solution.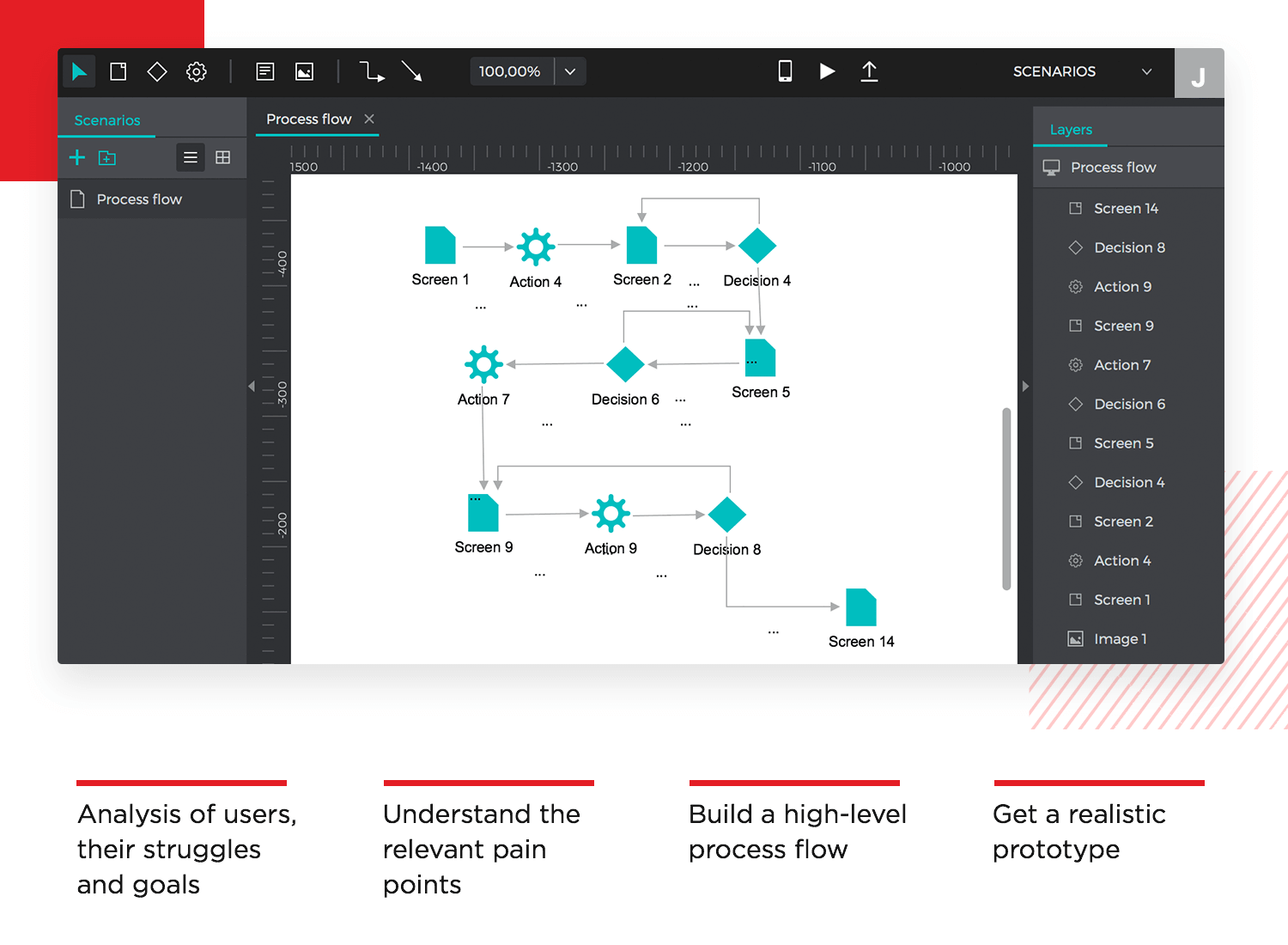 One of the main tools that the team at SEI uses is a high-level process flow, using the scenarios feature in Justinmind. This forms the base of each screen's workflow. The team analyzes each type of user, each with their own set of struggles and goals. Over time, each of these pieces come to form a part of the complete puzzle. The main goal is to end up with a seamless solution that works end-to-end. A truly realistic prototype of the final product.
The Center for Medicare and Medicaid Innovation (CMMI) is a center within the CMS agency that focuses on improving and innovating health care payment and service delivery "models". The ultimate goal of these models is always to improve patient care, lower costs, and better align payment systems to promote patient-centered practices.
Through conversations with leaders at CMMI, the team identified a need strikingly similar to the previous example of a custom product for CMS. Instead of a solution to guide CMS users through the process for creating solutions, CMMI needed a solution to guide users through the process for pitching and communicating new models, from model conception to go-live.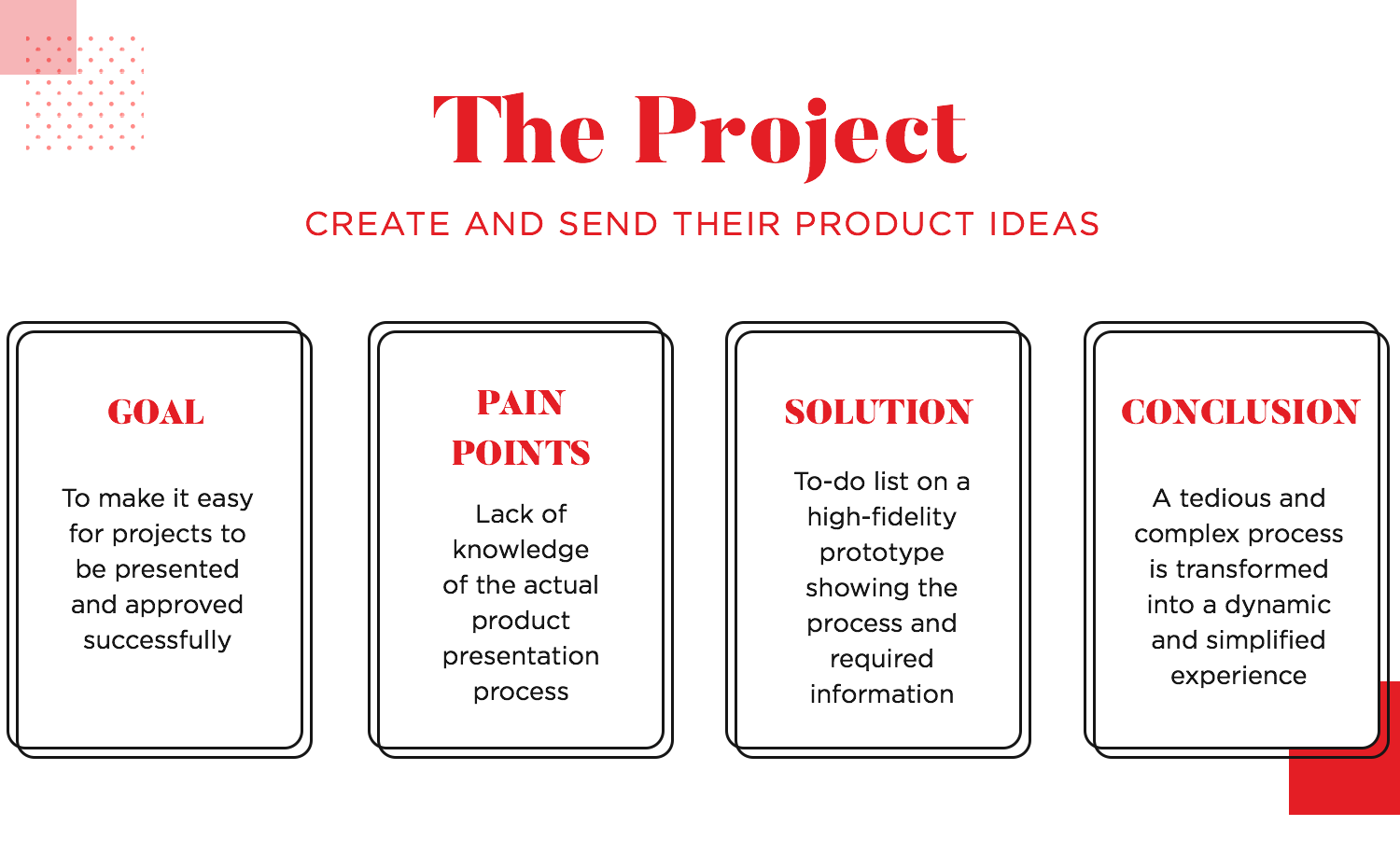 The SEI team created a solution that centered around a task list. Using a high-fidelity prototype, they organized the list in an intuitive design that shows people not just how the process looks but also what information they need at every turn. Making use of conditional navigation and dynamic panels, the SEI team was able to create a different experience for the two main types of users: those who make the pitch and those who review the pitches. Using a system based on permissions, the entire team could easily switch from one point-of-view to the other.
Most people have never seen anything like this (prototype) at such a fast pace.
Ultimately, SEI's team managed to take a process that included endless paper-based forms and transformed it into a simplified and dynamic experience. Laughing, he proudly shares that this is only one example of many projects that SEI has completed at an incredibly fast speed.
Jeremy shared with us that most people fully expect static representations of the design, like a whiteboard drawing or a static wireframe of the bare bones in a powerpoint format. But these are a thing of the past, and both SEI and Justinmind are all about the future.
Today, the team has the ability to create a realistic prototype that people can interact with in a matter of days or even hours. Using Justinmind, he and his team can tweak and improve the product design from an early stage – avoiding late changes and shortening the time they need to complete any project.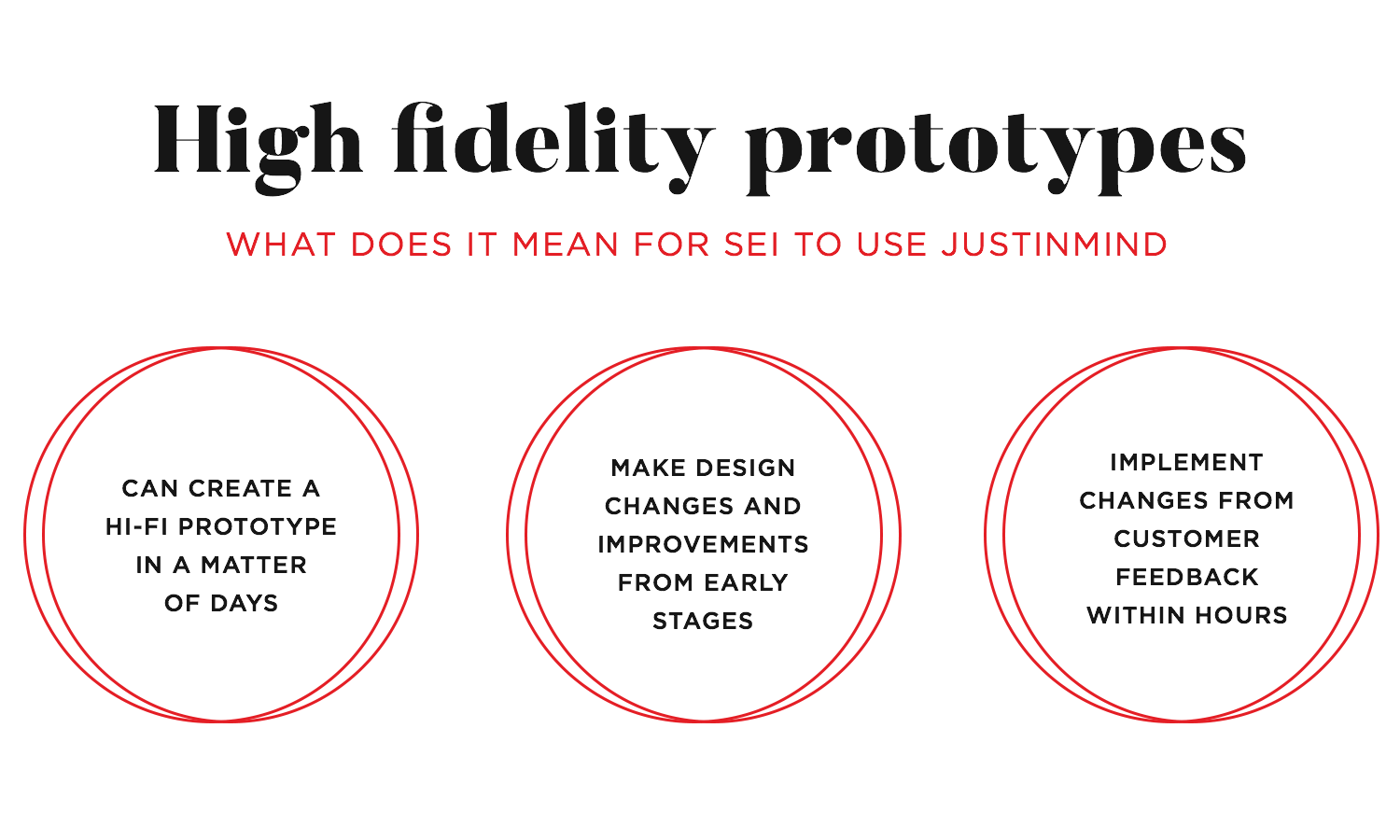 At SEI, it's all about showing prototypes to clients early and obtaining continuous feedback. The team's true power, however, lies in the fact that they can implement changes that reflect the feedback. "It can be done in a matter of minutes" he says with a smile. Even though people expect to have an updated and improved version to take a long time, SEI uses Justinmind to bypass this waiting time and change the game.
Jeremy says that simply publishing the prototype in Justinmind allows them to share it with everybody. Once everybody has had time to experience the prototype, meetings are held where everyone shares their observations in an open discussion.
But it doesn't stop there. Once they have a high-fidelity prototype that behaves like the real thing, folks at SEI record a video of themselves clicking and navigating through the design. This video is sent to the customer, so they can see for themselves the degree of interactivity and detail in the design. If a picture is worth a thousand words, a prototype like that might be worth a whole lot more.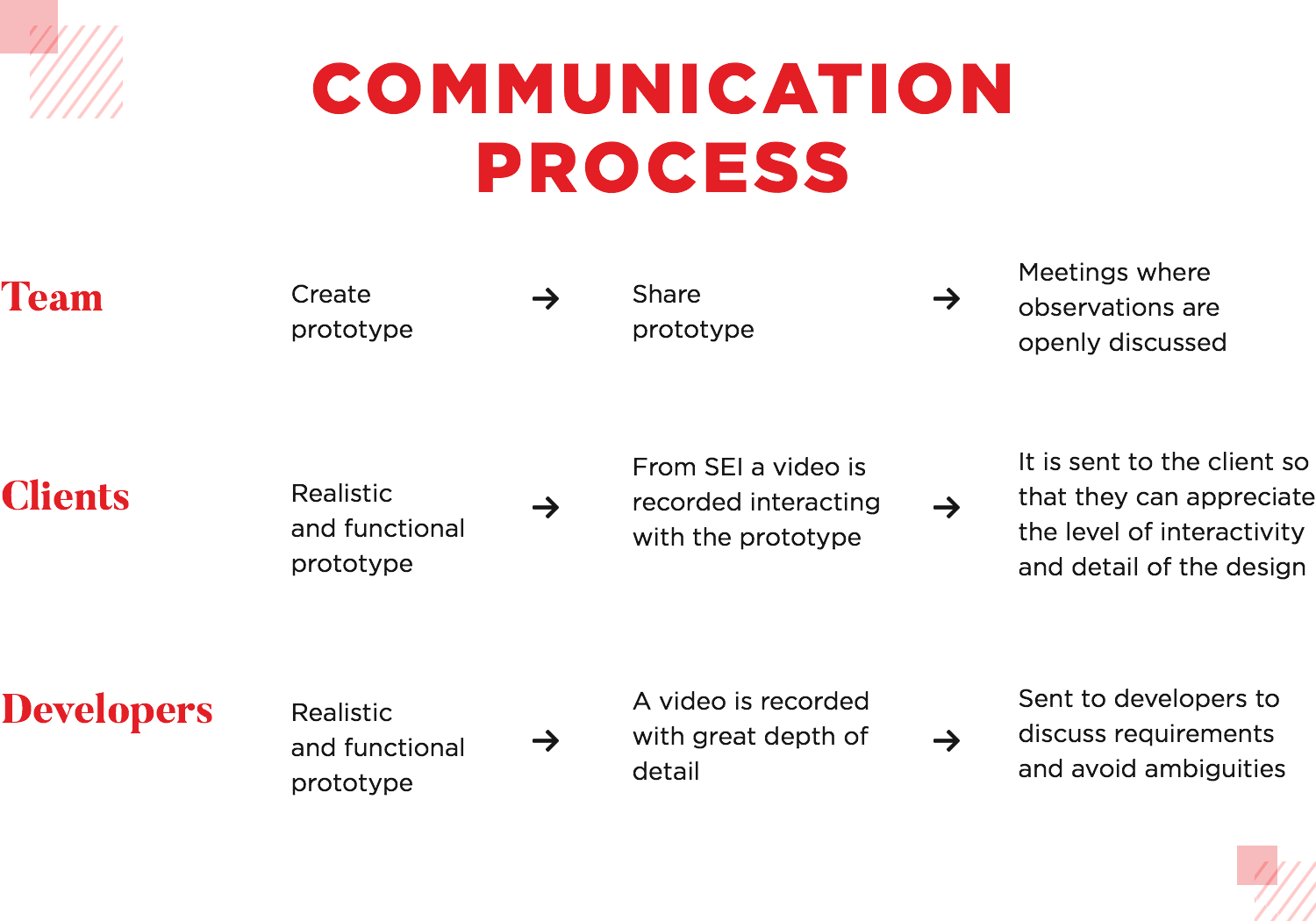 When it comes to developers, SEI takes a similar approach. Using every weapon in their arsenal, videos are also made that showcase the specifics of the design – but to a much deeper level. This is all about discussing the requirements and criteria in detail, mitigating the risk of ambiguity.
SEI manages to deliver better products in less time with Justinmind. It's all about ironing out the imperfections and making changes that improve the user experience from the very beginning.
This is especially true when it comes to CMS products. In order to secure funding from the agency, CMS business owners have to pitch their ideas in a presentation to a governance review board. More often than not, business owners rely on verbal communication and spreadsheets in order to convey the product idea and business case, which can create more questions than answers.
The outcome tends to be that the board doesn't have enough details for the project to move forward, requiring multiple presentations before they get the green light.
By using tools like Justinmind to create the proof-of-concept, all that becomes a thing of the past. Suddenly, the agency's board doesn't need to make an imaginary jump in order to see the idea. It's right there in front of them. Jeremy proudly shares that SEI's customers, armed with a tangible representation of their ideal solution, don't need more than a single presentation in order to get the approval they need.
For the SEI team, there's no doubt that Justinmind has changed the way things are done. Customers actively participate in the design process. Yes or no decisions are made quickly and immediately implemented in the prototypes, eliminating any gaps in communication.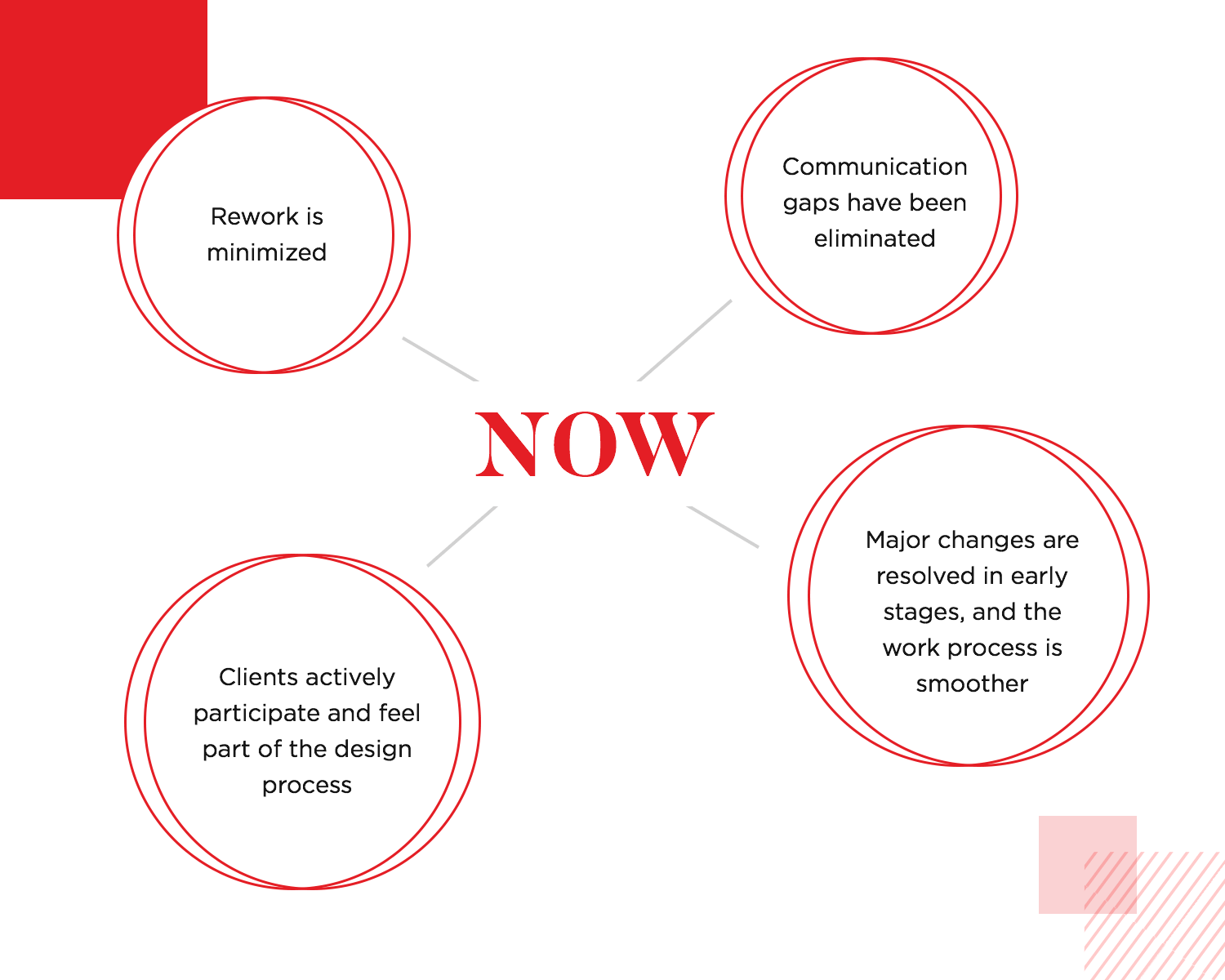 Towards the final stages of the project, there's no more negative feedback because all the necessary changes are ironed out early. Rework is cut to a bare minimum. This eliminates unpleasant surprises that can erode the relationship with the client.
The real outcome is that clients guide the design from start to finish, working with the SEI team to create a solution that truly works for them. Clients end up feeling a real sense of ownership and engagement, which makes all the difference.
When you're working to create solutions that deal in complex topics like healthcare, having a tool like Justinmind can make all the difference. For SEI, the prototyping tool isn't just about creating user scenarios or adding details to a design. It's about communication with the client and having a better experience for everyone involved.
PROTOTYPE · COMMUNICATE · VALIDATE
ALL-IN-ONE PROTOTYPING TOOL FOR WEB AND MOBILE APPS
FOUND THIS USEFUL? SHARE WITH
Rebeka Costa
In-house SEO manager, usability enthusiast and patron of all sleep-deprived designers