The comments module
In the Comments module, you'll find all the comments related to your prototype. Here, you can add, view, and modify comments and observations directly to a prototype's screens and on UI elements.
The comments module overview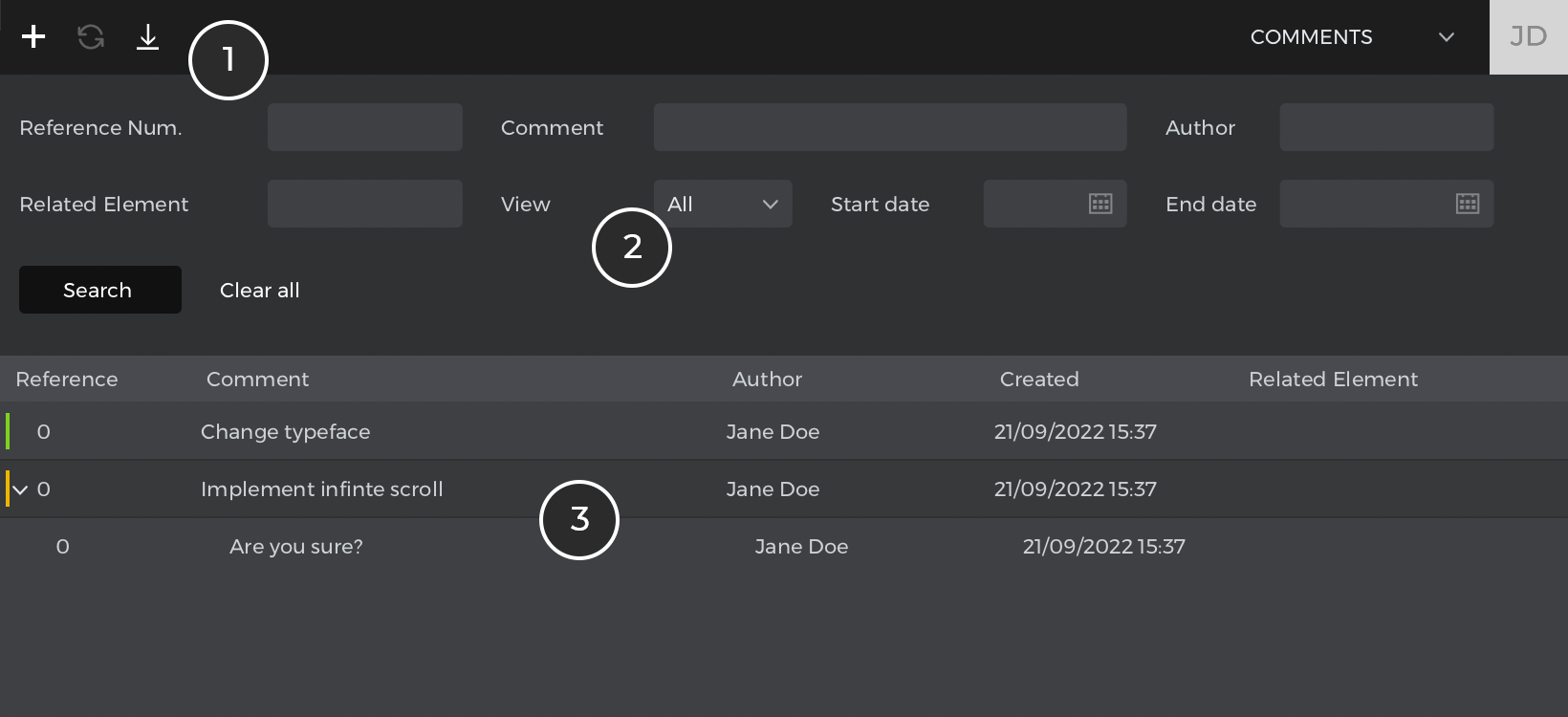 The toolbar: create a new comment or refresh comments
Choose which comments to display by filtering comment references, related components, authors, dates etc.
A list of all the prototype's comments or those displayed upon filtering the comments
If you right click on a comment, you can modify it from the menu provided.
The comments toolbar
The comments toolbar contains most of the prototyping editing options available in the User Interface module, plus two additional options specific to the Comments module: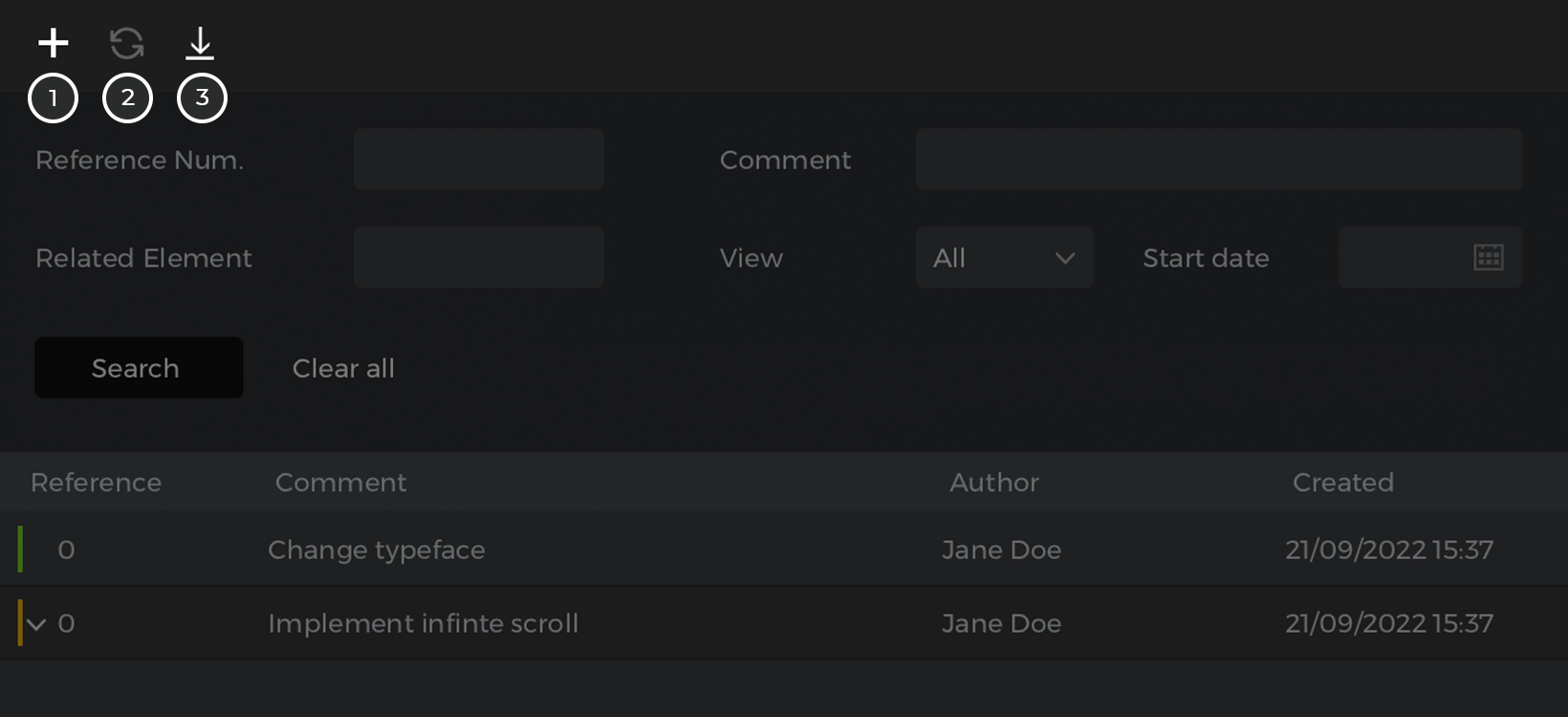 New comment: opens a dialog to create a new comment. This comment won't be linked to any screen or scenario.
Refresh comments: synchronizes the current comments with the ones introduced by reviewers of a shared prototype. Learn more here.
Advanced operations for your comments
To modify a comment, right click on it. You can perform the following operations: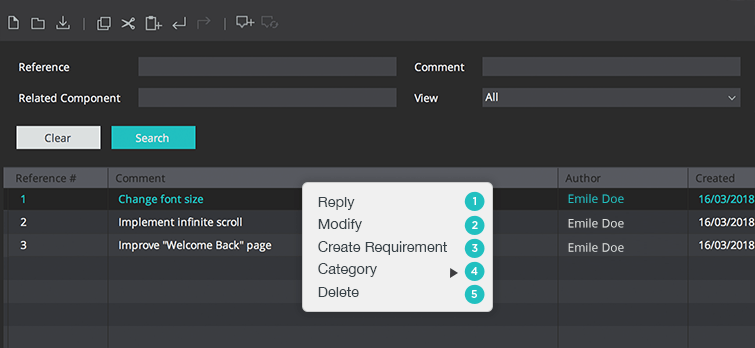 Reply: creates a comment as a reply to the selected comment
Modify: edits information (e.g. author) of the selected comment
Create Requirement: creates a new requirement and associates this comment to it (only available to Justinmind Enterprise users)
Category: changes the color of the selected comment. See more in the "Comment categories" section below. 
Delete: deletes the selected comment. You can delete more than one comment at once.
Comment categories

Developers: click to label a comment as made by a developer
Clients: click to label a comment as made by the client
UX Team: click to label a comment as made by the UX team
None: click to revert comment category to default (no label)
Edit Legend: click to configure the categories' labels and colors
Synchronizing reviewer comments in your prototype
If you have shared your prototype to your online account and reviewers have left comments on your prototype, you can synchronize and update all comments in the Justinmind editor.

To do so, go to the Comments toolbar and select the "Refresh comments". A dialog will appear prompting you to either replace or copy comments that have the same ID. Select the preferred action from the drop-down. You can also assign the new comments a category within this dialog. (see "Comment categories" above). Then, click "OK".
New comments will appear in the Comments Palette in the User Interface module, as well as the list of comments in the Comments module.
Visualizing a UI element associated with a comment
To visualize a UI element associated with a comment in the User Interface module, go to the Comments palette. Right click on the relevant comment. Select "Show component" from the menu.

On the Canvas, the associated UI element will appear selected.