Managing projects
Explore the Projects tab of your online account and learn how to create and manage your prototyping projects.
Managing projects
When you log in to your Justinmind online account, the first tab you'll see is the Projects tab.
The Projects tab displays a list of your projects, each containing one or more shared prototypes.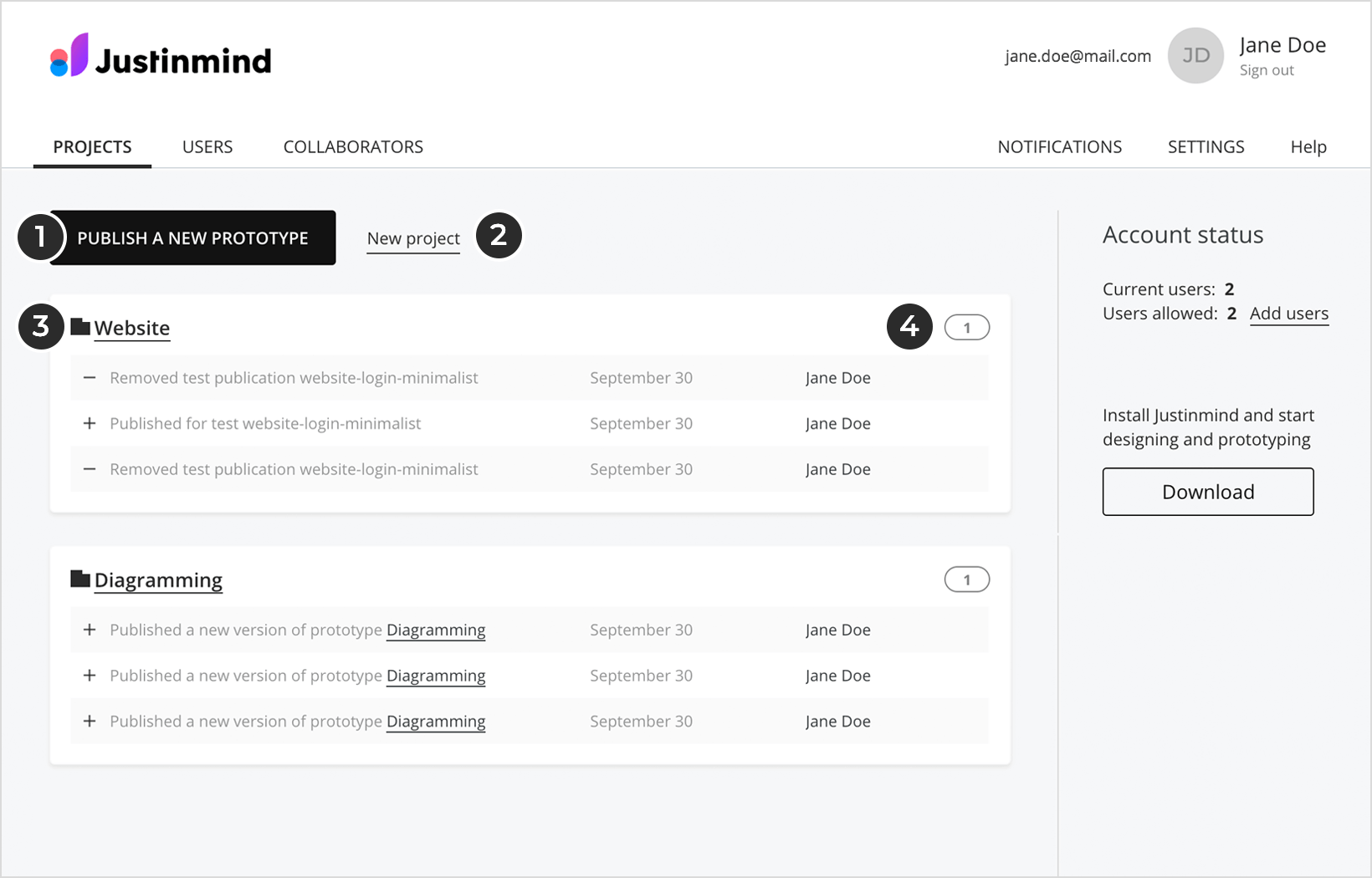 Click the "Publish a new prototype" button to share one of your prototypes to your online account. In the dialog that appears, you can select the prototype you want to upload from your folders, as well as the project you want to place it in.
Click the "New project" link to create a new project. A project's name can be up to 100 characters long and can contain any Unicode character.
Your projects are listed under the "Publish a new prototype" button. Below the project's name, you'll see a list of shared prototypes contained within the project.
On the right, a circled number lets you know how many shared prototypes are contained within each of your projects.
Manage prototypes within a project
To see the contents of a project, click on the link next to the folder icon.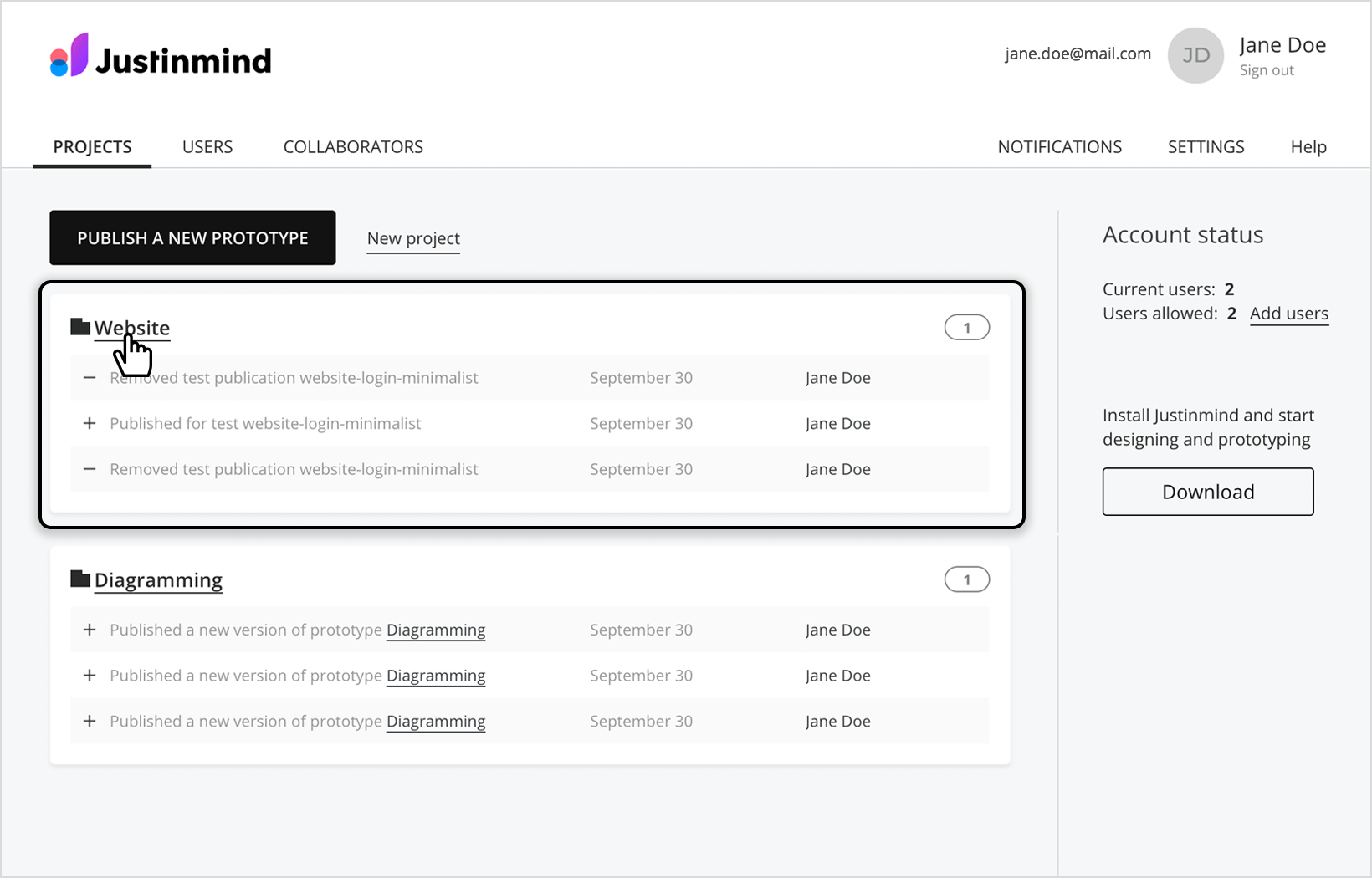 You will be taken to another page that lists the project's prototypes in more detail. Here you'll find: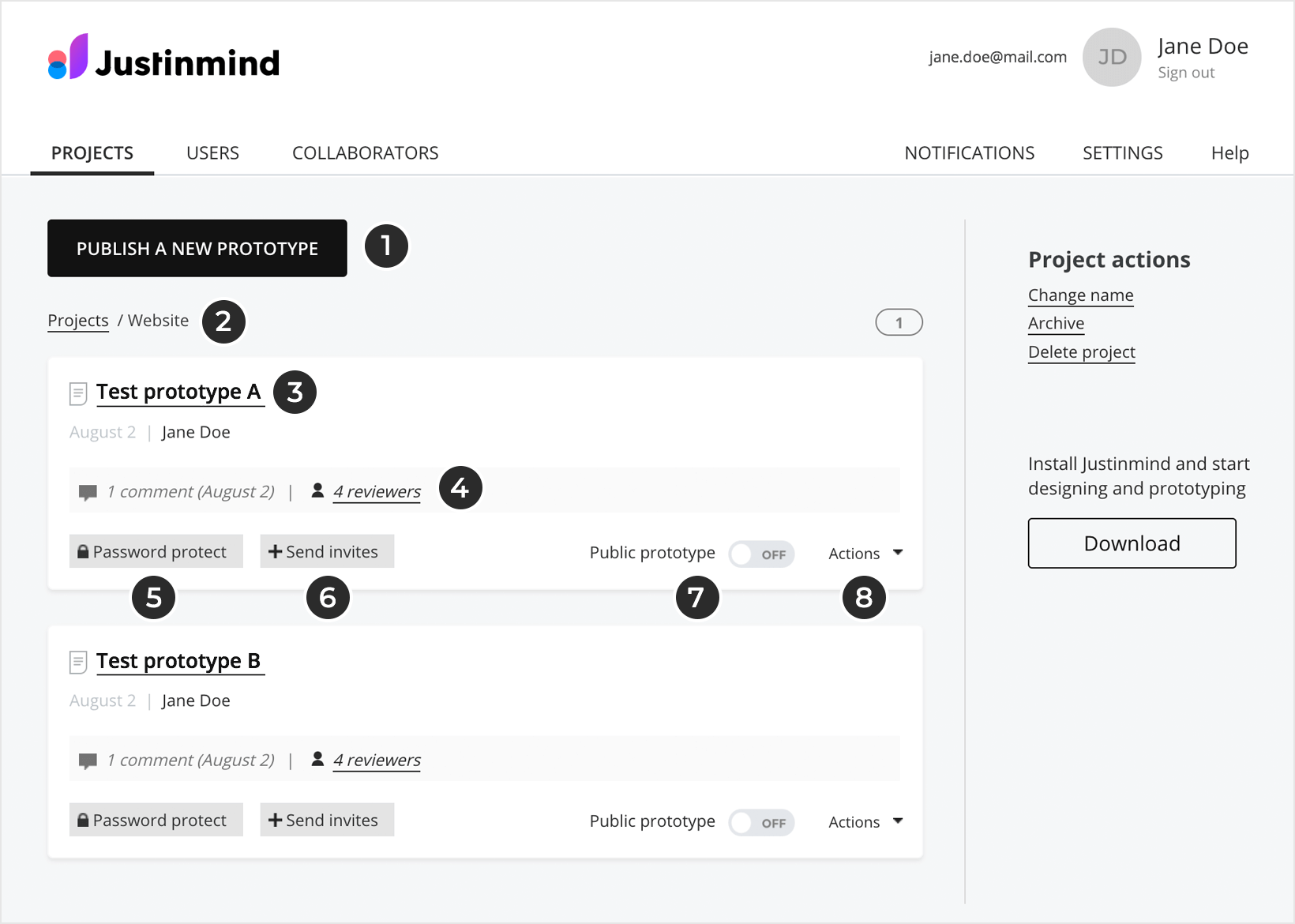 Click "Publish a new prototype" button to share one of your prototypes to your online account
Click within the breadcrumb menu to return to the Projects page
A description of a prototype within your project, including name, date and owner. Click on a prototype's name to simulate it in a separate window.
Here, you'll see the number of comments attached to this prototype, as well as how many reviewers have access to it
Reviewers will access your prototype via a public or private link. To make your prototype password protected, click the "Password protect" button.
Click the "+ Invite reviewers" button to invite reviewers to review your prototype. Learn more here.
Slide the "Public/private" toggle on to allow public access to your prototype. On the right of the toggle, a "Get link" link will appear. Anyone you share this link with will be able to view and interact with your prototype. If your prototype is password protected, you will also need to provide them with the passwords.

Slide the toggle off if you want to limit access to those you have invited to review your prototype.
An Actions drop-down
From the Actions drop-down, you can perform the following operations on your shared prototypes: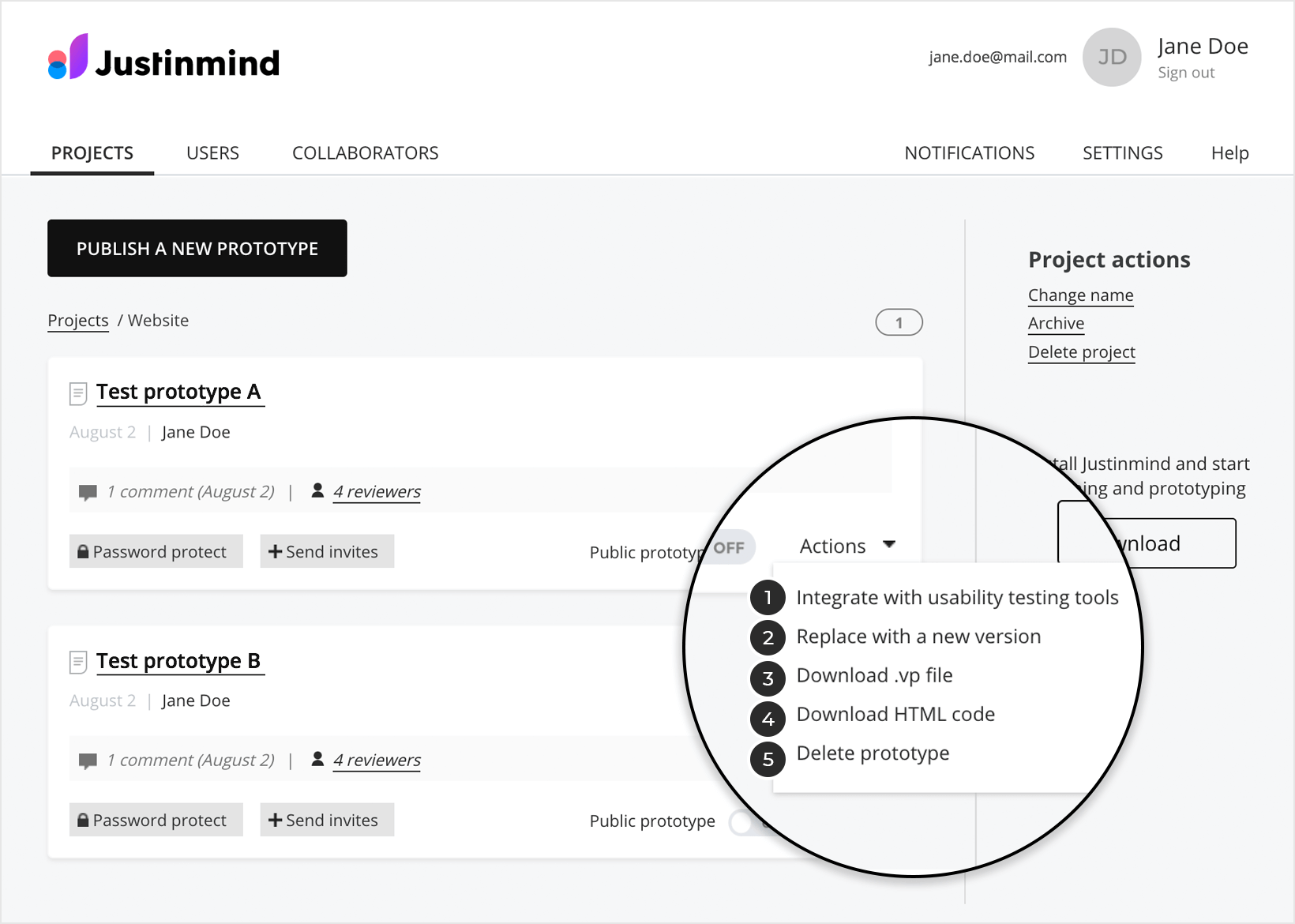 Integrate with usability testing tools – click to perform user testing with your prototype. A dialog will appear, allowing you to select a testing tool to get started with.
Replace with a new version – click to replace prototype with an updated version form your folders
Download .vp file – click to download a local .vp version of the prototype
Download HTML code – click to download the prototype as HTML code
Delete prototype – click to delete prototype from your online account
On the right-hand side of the screen, you will find a panel containing the following options: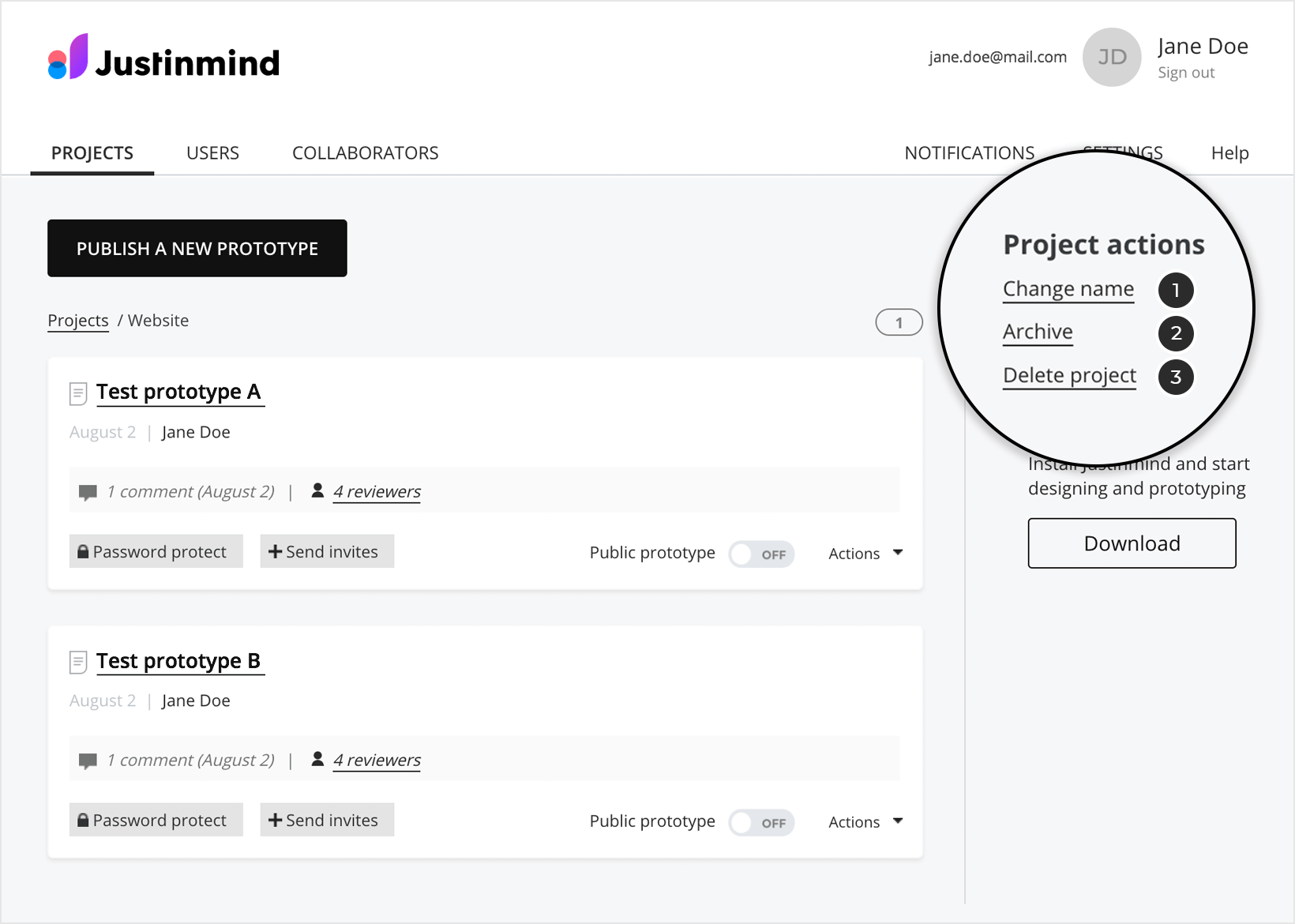 Change name – click to rename your project
Archive – click to archive the project. The project will be stored in the "Archived projects" folder below. Its prototypes won't be accessible, but will still contribute to the amount of space used in your online account.
Delete project – click to delete a project. Note that this action requires confirmation and is irreversible.
Click on the "Archived projects" link to view its contents.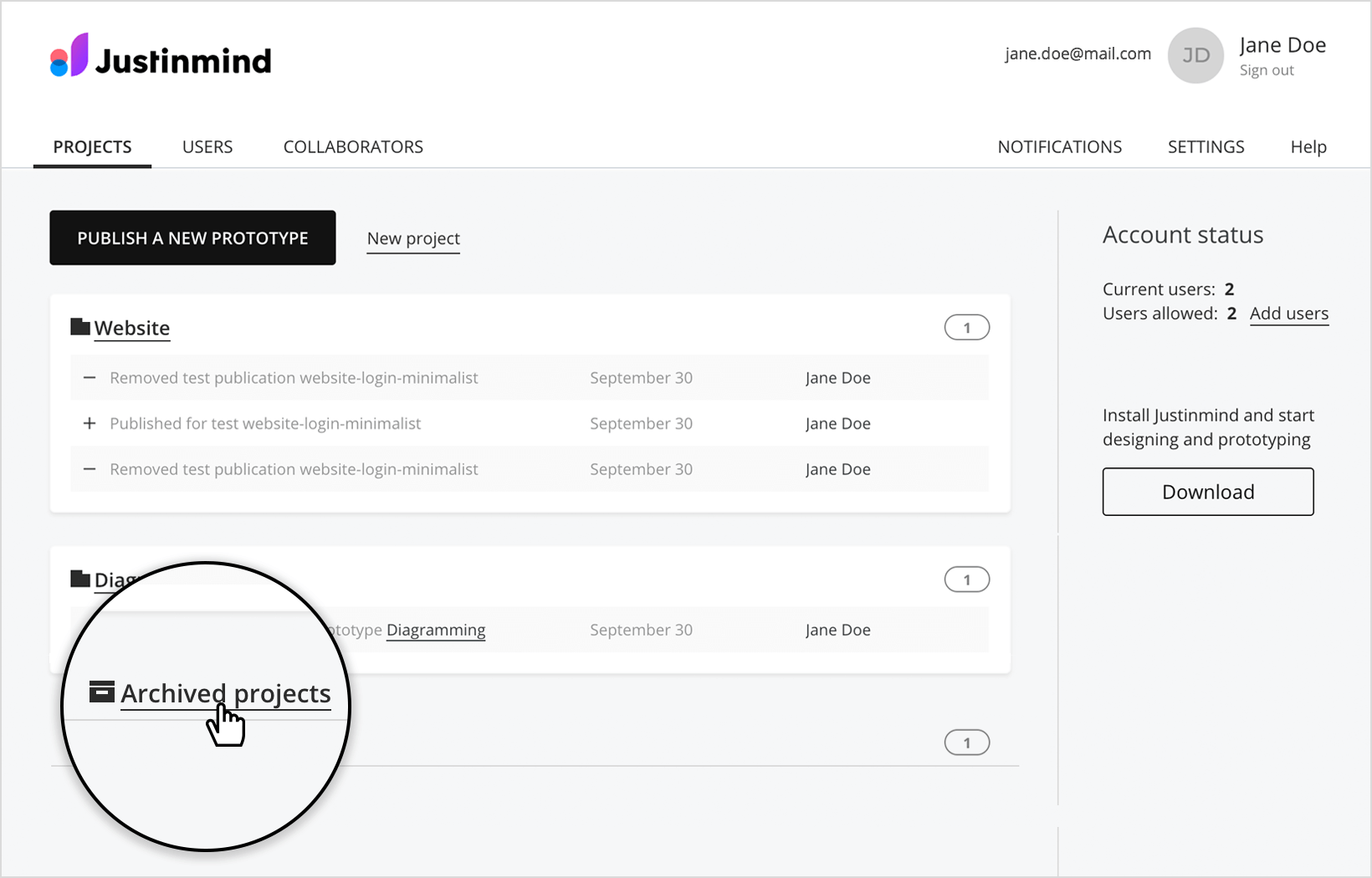 From here you can: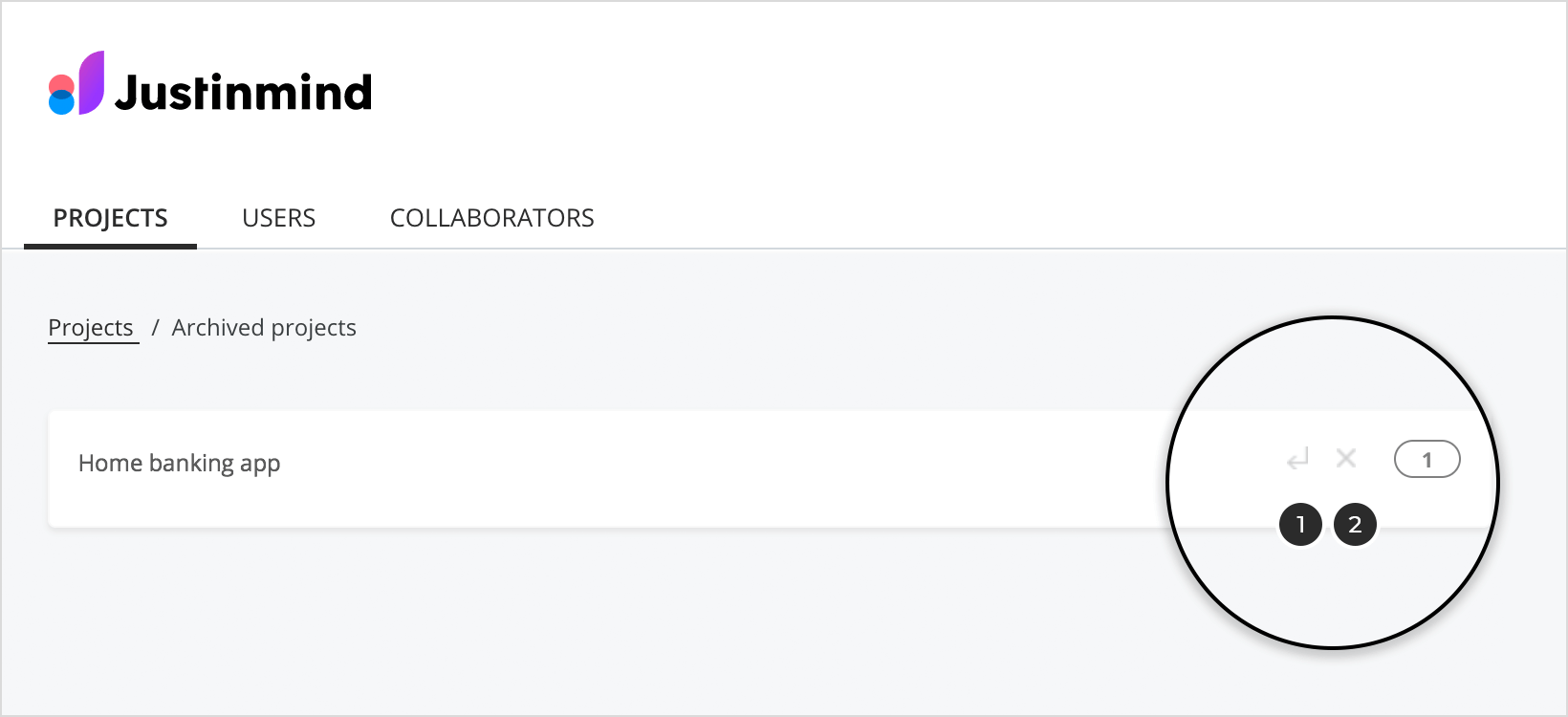 Restore a project
Delete it permanently. Note that this action requires confirmation and is irreversible.
Notifications
As owner of a prototype, you will receive notifications via email every time a reviewer makes a comment on your prototype.

You can manage all prototype notifications in the Notifications tab, as shown below: