What are the best subreddits for UX/UI designers?

Get useful advice, learn something new and boost your UX design skills on these 11 best subreddits for UX/UI designers
Reddit comes up a lot in the office at Justinmind and our teardown of their UI update had us thinking: where can UI designers go to get the latest juice on all things UX? Well, it turns out Reddit's a pot of gold for designers…
There are a ton of UX/UI design communities on Reddit, all waiting for you to take advantage of.
Got a tricky design problem you're stuck on? Ask your pals on r/userexperience! Need participants for a research study? Hey, r/UXResearch, how you doin'?
What we're getting at is that Reddit is an untapped resource for user experience professionals. You can get career advice, constructive design criticism and even a new job if you're lucky.
With that in mind, we've collected 11 of the best subreddits for UX/UI designers. Let's take a look.
---
Create and build your own prototypes in Justinmind. Download free
---
r/userexperience has over 30,000 subscribers. It's an active community that asks pertinent questions like "Should designers learn to code?" or "Is knowing Framer a beneficial skill as a UXer?"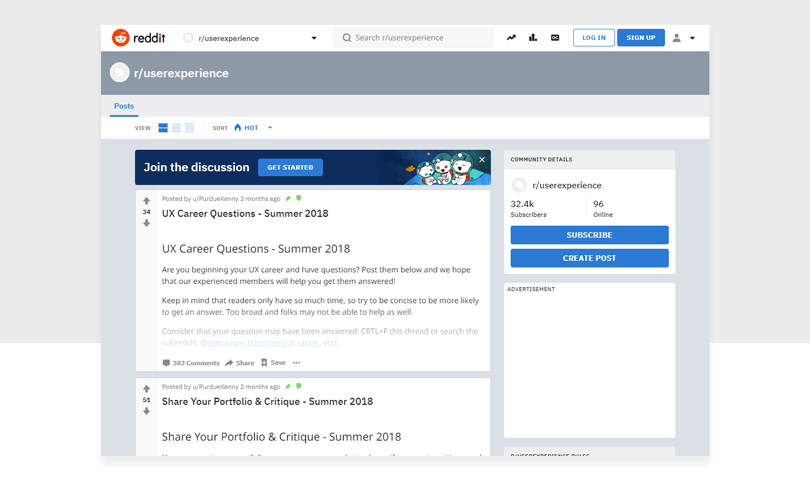 You do have to wade through some uninspiring content every now and again but the community is full of helpful people who offer their friendly advice.
What's more is often people will start a thread looking to hire a designer so you've even got a chance of finding work.
Stuck between two designs? Not sure where that call to action button should go? Is this navigation intuitive? These are questions UX and UI designers are used to asking themselves. r/SampleSize is your place to ask other people those very questions.
You can post polls, surveys and research studies. There's over 70,000 people who all love taking part in research. Find your answers and make better design decisions by making your way to r/SampleSize.
Speaking of user research, curious about which methods you can start using today?
Everything related to UI design, mobile UI design and app design can be found in r/UI_Design
Popular discussions include: 'What design tools do you use?' And 'How did GIFs evolve in mobile UI?'
If you've read an article and enjoyed it, why not share it in UI_Design and get a discussion going?
In this community, you'll find discussions on how to design notifications for apps. You can share your UI designs and get free feedback. And you can ask the 13,000 subscribers what they think of that podcasting UI you just created.
r/startups is a thriving community of people who discuss problems and solutions related to startups. You might be asking: what's this gotta do with UI/UX design?
Many threads in r/startups are from fresh founders who understand the importance of UX design and want to implement it properly. Some of the founders are UX designers themselves.
In this community, you have the opportunity to learn about startup culture and where UX design fits in as well as sharing your own thoughts and opinions – trust me, these founders will appreciate it.
Web designers! This is your home. With 331,000 subscribers, r/web_design is the place to go for anything related to HTML, CSS, JavaScript, layout, UI and graphics.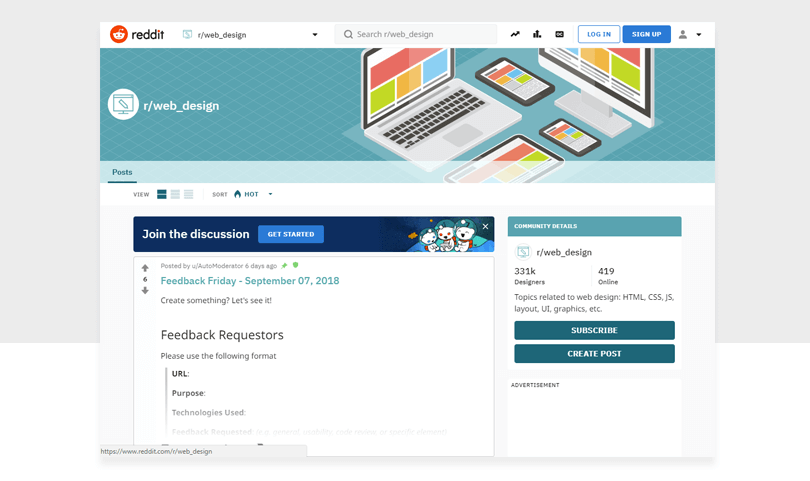 If you're struggling with a problem or if your JavaScript isn't working as you'd like then start a thread on wed_design and get your answer.
If you've worked on something and want to share it, head to the Feedback Friday thread where you can get constructive feedback about your work.
Oh, and there's a chatroom, too.
Web dev is similar to r/web_design but focuses exclusively on web development. You'll learn all about developing for the web and there's a popular beginners questions thread where you can ask anything without any judgement.
Just under half a million design enthusiasts are subscribed to r/Design. Design covers it all – graphic design, UI design, illustration, you name it.
The beauty of this community is it's very active and some threads get upvoted into the hundreds.
If you're ever in need of a little inspiration then r/Design will have something for you.
It's important for designers to receive feedback on their designs. This is what allows them to make appropriate changes and become better designers. Plus, how often do we spend looking at our screens without a word for anybody else? Too often.
r/design_critiques has over 35,000 subscribes waiting to share their knowledge on your designs. They cover everything too – websites, mobile apps, portfolios, site architecture… you name it, you'll get it critiqued in this community.
A word of advice: take the critiques with a pinch of salt and don't let them dampen your confidence. Reddit is known for sarcastic retorts but among that you'll usually find a few Redditors who know what they're talking about and care about giving you constructive advice.
Love design critiques? We did one for Walmart.
As a UI designer maybe you don't want to read about the intricacies of navigation elements. Instead, you want to put the theory into practice. How? Employment!
r/forhire has nearly 100,000 members all looking for gainful employment. There are opportunities for UX designers, UI designers and developers to find work through this budding community.
It's also a great place to find another pair of hands to help you on a project. Don't be put off by the lack of numbers – a lot of the communication in this community is done privately.
This is a small, tight-knit community for sharing and discussing all things related to UX research.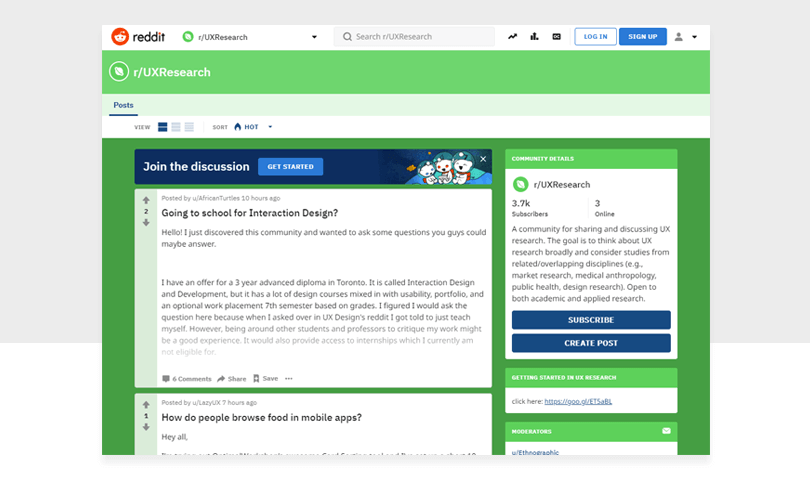 The goal of the r/UXResearch is to think about Ux research broadly and consider studies from related/overlapping disciplines (e.g market research, medical anthropology, public health, design research). The community is open to both academic and applied research.
There's a comprehensive guide about getting started with UX research that is full of valuable and free information related to research.
This one isn't strictly UI related but we're sure that many UI and UX designers will benefit from a casual browse of r/productivity.
There's nothing worse than getting to the end of the day and realizing that you haven't done very much work. So many things during a normal day fight for our focus.
Having a set of reliable tools and tricks you can use to boost your productivity means that your work won't suffer when procrastinations comes a knockin'. And trust us, it's always knocking!
FOUND THIS USEFUL? SHARE WITH
Steven Douglas
Steven is the web editor at Justinmind
Related Content
Learn what paper prototypes are, how to make them and how they can help you design better products. Awesome examples and free templates inside!

Learn how to design web and mobile app prototypes, how to test them and what to look for in a prototyping tool in this complete guide.

UX research can be a driving force in design. But what methods are there? How do we approach it? Find out in this post!