Free webinar: aligning business with IT through prototyping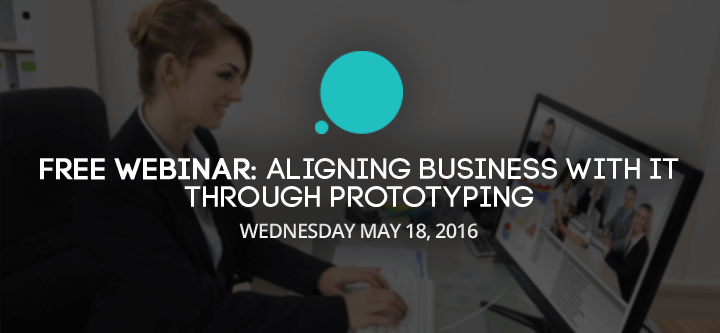 Learn in 60-minutes how a comprehensive prototyping platform such as Justinmind can help big companies to gather and validate requirements in software development projects.
Enterprise IT projects can be challenging. The average project goes over budget by almost 180%, and 94 out of every 100 projects require a restart. Here at Justinmind, we believe that doesn't have to be the case. We believe that effective prototyping holds the key to enhancing the definition and management of software specifications. In our upcoming webinar on May 18th, at 10am PST, we show you how to avoid writing textual requirements and start using rich interactive prototypes to allow requirements to emerge and evolve over time. This will help you gather, validate and share your software specifications, all the while ensuring the quality of your applications.
---
Interested? Register here for free
---
Aligning business with IT Webinar: What you'll learn
Define Business Applications Visually
Effective IT projects depend upon effective Enterprise frameworks, and prototypes are vital in allowing you to test whether the flow of your project is smooth. How? Visualizing them before getting down to code. The prototypes will be the communication vehicle, and they are worth (much) more than 1,000 words: they are highly interactive models for eliciting and managing requirements.  With a prototyping platform, you can do that across cross-functional teams and stakeholders, helping you to define web and mobile app solutions reducing project risks.
Improve Collaboration and Customer Alignment
In the webinar our team will explain how Justinmind lets you securely share, collaborate and comment on prototypes behind your own firewall. With full version control both online and offline, you can share prototypes and centralized assets among multiple authors, meaning your team is always on the same page no matter where they are in the world.
With about 45 percent of all approved requirements never actually being used, business analysts will use communication tools and techniques to allow requirements to emerge and evolve over time Joseph R. Czarnecki
Improve traceability by visualizing user flows with interactive scenarios
Requirements tracking is crucial to realizing a successful enterprise IT project. Justinmind lets you organize requirement versioning and customize categories, making your management more efficient. Plus we can visually confirm the fulfillment of each requirement within the prototype. Forgot about textual requirements from now on.
Engage users with hi-fi simulation and device testing
The sooner you engage with your end-users, the more effectively you can iterate and validate your prototypes. In the webinar we'll go over the integration of user testing tools with Justinmind, as well as on-device simulation and exporting your projects as customizable specification documents.

FOUND THIS USEFUL? SHARE WITH
Cassandra Naji
Cassandra is Marketing Lead at Justinmind
Related Content
Hands-on UX Strategy & Prototyping workshop with Jaime Levy 2017

UX strategist Jaime Levy leads our upcoming workshop on defining the perfect UX strategy and validating innovative concepts with interactive prototypes. Don't miss out, sign up...

Integrating Agile and UX Design with Justinmind prototyping tool

Find out how rapid prototyping with Justinmind can help engage stakeholders, improve your UX Design and boost your Agile workflow