Web & mobile prototyping, wireframing, UX: September's best posts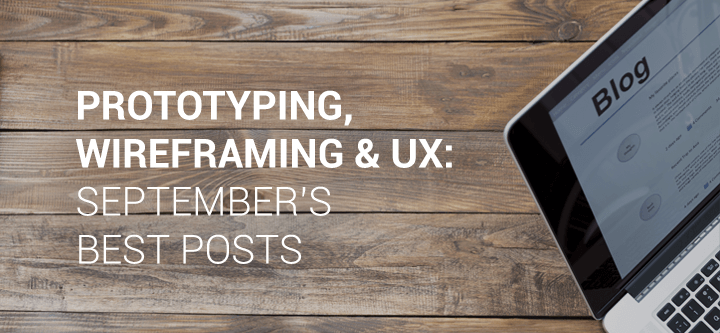 Catch up on the best wireframing, web and mobile prototyping and UX blogs from around September's web, curated by Justinmind.
Prototyping, wireframing and user experience all got a great work-out on the web this month, as September brought some stellar blog posts to our intrays here at Justinmind. From thoughtful, original research on intuitive interfaces to the ever-readable listicle, here are our favourite posts from September on software design, prototyping and usability.
40 Hours to Prototype
Ok ok, it's from the last day of August, but this post is well worth including in our round up of top web content. Monika Adarsh from CanvasFlip provides readers with an honest peek behind the scenes of what happens when a design/development team has one working week to to build and test a web prototype. '40 hours to prototype' walks us through what her team did day by day, examining what worked and, more importantly, what didn't. The five day design sprint included UX strategy building, paper prototying, wireframing and usability testing with interactive prototypes. The post is full of useful tactics to get design teams through tough deadlines in one piece, from group diverging exercises (Crazy8s, anyone??) to tools for capturing data from usability tests on prototypes.
Time to read: 8 minutes
Takeaway thought: "In just five days, working almost 8 hours a day, we can achieve an outcome which normally takes months."
---
Download Justinmind today and start prototyping!
---
Reducing Cognitive Load for a Better User Experience
It takes a lot of effort to make something look effortless, as the great architect Norman Foster (almost) said. This is principle behind Danny Halarewich's in-depth piece for Smashing Magazine, in which he explores how to create intuitive interfaces by reducing cognitive load, or the amount of effort a user has to make to navigate an interface. Looking back at the academic roots of cognitive load theory, information processing and psychology, as well as Steve's Krug's seminal UX book 'Don't make me think', Halarewich identifies common causes of cognitive overload in interfaces, and how designers can avoid them. The post is full of useful advice and explicatory images of good, and not so good, interface design.
Time to read: 20 minutes
Takeaway thought: "Complicated and confusing interfaces force users to find solutions to problems that shouldn't be there in the first place."
Why Designers and Web Developers Must Work Together
Carrie Cousins, writing in DesignModo, makes a heartfelt call for the end of design-development silos. She breaks down the areas or divergence and cross-over between the two roles on a software or web project, then looks at the pros and cons of working colloboratively, rather that in silos (pros – everything; cons – there might be the occasional head-to-head). But what we at Justinmind really love about this post is its practical advice for how to work toegther successfully, inclouding tips for designers on how to cope with developers, and vice versa. Interesting reading for professionals on either side of the fence, and their project/product managers.
Time to read: 15 minutes
Takeaway thought: "The question really starts to become less about why designers and developers should work together, but how they can better work and understand the duties of the other."
Design Technologists: Front-end Development in the Design System Era
Just when you thought that the full spectrum of design-development-ux job titles had been explored, Jory Cunningham introduces a new element to the mix – Design Technologist. Jory, himself a Design Technologist, explains in his Medium post that people in this role straddle the intersection between designers and engineers, having "advanced knowledge of one or more digital delivery mediums but also a strong basis in UX, visual, and motion design… an engineer's pattern thinking to systematizing designs and a designers eye for fit and finish and empathy for a user's needs." This post tells you everything you need to know about your next Design Technology hire, from responsibilities to value added.
Time to read: 7 minutes
Takeaway thought: "Organizations understand that designers and the people who realize those designs should have a shared context, timeframe, language, and incentives."
Employees as Usability-Test Participants
Usability testing is a practice that's hard to perfect, and very easy to screw up. One of the easiest ways to screw it up is by testing early stage products or prototypes on your intrenal employees, says Angie Li in her piece for NN Group. While recognizing that pressures such as time, budget and ease of recruitment leave some teams clutching at straws when recruiting user testers, Angie pulls no punches in highlighting the dangers of the practice (biased results, skewed motivation, knowledge of company jargon, emotions getting in the way, etc) and makes the case instead of testing on your real target – potential customers – fromn the start of a development project. An eye-opening read for anyone looking to do usability testing.
Time to read: 5 minutes
Takeaway thought: "Asking employees for feedback can affect both how sound your data will be and how the employees might feel about the company. Your data may reflect employees' biases instead of real-user needs and behaviors."

FOUND THIS USEFUL? SHARE WITH
Cassandra Naji
Cassandra is Marketing Lead at Justinmind
Related Content
Guide to list UI design: principles and examples

How important are lists in UI design? How much do they affect usability and what's the best way to design them? In this guide, we'll explore the elements that make up a great list UI design and look at some inspiring examples!

Shopping cart design: patterns for better conversion

Shopping carts are a key part of any ecommerce. But what makes a shopping cart good? And what can we do to improve its conversion? Read on and find out!

Hotel website design: 13 stunning examples

Hotel website designs require two fundamental qualities: they must be attractive and usable. Great designs can leave a positive impression on the client before they even arrive. In this post, we've rounded up 13 examples of hotel website design done right.