Web & mobile prototyping, wireframing, UX: November's best posts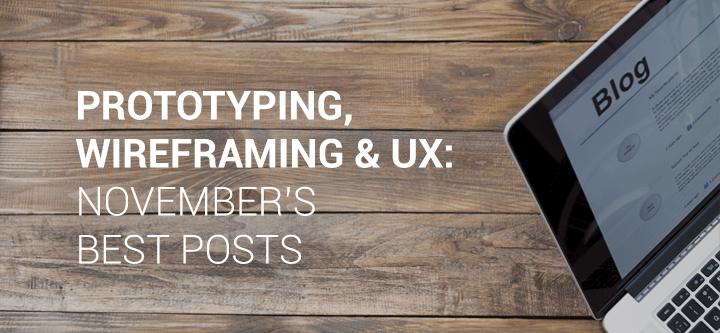 The must-read wireframing, UX and web & mobile app prototyping blogposts from November, curated by Justinmind.
It's the time of the month again, when Justinmind rounds up the unmissable prototyping, wireframing and user experience posts from the last 4 weeks. Thanks to the imminent launch of our first eBook, Making an Enterprise UX-Friendly: A Quick Guide (PDF), we've had a great excuse to read the best user experience and product management resources available and include them in this month's list – check out the posts on virtual reality in product development, or critical metrics for PMs. And as usual, we've included great content on user interface design, prototyping and usability. Enjoy!
Offboarding: How and how not to end relationships with users
Sarah Khan's UX Booth article tackles a familiar problem – offboarding experiences and why they're so often sub-par for users, and sometimes infuriating. Starting out from the premise that bad offborading negatively impacts the bottom-line in the long-term, Sarah doesn't pull any punches in her explanation of why offboarding is often so painful: companies simply don't want customers to escape their clutches. teh article exploses the 'dark patterns' employed by companies to obfusticate the offboarding process before going on to techniques to help designers make offboarding more "humane", even if business stakeholders don't support them. By using personas, user journeys, empathy and evidence, designers can impact offboarding and stop taking the customer's trust for granted, says Sarah. Amen to that.
Time to read: 6 minutes
Takeaway thought: "Bad offboarding is bad for business."
The Biggest Problem Facing UX Design
Design in general, and UX Design in particular, is enjoying 'a moment', says Ben Newton in UX Matters. Companies such as Airbnb credit their designers with the success of their business, and organizations the world over are jumping on the UX bandwagon. Sounds great. But in "The Biggest Problem Facing UX Design" Ben points out the danger in this UX bubble: soon enough stakeholders will start to ask for evidence of UX's value. How can design – and designers – prove to companies their value, and present evidence of their ROI?
Ben's post, which is actually a summary of a podcast episode from UX Matter's highly listenable True North series, talks to a range of UX and PM experts to find out how designers can prove and present their business worth. With advice from the likes of Jeff Gothelf, Andy Budd, Jake Causby and Chris Thelwell, there's plenty of sterling information here.
Time to read: 10 minutes
Takeaway thought: "As an industry, we've got to address the problem that design can't be a fad."
---
Validate faster, wireframe better. Download Justinmind.
---
Critical Metrics Every Product Manager Must Track
In this fun and pertinent post, Evgeny Lazarenko looks at our obsession with data and how it can be our best friend or worst enemy. "Critical Metrics" attempts to "cut through the noise and save time for those who decide which metrics are best to gauge the health of their product or company", foregrounding the needs of Product Managers and Developers. Evgeny lays out which metrics are important for UX, customer service and business and clarifies what those metrics might imply for product strategy. It's simply expressed, clear and on the money – just how metrics should be.
Time to read: 5 minutes
Takeaway thought: "Since we can collect so much data about virtually everything people do in our software, we cripple ourselves with information that doesn't matter. Making the wrong decisions has never been easier."
A Quick Guide for Designing Better Buttons
We feel bad always including Nick Babich's posts in this list, but they're so good it's hard not to. In his Smashing Magazine article on designing better buttons, Nick covers button basics and their impact on user experience, from shape, form and color to labels and location. This post is great because it sets out the connections between design and action: button size impacts taps, consistent GUI reduces task completion time, and so on. The section on creating visual hierarchy is particularly relevant to online vendors, and there's a useful checklist to round up the post. As usual, just what a busy designer needs, wrapped up with a bow.
Time to read: 15 minutes
Takeaway thought:  "Button design is always about recognition and clarity."
Let's Talk About Design Portfolios
In his role as Product Designer at VTEX, Danbiel Bosco hires a lot of designers. So he gets to check out a lot of designer portfolios. In "Let's Talk About Designer Portfolios", he reveals the most egregrious portfolio presentation mistakes made by designers and, with the help of his team, reveals advice for making and presenting a job-winning portfolio. Aimed at UX/Product Designers, the post explains how to make the case for design decisions taken, how to present your thought process as a designer (as well as your execution), and how many projects to present.
Time to read: 5 minutes
Takeaway thought: "Writing the story behind your project is the best way to bring forward the problems, lessons and results of your design process. In the end, that's all everyone wants to see."
Virtual Reality and Your Product Development Process
After years of hype, Virtual Reality has finally landed, say authors Jason Monberg and Dale Knauss in their post on Mind The Product. What kind of impact can we expect on product development and management? Focusing on B2B and B2C applications instead of gaming, Jason and Dale look at how the development process is different in non-gaming VR, debate whether there's always business value in applying VR to enterprise applications, workflow management techniques for VR products, and using wireframes to define product value. VR has arrived, and Product Managers have to start grappling with it here and now.

FOUND THIS USEFUL? SHARE WITH
Cassandra Naji
Cassandra is Marketing Lead at Justinmind
Related Content
Guide to list UI design: principles and examples

How important are lists in UI design? How much do they affect usability and what's the best way to design them? In this guide, we'll explore the elements that make up a great list UI design and look at some inspiring examples!

Shopping cart design: patterns for better conversion

Shopping carts are a key part of any ecommerce. But what makes a shopping cart good? And what can we do to improve its conversion? Read on and find out!

Hotel website design: 13 stunning examples

Hotel website designs require two fundamental qualities: they must be attractive and usable. Great designs can leave a positive impression on the client before they even arrive. In this post, we've rounded up 13 examples of hotel website design done right.