Web & mobile prototyping, wireframing & UX: August's 6 best posts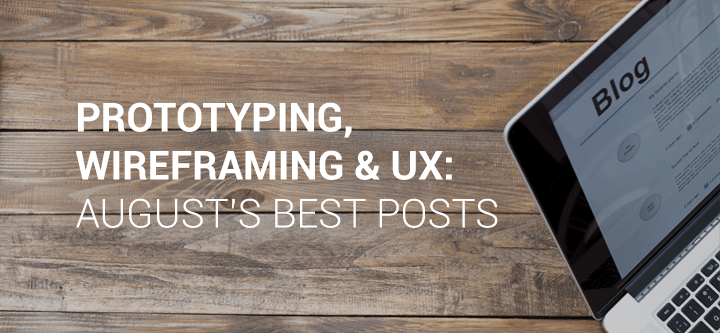 The best 6 posts on web and mobile wireframing, interactive prototyping and user experience hitting the blogosphere in August.
It may have been a holiday kind of month for some, but here at Justinmind we've been scouring the internet to bring you another of our curated lists full of top wireframing, prototyping and UX/UI content. Covering everything from conversational interfaces and artificial intelligence to user personality types and usability best practices, everything you need to know this August is right here.
Searchers and Browsers : the personality types of UX
Navigation patterns are an eternally hot topic in UX (we covered the topic as well only recently), but Tucker Fitzgerald's post Searchers and Browsers really provides fresh food for thought. Setting out from the principle that certain users prefer browse (menu) navigation and others search bar, Tucker asks how we can start to design with both these users in mind. Whether comparing different types of users to hunters and gatherers or musing on mega-menus, the post provides possible tweaks to improve both navigation patterns, backed up by real-life examples from across the web. A definite must-read for just about anyone intrigued by UX and emotional design.
Time to read: 14 minutes
Takeaway thought: "What the empathy of user experience design invites us to do is to consider what all users' experiences feel like, remembering that people very different from us will be navigating content very differently than we do."
Die Dashboards Die! Why conversations will re-invent software
Here on the Justinmind team, we're all big fans of the work of author and behavioral design guru Nir Eyal. And Die Dashboards Die!, co-authored by Nir and Lakshmi Mani, is no exception to the rule. In the post, Nir and Lakshmi turn their laser-like gaze on the clunky dashboards typically found in enterprise software, and consider how conversation interfaces could improve user experiences of these softwares. Starting from the premise that almost all enterprise software perform three common functions (yep, only three), the authors provide examples of how conversational UIs could lead to more intuitive software and greater goal-completion by users. Unintuitive software such as Google Analytics comes in for a bit of a roast, and the suggested tweaks are super interesting.
Time to read: 10 minutes
Takeaway thought: "Software should be like a good friend—ask and ye shall receive."
---
Download Justinmind today and start prototyping!
---
Usability Testing with Prototypes
This month the Justinmind blogging team has taken their prototyping skills on the road, contributing this post on user testing to Usability Geek. While interactive prototypes are a great way to carry out usability testing, a few best practices have to be applied to make sure the results are valid. Taking a practical approach, the post looks at why, when and how to run usability tests on high fidelity prototypes, including how to select user groups, what kind of content to include in the prototypes, and at which prototypes to test and different stages of your design process. The post is broken into bite size sections to make it as practical as possible to digest and apply.
Time to read: 12 minutes
Takeaway thought: "There is no silver bullet for getting an issue-free software, app or site up and running. But these best practices when testing on interactive prototypes can reduce coded reworks and go a long way to ensuring you run meaningful and effective usability tests."
AI Revolution 101
This mammoth article, Pawel Sysiak's take on an original piece by Tim Urban, tells you everything you even wanted to know about Artificial Intelligence but were afraid to ask: the early days of AI, challenges associated with the technology, and predictions around where AI will take us in the future. While AI Revolution 101 requires a significant time investment to read in a oner, it is an invaluable resource of expert opinion and stimulating viewpoints. Pawel keeps Tim Urban's material lively with leftfield metaphors (who ever knew that the AI Revolution was kind of like the First Agricultural Revolution??) and explicatory road-maps. Definitely worth a read for anyone thinking about incorporating AI into their next project.
Time to read: 42 minutes
Takeaway thought: "Nothing will make you appreciate human intelligence like learning about how unbelievably challenging it is to try to create a computer as smart as we are."
Embracing Uncertainty in UX research
Airbnb is one of the world's biggest unicorns, with a cool 60+ million users worldwide and stellar user experience to boot. So when Airbnb Experience Research Manager Matt Gallivan muses on UX, it's worth a read in our opinion. In Embracing Uncertainty, Matt considers the risks of complacency in UX research: overgeneralization, simplification, assumption are easy traps to fall into after years of watching users use products, especially in a field that isn't, as Matt admits, a hard science. Matt argues that UX professionals shouldn't try to simplify their field and hide behind scientific jargon; instead, they should embrace the multifarious outcomes provoked by users and resist claiming they have all the answers. UXers should aim to bring insights and inspiration to the table, "not universal truths".
Time to read: 8 minutes
Takeaway thought: "If you're a UX researcher, you do yourself and your field no favors when you claim to have all of the answers."
WeChat: China's Integrated Internet User Experience
In WeChat: China's Integrated Internet User Experience, Jakob Nielsen and Yunnuo Cheng dissect the reasons for the rise of China's biggest messaging service, and the impact of WeChat's popularity on Western tech companies. As the authors see it, the fact that Chinese mobile users spend an average 33 % of their total internet time on WeChat can be attributed not to the apps conversational interface, as some say, but to the fact that it offers an "integrated user experience". After conducting 2 rounds of user research, the authors found that the integration of WeChat's myriad services was key to the apps success; the lesson drawn for developers in the West is that convenience, rather than convresational interfaces, is the key to keeping users engaged.
Time to read: 11 minutes
Takeaway thought: "Users need useful features that address their real needs instead of their imaginary ones."

FOUND THIS USEFUL? SHARE WITH
Cassandra Naji
Cassandra is Marketing Lead at Justinmind
Related Content
Guide to list UI design: principles and examples

How important are lists in UI design? How much do they affect usability and what's the best way to design them? In this guide, we'll explore the elements that make up a great list UI design and look at some inspiring examples!

Shopping cart design: patterns for better conversion

Shopping carts are a key part of any ecommerce. But what makes a shopping cart good? And what can we do to improve its conversion? Read on and find out!

Hotel website design: 13 stunning examples

Hotel website designs require two fundamental qualities: they must be attractive and usable. Great designs can leave a positive impression on the client before they even arrive. In this post, we've rounded up 13 examples of hotel website design done right.