UXPA 2015: UX for better web, mobile and wearable apps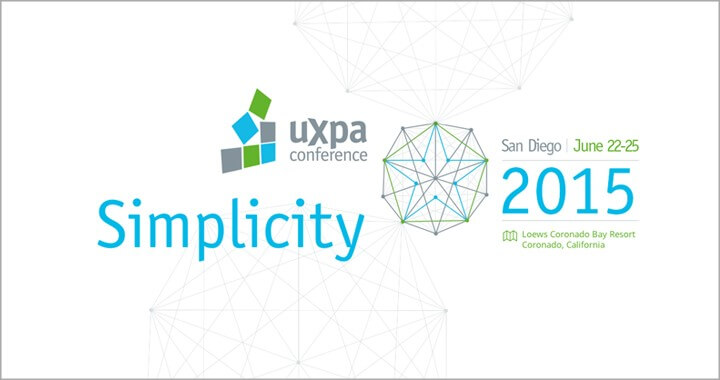 This year's UXPA International conference is taking place near San Diego in the beautiful Loews Coronado Bay Resort in Coronado, CA from June 22 to June 25! It is a gorgeous resort with ocean views and the San Diego skyline.
Because last year's conference in London was amazing, this year we're sponsoring the international UXPA conference once again and we couldn't be more excited! This year's program focuses on UX and Simplicity and it includes more than 50 sessions across the 5 UXPA's topics: tools and techniques, design psychology, service design, career development and UX strategy.
The 3-day event, features complete courses by UX experts as well as top keynote speakers from organizations such as Microsoft, Stanford's design school and Scripps Networks Interactive. If this wasn't enough, the UXPA international conference is also a great place to network and learn best practices from the best professionals out there, and have a good and interesting time.
Read all about it and check out the entire program here.
Make sure you register on time
And share your experience with us!
We recommend you check out the courses on the "Tools & Techniques" track, which include topics such as "UX and Agile: Making a Great Experience", "Adapting to Responsive Design" and a wearables workshop that comes in especially handy now the Apple watch is out!

FOUND THIS USEFUL? SHARE WITH
Gabriela Paiz
Social media management and content writer for Justinmind's website and newsletters. She loves food, movies and ... did we mention food?
Related Content
Hands-on UX Strategy & Prototyping workshop with Jaime Levy 2017

UX strategist Jaime Levy leads our upcoming workshop on defining the perfect UX strategy and validating innovative concepts with interactive prototypes. Don't miss out, sign up...

Integrating Agile and UX Design with Justinmind prototyping tool

Find out how rapid prototyping with Justinmind can help engage stakeholders, improve your UX Design and boost your Agile workflow