UX Link 2016: 12 unmissable user experience speakers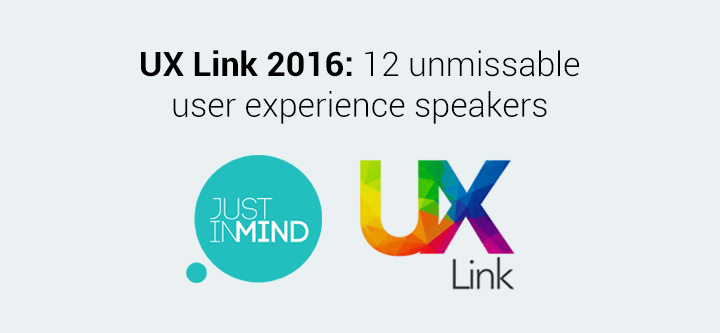 Justinmind is excited to be sponsoring UXLink 2016, a virtual event brought to you "by UX people for those in and interested in UX". Don't miss the talks by these 12 user experience influencers.
UXLink, a multi-hour event taking place on Thursday 12th May at 1pm EDT, will host 12 speakers from the world of UX and user experience. And the best part – UX Link is accessible from anywhere in the world in real time. Entirely virtual, the event will be composed of talks by diverse UX professionals on topics as diverse as 'Better Designs in Less Time with Iterative Prototyping' and 'The Monetary Value of YouX', all streamed directly into your home or office.
UXLink is the brainchild of Tony Moura, a UX professional with almost two decades worth of experience in everything from two-man start-ups to government projects. Tony's aim in starting the event was "for everyone to talk and get on the same page … and if possible expand someone's understanding of the User Experience field."
As event sponsors Justinmind will be giving away 4 perpetual licenses during the event.
Find out more about the 12 speakers and their UXLinks talks below
Jonathan Courtney, "Snapchat: When Bad UX is the Best Option"
Berlin-based UX Designer and Product Strategist Jonathan Courtney founded his UX Design agency five years ago, and a few short years later AJ&Smart has worked with the small start-ups and Fortune 500 companies alike. He'll bring his years of experience to bear on Snapchat, an app which, according to Jonathan, would never pass a usability test and yet is set to become the leading social media platform for millenials. So what's going on? Jonathan will discuss this in "Snapchat: When Bad UX is the Best Option"
Dan Olsen, "Better Designs in Less Time with Iterative Prototyping"
If you're having problems integrating Lean Startup concepts into your business, then Dan Olsen, author of The Lean Product Playbook, is a great talk to tune into at UXLink. Dan will talk about some of the tips in his book, particularly focusing on how iterative user testing with interactive prototypes can heklp you improve your market-readiness.
---
Download Justinmind today and start prototyping lean products!
---
Ronnie Battista, "Getting High on Journey Mapping"
Coming off the back of 20 years of UX executive experience with the likes of Accenture, Gextech and Slalom Consulting, Ronnie Battista is, in his own words, a "lover of UX, bourbon and high integrity". In his current role as Practice Lead -Experience Design at Slalom, Ronnie helps big organizations to introduce human-centric design to their projects. At UXLink he'll talk about his affection for journey mapping, and how mapping can help you improve results.
Baruch Sachs, "Big UX: Challenges and Opportunities for Enterprise Levels"
As founder of UX Consulting practice Pegasystems, Baruch Sachs aims to revolutionize UX in the Enterprise space. He has developed a wealth of applications for large organizations using 3rd party vendor tools, and is an expert in the opportunities these kinds of projects present. His talk "Challenges and Opportunities for Enterprise Levels" will look at the growing number of opportunities for professional roles in Enterprise UX, while casting a sage eye on the future of the sector.
Holly Cole, "As a User, I Want a Better Better Business Methodology to Define What I Want and Need from UX"
You may not have given much thought to "digital interactions with the dead", but Researcher Holly Cole has. Using the fruits of her research into the power of digital personas and how we create and interact with them, Holly considers how businesses need to change to understand our complex social relationships between digital personas, real personas, and user experience research.
Daniel Sennet, "The Monetary Value of YouX
Daniel Sennet's UXLink talk tackles a meaty question in the UX industry: how to justify spending a company budget on UX, whether in the long-term or on short-term projects. Building on his experience working in all areas of the company life-cycle, Daniel will explain UX's potential to boost revenue and its worthiness as a part of any company's culture.
Izhar Buendia, "UX and Effective Presentations"
The average human attention span, as Izhar Buendia points out, is only 8 seconds. Izhar, former web experience designer and current master student in MI, will use his UXLink platform to think about how UX can help overcome this attention deficit, particularly looking at people trying to write and give engaging presentations.
Steven Hoober, "Flatly Authentic Digital Design"
A familiar name for those into mobile design patterns, Steven Hoober has designed  a huge range of mobile and multi-channel products, from apps for US Bank to Google mobile search. He brings his fresh and original mindset to UXLink through his talk on "Flatly Authentic Digital Design", which will examine why we shouldn't take trends as gospel and should stick to our design principles instead.
Liza Booker, "Teaching User Experience to Children"
These days it might seem like everyone is familiar with UX. But how should we explain the importance behind UX to children? Argonne National Laboratory's User Experience Analyst Lisa Booker will examine ways of teaching elements of user experience to kids, focusing on the roles of Information Architect, UX Designer, Interaction Designer, UI Designer and Product Designer.
Darren Hood, "UX Beyond the Interface"
UX is no longer just about interfaces, states Darren Hood, Manager of User Experience and UX Champion for Bosch's Automotive Aftermarket. We have to start thinking beynd the interface, looking at "the hows, where, and whys associated with this state of UX evolution", and how UX professionals can conitnue to improve.
Bill Thau, "Drilling Down into the Subconscious – An Introduction to Autonomic Testing Methods"
Identifying the rising trend for autonomic measurement among human interaction researchers, Bill Thau will talk about how technologies such as eye-tracking and biometrics are used in usability testing. As head of the tech team at HCD Research, where he is also responsible for corporate technology strategy, Bill is the go-to guy for autonomic data collection and its relevance to UX.
Vivek Gupta, "10 Commandments of UX"
Sometimes, says Vivek Gupta, UX professionals know all about the 'idealistic' or stereotypical UX challenges, but when faced with the reality of implementing UX things are very different. Vivek aims to help UXers successfully overcome these real life challenges through his 10 commandments, practical lessons learned from over 20 years working in the implementation of user centered design methodologies in large corporate organizations.

FOUND THIS USEFUL? SHARE WITH
Cassandra Naji
Cassandra is Marketing Lead at Justinmind
Related Content
Hands-on UX Strategy & Prototyping workshop with Jaime Levy 2017

UX strategist Jaime Levy leads our upcoming workshop on defining the perfect UX strategy and validating innovative concepts with interactive prototypes. Don't miss out, sign up...

Integrating Agile and UX Design with Justinmind prototyping tool

Find out how rapid prototyping with Justinmind can help engage stakeholders, improve your UX Design and boost your Agile workflow