Justinmind at the User Experience UK Awards 2015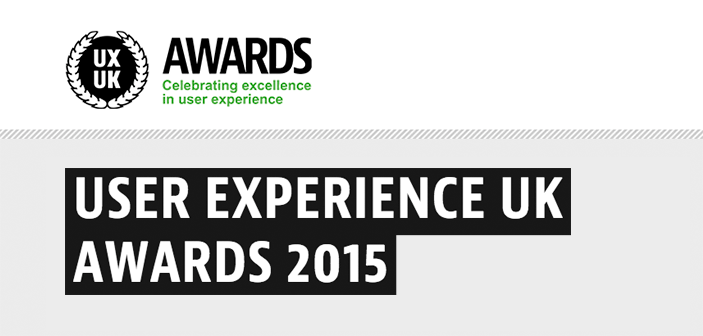 The User Experience UK Awards 2015 are fast-approaching, and as the favorite prototyping tool of many UX designers, Justinmind will be sponsoring the Awards! Read on to find out what you can expect this year.
The UXUK Awards 2015 will take place next Thursday, November 12th, and they're being hosted by Sapient Nitro, in their Central London offices. The Awards recognize and reward UK-based companies, agencies, university students and individuals for outstanding user-focused digital and service design. The Awards will coincide with World Usability Day 2015: a day dedicated to improving user experience around the globe— this year's theme is Innovation.
Here at Justinmind, we've also been exploring ways to boost user experience. We recently wrote to you about the benefits of Atomic design methodology. With a somewhat "crawl before you can walk" approach, Atomic Design involves a workflow that's driven from the bottom up, starting with the primary building blocks of your design process. Justinmind offers you the opportunity to use Atomic Design principles to create thoughtful and user-accessible web and mobile prototypes. Speaking of which, we're also keen on easy and effective web navigation!
Third time's a charm!
Founded in 2013 to acknowledge excellence in user experience and user-centered design in the UK, this year marks the third annual UXUK Awards ceremony. Looking back to the 2014 Awards, held in Microsoft's event center in London's Victoria, we saw the BBC's Summer of Sport app win Best User Experience and Nationwide Building Society the Best Innovation award. Wahoo for Water Aid won Best Not for Profit and Kingston University student, Jack Holmes, was awarded Best Student Project for his Remove Password Masking study. Now Digital UX Lead at Nationwide, Holmes will be taking a seat at the judges' table this year. Check out the Judge's Q&A for an insight into the award winner's UX preferences and pet peeves.
---
Download Justinmind today to improve your UX design process!
---
And the award goes to…?
From over 130 entries, the shortlist of candidates was announced in early October. Click here to see who's been shortlisted for the Awards.
The next step for the judges will be to critically discuss the nominations within the context of each category. The core criteria for the nominations includes Content, Cross-platform, Interface and Purpose, among others. Following this discussion, the judges will cast their votes to establish the winners, which will be announced at the Awards ceremony on November 12th. A list of the winners will also be placed online after the event.
For details on how to attend the UXUK Awards, look no further. Hurry though, there's limited availability!
We'd like to wish all the nominees *GOOD LUCK*, and may the best User Experience win!
See how we've have been cooking up ways to further improve Justinmind's user experience this fall here.

FOUND THIS USEFUL? SHARE WITH
Emily Grace Adiseshiah
Emily is Marketing Content Editor at Justinmind
Related Content
Hands-on UX Strategy & Prototyping workshop with Jaime Levy 2017

UX strategist Jaime Levy leads our upcoming workshop on defining the perfect UX strategy and validating innovative concepts with interactive prototypes. Don't miss out, sign up...

Integrating Agile and UX Design with Justinmind prototyping tool

Find out how rapid prototyping with Justinmind can help engage stakeholders, improve your UX Design and boost your Agile workflow