Top 10 Tech Trends of 2015 (and what's in store for 2016)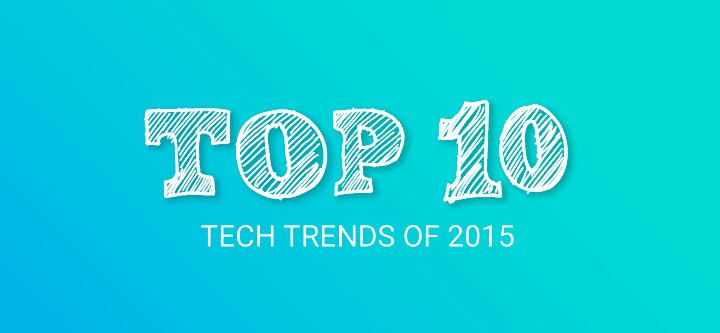 Material design, the gold rush of prototyping and the advent of the drone age are just a few of the big trends that we've seen this year. Read on to discover the full list!
2015 was an awesome year for all of us here at Justinmind, and we recently wrote to you about our proudest moments of the past year. We also thought it would be fun to look back at the top technology trends of 2015 and a few predictions for the New Year. Ready, steady, off you go!



Arguably one of the most exciting design concepts that came out of 2015 was User-centered design. The User-centered design process outlines the phases of the design and development life-cycle whilst also focusing on gaining an extensive understanding of who will be using the product, and their behavior.
We already know that functionality and usability make for a good experience, serving the basic and immediate needs of the user – but what makes a great experience?
Answer: Thoughtfulness. In web design, being thoughtful requires authentic empathy with the user and keeping the user's emotional state in mind throughout all aspects of the design process. The tiniest details – though seemingly unnecessary – can have a huge impact on the user. Adding a bit of fun to the user experience and rewarding visitors can and does make all the difference.

Flat design did very well in 2014 and continued to gain traction in 2015. This style of interface design doesn't include the stylistic elements that give design a three-dimensional illusion. Instead, the concept focuses on a minimalist use of simple elements, typography, flat colors, and content-first design.
In 2015, flat design evolved and grew, giving us Material design.
Google unveiled Material design last year, as their new design direction for web and mobile. Typical of flat design, material design style is also content-focused, adaptable and streamlined while also bringing motion, visual and interaction design together. If you have ever used any Google apps, or Android 5.0 Lollipop, you'll already be familiar with the look and feel of material Design.
According to Ajeet Yadav from Usability Geek, the popularity of this minimalist design approach is set to continue in 2016 as it can make a website look cleaner and load faster by eliminating unnecessary elements. Not to mention the fact the developers now have access to the code material for material design. Yay!



2015 was truly the Gold Rush for prototyping, and it's only going to continue! A few years ago, designers began to latch onto the idea of prototyping to improve the design process of creating digital products, and its importance in this respect. Since then, prototyping tools have risen up, becoming more interactive and efficient, with hi-fi features to help design teams bring their ideas to life. And the savvy companies that paid attention to this began to shine in a new way, as a result.
---
Download Justinmind today to get prototyping now!
---

From 2015 emerged the landscape of Wearable Technology, with the promise to change the way we exercise, communicate, and generally get the most out of our environment.
In response to this, Apple introduced the Apple Watch in April: their answer to a flurry of Android Wear watches, released last year. Earlier in the year, Apple released WatchKit, an extension of the iOS 8.2 SDK, to allow developers to begin Apple Watch development.
In fact, in September, we launched our Apple Watch UI Kit, with 100+ widgets carefully designed in-house, to help all of our users build unique app prototypes for the Apple Watch.



Directly following on from Windows 8, Microsoft launched a major overhaul of their operating system in the second half of 2015. Windows 10 was designed for compatibility with a wide range of platforms – including the "Internet of Things" (IoT). The new version attempts to address a number of usability issues, including refining the "Metro" interface and bringing back the traditional Start Menu. Among other features, users can now switch between multiple desktop screens for a tidier workspace. Additionally, there is a greater focus on apps, advanced gesture recognition was also incorporated, with the rise of 3D cameras.



Alongside the awesome technological advances last year, we also faced heightened security concerns–both online and offline.
Online, many companies were impacted by a data breach, compromising their customer and employee records. Reports confirm that 40% of larger U.S. companies hadn't been monitoring new mobile apps and were simply releasing apps without testing for malicious malware. Cyber-Security threats continued as the demand for apps, especially enterprise, to be rushed to market and implemented universally also continued to grow. Reports indicate that an average app is exposed to at least nine different security vulnerabilities and that 75% of apps will fail basic security measures. From data leakage to server side control errors, the risk of infiltrating information through a mobile app has been and remains a real and imminent danger.



Although we've seen ups and downs for the cloud computing market recently, 2015 marked the year cloud would became the go-to platform for enterprise applications and data. With each ebb and flow of the cloud market, many service providers have shifted their messages in 2015, rolling with the tides and claiming cloud as their vessel for success.
We've seen a number of major events for the cloud computing landscape last year. Among other highlights, Google and VMware – who have traditionally competed in cloud architecture – started a new collaboration in February. According TechTarget: "Both have been looking to grow their cloud service and better position themselves against public Cloud King Amazon Web Services". In other news, the open source cloud platform OpenStack, continues their rise to fame among enterprise IT pros.
In 2016, we're looking to see improvements of current-generation cloud environments as well as new technologies for application developers to take advantage of.  Additionally, it's likely that previous challenges that once prevented apps from being deployed into the cloud will no longer be so difficult to remedy. The aim is to have more and more applications run within a cloud environment. This will be a huge step forward for many organizations that have been unsuccessful thus far in taking advantage of cloud benefits due to regulatory or compliance restrictions.



2015 confirmed that the drone age has well and truly begun, with an estimated almost half a million drones having being bought during this festive season, and that's just in the US! With costs of these "flying machines" plunging to less than $100 a piece, it looks like we are going to be seeing a lot more of them. According to the Chicago Tribune: "As the technology advances, they'll be carrying increasing amounts of weight and travel over longer distances, and they will monitor traffic and crime, perform building inspections, and provide emergency assistance in disasters."
The article goes on to add that drones are also set to become a big deal in the developing world. Across vast sections of Africa, there are no roads and communication is limited; remote towns and villages can't get medical supplies; and large cities are blocked up with traffic. The idea is for drones to "solve many of these infrastructure problems and potentially reduce pollution and traffic". They will also allow "consistent monitoring of the Earth's changing climate and wildlife ecology". Bring it on!



The Internet of Things (IoT) is something that we've heard a lot about recently – and it seems that 2015 was the peak of its hype cycle, though it feels like we're just getting started. Apsee predicts that there will be 50 million objects and devices being connected all over the world by 2020, nearly six connections per person on Earth!
And let's not forget that the IoT is a part of something even bigger – the new hardware movement. As Jon Bruner points out, this movement is "about making the physical environment accessible in the same way that the Internet has become accessible over the last 20 years." So it looks like the new hardware movement only just getting started!



The Force was totally awakened this Christmas with the arrival of Star Wars Episode 7 in cinemas around the world, hitting $11 billion in US box offices alone by late December.
But let's be honest, the Star Wars movies aren't just about formidable space battles, grisly aliens, and dear droids – a big part of the saga's immense appeal has always rested on its incredible special effects. Here's a list of the Star Wars technology that has been made a reality over the years, including battle droids, bionic hands and, of course, George Lucas' legendary light sabers.
So there you have it folks! We're looking to 2016 with an even more ambitious tech bucket list in mind. So make the most of this year – you know we will!

FOUND THIS USEFUL? SHARE WITH
Emily Grace Adiseshiah
Emily is Marketing Content Editor at Justinmind
Related Content
Hands-on UX Strategy & Prototyping workshop with Jaime Levy 2017

UX strategist Jaime Levy leads our upcoming workshop on defining the perfect UX strategy and validating innovative concepts with interactive prototypes. Don't miss out, sign up...

Integrating Agile and UX Design with Justinmind prototyping tool

Find out how rapid prototyping with Justinmind can help engage stakeholders, improve your UX Design and boost your Agile workflow