What is customer experience and how is it different to UX?

Customer experience and user experience share many similarities but just what is the difference between them both?
Over the past few years, companies have begun to expand their design processes in order to include Customer Experience (CX) as well as 'pure' User Experience (UX). The onset of social media and real-time feedback we experience via the Internet has led us to expect a relationship with the businesses that we interact with online.
Although it's exciting to see CX gaining more awareness, it's still a fairly new concept, and a recurring blunder is mistaking it with UX design. As CX begins to pick up steam, companies are faced with the challenge of coupling the concept with their existing design strategies, especially with UX.
What is customer experience?
The concept of CX involves the experiences a customer has across all touch points of your brand, including all contact in the digital sphere: data, targeting, and UX.
CX is a collection of coherent, holistic and omni-channel micro-experiences that relies on the observance of interactions at critical moments – or touchpoints – throughout the customer's journey.
This includes the customer's interaction with the organization on their way to a purchase, as well as during the sale and post-sale, both online or offline. In online travel, for instance, the various touchpoints would include how a guest interacts with online marketing, and mobile and social content, as well as the booking process.
However, it also extends to check-in, their experiences with the facilities, and then sharing their experience further on. The quality of CX can be measured as an overall experience, the overall satisfaction of the customer. Essentially, it's the customer's end-to-end journey from start to finish, thus creating a feeling of a real relationship with a business, product or service.
Now some of you may be thinking: "how is this that different to UX?" Well, let's explore CX in relation to UX.
What is user experience?
The world of UX is enormous, and despite our exploration of UX thus far, our understanding of what UX is can vary substantially. In broad terms, UX is concerned with the research, design and development of a product, with a focus on the user. However, there's a myriad variations and outcomes of UX and we see them practiced on a number of levels. For example, while some companies look to establish a holistic UX strategy that connects directly to their business goals, others focus on improving usability in their approach to design. Let's take a look at some of the levels of UX, and see where CX comes into the equation.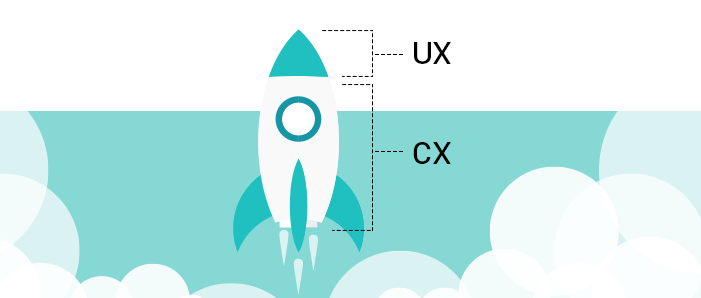 CX vs UX: how are they different?
Let's start with the basics: Usability and User Interface. Usability, essentially a quality attribute that assesses ease of use of the User Interface, is but one level of UX. Certainly high usability contributes to a good user experience, but really, it's only just the beginning. Over the years, despite products and digital interfaces varying from time to time, their core usability roles have essentially remained the same. What we must consider is the fact that good usability merely affects current site and app visitors, and albeit somewhat improving user onboarding, it doesn't really go far enough to reel in new users.
Usability without understanding the user is basically useless. Imagine a webpage that is logical and a pleasure to use, but doesn't actually offer anything that you need or want. You might enjoy your experience, but what did you actually get out of it? And why would you come back? You see, usability has little concern for user retention. In fact, by simply focusing on User Interface, usability research only really involves observing how a user completes a task, instead of whether their experiences and interactions with the product were satisfactory, and whether they are interested in using it again. As a result, usability remains a rather narrow channel to impact business or improve conversion rates.
Taking care of customers doesn't necessarily concur to taking care of humans, and as we can see, focusing solely on great usability is not enough to satisfy the user. So let's see what might.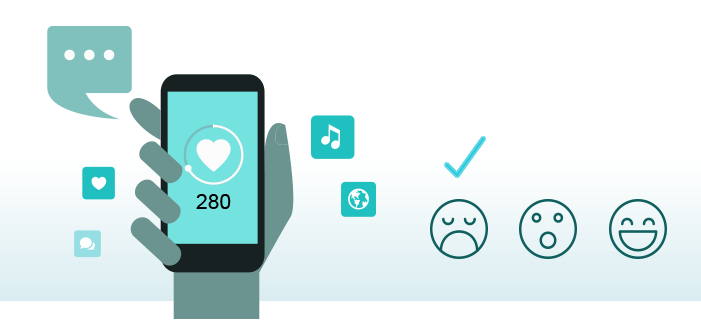 ---
Download Justinmind today to create customer-centered designs now!
---
User scenarios
At this level, we start to consider the user's journey with more importance. When focusing purely on usability, we wanted to know "How" to present our site to users, and how the User Interface will work. But when looking at user scenarios, we're also asking ourselves "Why" and "What". Let's now consider the user's journey from a broader perspective: in what kinds of situations might users (and which ones) come to our site? If we open our minds to why users will want to visit our site, and what they need, then we can start to define solutions to solve their problems and satisfy their needs. Eventually this will help us to prompt actions in the user that we want them to take. Our decisions need to be based on observing and understanding the user's mental and physical situation, prior to visiting the website or app. It seems that sometimes we focus too much on building amazing products or services, and we forget that people that bring services and products to life.
At this level, User Research is essential to understanding each user scenario. When it comes to user research, it's always best to recruit participants that fit our real target market profile(s). Remember, there are thousands of user testing results on the web, and we shouldn't assume that any of them will match our product. At the end of the day, user tests for other products may or may not be relevant to your own users. So, trust that you know your users well enough, and by drawing on reliable and realistic research, start to redesign the experience for your users.
This is all good stuff. However, we're still not quite there. At this level, UX is still limited to one channel: the user's experience online. But what about the rest of the journey?

Combining UX and CX for maximum impact
This third level refers to the structure – or restructuring – of the company's organization based on the requirements of the customer's journey in full, all touchpoints considered. It's important to understand that every single touchpoint that the user encounters throughout their journey is going to affect their overall experience with the product or service. The link between Customer Experience and User Experience lies in creating connected experiences for the user: everything needs to be harmoniously designed and linked together. Now we're getting somewhere! Let's look at an example:
Imagine you book a summer vacation, using your newly downloaded mobile app. You've opted for an exclusive offer, with all the trimmings—awesome. Prior to the trip, all your planning has gone well, you've booked your tickets and hotel and rented a car at the other end using the app. But then, what's that? Middle seat on the plane? Nightmare! You search for information in the Help section of the app. After searching for a few of minutes, finding diddly squat and feeling pretty frustrated, you decide that it would be much easier to just get someone on the phone. You call their Customer Service team, 5 times. Nothing. You try again the next day and finally get through, after what seems like an eternity listening to an endless slew of atrocious pop 'music'. You're dumped with a rude, snappy clerk who eventually tells that you can't switch seats with this offer—and then the line cuts off. Your time in the sun isn't looking so bright after all. Vacation planning ruined, and you dread to think what the actual trip will be like.
No matter how good your website or app is, you must look at the customer's experience as a whole, and focus on all divisions of the customer's journey that need to be attended to. If a clerk is rude to your customer, they'll be left with a bad taste in their mouth and will probably think think twice about coming back. Cross-team collaboration and identifying key user journeys are essential factors in the customer experience cycle. When we pay attention to the end-to-end customer journey, we're providing them with a series of seamless experiences, and we're closer to engendering user loyalty.
A takeaway: it's not simply about anticipating needs. CX is about continuous feedback loops to improve interaction with users upstream and downstream. We need to observe the entire experience to be able to draw meaningful conclusions from user actions, and then manage and redesign the experience henceforth. By observing and identifying key user journeys by drawing on research and testing, we can redesign the full experience.
The future of customer experience
So it looks like we're starting to understand the importance of customer facing experiences. But what's next? Now that we're beginning to understand the need for cross-team collaboration in order to provide all-round seamless experiences, it seems the next step would be to focus on improving employee experience. When we solely focus on the customer, we forget about the people who build the service, and that's why we believe that Employee Experience is also necessary to make customer facing experiences truly effective. When the work across teams is fragmented or choppy, it's the customer who ultimately suffers. But when there is collaboration, people and things work harmoniously between the online and "live" experiences, friction is removed, and the customer's journey will less likely be compromised.
Start building your customer-facing designs with Justinmind today!

FOUND THIS USEFUL? SHARE WITH
Emily Grace Adiseshiah
Emily is Marketing Content Editor at Justinmind
Related Content
UX design books that cover everything from layout design to the theory of user testing. Want to expand your horizons? Check out this awesome list!

UX design portfolios are your chance to showcase your top skills and best work. Check out this post for awesome portfolio examples and websites!

UX design is booming, but where do UX designers find job opportunities? How can they spot a bad job listing? Discover the world of UX design jobs in this post!