The secret to making the perfect UX design portfolio (free template)
Download our free UX portfolio template and improve your chances of landing that dream user experience design job
A UX design portfolio can make the difference between landing your dream UX job and being perpetual runner-up in the job selection race. Employers and recruiters use UX portfolios to determine a candidate's experience, seriousness and, most importantly, ability to successfully follow UX best practices and processes.
So UX portfolios are important to get right, but that doesnt mean they have to be gut-bustingly difficult to create. Follow our guide to building a UX portfolio and download our free UX portfolio template, and you're on your way to making the perfect UX design portfolio.
---
Download our free template now! No email required.
---
What is a UX design portfolio?
The concept of a portfolio of previous work is familiar for anyone working in graphic design or the visual arts – a selection, previously physical but increasingly digital, of completed work, to be shown to employers and clients as proof of abilities. But how does this visual concept translate to User Experience designers and researchers, who more often that not create ephemeral 'experiences' using non-visual methodologies, such as user testing?
Without over-complicating the matter, a UX portfolio is also a representative selection of work. However, it shows process rather than pure deliverable: instead of showing a bunch of finished screens without explanation, a UX portfolio will present the story of how the finished product was arrived at, from testing and user research to sketches and wireframes. A UX design portfolio tells the story of how you created a product or experience, so potential employers know how you work and why what you do supports business goals.
What to include in a UX design portfolio
Whether you're a new graduate trying to build up a portfolio, or a seasoned UXer trying to cut down a career's worth of work into a capsule collection, knowing what to include in the UX portfolio is the first hurdle.
Without a doubt, when it comes to individual projects, less is more. As few as three different examples can be enough to demonstrate the breadth of your abilities. In our template, we've included three sample projects; this can be expanded up to around five or six if you really of have a wealth of varied experience.
Before expanding the number of projects, however, make sure that each example of your UX practice is demonstrating something distinct. Having 10 samples all showing how great you are at sketching would be pointless. Better to include a project showing how you used your wireframe tool to design an interaction solution, one showing how you did indepth user research, and one displaying how you tweaked a UI to boost business objectives, for example. A 1-2 page case study for each type of product, project or activity is sufficient.
And logically, only include your best work. Troy Park and Patrick Neeman claim that people spend an average of 10-15 seconds looking at UX portfolios – you don't want those 10-15 seconds to be spent on your second best piece of work, do you?
3 examples of great UX portfolios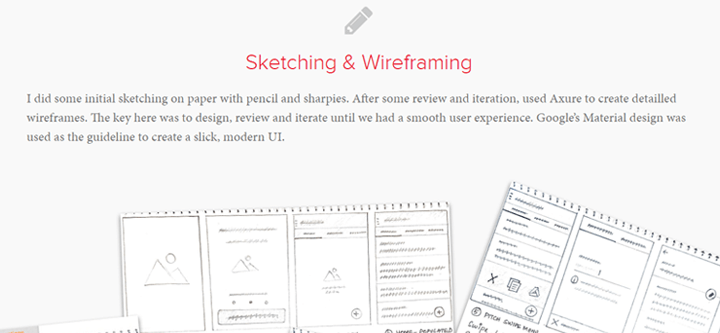 Jeya Karthika
Chris Avore
Who is the target audience?
Just like any UX project, you need to consider your target audience for the UX portfolio. In practice, this probably means having a generic portfolio online that you can share with anyone interested, and then shaping this into a pdf download like our template (LINK) when you're applying for specific roles. The audience will affect the tone and content of the portfolio – you wouldn't send a cheeky informal portfolio when applying for a role in a global financial company, for example.
If you're applying for UI-heavy positions, don't be afraid to add in more visuals and designs; for positions on the experience end of the spectrum, choose materials that emphasize the process or approach you took. Go with your user experience gut and tailor each iteration of the portfolio to its audience as far as realistically possible.
How to present a UX process in a portfolio
In short, case studies. Real-life case studies are the best way to highlight both your impeccable user experience research process, and your final products, as you can mix explicatory text with supporting visuals and map out the entire UX approach. Don't be afraid to include non-product visuals such as usability testing infographics, snaps of your wireframes, shots of team activities such as card sorting, even audios of usability test results. It's a good idea to take photos of your projects as you do them, so you have a record of work in progress that will make your portfolio stand-out from the crowd. All these materials support the point of your case study, which is to give visual proof of process in action.
---
Download our free template now! No email required.
---
How storytelling helps sell your experience
The most engaging UX design portfolios make use of storytelling. Each case study should roughly take the following format:
The Goal: introduce the situation and what needed to change
The Challenge Faced: explain the barriers to success
The Road Taken: detail the actions and approaches you took to overcome the challenge, such as prototypes, testing etc
The Destination: explain the end results using analytics, testimonials and visuals
While all the chapters of this story are important, The Road Taken is where you'll explain how you synthesize problems and design solutions. Explain how you individually contributed to the process, and why you did what you did. So instead of including a screenshot of a finished user persona without further explanation, you'll want to explain how you arrived at this persona through research and surveys.
Keep it short and simple: good storytelling is not about long yarns but compelling tales.
How NDAs impact on your portfolio
NDAs, or non-disclosure agreements, have the potential to limit the information you include in your UX design portfolio. There are a few things you can do to make sure you stay legally compliant while still including your best material in the portfolio:
Request permission from clients before you include projects. Even if you've signed an NDA, they may agree as long as you remove sensitive material
Build a copy of the project in question but omit the sensitive information. Point out this is not the original
Censor sensitive elements with blurring or greyed out areas
Include generic images of you at work on the project, rather than detail-heavy shots of screens and metrics
And for recent graduates without concrete professional experience…
All recent graduates face the same conundrum – can't get experience without a portfolio, need a portfolio to get experience. It seems insoluble but there are things you can do to put your previous work in the picture. You could try volunteering on a short term basis with organizations too small to have a dedicated UX design team; or using work from submitted as part of official studies (make clear this is academic work); or you could give yourself hypothetical UX cases and show how you would solve them. Here's an example in which recent graduate Mei Tan makes the most of her academic work to kickstart her portfolio.
UX Designer and Consultant Sarah Doody has some great ideas for creating a UX portfolio from limited resources. Check out her YouTube video below:

UX Design Portfolio Template
In our downloadable UX portfolio template, we've done all the groundwork to help you create beautiful user experience portfolios that get you noticed.

FOUND THIS USEFUL? SHARE WITH
Cassandra Naji
Cassandra is Marketing Lead at Justinmind
Related Content
UX design portfolios are your chance to showcase your top skills and best work. Check out this post for awesome portfolio examples and websites!

UX design is booming, but where do UX designers find job opportunities? How can they spot a bad job listing? Discover the world of UX design jobs in this post!

What is the real difference between UX and UI design? Why is there confusion over the two? Let's go over what separates them and what their role is in design.