Reddit redesign teardown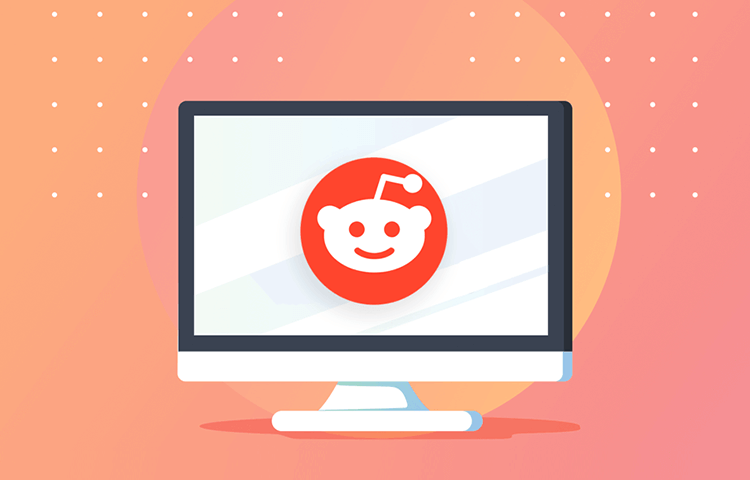 After a decade collecting dust, one of the internet's most popular websites, Reddit, gets a brand new interface. In this post, we'll discover what went right and what went wrong
After more than a decade, the front page of the internet has finally had a face lift. That's right, Reddit, the website that houses something for everyone, has taken the leap and got a new user interface.
Redditors are no longer subjected to the vintage 90s HTML feel and have something new and fresh to come to terms with. Even Steve Huffman, the CEO of Reddit, recently described their UI as dystopian Craigslist. It looks like this redesign was overdue.
When anything that's remained in the same state for a long period of time changes, there's the expected outcry from the public. Whether it's the the latest Google logo, Instagram's use of gradients or Uber's rebrand, the internet will always tell you what it thinks about tweaking design and Reddit is no different. Fingers crossed that this redesign doesn't conjure up memories of the Digg exodus.
In this post, Justinmind is going to teardown the Reddit redesign and dive into what works and what doesn't as well as a few suggestions of our own. Let's begin.
---
Create your own website redesigns in Justinmind. Download free.
---
The Reddit Redesign Overview
A year in the making and finally Reddit's redesign is starting to see the light. At the moment, the new design is available to roughly 1% of the website's users. But soon discerning lurkers and active posters on Reddit will be able to choose from 3 distinct flavors of Reddit. With over 300 million users, let's hope there's something for everyone.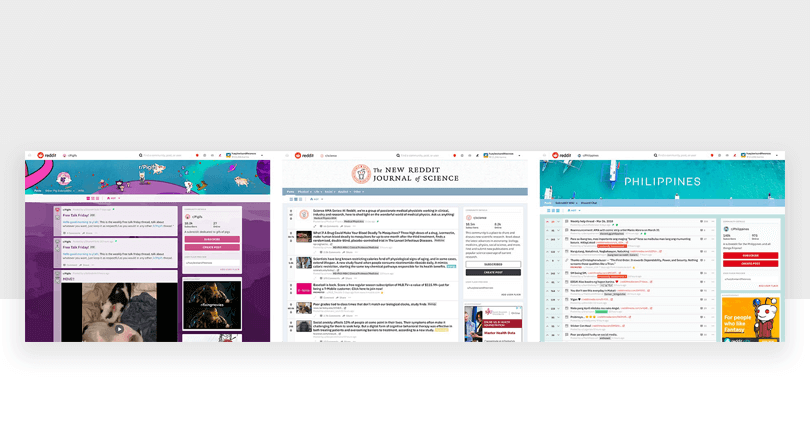 The 3 new views are:
Card view is similar to Facebook in that every post gets its own individual card. Classic looks like old Reddit but a little more modern and tidier. Compact is a skinnier version of Classic in that everything is squashed more tightly for quicker browsing.
Any redesign is going to cause stress but the Reddit design team made sure to crowdsource valuable information from their dedicated users and moderators.
"If you redesign Reddit…you're inherently changing the internet" Diego Perez, Reddit's Head of Design, Wired
By looking at the 2,000 most popular communities, Reddit tracked what the moderators of those communities did in order to understand how users customized Reddit to their needs.
This is because until the redesign, users had to fiddle around with CSS styles and it wasn't the most intuitive way to personalize communities. That's all changed now. So, what worked with this redesign? Let's take a look.
What works with Reddit's new redesign?
WYSIWYG
Before the redesign, Reddit used Markdown for text formatting. That means if you wanted some text in bold or italicized, or you wanted to create a list, you had to do it yourself by writing '**bold**', '*italics*', and '* item 1' etc. Not the best user experience  but it worked.
Now, however, with the redesign all of that extraneous effort is no longer required because of the newfangled WYSIWYG (What you see is what you get) editor. A simple click of a button and you'll get what you want without typing in pesky asterisks. You can even combine text, images and links in the same post.
That said, the editor still needs some refinement as it is missing some important features. When it comes to different heading title sizes, writing '##' for a H2 tag no longer works. A good solution would be to remove the Markdown editor but still allow the use of Markdown in the new editor, automatically transforming text into the new format.
In the old Reddit, there are two buttons for creating a new post, both sitting on top of one another. One says 'Submit a new link' and the other 'Submit a new text post'. For a new user, this could create confusion because it isn't 100% clear what the differences are between those two buttons.
Now there is just one 'create post' button which is a lot more consistent with other messaging boards and no doubt will improve the overall usability of Reddit.
The addition of a new 'create post' button above the feed instead of being tucked into the sidebar saves valuable space. But it should really stick out more as it can get overlooked quite easily.
Previously, the buttons for messages and notifications were small and hidden in the top right corner, requiring a magnifying glass to see them. That's all changed with the new design.
The navigation bar at the top is a lot more robust and the icons are much cleaner and clearer.
Community guidelines are clearer
There are plenty of communities to choose from on Reddit. There truly is something for everybody. From Game of Thrones and knitting to language learning and beyond, each community has its own set of guidelines and rules.
For new users unfamiliar with the inner workings of Reddit, these guidelines may go over their head. Now with the new posting flow, the community guidelines of that subreddit will be shown empowering users to avoid any deletions.
The website benefits from millions of lurkers, people who just browse but don't have an account. This new feature could encourage them to make their first post.
Improved visual hierarchy
On the old site, visual hierarchy wasn't something that was seriously considered. A glance at the front page and you'd be bombarded with links and imagery and have no clue where to click or where to look. We even wrote about how Reddit's UI needed an upgrade back in January.
Basically, it was a mess. By making it difficult to identify what to do when you first arrive on the page, the user will be clueless. There are plenty of sections to scan before a user could make a choice.
Now with the new views, the user has more control over how they interact with Reddit. The Card view, for example, breaks down posts into individual cards. The padding between the cards gives a sense of pause to the design and ensures that the user won't be overwhelmed with a deluge of links.
The new fonts also help the visual hierarchy. Post titles and body text now seem to be easier to read thanks to larger fonts, even if the spacing and tracking on the body text could be improved. Although, looking at Reddit, font improvements are still ongoing.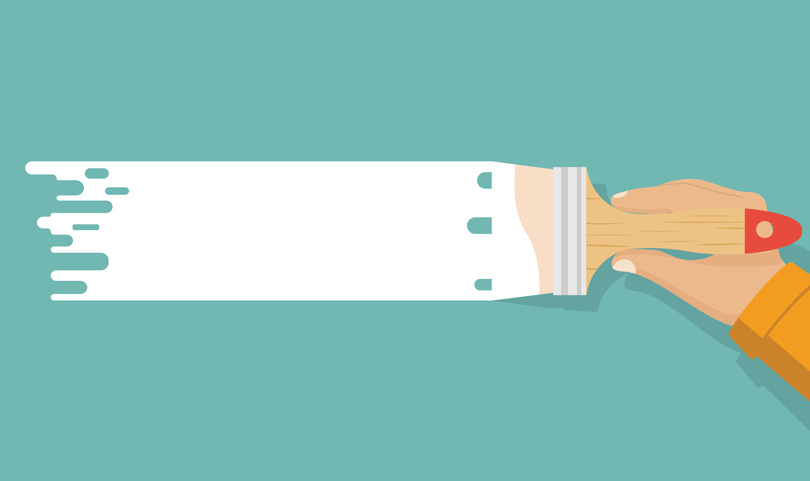 Where did Reddit miss the mark?
Hamburger menu
Everyone in the UX design community knows about the hamburger menu. At this point it's a tired joke. Old Reddit used a literal hamburger for its hamburger menu which isn't the best when it comes to discoverability.
Since the majority of people who use the internet have no clue what a hamburger menu is, using a genuine hamburger for your menu icon isn't the best UX decision that Reddit has made.
You'd think with the design overhaul this would be addressed but instead we got another variant of the hamburger to make it more intuitive but it still looks like a hamburger and not a menu icon. The new icon doesn't alleviate the problem and because the icon looks non-standard, people will avoid clicking on it.
Admittedly, when you go into the hamburger menu, it is glorious. Everything is categorized and it's easier to look around, even seeing your subscribed subreddits is in there.
White space and widths
The Card view leaves a lot of space to click around. If you're using a large monitor and you have Reddit in full screen, the cards do not stretch the width of your screen. As a result there is ample white space on both the left and the right hand side, making the the design look more slick and clean.
There also appears to be a lot of padding on the sidebar. Each part of the sidebar has been separated and they look like individual parts instead of making up one whole sidebar.
Autoplaying videos
Is there anything worse than unsuspectingly visiting a website only to have unsolicited noises coming through your speaker? Don't worry, it's not a demon communicating with you from the depths of Hell but a video on autoplay.
It's a good rule of thumb to give your users the control when they're using your products or service. That means they should be in charge of their interactions. Autoplay removes that autonomy and subjects the user to something that they didn't ask for.
Amy Schade in Nielsen writes "when users arrive at a webpage, they don't appreciate being surprised by video or audio content that begins playing without their consent."  
Autoplay videos require the user to dedicate cognitive resources and effort to figure out where that video is, where the sound is coming from and how to turn it off.
Not only that but autoplay videos can really affect people who don't have a lot of bandwidth to play with.
Conclusion
Any redesign will have its critics and some of the criticisms outlined above will most likely change as Reddit understands better their users' reaction and behavior on the website. Only time will tell whether or not this design is a success or a write off.


FOUND THIS USEFUL? SHARE WITH
Steven Douglas
Steven is the web editor at Justinmind
Related Content
Learn how to design web and mobile app prototypes, how to test them and what to look for in a prototyping tool in this complete guide.

UX research can be a driving force in design. But what methods are there? How do we approach it? Find out in this post!

What are agile user stories and who are they for? Find everything you need to know, including how to write one in this guide.