Prototyping, wireframing and UX: 7 unmissable posts from June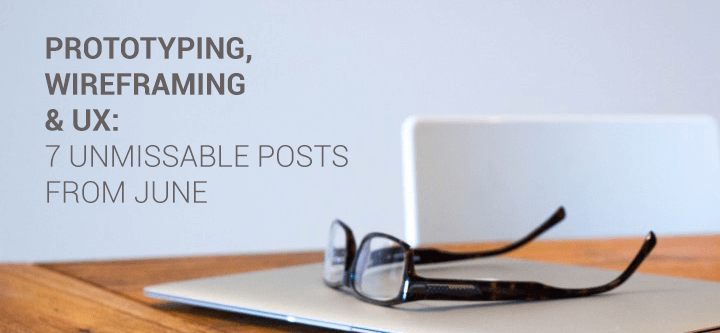 From mobile UI patterns to the UX design process, we've rounded up the best of June's blog posts on app prototyping and software development.
Here at Justinmind we love reading new and original blog posts on prototyping, wireframing and UX; after all, even the best designers and developers need a little inspiration sometimes! With that in mind, we've curated a list of June 2016's best blog posts: UX reading resources, mobile prototyping, wireframing best practices and the future of app development all enter into the list. So find a comfy office chair and settle into the best of June's articles from across the blogosphere.
The Current State of Authentication: We Have a Password Problem
We all have a ton of passwords to remember, and that, says Smashing Magazine's Drew Thomas, is a big problem. In his fascinating post on authentication, Drew argues that those hugely forgettable combination passwords we view as a necessary evil are in fact relics from a less technologically sophisticated era; yes it's necessary to protect privacy and identity, but new technology should lead us to update antiquated interaction patterns. Drew argues for "a combination of sensors, encryption and seasoned technology users" as a path to finding usable, scaleable ways of identifying ourselves online. A must-read for all those prototyping alternative navigation patterns around passwords.
Time to read: 30 mins
Take-away thought: "The best authentication, like the best interface, is completely invisible."
7 Books Every UX Designer Should Read
Joanna Ngai, UX Designer at Microsoft, has taken to Medium to round up her top user experience books, and they make for a pretty tempting reading list. Behavioral psychology, human perception and user-centric interaction design all pop up in 'The Big Seven' section of Joanna's listing, but she's also added two bonus sections of 'General Design' books and 'Online Resources'. Make sure to check out the Design Matters podcasts as well as the essential Customer Experience Journey Mapping Toolkit.
Time to read: 4 mins
---
Download Justinmind and start prototyping today!
---
Do Icons Needs Labels?
In this thought-provoking blog post Steve McCarthy takes an in-depth look at UI icons and the way users interact with them. Invoking both semiotic theory and his own usability tests, Steve sets out to test the oft-cited UX theory that users are familiar with UI icons and "therefore the meaning is ingrained in their memory forever more." We won't tell you how it ends, but rest assured that you'll definitely have plenty to consider next time you're wireframing a user interface.
Time to read: 40 mins
Take-away thought: "Demonstration of concepts is perhaps the most important tool in the UX practitioner tool belt."
Technical and social challenges of conversational design
There's nothing more useful than original research, so we loved Adrian Zumbrunnen's honest exposition of what happened when he switched his website to a fully conversational UI. His 9 insights provide a huge amount of inspiration and many talking points – the importance of content in interfaces of the future, the beefits of being cheeky with microcopy, 'meaingful motion' and how to design for it are just a few of our favourite moments from the post.
Time to read: 22 mins
Take-away thought: "How will designers like me fit into the conversational era?"
Designing for Ourselves
In a twist to the usual user-designer divide, Andrew Emond took to UX Magazine to ask what we should do when designing for UX professionals. Setting out to design tools to make his own profesisonal life easier – a tool for adding responsive comments to websites, a tool to save time editing videos from usability sessions, a library of UI elements for a prototyping tool. His findings are surprising!
Time to read: 18 mins
Take-away thought: "It might seem like an obvious thing, but solutions to problems should be logical and not involve patterns of behavior that stray far from what people are familiar with"
Notifications Are Broken. Here's How Google Plans to Fix Them
"Notifications suck," states John Brownlee. In less than 5 minutes, he sets out the case for ditching unsolicited updates in apps, inspired by Google's plans to fix notifications. Identifying the disconnect between users and designers when it comes to notifications, John looks at the Android N update (scheduled for 2017) and Google's "principles of good notifications for developers", and provides some insights into recent research on updates and UX.
Time to read: 3 mins
Take-away thought: "People tended to open games, social networks, and news apps so often that notifications actually tended to actually drive users away from the apps, not vice versa."
Hamburger Menus and Hidden Navigations Hurt Metrics
The hamburger menu debacle is well-established, and we've covered it on Justinmind's blog before; but in this Neilsen Norman Group post Kara Pernice and Raluca Budiu don't pull any punches in their round condemnation of hidden navigation patterns. Based on their own quantitative testing in terms of icon usage, content discovery, user experience and more, Kara and Raluca deliver an array of stats and diagrams to justify why, next time you're prototyping navigation, you might want to make hidden patterns your last resort.
Time to read: 27 mins
Take-away thought: "Discoverability is cut almost in half by hiding a website's main navigation. Also, task time is longer and perceived task difficulty increases."
Download Justinmind and put these prototyping and wireframing tips into practice.

FOUND THIS USEFUL? SHARE WITH
Cassandra Naji
Cassandra is Marketing Lead at Justinmind
Related Content
Guide to list UI design: principles and examples

How important are lists in UI design? How much do they affect usability and what's the best way to design them? In this guide, we'll explore the elements that make up a great list UI design and look at some inspiring examples!

Shopping cart design: patterns for better conversion

Shopping carts are a key part of any ecommerce. But what makes a shopping cart good? And what can we do to improve its conversion? Read on and find out!

Hotel website design: 13 stunning examples

Hotel website designs require two fundamental qualities: they must be attractive and usable. Great designs can leave a positive impression on the client before they even arrive. In this post, we've rounded up 13 examples of hotel website design done right.