Prototyping to Align Business with IT

Prototyping is a great tool to bridge the Business-IT gap by helping you avoid miscommunication, rework and wasting time. Read on to find out more.
Have you ever had to sit in a client discussion early on in a project and were unable to spur discussion around user needs or business requirements? Everyone from designers and developers to stakeholders and business users has ideas about what they want to see in the final product. But instead of quickly rendering these ideas into visual representations, we're just tossing up tons of post-it notes, and trying to group them and make sense of them. Prototyping helps you to achieve Business-IT alignment by providing a means to validate business requirements, design decisions, and communicate ideas more effectively. Let's take a look a closer look at the problems of Business and IT disconnection and how to bridge the communication gap by prototyping.
The great Business-IT divide
In the world of software and web, business teams communicate daily with IT about project requirements, business initiatives, and web solutions. Unfortunately, what IT says is often a far cry from what business hears (and vice versa), and this can lead to misunderstandings and communication gaps down the line. Some communication issues stem from misconceptions about what motivates the other party. For instance, business users and stakeholders often believe that IT doesn't understand the business strategy whilst, in turn, IT often perceives that business teams refuse to learn anything tech but act like they are all-knowledgeable.
This miscommunication is particularly destructive when gathering and translating project requirements. In a time and pressure-orientated environment, capturing requirements is never an easy task in itself. When it comes to defining these requirements, and they get lost in translation, things get even messier. And if business users, or more generally all stakeholders, are not actively involved in the requirements definition process, errors can go undetected throughout the project. Without clearly defined requirements, IT can go down the wrong development path and eventually be forced to start over to correct them once the errors are uncovered.
Problems that occur as a result of communication gaps
So what does all of this mean in practical terms? Well, according to a Standish group report:
Ensuring that the project is completed on time involves planning and preparation. Making assumptions about what is expected can result in mismanagement of the project, wasted time, and missed deadlines for both your team and the client. Remember: the average IT project takes 230% longer to complete than originally planned.
Deadlines are ever present in project management, and often efforts to eliminate time and cost overruns in business intelligence and data warehousing projects are mostly unsuccessful. Surprises, changes and problems often arise during the course of a project, even when everything is done correctly. The average enterprise IT project costs 189% more than the original budget.
Rework and misunderstandings
At the end of the day, actions are the only things that matter – ideas and plans without actions are useless. If your requirements are constantly changing, your workload will increase. For every 100 projects that start, there are 94 restarts.
---
Discover how Justinmind can help you align Business and IT
---
Prototyping to bridge the gap
To improve communication between business and IT and define those requirements, try using a comprehensive prototyping platform. Let's take a look at the process of prototyping to improve this.
Gathering, defining and managing your requirements
During the requirements gathering stage, it's important to speak to all the different stakeholders and business users involved in order to get a better insight into their assumptions before offering any kind of solution. With requirements fully evolved, everybody involved in the project – designers, business analysts, developers and stakeholders – understands how the project is going to pan out. Moreover, contributions from stakeholders can help to improve productivity, because by knowing what your stakeholders need, you can deliver the results they expect. So, why not capture requirements in context, by a round(s) of prototyping? Prototypes allow you to define requirements, features and functionality, and determine what is absolutely necessary for your project. With an efficient prototyping tool, IT can translate and communicate these ideas to stakeholders in a quick and efficient way.
With Justinmind, you can define and customize your requirements easily. Justinmind Enterprise provides requirement traceability to visually confirm each requirement has been implemented. Take a look at what Justinmind can do for you!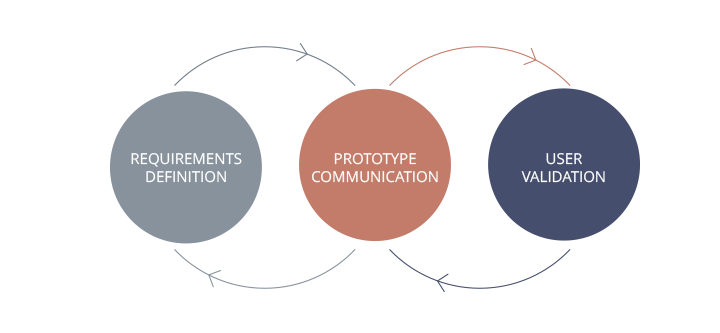 Collaboration, cooperation and consistency
As this post has explained, it is essential to have transparency and cooperation in order to boost productivity and efficiency in software and web projects. Prototyping can be an excellent way to achieve collaboration across multiple teams.
With Justinmind, you can foster global collaboration across all teams by allowing them to work on prototypes simultaneously, and modify them and add comments along the way. We understand that building and maintaining design consistency within your brand is essential. With Justinmind Enterprise, you can share your prototypes and centralize and standardize your own assets and widget libraries across the organization. Centralized administration of your asset libraries allows you to easily manage and share UI components, and synchronize across all teams.
 With the above features, Justinmind can help you to:
Effective communication is key to the success of any project. Improve user involvement, engage your users and customers, and collect fundamental feedback before coding. Early identification and more accurate determination of functional requirements through input from business early in the project. Business users can be involved earlier in the development of the solution, ensuring that what IT builds is what the business needs. It also allows all stakeholders to identify and avoid costly mistakes before they are made. Involvement from stakeholders can result in improved requirements gathering, properly directed development efforts, less rework, and faster implementation. Identifying key checkpoints will also help you keep track of the project's progress and stay on schedule.
Poor requirements are top factors that cause projects to be challenged, impaired or cancelled. Reduce costs by avoiding unnecessary risks in your projects. Focusing on the most essential features will reduce cost and the amount of outside capital you'll need, thus reducing dilution. This also gives you greater options and leverage at the negotiating table.
Reduce time to market and speed up "time to value"
Gather space and speed up time to market by preventing changes in critical stages of project development. Get clarification about a project before agreeing to take it on to ensure that you have the information necessary to meet the clients' needs. Moreover, reduce complexity: simplicity is key and the simpler your product, the easier you'll get adoption.
Download Justinmind now and start your Business-IT alignment journey today!

FOUND THIS USEFUL? SHARE WITH
Emily Grace Adiseshiah
Emily is Marketing Content Editor at Justinmind
Related Content
Wells Fargo's design system: lessons on growth

Folks quickly noticed they needed a design system - but the road to a good system can often be a maze. Check out how things played out at Wells Fargo.

Learn UX design, Web and App development

Careers in UX design, web and app development are among the most coveted in the tech industry today, though getting into one of these fields is easier said than done. This post aims to point you in the right direction.