Learn to prototype at the ProtoHack Walkathon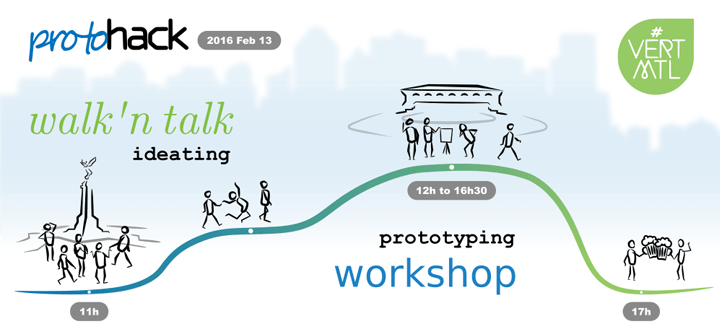 The best prototyping techniques straight from the experts and enthusiasts this weekend at the Montreal ProtoHack Walkathon. Read on for details.
This Saturday, ProtoHack Montreal via SpeedTeam will be leading a ProtoHack Walkathon and Prototyping Workshop, aimed at embedding health deep into the hacking experience! ProtoHack exists to show non-coders that they can create something amazing from nothing, and Saturday's event is one of many hosted by Montreal ProtoHack for non-technical entrepreneurs who have big ideas and need help creating products or services that will better our world.
When: Saturday, February 13th 2016 from 11:00 onwards
Where: Meet at the George-Étienne Cartier Monument in Montreal
Who: Come and swap stories with our awesome UX specialist session speakers!
UX Guru, Jaime Levy, is an author, college professor and User Experience consultant based in Los Angeles, California. Her book "UX Strategy: How to Devise Innovative Digital Products that People Want" was recently published by O'Reilly Media. And yes, she is also an enthusiastic Justinmind user and she will use it to explain how to easily create prototypes with our platform!
Lead UX designer, Daniel Engelberg, specializes in clear, creative and strategic thinking about complex interactive applications. Daniel does lots of rapid prototyping! He's also the founder of Rethink UX Montreal, a group about innovation in UX methodology.
Why a ProtoHack Walkathon?
Well, it's been said that us humans are more creative in our natural habitat. It is thought that when we focus on the simple task of walking, we allow the brain to engage in 'non-focused' thinking, thus enabling new ideas to emerge through new, random connections in the brain. Similarly, social interaction benefits our health, as well as those around us.
The ProtoHack Walkathon is a purpose-driven trip "to come up with a set of ideas to prototype in teams on the mountain", the objective being that this will drive you to complete the hike. Come on, when was the last time you went for a nature walk?
---
Download Justinmind today to improve your prototyping technique!
---
How does ProtoHack work?
We prototype to gain key insights into our projects: "Are we on the right track?", "Would customers really use our product?" The challenge with ProtoHack is to learn as fast as possible, and close the build-measure-learn loop. Doing this with others, in teams, means we're not isolated and it's easier to get "un-stuck". Moreover, structured peer feedback helps us course-correct earlier—it's pseudo-customer feedback. Saturday's ProtoHack will follow the below structure:
Pen+paper to start with, then digital prototypes
Produce prototypes and give feedback and critique to other teams (reciprocally by peers).
Teams present to peers
Create a new team with other participants or join an existing project
No coding is required. Instead the workshop will use prototyping tools like Justinmind, drag and drop editors, mockups, wireframes and other UX tools to VISUALLY demonstrate ideas to others
What's in it for you?
At ProtoHack, you will build prototypes that communicate ideas visually. Learn how to effectively use industry leading tools to put together various types of prototypes.
Meet other like-minded people of various backgrounds: design, business, marketing, product management and many more who are all excited and passionate about building something awesome
Become even more product-savvy with a deeper understanding of user experience, with your users in mind
Connect with developers who are looking for new projects; they are invited to come and watch the final presentations
Access over $500 in prototyping tools and sponsor-related goodies!
Saturday's ProtoHack Walkathon and Prototyping Workshop lineup
11:00 Join a themed walking group at the George-Étienne Cartier Monument
11:15 Walk+talk to team up
12:15 Sessions given by Jaime Levy and Daniel Engelberg, and p2p critique at the Chalet du Mont-Royal
12:45 Refreshments
13:00 Prototype with pen + paper
14:00 Build higher fidelity digital prototypes with Justinmind (please bring your laptop or smartphone to participate in this workshop)
15:30 Prototype presentations and p2p critique
16:30 After-party happy hour!
FOUND THIS USEFUL? SHARE WITH
Emily Grace Adiseshiah
Emily is Marketing Content Editor at Justinmind
Related Content
Integrating Agile and UX Design with Justinmind prototyping tool

Find out how rapid prototyping with Justinmind can help engage stakeholders, improve your UX Design and boost your Agile workflow

Design & development in sync at the Atlassian Summit 2017

Justinmind is proud to sponsor Atlassian Summit US 2017, the premier user conference. Sign up and boost your agile development and product management skills