Justinmind sponsors UXIndia 2016 in Hyderabad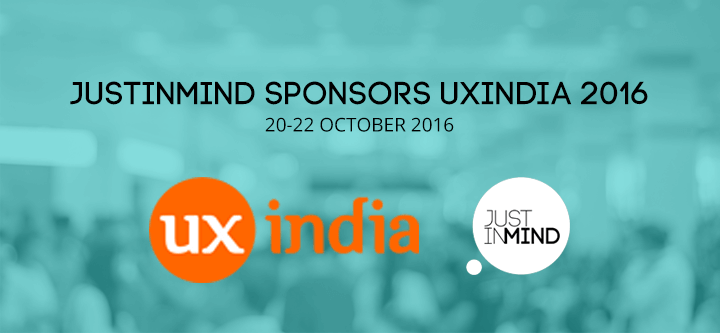 3 days of inspiration, education and skills development for user experience designers, UX leaders, program managers, user researchers, startup founders and design students. Welcome to UXIndia 2016!
Justinmind is a proud sponsor of this year's UXIndia, a mammoth 3 day exploration of all that is user experience, design and UX strategy related. India's biggest conference on user experience design will see over 40 speakers from all walks of UX life bring their expertise, war stories and energy to the event this week in Hyderabad.
Register for UXIndia 2016 here!
When? 20-22 October 2016, 8:30 – 18:30 daily
Where? Westin Hotel, Raheja IT Park, Hitec City, Madhapur, Hyderabad, Telangana 500081, India
What? UXIndia aims to be a platform to build and sustain the implementation of design thinking, and drive innovation and business by design. This year's event is based around the theme Impact by Design, which means speakers will be focusing on IT consumerization, the effect of UX on customer experience and the competitive differentiation UX brings to enterprises. You'll mingle with design driven and successful individuals, influencers, business leaders, leaders from governance and consumers to the conference, plus hear stories outlining the impact that design thinking has on business, and on customers. UXIndia also takes a look at design's positive contribution to people, processes, practices and organizations. Don't miss it!
UXIndia 2016 Speakers
With 42 global experts lined up to share their wisdom there'll be no shortage of expertise flying around the three day event. From CEOs and Design Leads to Product Managers, here's Justinmind's personal pick of the must-see talks.
Jan Baan, founder of Baan Company
Dutch entrepreneur and venture capitalist Jan Baan will deliver this year's keynote speech, 'Genesis of UX in Hyderabad'. Baan brings an international perspective to the scene: he founded both Cordys and Baan Company, providers of ERP products, before moving into venture capitalism and investing in companies such as Top Tier and WebEx, both of which were eventually valued above $1billion. Top Tier was later sold to SAP, while WebEx was sold to Cisco, and Baan himself went on to write a book on his life as an entrepreneur.
Prachi Sakhardande, Product Experience Lead, Tata Consultancy Services
Prachi, head of the Product Experience group for TATA Consultancy Services, is responsible for services around User Experience, Customer Experience, Information Visualization and User Assistance at the tech multinational. In her UXIndia talk 'Change by Design – A woman-centric way of driving the design culture', she'll discuss her experience as a woman traversing UX spectrum, examining methodologies and applying design thinking and prototyping to solve problems. Prachi will share examples of the impact of 15+ plus years in IT and UX.
Lakshman Pachineela Seshadri, Chief Consultant and Vice President, Service Innovation, SAP, Bangalore
As one of the founding members of SAP India and SAP Global Deliver, Lakshman's interest in design, strategy and innovation feds directly into his expertise in end-to-end software solutions. He's also a involved in teaching and mentoring with design schools and start-ups worldwide, where he uses on his real world experience in companies such as IBM to bring innovative new methodologies to traditional business models.
Discover more about this year's speakers and the event's schedule here and don't forget to register.

FOUND THIS USEFUL? SHARE WITH
Cassandra Naji
Cassandra is Marketing Lead at Justinmind
Related Content
Hands-on UX Strategy & Prototyping workshop with Jaime Levy 2017

UX strategist Jaime Levy leads our upcoming workshop on defining the perfect UX strategy and validating innovative concepts with interactive prototypes. Don't miss out, sign up...

Integrating Agile and UX Design with Justinmind prototyping tool

Find out how rapid prototyping with Justinmind can help engage stakeholders, improve your UX Design and boost your Agile workflow