Justinmind sponsors UX UK Awards 2016: Shortlist announced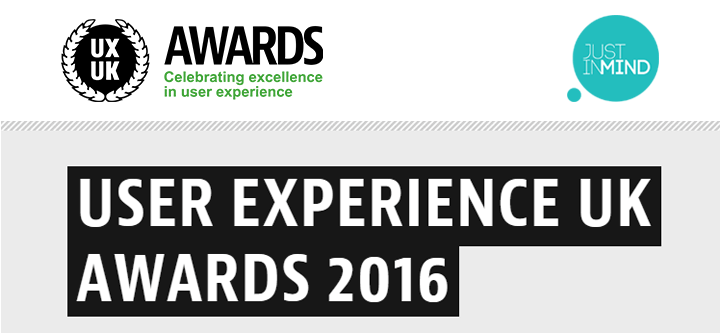 The shortlist for the UXUK Awards 2016 is now in! Read on for info on the entries and details on this year's conference.
This year's User Experience UK (UXUK) Awards take place on Thursday, November 10th in London. As a sponsor of the awards, we wanted to keep you in the loop with all the important event updates! The UXUK judges have been busy over the past few weeks, checking out over 120 entries to make up this year's shortlist.
Among those chosen (see the full list here), the shortlists include Allianz, Cambridge Core, HTC Mood Player, Sony, The Financial Times and the ITV Hub. And in the Student Category, the entries are Be part of the culture, Child safety in the home and Nuts about the park.
Click here to register to attend the awards
"The User Experience UK Awards recognises excellence in user-focused digital and service design. It is a celebration of the innovative UX offerings that comes out of organisations that take pride in the best online and joined-up experience." UXUK Awards website
When? Thursday, November 10th 2016
Where? The Crypt on the Green: St James Clerkenwell, Clerkenwell Close London, EC1R 0EA
This year's judging panel includes Head of Design for Capital One Aline Baeck, UX & UI Design and Development Manager at John Lewis Anna Burrell, and Head of Design at AOL Matt Zarandi.
Good luck to all contestants! Can't get enough UX? Check out Justinmind's UX blog section, with seasonal UX updates as well as helpful tips on improving your UX Strategy! 

FOUND THIS USEFUL? SHARE WITH
Emily Grace Adiseshiah
Emily is Marketing Content Editor at Justinmind
Related Content
Hands-on UX Strategy & Prototyping workshop with Jaime Levy 2017

UX strategist Jaime Levy leads our upcoming workshop on defining the perfect UX strategy and validating innovative concepts with interactive prototypes. Don't miss out, sign up...

Integrating Agile and UX Design with Justinmind prototyping tool

Find out how rapid prototyping with Justinmind can help engage stakeholders, improve your UX Design and boost your Agile workflow