Justinmind sponsors Talk UX 2016 in Atlanta, GA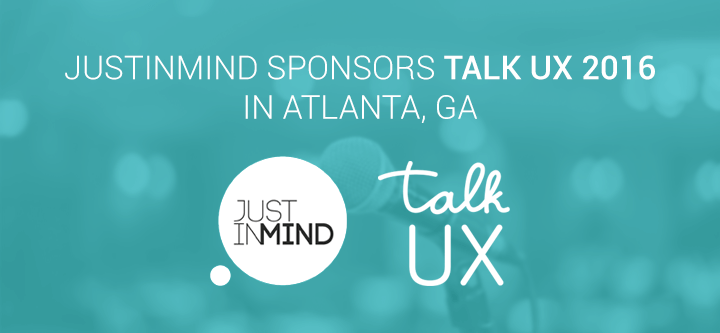 Learn, collaborate, and network at the Ladies that UX latest one-day, inclusive conference, Talk UX this week.
Justinmind Prototyping Tool is over the moon to be sponsoring this year's Talk UX! Celebrating women making waves in UX as well as all things design, collaboration and enterprise software, read on to discover what the Ladies that UX have in store for you at Talk UX this coming Friday in Atlanta, Georgia.
Register for Talk UX 2016 here now! 
When? Friday, September 30th 2016 08:00 – 17:00
Where? Le Fais do-do, 1611 Ellsworth Industrial Blvd NW, Atlanta, GA 30318
Who? Now we're talking (UX)! Talk UX is the perfect event for those of you who are working or interested in the field of UX and would like to learn more, as well as swap stories with industry experts in a friendly, positive environment. Get ready for a one-day, all inclusive conference offers a dynamic platform with tons of fresh speakers who will share their expertise on everything from design to research to data and everything in between.
Want some reading material prior to this UX event? Check out our blog post on the state of UX!
The speakers
"Fresh faces and new ideas in a positive atmosphere."
This year promises another wonderful conference, packed with a mixture of talks and panels by a selection of UX experts and professionals, including 48in48's Executive Director Carole Williams, Atlassian's HipChat's cross-platform Product Designer Nichole Burton, and Field's User Experience Lead and Co-founder Jenny Sun.
Carole Williams – A born and raised Atlantian, Carole has recently made it back to her roots, working as the Executive Director for 48in48 after nearly five years in Miami, FL. Williams has seven years of experience in nonprofit management working with both United Way of Miami-Dade, in major gifts and corporate campaigns, and the American Diabetes Association, working in fundraising and special event management. In her current role, Williams plans to take the mission of 48in48 and expand to cities across the United States revitalizing the digital landscape for nonprofits and providing an opportunity for greater community impact to those in the marketing in technology industries.
Nichole Burton – Shortly after studying Japanese, art, and computer Science at Wellesley college, Nichole discovered her passion for product design. She proceeded to spend the following two years teaching herself the skills necessary for competency in design before joining Atlassian.
Jenny Sun – Jenny believes that exceptional experiences are born from empathy, collaboration, and meaningful connections. A teacher and mentor in the Atlanta UX community, Jenny is a strong proponent of sound research informing useful design.
Read on about this year's speakers and the event's schedule here. The current estimate is for 500 delegates. In 2015, Tall UX hosted over 250 people, including 21 speakers. Oh! And 40% of the attendees were female. Can't get enough UX? Read about our in-house UX team here!
So get ready for some southern hospitality in Atlanta at Talk UX 2016!

FOUND THIS USEFUL? SHARE WITH
Emily Grace Adiseshiah
Emily is Marketing Content Editor at Justinmind
Related Content
Hands-on UX Strategy & Prototyping workshop with Jaime Levy 2017

UX strategist Jaime Levy leads our upcoming workshop on defining the perfect UX strategy and validating innovative concepts with interactive prototypes. Don't miss out, sign up...

Integrating Agile and UX Design with Justinmind prototyping tool

Find out how rapid prototyping with Justinmind can help engage stakeholders, improve your UX Design and boost your Agile workflow