Justinmind at UX STRAT 2016 in Providence, Rhode Island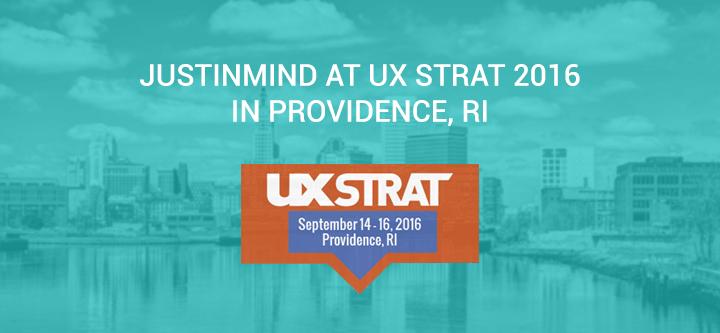 Calling all User Experience, Customer Experience, Product and Service Design Professionals! UX STRAT 2016 is just around the corner. Read on for all the details and grab your ticket now!
This year's UX STRAT USA conference is taking place in Providence RI's Biltmore hotel on Wednesday September 14th – Thursday September 16th. As a sponsor of the conference, you can catch us at our event table. Come and say hi! Check out the low down on this year's lineup of industry experts below.
Everything kicks off next Wednesday, September 14th at 08.30, with presentation and workshops starting at 09.00. The final workshop will take place on Friday, September 16th at 17.30. Among those speaking, we're excited to join Leah Buley's session on How to Speak Strategy. Leah is the author of The User Experience Team of One and the founder of Leah Buley Co., a design consulting and advisory firm. Make sure you catch Vera Rhoads' Design Thinking and Agile: Improving the User Experience and Jaime Levy's Conducting Strategic Research and Analysis for Devising an Innovative Product workshops as well. See more on the current state of UX Research here.
Register for UX STRAT here now! We'll be heading down too and would be delighted to see you there!

UX STRAT is…
About business strategy and experience design
Single-track and tightly-curated to facilitate focus and encourage community
Networking-friendly, both during the day and in the evening
International
UX STRAT conferences are ideal for those who…
Have a desire to grow professionally from a tactical level to a strategic level
Want to hear how leaders within the experience design field innovate, conduct design research, analyze complex data, structure their teams, and sell their ideas and vision to executives
Want to network with peers who are equally experienced
Past UX STRAT events have seen innovate talks from a multitude if UX experts including Etsy's Director of Research Alex Wright, Atlassian's Head of Design for Communications Products and Mobile Todd Wilkens, and Nomensa's CEO & Founder Simon Norris. Catch previous UX STRAT event presentations on Slideshare here. And if you just can't get enough, check out our list of top videos for UX designers!
Co-Founder of Adaptive Path and Jawbone Senior Director of Design Peter Merholz talks about his journey with Experience Strategy
So what are you waiting for? Grab your ticket now and we'll see you there!

FOUND THIS USEFUL? SHARE WITH
Emily Grace Adiseshiah
Emily is Marketing Content Editor at Justinmind
Related Content
Hands-on UX Strategy & Prototyping workshop with Jaime Levy 2017

UX strategist Jaime Levy leads our upcoming workshop on defining the perfect UX strategy and validating innovative concepts with interactive prototypes. Don't miss out, sign up...

Integrating Agile and UX Design with Justinmind prototyping tool

Find out how rapid prototyping with Justinmind can help engage stakeholders, improve your UX Design and boost your Agile workflow