Justinmind at Rocketspace Innovation Collective Summit 2016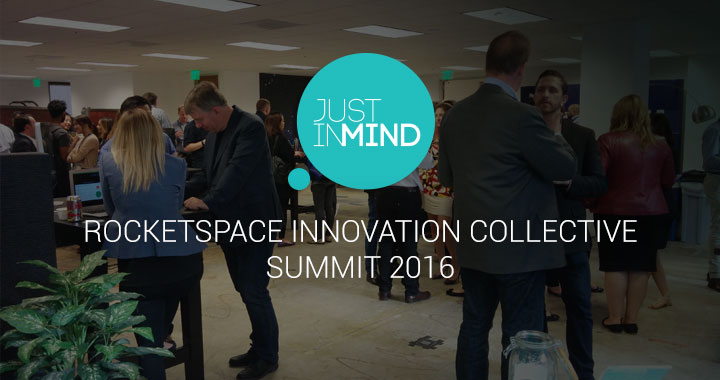 Two days, 50+ companies and 100% technology innovation. Needless to say, Justinmind had an awesome time at Rocketspace's first ever Innovation Collective Summit.
Dedicated to bringing innovation execs from top global companies together with game-changing start-ups, Rocketspace's breakout Innovation Collective Summit, held 5-6 April in San Francisco, gave Justinmind the chance to get the lowdown on the latest 'disruptive trends' in tech, and hear speeches from industry movers and shakers like venture capitalist Tim Draper and Autodesk Innovation Genome Founder Bill O'Connor. Plus we got to make out like we're 'disruptive technology' for two days!
Even more excitingly, we got to tell business leaders what our Enterprise version can do for them. Designed as a fully functional prototyping platform for large organisations, Enterprise facilitates software requirement definition, agile teamwork and sharing throughout the entire prototyping process. Combine this with all the standard Justinmind features and you've got a pretty cool solution for large-scale projects.
This was the Summit's first iteration, but organizers Rocketspace hope the thrice-annual event will help members of its recently established Innovation Collective, a phalanx of carefully selected executives from leading global companies like JetBlue and Michelin, stay abreast of the ever-changing technology landscape.
"The cadence of innovation is accelerating across the tech sector, forcing corporations to adopt new strategies," said Duncan Logan, Founder and CEO of RocketSpace. "Even Fortune 500 companies need to be challenged to think bigger than themselves when it comes to innovation. Our goal is to not only connect and help inform this community, but to also shorten the path toward real business value."
Rocketspace is still accepting new members to the Innovation Collective. If you see us at the next event come over and say hi!

FOUND THIS USEFUL? SHARE WITH
Cassandra Naji
Cassandra is Marketing Lead at Justinmind
Related Content
Hands-on UX Strategy & Prototyping workshop with Jaime Levy 2017

UX strategist Jaime Levy leads our upcoming workshop on defining the perfect UX strategy and validating innovative concepts with interactive prototypes. Don't miss out, sign up...

Integrating Agile and UX Design with Justinmind prototyping tool

Find out how rapid prototyping with Justinmind can help engage stakeholders, improve your UX Design and boost your Agile workflow