Justinmind at MOBX 2016 in Berlin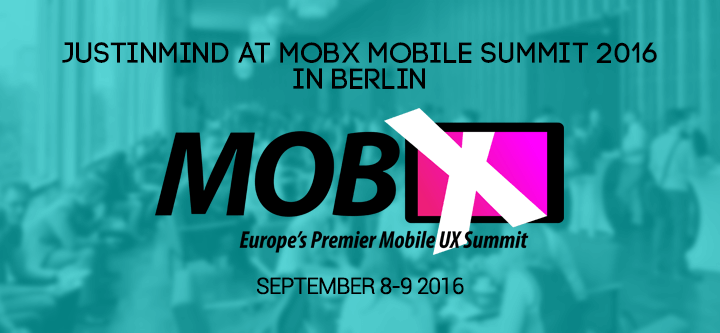 Get your ticket for Europe's Premier Mobile UX Summit now and learn about Mobile UX, Interaction Design and usable interfaces from the experts.
Justinmind is proud to be sponsoring MOBX – your premier annual conference for Mobile User Experience, small screen Interaction Design and usable interfaces on smart devices. The one-day, single-track conference is taking place this Friday, September 9th, in Berlin. The perfect event for all you creative minds who can't get enough of User Experience, interfaces and interactions in mobile contexts.
Sign up now to enjoy the star-studded line-up of international experts and mobile thinkers ready to share insights on everything mobile UX.
Note that the conference's workshops take place today, Thursday, September 8th. The half-day session start at 09.00 and 14.00 respectively. Kindly note that tickets for the workshops are available for purchase in addition to the main conference.
Workshop schedule – Thursday, February 8th
Workshop 1: Designing with Scenarios with Kim Goodwin
Learn you how to focus your team and persuade your stakeholders, using the power of storytelling that you get from clear scenarios. You'll see how scenarios can drive your early sketches and deliver clear insights on new design ideas. Discover how your project can start on a foundation that meets the users' needs.
When: Thursday, September 8th 09:00 – 13:00
Where: one by one, Zimmerstr. 79/80, 10117 Berlin – View Map
Designing with scenarios at the prototyping stage of the game gives you great visualization of the user flow and possible navigation options early on. Learn more about designing and simulating scenarios with Justinmind here!
Workshop 2: Ready, Set, SPRINT! An Introduction to Design Sprints with C. Todd Lombardo
Considering creating a new product or solution? Why not increase your chances of success with a design sprint? Design sprints are time-bound prototyping exercises that help your team explore new solutions, test product ideas, and validate your findings—all in a short amount of time.
When: Thursday, September 8th 14:00 – 18:00
Where: one by one, Zimmerstr. 79/80, 10117 Berlin
Conference schedule – Friday, February 9th
When: Friday, September 9th 09.00 – 00.00
Where: KINO INTERNATIONAL, Karl-Marx-Allee 33, 10178 Berlin – View Map
The year's line up includes bestselling author of Designing for the Digital Age, Kim Goodwin, SAP Chief Designer User Experience, Martin Wezowski, and Head of Concept at CELLULAR, Thorsten Jonas. includes. See the full conference schedule here.
The pre-conference party will take place on Thursday and the after-conference Party on the Friday. Don't miss out!
Justinmind is a great tool to prototype mobile UX because you can create low to high-fidelity designs and simulate them on the actual device, as if they were the real thing! Check out Justinmind's best practices for prototyping mobile user experience here.

FOUND THIS USEFUL? SHARE WITH
Emily Grace Adiseshiah
Emily is Marketing Content Editor at Justinmind
Related Content
Hands-on UX Strategy & Prototyping workshop with Jaime Levy 2017

UX strategist Jaime Levy leads our upcoming workshop on defining the perfect UX strategy and validating innovative concepts with interactive prototypes. Don't miss out, sign up...

Integrating Agile and UX Design with Justinmind prototyping tool

Find out how rapid prototyping with Justinmind can help engage stakeholders, improve your UX Design and boost your Agile workflow