Justinmind at EvolveUX 2016: where UX, CX, service design and business collide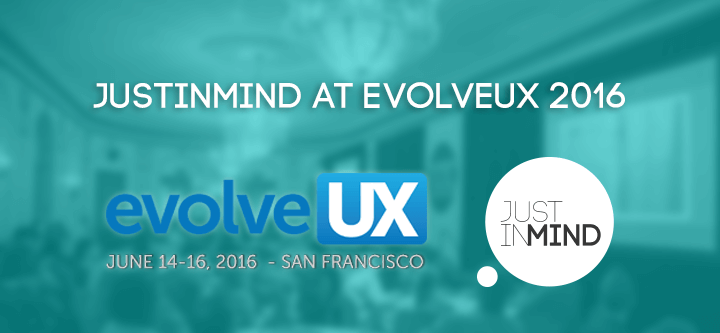 Justinmind is proudly sponsoring EvolveUX 2016, three days of insights and case studies from UX and CX influencers with users and customers centre-stage.
From June 14-16, San Francisco's Marines' Memorial Club & Hotel will play host to EvolveUX 2016, a three day event focused on the sweet spot where user experience, customer experience, service design and business meet. 26 thought leaders from a diverse range of backgrounds – Stanford University IT, the Mayo Center Clinic for Innovation, Uber, to name a few – will lead workshops, talks and networking events focused on all aspects of experience design. Justinmind are happy to be sponsoring the event.
UX and CX – the intersection
User experience (UX) and customer experience (CX) may be related concepts but they're far from interchangeable. While UX encompasses the interactions people have with a product and the experiences they draw from those interactions, CX relates to the sum total of interactions a person has with a brand; UX is measured in things like abandonment rate, clicks to completion , etc, whereas CX in satisfaction, advocacy and brand loyalty. Read more about CX here! According to the people at EvolveUX, combining the two is a surefire way to create a customer-centric business culture that renders better business results.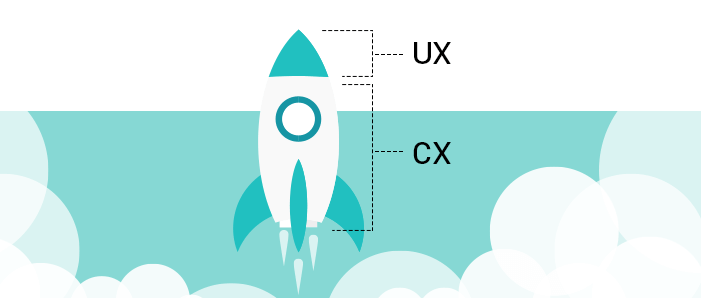 Aimed at all design professionals no matter their area of expertise, EvolveUX 2016 provides a pan-industry perspective  on the challenges and trends in user and customer experience, service design and business today. The event focuses on practical outcomes such as merging service design and CX with an existing business plan, and implementing adequate metrics to measure outcomes across an organization.
EvolveUX 2016 – what you'll learn
Attendees to the event will learn how to:
Heighten the awareness of service design in their organization
Leverage customer insights and set success metrics for service design and CX
Engage both customers and employees throughout the service design process
Integrate CX initiatives into their company to increase customer adoption, loyalty and advocacy
EvolveUX 2016 – UX and CX agenda
The three day event aims to keep each day fresh by mixing up the format and maximizing networking opportunities. Day 1 takes the form of pre-conference workshops run tandemly both morning and afternoon. Topics such as journey mapping, creating multi-channel experiences , managing design portfolios and disrupting service experience interactions will all be on the agenda; it's just a shame you'll have to pick between them, as the workshops run two-by-two. Day 2 gets into the more traditional conference stuff, with invited speakers addressing the challenges and opportunities of contemporary UX/CX. There are two confrence 'tracks' so once again you'll have a tough choice to make between the two; don't worry, mingling is catered for at the frequent networking break-outs. Day 3 is based around case studies in which design industry insiders will talk through real-world experiences and lessons learned.
EvolveUX2016 – 3 unmissable UX and CX sessions
Picking out just three unmissable talks from EvolveUX's agenda is a tough (read almost impossible) call, so instead of picking 'the best' we've picked three that, thanks to their variety of focus, give a truly holisitic view of the event.
Orchestrating experiences – Designing for complex interactions in services
Chris Risdon, Head of Design at Capital One Labs, will discuss the increasing complexity of design challenges today. With the interlacing of services across the digital and physical realms, maintaining the user at the centre has become trickier. Chris will address these challenges hrough looking at various different contexts – the digital product eco-system, multi-channel retail, nebulous 'service experience' in general – and addressing how we design for experience in these contexts. Most intriguingly, Chris will ask, "What does it look like to traverse disciplines and design for people across time and space?" Don't miss it.
The anatomy of an enterprise UX transformation
Justin Zacks and Saul Gurdus, co-founders of experience design company Method Garage, will talk about what it really means to be living in "the age of the customer." Businesses struggle to make customer experience work for them, but that's not suprising, say Justin and Saul: implementing user-centricexperience strategy across your business is tough. At EvolveUX 2016, Saul will delve into why it's vital for all employes to think customer-first, and how he's learned to lead user experience change over his career.
Case study – The challenge of designing products for "everyone"
Led by Rebecca Buck and Alisa Weinstein, Lead User Experience Researcher and Senoir Design Researcher at Salesforce and Uber respectively, this Case Study session will explore the challenges faced by designers as technology starts to serve a mass market. Design teams are increasingly faced with the daunting challenge of designing for a multitudinous user base, from early-tech-adopters to retirees; how can a single digital product cater to so many diverse needs and abilities? Rebecca and Alisa will share their insights on onboarding, personas, journey maps and srvice blueprints.
So what are you waiting for? Sign up for EvolveUX 2016 and get the skinny on how to intreweave UX, CX and service design to create business-boosting strategy. You can register online here.
Download Justinmind today and get started on creating designs that improve user and customer experience!

FOUND THIS USEFUL? SHARE WITH
Cassandra Naji
Cassandra is Marketing Lead at Justinmind
Related Content
Hands-on UX Strategy & Prototyping workshop with Jaime Levy 2017

UX strategist Jaime Levy leads our upcoming workshop on defining the perfect UX strategy and validating innovative concepts with interactive prototypes. Don't miss out, sign up...

Integrating Agile and UX Design with Justinmind prototyping tool

Find out how rapid prototyping with Justinmind can help engage stakeholders, improve your UX Design and boost your Agile workflow