Justinmind at Chicago's Prototypes, Process & Play 2016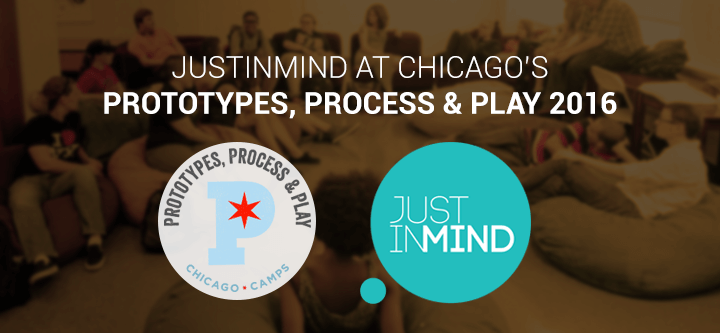 Your two-day, single-track design leadership conference featuring inspiring keynote speakers, accomplished design leaders, and experienced professionals from major brands and organizations.
Chicago's premier event in Business Services industry starts tomorrow and Justinmind is proud to be sponsoring this year's conference. The Prototypes, Process & Play event, organized by the Chicago Camps LLC will take place on August 11th and 12th 2016 at the Columbia College Chicago. The conference will focus on the value in design and design leadership, with first-hand advice from the experts.
So what's all this about prototyping, process and play? Well it all comes from Chicago Camp's special, expert formula:

Honing your design leadership skills
As the Chicago Camps team have put it, with a carefully curated and single-track series of events, you won't miss a thing! The event's inspiring, not-to-miss speakers include former Creative Director and Digital Strategist to the White House, Ashleigh Axios, VP of Engineering at Slack, Michael Lopp, VP of Design at Etsy, Randy Hunt, and Design Practices Director at IBM Design, Adam Cutler.
Chicago Bull's Team Psychologist, Dr. Steve Julius will be giving this year's keynote. Dr Julius is known for his ability to combine his knowledge of human behavior, organizational dynamics and business strategy to create relevant and practical solutions. His keynote will address how to marshal and lead our natural desire to engage, contribute and act collaboratively in ways that allow for perceiving new possibilities and status quo changing actions. Chicago-area technologist and writer, and local hero at Chicago Camps, Jen Myer will be returning with her presentation, "Cartoon Creativity: What I Learned from Chuck Jones". You can watch Jen Myer's speech from last year's event here.
Brad Simpson, Russ Unger, and Shay Howe founded Chicago Camps, LLC with the intention of bringing high-value, low-cost events to the technology community. Part of our goal is to help find new talent and topics and provide a forum for those to be shared. They continually seek out new ways to improve their events and experiment with new ideas every chance they get.
Don't forget to get your tickets for Prototypes, Process & Play on August 11th and 12th!

FOUND THIS USEFUL? SHARE WITH
Emily Grace Adiseshiah
Emily is Marketing Content Editor at Justinmind
Related Content
Hands-on UX Strategy & Prototyping workshop with Jaime Levy 2017

UX strategist Jaime Levy leads our upcoming workshop on defining the perfect UX strategy and validating innovative concepts with interactive prototypes. Don't miss out, sign up...

Integrating Agile and UX Design with Justinmind prototyping tool

Find out how rapid prototyping with Justinmind can help engage stakeholders, improve your UX Design and boost your Agile workflow