Free webinar: UX Strategy with FatDUX chairman Eric Reiss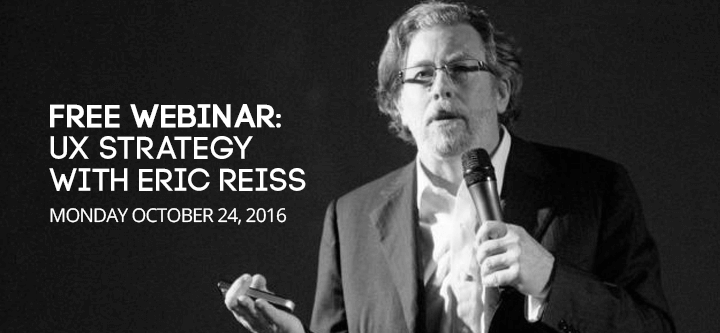 Learn how to use UX strategy to align user experience with business goals, with prototyping tool Justinmind and UX expert Eric Reiss.
UX strategy is about analyzing an organization's business strategy and outlining what needs to be done from a UX perspective to ensure that the goals of the business strategy are achieved. You might say that UX strategy is the glue that binds the company vision, or goals, with the day-to- day UX tactics, or execution. Without a clear UX strategy, it's entirely possible to design killer UX concepts, yet fail miserably in the marketplace.
Justinmind's upcoming webinar, on Monday October 24th @ 10:00am PST, will see guest speaker Eric Reiss help companies and designers avoid these costly yet avoidable pitfalls.
Want to learn how to start, conduct and complete UX strategy work, even in tough situations? Register for our free webinar below and find out why UX strategy is "the secret sauce that defines the pixie dust".
---
Interested? Register here for free
---
What does a good UX strategy contain?
A clear definition of the company's/brand's value proposition
A set of generic guidelines for UX designers that helps align their work to support business goals and the value proposition
A governance structure for managing and coordinating the various processes involved across a variety of touchpoints – online and off
UX strategy with Eric Reiss: What you'll learn
Throughout the session, UX expert Eric Reiss will explain how to initiate, conduct and deliver on good UX strategy promises, even within challenging organizations. Eric will draw on his storied experience of writing mission and vision statements for hundreds of enterprises, and delve into how he introduces measurable, understandable and profitable UX programs.
You'll come away with insider knowledge on building and leveraging UX strategy in your enterprise as well as more saleable professional skills.
Who is Eric Reiss?
Eric has been involved in UX strategy before the subject even had a name. Active in Information Architecture, UX and CS since the 1970s, he has presented at dozens of conferences and authored several books – his latest, Usable Usability, has been published worldwide. He served on the board fo the IA institute for 4 years, and is currently Chairman and CEO of The FatDUX Group, an international UX design agency with offices and associates throughout Europe and the Americas.
Read our interview with Eric Reiss to find out more

FOUND THIS USEFUL? SHARE WITH
Cassandra Naji
Cassandra is Marketing Lead at Justinmind
Related Content
Hands-on UX Strategy & Prototyping workshop with Jaime Levy 2017

UX strategist Jaime Levy leads our upcoming workshop on defining the perfect UX strategy and validating innovative concepts with interactive prototypes. Don't miss out, sign up...

Integrating Agile and UX Design with Justinmind prototyping tool

Find out how rapid prototyping with Justinmind can help engage stakeholders, improve your UX Design and boost your Agile workflow