9 eBooks for Product Managers: prototyping, UX & enterprise software
Must-read eBooks for Product Managers to boost software development, prototyping, analysis and user experience skills.
Product Managers don't have an easy time of it. Working between development and marketing teams, they have to get non-techies to understand complicated products, keep things Lean, manage user needs and stay on top of the competition at all times. Not to mention being top communicators and managing uncertainty on the daily.
Fortunately, there are resources out there to help Product Managers stay on top of these demands. In addition to some great offline and online courses based around UX and design, eBooks give PMs the chance to study up in their spare time. Most Product Managers will have read eBooks such as Don Norman's Design of Everyday Things, and Eric Ries' Lean Start-Up; but beyond these absolute classics there are plenty of other eBooks and Kindle publications that provide a wealth of information on marketing, business management, development models and design techniques for Product Managers.
Justinmind has selected 9 must-read eBooks for product managers, whether you're looking to polish your current skills or move your career up a notch.
Build Better Products, Laura Klein & Kate Rutter
For Product Managers looking for a clearly laid-out, comprehensible guide to building products people actually want, then Build Better Products is a great place to start. Authors Laura Klein and Kate Rutter – both UXperts with storied Silicon Valley experience – set out how teams can get to grips with design, data, strategy and user-centricity throughout the development process. What makes the book especially good for PMs is its unswerving focus on the bottom line.
Build Better Products, Rosenfeld Media, $39
---
Prototype better products. Download Justinmind.
---
Hooked: How to Build Habit-Forming Products, and Hooked: Workbook, Nir Eyal
Most PMs are probably familiar with Nir Eyal's Wall Street Journal bestseller Hooked: How to Build Habit-Forming Products. In Hooked, Nir peeks into the users' collective mind and lays out the essential psychology behind why we get addicted to some products and why some are just meh. Lauded as 'an essential crib sheet to understand user psychology' by 500 Start-Ups founder Dave McClure, Hooked is pretty much essential reading for anyone in digital product development.
In the free supplemental Hooked workbook now available, Nir zooms in on how to apply the general principles of Hooked to particular businesses. The best part is that it eally is an old-school style workbook, with thought-provoking exercises designed to establish the good habits behind successful product design and management.
Hooked: How to Build Habit-Forming Products, $10.99 Kindle version
Hooked: Workbook, free
Making an Enterprise UX Friendly: A Quick Guide, Justinmind
Justinmind's free ebook, Making an Enterprise UX-Friendly: A Quick Guide (PDF) tackles the tricky issue of integrating user experience not only into enterprise software, but into every corner of the enterprise itself, from team structures to workflow and strategy. The book walks readers through the profit paybacks of UX-proofing a large organization, plus has tips on maximizing internal productivity through UX. It also covers:
• Combining user needs and business goals to build a solid UX strategy
• Strengthening the UX acumen of a team, or building a UX team from scratch
• Creating enterprise software that meets both user and client needs
• Making the business case for enterprise UX
Making an Enterprise UX-Friendly: A Quick Guide (PDF) provides a practical guide to the how to build UX into an enterprise from the ground up, supplemented with expert insights and real-world examples. Plus it's free!
Making an Enterprise UX Friendly: A Quick Guide, free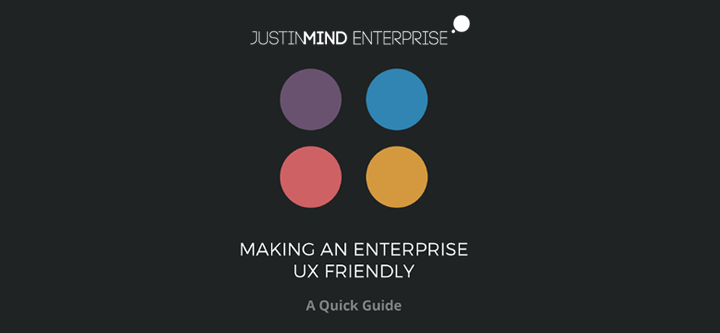 The Product Manager's Survival Guide, Stephen Haines
In The Product Manager's Survival Guide, PM guru Stephen Haines provides experienced (and less-experienced) Product Managers with a 360º view of what the role demands and where they fit into the design, develop and deliver process. As the title points out this is a survival guide, so expect plenty of templates and real-world exercises aimed at establishing good PM practices no matter what the project. As Stephen explains, "The only way to excel as a product manager is to develop a strategy for the long run" – the Survival Guide aims to put that strategy in context.
The Product Manager's Survival Guide, $22.23 Kindle edition
Getting Real, 37 Signals (now Basecamp)
Bestseller Getting Real is a product development classic. The free eBook is all about thinking smaller rather than bigger – lithe teams, targeted software, staying quick wins and low-hanging fruit. It's a refreshingly honest and, well, real look at the pain points of product development, and interlocks perfectly with the needs of start-ups and smaller enterprises. Here at Justinmind we're particular fans of chapter 6, 'Process', which delves into why agile iterations and MVP prototyping are integral to successful product management.
Getting Real, free
The Inmates Are Running the Asylum: Why High-Tech Products Drive Us Crazy & How to Restore the Sanity, Alan Cooper
Ever wondered why smart people keep making bad software? Alan Cooper attempts to find out in The Inmates are Running the Asylum, an engaging and irreverent look at software development in the US. An advocate for user-centered software design, Alan makes the case for technology that works "the way that average people think" while staying bottom-line-friendly.
The Inmates Are Running the Asylum, Kindle version $17.93
UX Strategy: How to Devise Innovative Digital Products that People Want, Jaime Levy
Author, UX consultant and college professor Jaime Levy provides the missing link for many product managers: a framework for creating a strategy that blends both business strategy and UX design. Jaime's UX Strategy guide is full of real-world experience, comprehensive business cases, and tips from successful strategists. Highly recommended for Product Managers who want to stay on top of everything that feeds into strategy, from competitor research and analysis, to experimenting on prototypes and knowing your user.
UX Strategy: How to Devise Innovative Digital Products that People Want, from $8.59 on Kindle
Naked Statistics: Stripping the Dread from Data, Charles Wheelan
Understanding and analyzing data and testing results is a big part of a Product Manager's remit, but it's hardly to most exciting part, right? Wrong, says Charles Wheelan in Naked Statistics. In Fact, stats are the new sexy and are an essential part of working out why some products fail and some triumph. Naked Statistics tries to find the intuitive element of statistical analysis and to underline how core concepts – inference and correlation, for example – can reveal trends, biases and essential insights. PMs will gain insight into algorithms, development experiment outcomes and data analysis.
Naked Statistics: Stripping the Dread from Data, eTextbook $14.35
Inspired: How to Create Products Customers Love, Marty Cagan
Marty Cagan breaks down why some products fail and some soar, examining the skills at the heart of good product management – making decisions based on empirical evidence, building a sensible MVP, managing conflicting demands and making agile work for every organization. Inspired is full of real-world advice garnered from Marty's years in the industry, plus some must-know techniques and cautionary lessons learned.
Inspired: How to Create Products Customers Love, Kindle edition $8.97
FOUND THIS USEFUL? SHARE WITH
Cassandra Naji
Cassandra is Marketing Lead at Justinmind
Related Content
Folks quickly noticed they needed a design system - but the road to a good system can often be a maze. Check out how things played out at Wells Fargo.

Careers in UX design, web and app development are among the most coveted in the tech industry today, though getting into one of these fields is easier said than done. This post aims to point you in the right direction.

Product management is a diverse discipline, a position requiring in-depth knowledge. Finding the right course to fire up your career is no easy task, so we've narrowed down the best out there to make your life a little easier.