4 reasons why you should be designing with a desktop application

Don't dismiss the desktop application just yet! Here are 4 reasons why desktop tools for designers still have their place in the UI design process
There's been much debate over whether to use web or desktop apps in user interface design. For those of you not in the know, a web app is a client-server computer program in which the user interface runs in a web browser as a cloud service. In contrast, the desktop app is installed on a desktop or laptop computer and runs stand-alone without access to the Internet.
Shortly after the World Wide Web (www) took off in the early '90s, client-server web applications began to pop up. Web apps such as Gmail, Slack and Zendesk have become famous for their speed, cost-effectiveness and accessibility.
But despite the web-app hype, desktop applications can still be found just about everywhere and often provide a far superior user experience. They transcend web apps in many ways, from connectivity and speed to security and team collaboration.
In fact, some of the best UI design tools are desktop-based, including Adobe Photoshop, Dropbox and yours truly, Justinmind – one of the leading desktop tools for designers. Here's our two cents on why you should be using a desktop application in your design process.
Choose the desktop application for accessibility
Despite our efforts, we're not constantly connected to the Internet. We're often on the move and our connection isn't always reliable, or there at all. One of the key advantages of the desktop application is its independence from internet connectivity and bandwidth considerations.
Applications that run in the cloud rely upon internet infrastructure for data transport and content rendering. This means that when connection is down or poor, speed and performance suffer. Imagine spending hours designing a screen in your browser-based tool only to have the browser crash or lose internet at the worst possible moment – a stakeholder strategy session, for example. Aah! No matter how fast your internet connection is, if the connection is down or out, you're at risk of losing your work.
In contrast, desktop-based user interfaces are standalone and are not affected by connection speed or browser capacity. Therefore their response to user requests is quicker, smoother and more reliable than their web counterparts.
Justinmind is a leading interface design and prototyping tool, and guess what? It's desktop-based! Once installed on your computer (Windows or Mac), you can access Justinmind with or without internet connection. So wherever or whenever you need to get down to designing, you can count on Justinmind for a speedy and accessible process that will keep you in line with your design best practices every time.
---
Download Justinmind prototyping tool and feel the difference
---
Get a smoother design process with the desktop application
Despite the surge in web-based tools, desktop applications and software are still the preferred tools of many graphic and UI designers according to SitePoint. There are two reasons for this:
1- Desktop tools talk to each other
Designers often need to work across multiple tools to make their designs awesome. But moving artwork around can be a pain if the tools don't work together seamlessly.
Not being able to get work done because tools don't speak to each other is the worst. But when you pair up desktop applications, it much easier to work across tools. Say you want to use a layer you've created in Photoshop in another tool. If that other tool is desktop-based, it's as simple as copy-paste.
With Justinmind, you can easily work across your favorite design and publishing tools. Here are a few ideas:
Move elements to and from desktop tools such as Photoshop, Illustrator and Microsoft Office with a simple copy-paste. Tip: use the 'link to image files' option to have updates automatically loaded across tools.
When modifying SVG vector files, updates will automatically load in every instance of the files across your tools!
Easily export your prototypes and share them with file hosting services such as Dropbox and Google Drive.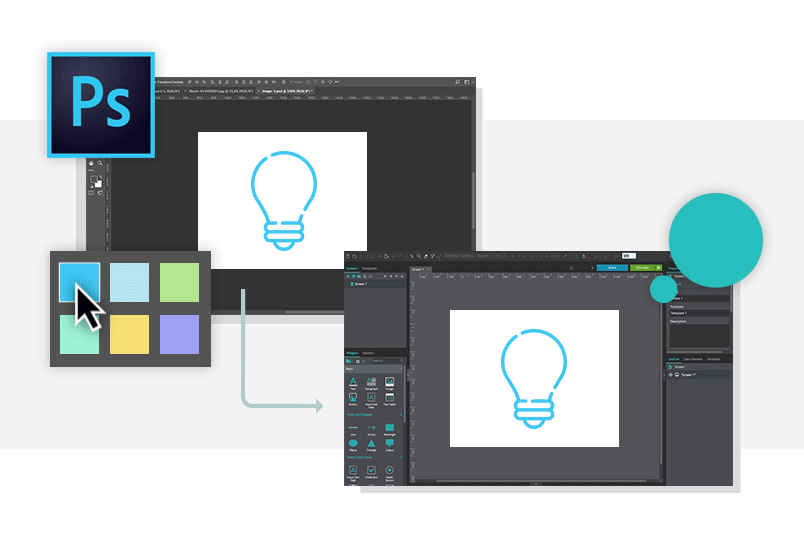 2- No design restrictions with desktop tools for designers
One of the biggest pain-points for UI designers working in web-based tools relates to the customization limitations. Unlike the desktop design tool, the web app typically relies on templates that impose restrictions on your designs.
For instance, web-based prototyping tool Invision doesn't allow you to modify UI assets, and forces you to use pre-built designs. This is because modifying elements in the browser would be too heavy and cause the browser to crash.
In comparison, because Justinmind is a desktop application, it allows you to build your own assets from scratch using atomic elements and import elements from other design tools, as well as make use of ready-made screens and components from our UI libraries. UI assets that are saved locally take up comparatively less space than those saved in the cloud, and can be accessed and moved around much more easily.
Opt for security with the desktop application
Keeping sensitive information secure from theft and threats is top priority for most users, and another reason to opt for desktop applications. Why? Because desktop-based tools are much less prone to security risks than web applications.
In desktop tools for designers, data is stored on the user's computer. There's no need to transport data from the cloud, enabling the user to keep hold of their data on their own computer systems and protect it from vulnerabilities. This is ideal for individual users and companies who are cloud-cautious.
In contrast, user data in web apps is handled on the server side and therefore needs to be transported to and from the cloud. This means that it data is accessible by a large number of users in the Internet community.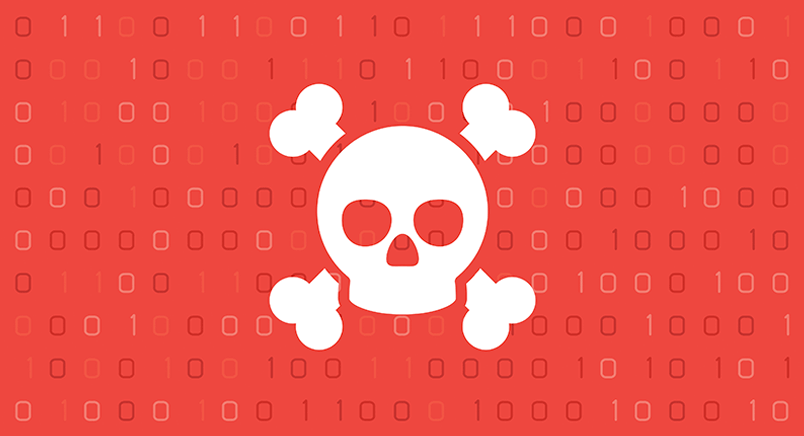 Data security (location of data, recovery policies, encryption methods etc.) is one of the major challenges to the web app and cloud computing. In fact, it has led many companies to question the trustworthiness of cloud service providers. A recent report from the Health Information Trust Alliance outlines just how damaging cloud data breaches can be. For instance, in 2012 there were 495 data breaches in the US healthcare sector, costing over $4 billion.
Data hacks are really bad news. It's not just a question of leaking private information, hacks affect production, revenue and reputations.
Here at Justinmind, we understand the importance of privacy. Take a look at our features that will make your design process secure:
Why you should be designing with a desktop application: the takeaway
Settling on the right type of design tool might seem like a no-brainer. Desktop tools can feel outdated next to the cloud model.
However, deploying web apps means you have to work in the browser's interface, on its terms. Browser crashes, security breaches and design restrictions are no match for the desktop application.
Justinmind prototyping tool is the desktop application that you need in your design arsenal. Our creative and collaboration features make for a seamless design process. What's more, our product team understands the importance of security, and putting the designer in the driver's seat. Download Justinmind now and take control of your design process.

FOUND THIS USEFUL? SHARE WITH
Emily Grace Adiseshiah
Emily is Marketing Content Editor at Justinmind
Related Content
Guide to list UI design: principles and examples

How important are lists in UI design? How much do they affect usability and what's the best way to design them? In this guide, we'll explore the elements that make up a great list UI design and look at some inspiring examples!

Shopping cart design: patterns for better conversion

Shopping carts are a key part of any ecommerce. But what makes a shopping cart good? And what can we do to improve its conversion? Read on and find out!

Hotel website design: 13 stunning examples

Hotel website designs require two fundamental qualities: they must be attractive and usable. Great designs can leave a positive impression on the client before they even arrive. In this post, we've rounded up 13 examples of hotel website design done right.