17 places to get free vector images for your designs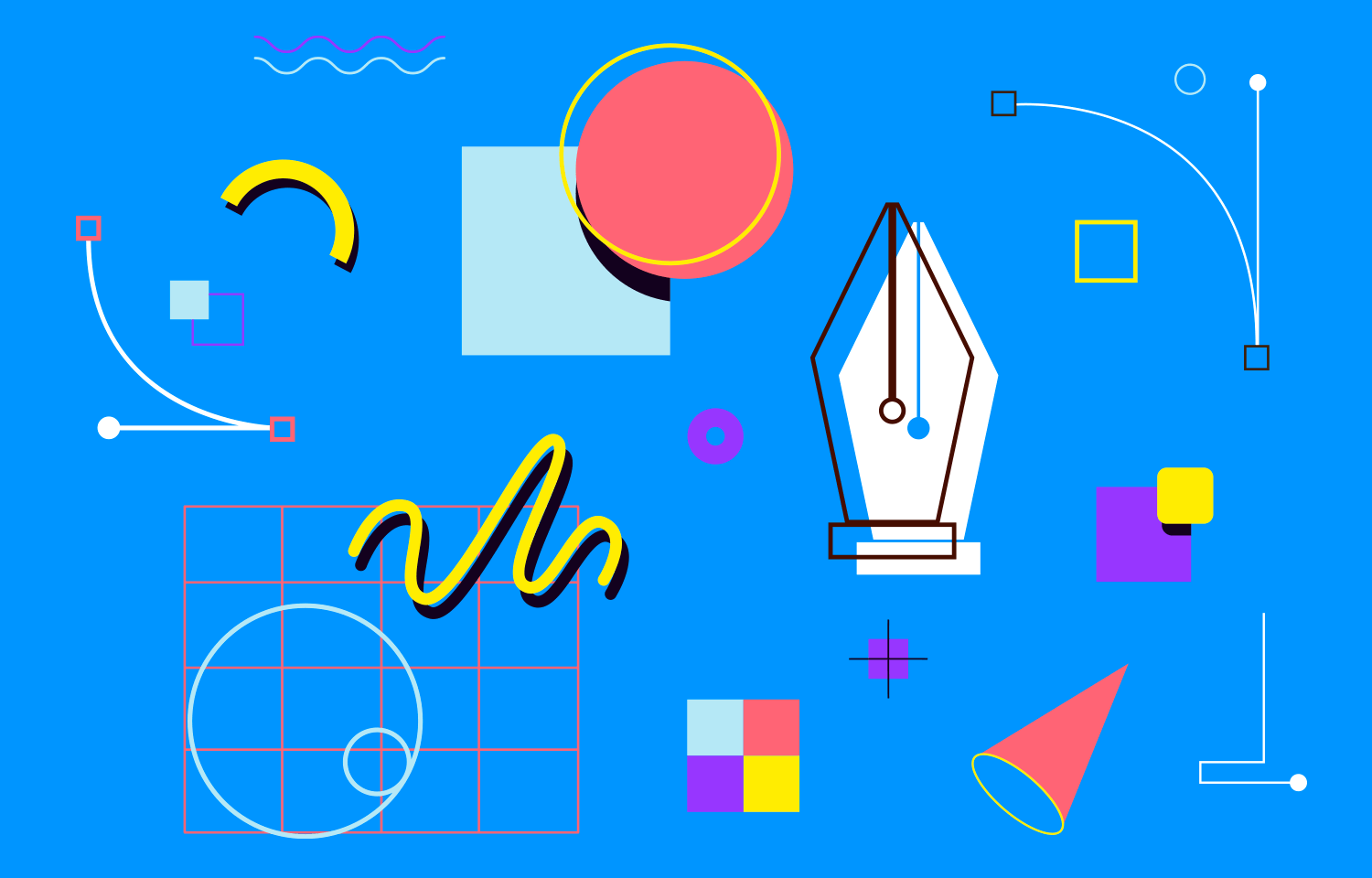 Where can you find fun, free vector images? These 17 vector sites might have just what you need…
Vectors are great and oh so versatile.
They can be used in your user interface, to give it more pizzazz. You can use them on a landing page to give it a breath of fresh air. They're easy to put on products and merchandise.
In honor of the humble vector image, Justinmind has rustled up a useful list of 17 of our favorite free vector image websites. Here you'll find a little of everything so you no longer have to spend hours scouring the internet for the vector image you want. It's all here. Let's go.
---
Bring life to your prototypes with vector images. Download Justinmind.
---
Katerina Limpitsouni has created a library of amazing and customizable MIT licenced illustrations. They're free and there's no need for attribution either.
Her whimsical and fun illustrations are also SVG – scalable at any size without losing any of the quality.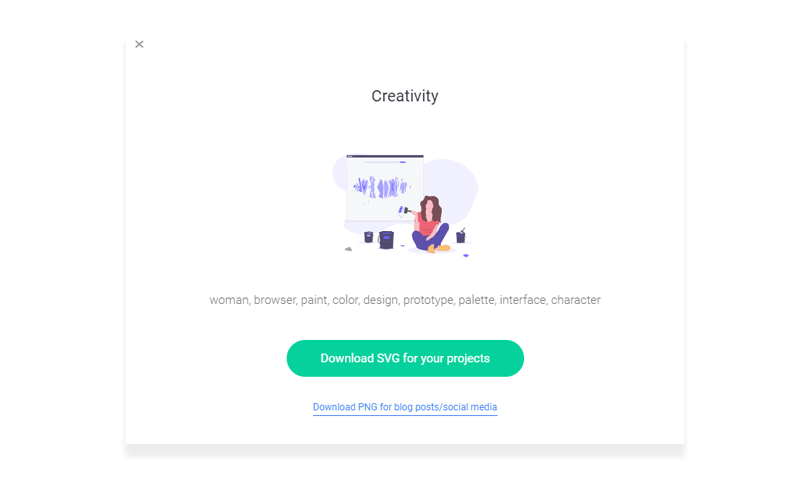 These illustrations are getting a lot of buzz on Twitter and popping up in newsletters. They're a great addition to your marketing efforts.
The beauty of these illustrations is their small file size, customization and the possibility to play around with the CSS.
Freepik boasts over 800,000 free illustration vectors. There's everything to choose from. You need animals? What about silhouettes? You'll find it on Freepik.
You can download the files in a variety of formats: AI, SVG or EPS.
Looking for font icons? Justinmind has a free Font Awesome icon kit!
Pixabay is another image search engine with a ton of free vectors up for grabs. Pixabay also aggregates images from other free websites, making their collection even bigger.
Vector Stock is home to over 200,000 free vector images. You can sort them by latest uploads or by trending vectors. As with the other sites, the formats include: AI, EPS, PDF and JPG. All free, all yours. However, the vectors are for personal use only, which is a bit of a limitation for freelance designers.
If you want access to over a million vector icons then Flaticon's your best bet. It has collections grouped into packs, for easy browsing.
There's the whole gamut of icons: strategy and management, friendship, ecommerce, marketing and SEO… you name it, Flaticon's got it.
Openclipart styles itself as the largest community of artists making the best free original clipart for you to use for absolutely any reason. Not bad. Plus, all the goodies on Openclipart are in the public domain.
Vector 4 Free is the little brother of free vector image websites. It doesn't have the biggest collection on the internet, but it still has useful icons. Some are grouped into collections. You can search using the tags or the search bar to get what you're looking for.
The Noun Project is an awesome repository of more than a million free vector icons. It's got tons that are customizable and easy to download. You can also slip the icons into Google Suite software, meaning you'll give the swankiest design presentations in the office. And if you're really feeling techy, there's a Noun Project API available. Perfect for all your crazy creative ideas.
Vecteezy has over 100,000 free vector images and claims to be the largest vector graphics community worldwide It's got a good selection of vectors and you'll find what you're looking for there. You can also comment on vectors and give design critique – perfect for vector designers who want free feedback, or for storied designers who want to practise a bit of digital mentorship.
If you need to quickly grab a brand logo to throw onto a landing page, sponsors to go on the back of a t-shirt or need one for a testimonial then head on to Brands of the World.
It's got the largest collection of free downloadable vector logos of the world's companies and brands.
Icon monster is cool because they let you ask for missing icons as well as casting for a vote for new ones.
Here you can download all the usual format suspects including PSD.
Pixeden came about when a couple of designers and developers needed a one-stop place for all the tools for the modern designer.
The site has a great selection of graphic materials to choose from, including vectors. There are mockup files, vector packs, icon sets and infographic elements too.
Vector.Me has a lot of free vectors. Simply enter your keywords, hit search and browse until you find what you're looking for.
You can search through vectors, logos and icons and there's more than 280,000 to choose from all in AI, EPS, SVG and CDR formats.
Pimp My Drawing is a free library of people and silhouettes available in AI and DWG formats.
What's fun about Pimp My Drawing (apart from the name!) is the description of the images. A favourite description is an image of a woman walking:
Farmer walking to the side in boots. She looks relaxed. Guess that is the advantage of living in the countryside… Not saying she is lazy just that the stress in the cities is different.
And another of a child running.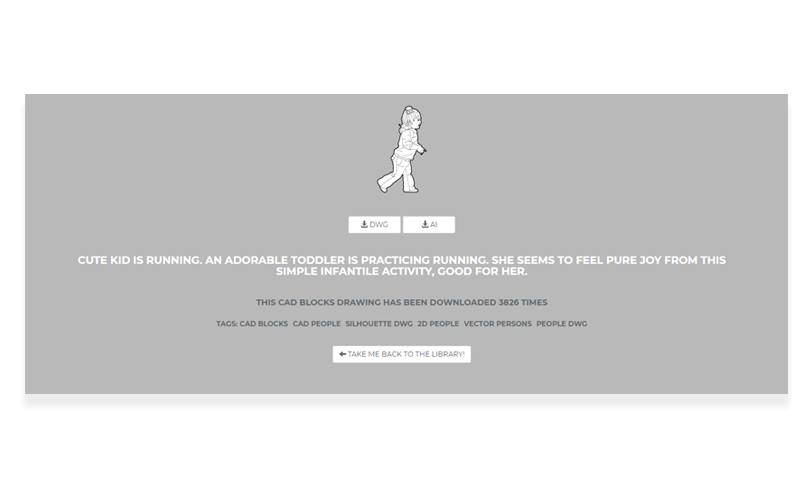 Cute kid is running. An adorable toddler is practicing running. She seems to feel pure joy from this simple infantile activity, good for her.
OK, Reddit is not the place where you'd normally find vectors.  But, if you search on Reddit you'll often find users posting their work for people to use for free.
Free Vector has it all. Logos, vectors icon sets and categories to make searching easier. There are over 16,000 graphics to choose from and you can easily sign up with Facebook in just a click.
Free vector emoji, you say? Sign us up. Streamline boasts over 780 free vector emoji on its website. You can either download all of them at once or browse to find whatever you're looking for. These could look great on an onboarding page to provide a little personality.
Streamline also have a collection of 3,000 vector illustrations that you can use on websites, apps, marketing and print materials too.
Bonus: create your own vector images!
Vectors can be a fun way to express yourself and create exactly what you want. Especially if you're unable to find what you're looking for online.
In Justinmind, all of our widgets are SVG vectors. You can customize them to your own taste and create your own custom widget library. Then when it comes to designing a mobile app or a shiny new website, you can rely on your premade vectors to get the job done.
Discover how you can start using SVGs in your prototypes right here.
Best sites for free vector images – conclusion
With so many vectors available online, you'll never struggle to find what you're looking for. The 16 listed above will give you plenty of material to use no matter what you're designing.


FOUND THIS USEFUL? SHARE WITH
Rebeca Costa
In-house writer, usability enthusiast and patron of all sleep-deprived designers
Related Content
Guide to list UI design: principles and examples

How important are lists in UI design? How much do they affect usability and what's the best way to design them? In this guide, we'll explore the elements that make up a great list UI design and look at some inspiring examples!

Shopping cart design: patterns for better conversion

Shopping carts are a key part of any ecommerce. But what makes a shopping cart good? And what can we do to improve its conversion? Read on and find out!

Hotel website design: 13 stunning examples

Hotel website designs require two fundamental qualities: they must be attractive and usable. Great designs can leave a positive impression on the client before they even arrive. In this post, we've rounded up 13 examples of hotel website design done right.