10 innovative hackathons for developers, designers and tech creatives

Justinmind's curated list of the top programming and design hackathons taking place across the US and Canada throughout February and March 2017. Calendars at the ready techies!
'Tis the season to hack! Justinmind has caught the hackathon bug, sponsoring SM Hacks in January and attending this month's Atlassian hackathon at Connect Week Amsterdam. So with that in mind, get your hacking hat on and take a peek at the top free and paid hackathons coming up fast in North America.
1- Hack@brown in Providence, RI
Whether you're designing your first website or mobile app, trying your hand at coding, or are an Oculus Rift PRO, Hack@Brown is for you. It aims to bring individuals of all backgrounds and experiences together to learn something new.
Spend the weekend with 500 other students and get your creative juices flowing with Brown University's incredible Computer Science mentors. The hackathon will kick off with a sponsor fair, followed by team-forming and brain storming sessions. And then the hack begins!
When and where? Feb 4-5th in the Sayles & Wilson Hall at Brown University
Who should participate? All undergraduate, graduate, and high school students are welcome. Remember to bring your student ID, and parent consent form if you're under 18. Sign up here.
Cost? Absolutely free!
2- BrickHack 3 in Rochester, NY
Nuts for creating intuitive works? Does hammering away at bugs thrill you? Is hardware your passion? BrickHack is the hackathon for you. RIT's 24 hour hackathon brings designers, developers, and all sorts of creatives together to design and develop the impossible!
Come and interact with mentors and industry representatives from Datto Tech, Microsoft, IBM, UPS, Sparkpost Tech and Fedora Tech. Dive into learning, developing, and producing a unique project.
When are where? Feb 11-12th at RIT
Who should participate? Anyone who is currently enrolled as a student or has graduated within the last 12 months can attend. If you don't fit that description, you can attend as a mentor or volunteer. All attendees must be 18 years or older to attend. Proof of your age may be requested on the day of the event.
Cost? Zero. Zip. Nada. Sushi will be provided! Nom nom.
3- HackHERS in New Brunswick, NJ
The annual HackHERS women-centric hackathon at Rutgers University, organized by Rutgers Women in Computer Science and The Douglass Project, has arrived. There are so many reasons why women should get more involved in tech, such as furthering innovation in tech, and a diverse workforce. The hackathon encourages women to explore tech culture and be empowered to code. Women are still facing barriers and are underrepresented in the world of tech.
For 24 hours, participants can come together and get involved in learning, planning, and developing projects–ranging from web applications to hardware hacks–with the ultimate goal of fostering growth and productivity among women who want to code.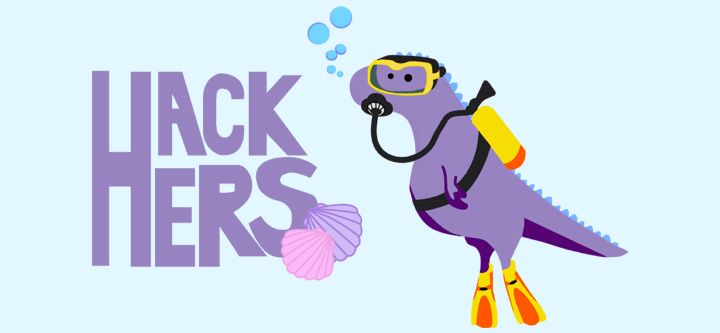 When and where? Feb 18-19th in the Cook Student Center at Rutgers University
Who should participate? HackHERS is a hackathon geared towards women, but is not women-exclusive. All genders are welcome to come and participate and build awesome projects! Unfortunately, due to Rutgers policy, high schoolers won't be able to attend HackHERS. Get involved here!
Cost? 100% FREE!
---
Download Justinmind and start prototyping awesome designs today!
---
4- Desert Hacks in Phoenix, AZ
Desert Hacks is the first iteration of Arizona State University's hackathon, aiming at building a collaborative and innovative community without boundaries. This year, Desert Hacks will be welcoming 350 students from around the US to participate in a weekend of learning new concepts, building innovative projects, networking with fellow students, and getting involved in a new, exciting hacking experience. Whether you're a novice or an expert, a web developer or a hardware enthusiast, Desert Hacks should be on your hackathon bucket list.
You'll have the chance to connect with mentors, attend hands-on workshops, work with cutting-edge technology, and get on down with hacking!
When and where? Feb 25-26th at Galvanize, Downtown Phoenix
Who should participate? If you're a college student and at least 18 years old, you're more than welcome to come participate!
Cost? On the house
5- Unearthed Hackathon: From Idea to Prototype in a Weekend in Toronto
Unearthed hackathon events presents a unique 54-hour long hackathon focused on the resources sector. This March, Unearthed in Toronto invites software developers, designers, and industry insiders to prototype solutions to resources sector problems. Unearthed participants will have the opportunity to work on proprietary industry data as well as data from government partners. There will also be thousands of dollars of prizes and other awards up for grab for top teams. Learn more about how prototyping can improve your software project here.
Last year, Unearthed held events across the US, Australia and South Africa, connecting with a record number of innovators and entrepreneurs.
When and where? March 3-5th, venue TBC – check back here for updates
Who should participate? Innovator tickets are for those who will be active participants in the innovation events. Observers are also welcome: prime time will be Friday night during event kick off and Sunday evening for presentations and prizes. Sign up here.
Cost? Early bird innovator CA$50.00, Early bird observer CA$150.00 (until Feb 17th)
6- Hacktech in Pasadena, CA
Hacktech is Caltech's premier interdisciplinary hackathon. For 36 hours, 500 awesome student hackers will combine computer science and engineering with finance, medicine, science and electronics and science to build the most innovative and interdisciplinary creations of the future. Participants are invited to create basically any solution they like from websites and mobile apps to hardcore hardware.
Teams can have up to four members, but if you don't have a team before the event, don't fret! The wonderful organizers will help you find fellow hackers to work with once you arrive.
When are where? March 3-5th at Caltech
Who should participate? Any undergraduate or graduate students from anywhere in the world. Beginners welcome! It's all about sharing the knowledge bug 😉 Note that applications are now closed.
Cost? Just a smile and hacking swag will do the trick
7- nwHacks in Vancouver
Welcome to Western Canada's largest hackathon, hosted by the University of British Columbia. 6000+ hackers, 24 full-on hours of hacking, $5000 in prizes! Come along and connect with Vancouver's crowd of incredible hackers.
nwHacks is dedicated to creating a thriving community of technology lovers in the Pacific Northwest region by bringing together the brightest minds for an epic two day event. There will be a series of workshops to get your hacking up to scratch. Mentors will be doing the rounds to help you and your team with anything you need.
Prizes are awarded to the most creative, polished and theme-specific projects or "hacks". The winners will be chosen by a panel of judges comprised of top industry professionals.
When are where? March 18-19th at the University of British Columbia
Who should participate? Hackers of all walks of life! Registration is now closed!
Cost? 100% FREE!
8- MLH Prime: West Coast Regional in Los Angeles, CA
Join hundreds of the most creative and inspiring student hackers from the West Coast Region at the MLH Prime next month. Find your perfect team, catch the latest on bleeding edge technology, and build amazing projects over the course of 24 hours.
MLH Prime is a series of regional and finale hackathons that brings together some of the most creative and inspiring student hackers from across the season for a weekend of learning, building, and sharing. For hackers at MLH Prime, hacking is an art form. Come along for access to the latest and greatest technology, world class mentors, and some of their most talented peers from around the world.
When and where? March 25-26th, venue TBC – check back here for updates
Who should participate? Student hackers, more info TBC.
Cost? Participating is free for all student hackers.
9- RoboHacks in Montreal
McGill Robotics' RoboHacks is a robotics exhibition and hackathon hosted at McGill University, Montreal. Join 250 awesome CEGEP, Undergraduate and Graduate students powering through 24 hours of thrilling robotics exhibition, caffeine-fueled invention, and engaged learning.
Whether you're a skilled hacker or an outright newcomer, sign up for expert knowledge, guidance, hardware, and tools to help you build some really cool things.
When are where? March 25-26th at McGill University, Montreal
Who should participate? CEGEP, undergraduate, and graduate students are welcome to apply.
Cost? Nothing!
10- Crimson Hacks in Tuscaloosa, AL
CrimsonHacks is calling hackers from all over the south to build and innovate over the course 48 hours. Come and join 200 students in Tuscaloosa at The University of Alabama campus. Bring your hacker swag and look forward to a weekend filled with innovation, free food and prizes! Can't code? Not a problem: experts will be on hand to assist. Not interested in coding? That's fine too – have your pick of the hackathon's workshops, contribute your other awesome skills, and network with participants and sponsors.
CrimsonHacks will be held in the Ferguson Center at The University of Alabama. There's free parking across the street! And did we mention the free food? Sponsors are providing 5 full meals over the weekend starting Saturday morning, with snacks in between.
When are where? March 25-26th at the Ferguson Student Center, Campus Dr W at The University of Alabama
Who should participate? In order to attend CrimsonHacks, you must be a college student (or a person who has graduated within the last 12 months) – if so, apply here! You'll need your student ID at check-in. If you're in the industry, feel free to sign up as a mentor!
Cost? Absolutely nothing 🙂
There are tons of great hackathons and hacking events to get involved with in the coming months, as you can see. So don't miss out! Happy hacking 😉
FOUND THIS USEFUL? SHARE WITH
Emily Grace Adiseshiah
Emily is Marketing Content Editor at Justinmind
Related Content
Find out how this basic yet powerful technique can help organize your team and boost your product's UX. Discover useful tools and books to help you get it done.

We at Justinmind are proud to announce the development of our new XR design feature, thanks to the EU's Horizon 2020 Research & Innovation Programme

Find out how rapid prototyping with Justinmind can help engage stakeholders, improve your UX Design and boost your Agile workflow