We try and prototype everything: Q&A Bankrate's Director of UX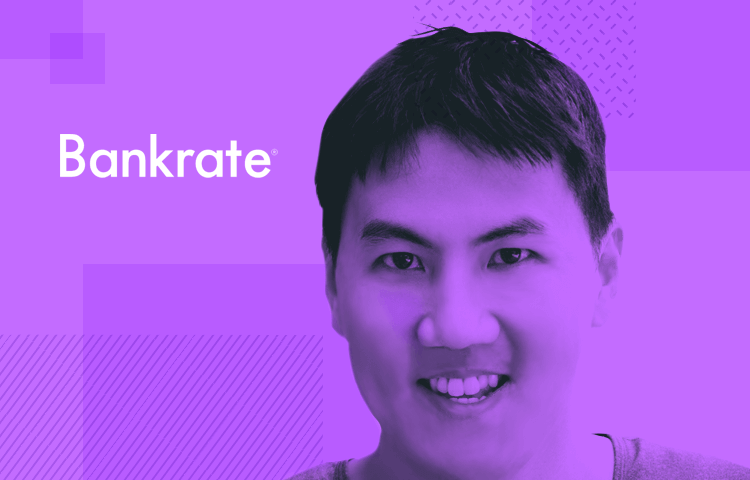 Kenny Chen talks interactive prototyping, Fintech UX and how Bankrate creates immersive experiences in an industry ripe for change
Virtual reality, haptics, automagic payments and a heck of a good user experience. Perhaps not the first thoughts that pop into your head when you think of online finance platforms. But Kenny Chen is determined to change that.
In his role as Bankrate's Director of User Experience Design, Kenny spends his time using design to make finance user-friendly. Whether usability testing, interactive prototyping or building design culture in the organization, Kenny is on the frontline of improving our digital finance experiences.
Justinmind caught up with Kenny to find out about Bankrate's UX design process, fitting UX into a business strategy, and what kind of experiences we can expect from banks in the future.
What's the average day like for the Director of User Experience Design for Bankrate Credit Cards?
What I love about UX is every day is different so there is no such thing as an average day. One day might be heavily focused on user research. We'll talk to our users, watch people use our sites and apps, or analyze results and data to decide what to test next.
Another day I may be doing actual design work. Everything from wireframes to high-level strategy. Besides the usual meetings, we have regular stand-ups so everyone on the team knows what we are all working on. We'll also have weekly design critiques where we look to improve each other's work.
My main focus is making sure the designers on the team can do their best work. I'll meet for one-on-ones with my team once a week, where we'll talk about their work, goals for the future, and anything else. I think a lot about how we can improve our routines and promote a culture of design thinking throughout the company.
---
Download Justinmind and improve the UX design process
---
Tell us about how the UX team is organized, and how does the UX department work with non-UXers?
The User Experience Design group consists of 5 designers, including myself. Since we have a small team, we consist of generalists that are able to go through the entire design process and take projects from start to finish. We've built a well-rounded team by accessing our strengths and hiring for the skills we were missing.
We are part of a larger Product group which consists of Product Managers, Product Operations, Product Marketing, and UX. We have people in Pasadena, California and Austin, Texas which means lots of collaboration over video and Slack.
We have 10 scrum teams focusing on different products or areas of the company, so each designer is working with 2 or 3 teams at a time in an agile environment. We work on everything from websites, mobile apps, credit card marketplaces and improving our internal tools. As the team grows and becomes more mature, I'm looking to pair designers who complement each other for our projects.
Find out which key personality types an enterprise UX team needs
Give us a sneak peek into a UX improvement you and the team are working on right now, and why it's important for the product.
As finance is a very personal and sensitive topic to people, we are always looking to increase trust in our products and brand. Users need to feel confident sharing their personal information. They need to know they will get back unbiased, expert advice.
One of the design principles we established early on is trust through clarity. We do this using our data to make smart, personalized credit card recommendations at the right place and time. But it's not enough to tell people why we recommended it, because not everyone understands financial jargon. A small but impactful change we're working on is to provide explanations of unfamiliar terms in simple, plain English.
Can you tell us where prototyping fits into the design and development process at Bankrate? And what do you guys look for in a prototyping tool?
Prototyping is super important in the design and development process. We try and prototype everything. When we learn things early on we not only save time in design but also in development. It also makes it easier for the developers to understand how things are supposed to work. One of my favorite quotes from IDEO is "if a picture is worth 1000 words, a prototype is worth 1000 meetings."
Prototyping is super important in the design and development process. We try and prototype everything.
We haven't found the right prototyping tool that does everything we want so we'll use different tools based on what we want to communicate. If we want to show a flow, we'll use one that is better for screen to screen interaction. If we need to show a micro-interaction or animation, we'll choose a tool more suited for that.
Can you give us an example of a time a prototype helped you solve a tricky situation or design something really cool?
In the early days of the iPhone, we wanted to design a new interaction that would have been difficult to explain in wireframes and static images. We used a prototype to show it to stakeholders and the team. Unfortunately, it was never implemented because it would have been really hard to do.
But we were able to learn from the prototype early in the design process so we didn't go down the wrong path.
Can you talk us through Bankrate's usability testing process? And what's the average Bankrate user like?
We run usability testing every month through different phases of a product. We'll do some early tests using low fidelity prototypes and as we learn more we'll flesh out designs. Usability testing continues before and after the product is released to see where people are confused and what we need to improve. We also do usability testing on competitors. Our tests are recorded so we can go back and take notes, create highlight clips to share, and analyze the data.
At Bankrate Credit Cards, we have different brands so we design towards different personas depending on the brand. One of the more fascinating groups is the reward maximizer. They take advantage of their credit card rewards to travel for free on points, use all the benefits like free checked bags, and get the best deals.
Some of their common traits are having a higher than average number of credit cards, they pay off their bills in full each month, and a higher credit score.
Are you making these 7 common usability testing mistakes with prototypes?
What role does UX have in the wider business strategy of Bankrate?
Finance is a highly regulated field where there are lots of different requirements and approvals needed from the issuers. Because of this, you'll see a lot of companies that present the same data and do similar things. The UX is the differentiator in the wider business strategy.
A great user experience gets people to use your product, come back, and tell their friends.
Companies that are able to take all the complex data and distil it down to the most important things the consumer cares about will be the ones that come out ahead. A great user experience gets people to use your product, come back, and tell their friends. Bankrate Credit Cards understands that and has made significant investments into the user experience of its products.
What does the future hold for banking UX? Will things like VR or haptics influence the sector, and how will UXers react?
I see invisible payments as one of the biggest changes in how people pay. By eliminating the friction of paying, we can greatly improve the user experience. We see it today in ride-sharing apps like Uber and Lyft. Amazon is experimenting with a revolutionary new shopping experience with Amazon Go.
Shoppers walk in, pick up what they want, and walk out of the store. It automagically tracks what you bought and charges you behind the scenes.
Virtual reality can play a huge role with people interacting with banks and trying to make sense of their finances. The possibilities for design in this three-dimensional space are endless. Haptics can provide another form of identifying who you are when shopping. UX designers can help create immersive experiences in an industry ripe for change.
FOUND THIS USEFUL? SHARE WITH
Cassandra Naji
Cassandra is Marketing Lead at Justinmind
Related Content
Why should you use user personas and how do you create them? Get all the steps to build one, as well as a great example and a list of user persona generators!

UX design books that cover everything from layout design to the theory of user testing. Want to expand your horizons? Check out this awesome list!

UX design portfolios are your chance to showcase your top skills and best work. Check out this post for awesome portfolio examples and websites!