Pagination doesn't work on inactive dynamic panels.
I have a dynamic panel that contains two data lists side-by-side. The data lists have two images, A and B, and both have two states, 1 and 2 respectively.
It is set up something like this: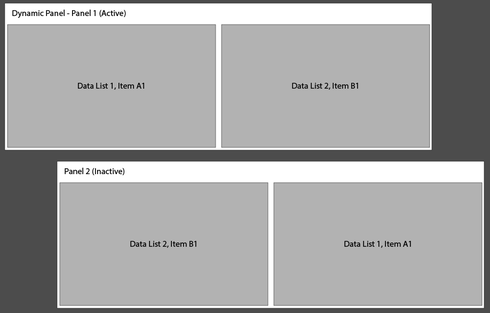 I then have a keyboard shortcut (Shift+1) that then fires the "Next Page" command on all of the data lists across all panels. Theoretically, this should cause all panels to advance to their 2nd states.
I have tested the keyboard shortcut, and triggered it multiple times on the same panel, it only advances once, and then stops (as it should).
PROBLEM 1:
If I use the keyboard shortcut the active panel updates to the 2nd state, but the inactive panel appears to ignore the trigger.
PROBLEM 2:
If I make panel 2 active, and trigger the transition again, panel 2 updates, and panel 1 reverts to the default state.
Is there something I"m doing wrong?