Customize Data Master Rows with condition
Hi there,
I am just playing around with the data master and it starts to give me some headache. I would like to display an image inside a data grid row cell. I have created successfully the data master (one column, only rows) and added text records. As shown in the attached screenshot 1 I have added an image widget to the row cell and created an event on page load that sets a value (image url) to this image widget. Until here everything works fine.
Now to the issue:
I want to create a condition that displays this image only if the record of column 1 matches a specific value. In this case "test" (screenshot 2). This condition is not working. The image widget is displayed without an image inside.
Can you please help me to build a condition that checks if the value of a record in one row matches "test"?
Thank you so much for considering my request.
In the future I am planning to use it to display in every row different images based on the value of a record.
Best regards,
Jan
Screenshot 1: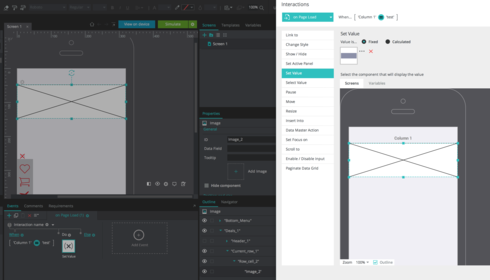 Screenshot2: