Prototype Google Glass applications

In this article we will describe how to prototype applications for Google Glass and how to run them inside a real Google Glass device with Justinmind.
Think you have the perfect idea of a Google Glass app, but don't have the high-tech specs (or perhaps the technical expertise) to make it happen? Now you can create your own Glass apps without having Glass or any coding experience.
Installing the tools
First you need Justinmind (try it for for FREE!).
When you create a new Google Glass prototype, the Google Glass widget library will automatically load in the canvas.
Building a prototype
When you've installed Justinmind, you can start building your prototype, drawing a card for each screen or using dynamic panels to design transition effects. If you plan to show the prototype on desktop, you can drag the 'Canvas' widget into the default template and place the cards on each screen. You can also use the 'Gestures' widgets for added interaction.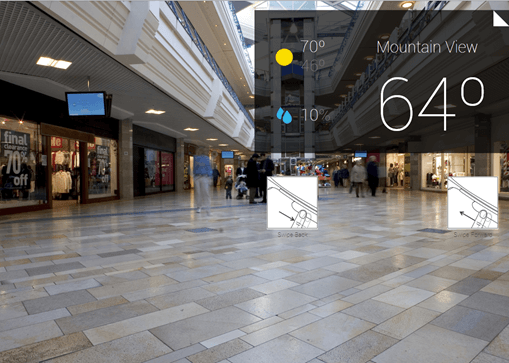 Download a Google Glass prototype example here!
Displaying your prototypes with Google Glass
When running your prototype with a real Google Glass device, the process is a little different. Instead of using the 'canvas' widget, use the cards straight away. Once you have a card, you can view it in your Google Glass device by following these steps:
In Usernote, click on the "Publish a new prototype" option.
Invite yourself to review the prototype with the email account you use to access your Glass.
You will receive an email on your glass with a link to review the prototype.
Click on the link to view the prototype inside Glass in all its glory!
Tip: make the background of your screens black so that they look clearer when displayed in Glass.
Running interactive prototypes inside Google Glass
So now you know how to display static prototypes inside Glass but, what about interactive prototypes? Glass uses an internet browser to display the prototypes. The browser captures all the user gestures, so no gesture defined within the prototype will work interactively. But don't worry, there is one event that which does work: the 'On Page Load'. With this event you can create a realistic prototype of your Glass app with all the effects and interactions you want the real thing to have. Think of your prototype as a model showing how your application will work.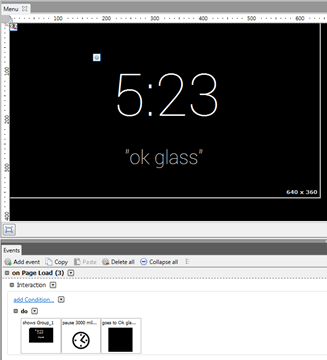 Once you have your prototype set up with the events, select the option 'Publish -> Replace prototype' from the 'Share' top toolbar and re-publish your prototype. You'll receive another email in your Glass with a link. Open it and enjoy your prototype!

FOUND THIS USEFUL? SHARE WITH
Victor Conesa
Victor is the Product Manager at Justinmind. His specialties include business analysis, usability, requirements management and prototyping. When not busy doing that he is known to eat or sleep.
Related Content
US Web Design Standards UI kit: for accessible government websites

Designing a US government agency website calls for a high degree of accessibility and public impact. Justinmind's US Web Design Standards UI kit lets you can design a website that echoes the US federal brand, while maintaining your agency's style. Read on to find out how.

iOS UI kit: design sleek prototypes for the iPhone and iPad

If you want to design an app that your iOS users will love, you need to make it look and feel the part. Justinmind's iOS UI kit has been designed to help you do just that.