6 things to do with dynamic panels: Free downloadable templates!
6 ways Justinmind dynamic panels can help boost your conversion rates and user experience – plus download our free examples & get up and running quickly
No two users are the same, that's why UI UX designers need to create interfaces that accommodate different users and account for variation. This is where dynamic content comes in handy.
In contrast to static content that remains the same no matter the user, dynamic content will change or update based on the type of user browsing. In web and mobile interfaces, dynamic content helps to inform the user, and makes experiences more intuitive and useful. And, can improve your site/app's conversion rates and your brand's bottom line.
Luckily, it's really easy to include dynamic content in your design process, and there are plenty of tools to get you started. For instance, the Justinmind dynamic panel widget helps you build personalized web and mobile prototypes that adjust to each user.
In this post, we'll explore six examples of how to use dynamic panels in Justinmind. You can even download them and make them your own.
Justinmind dynamic panel examples: dialogs and pop ups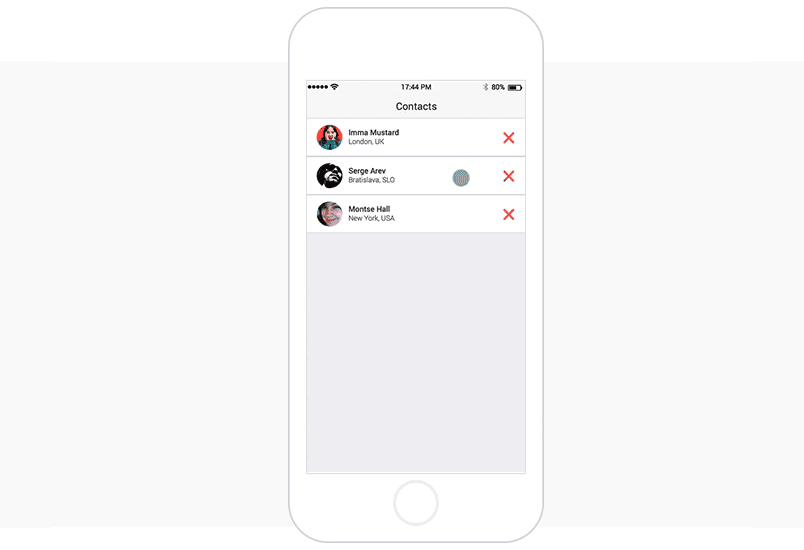 Dialogs and pop ups are used in interfaces to secure a response from the user. They help to ensure that terms and conditions have been read and acknowledged, the user has been informed of the progress of their request, and warn them when their browsing session has expired.
Dialogs normally appear in the center screen following a user interaction (or lack of). The main screen behind the dialog is often blurred so as to focus the user's attention on the dialog.
Though dialogs and pop ups often get a bad reputation, including them in your design process can benefit both the user, and your brand.
For starters, dialogs and pop ups that deliver personalized messages can increase user engagement. A well-crafted pop up can encourage the user to take action that favors your brand, rather than simply clicking away from it.
Pop ups that ensure the user wants to perform an action (confirmation pop ups) provide feedback to the user. This feedback offers an additional level of user engagement and can increase trust and user satisfaction.
Additionally, pop ups with an attractive offer can be a great way to grow your mailing list.
So what does that mean for your brand? Well, usually it means an increase in conversion rates. Why? Because engaged customers are more likely to stay on your site for longer, pay for your product and tell their friends.
Learn how to create different types of dialogs with Justinmind's dynamic panels here. You'll need to download Justinmind to get started.
---
Download Justinmind prototyping tool now and build your own dynamic features, free.
---
Justinmind dynamic panel examples: interactive thumbnails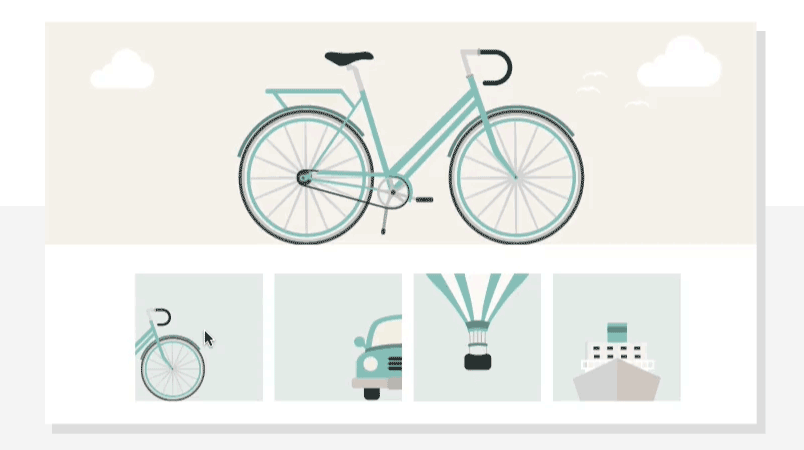 Another great way to implement Justinmind's dynamic panels in your design is by creating interactive thumbnails. Thumbnails are used extensively across web and mobile interfaces. Some examples of their functions include:
To help the user organize visual content, (e.g. images and gifs in WordPress' Media Library or MailChimp's Content Manager
To allow the user to preview content (e.g. photos in a photo sharing app like Instagram or pages on Facebook)
Brands often use thumbnails to make it easier for users to recognize content, without them having to load a new page. This can decrease the waiting time and make for a smoother user experience.
In fact, a study by video hosting and analytics company Wistia confirms that thumbnails can improve searches, encourage visitors to return, and even increase click through rates.
Combine dynamic panels with image widgets and 'Change Style' events to simulate thumbnails in your Justinmind prototypes. Get the step by step guide here.
Justinmind dynamic panel examples: expandable/collapsable behavior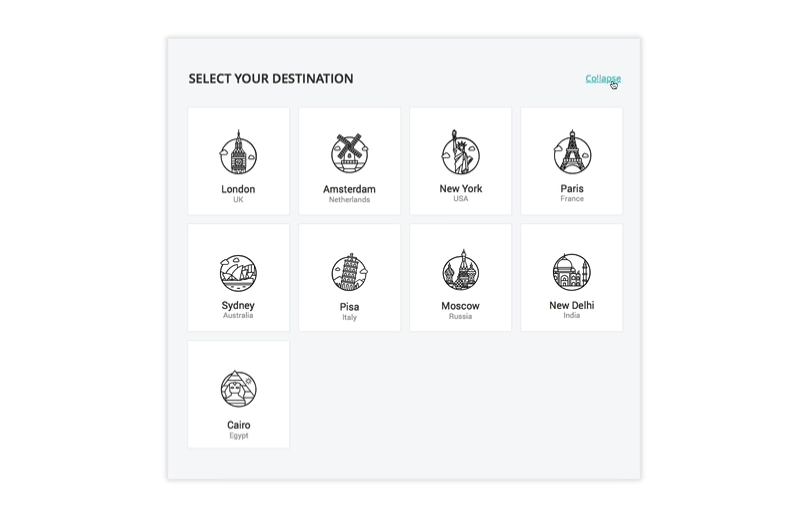 Expandable/collapsable behavior hides content under headings and is used when content needs to be logically broken up into sub-sections. Hidden content will appear when the user clicks on a heading. Some examples include instructional text or additional details in policy pages.
This dynamic behavior has three main benefits, all with a direct impact on a UI's user experience:
Expandable/collapsable behavior gives the user control by allowing them to selectively display information according to their preferences
It reduces the cognitive load by breaking down large chunks of information into different sections
It saves space and reduces the need for scrolling
Expandable/collapsable behavior is usually designed within a grid. In Justinmind, you can create your own expandable/collapsible grid with a dynamic panel. Drag and drop UI elements into your Justinmind dynamic panel and use the wrap overflow setting to organize content neatly. Learn more here.
Justinmind dynamic panel examples: customizable navigation menus
This year in tech, designers are blurring the lines between screen and reality and building more personalized user experiences. One of the upgrades we'll be seeing is a more effective, clearer navigation experience which puts the user in the driver's seat. Here are two examples of how you can design customizable navigation with Justinmind dynamic panels:
Nested navigation with Justinmind's sortable list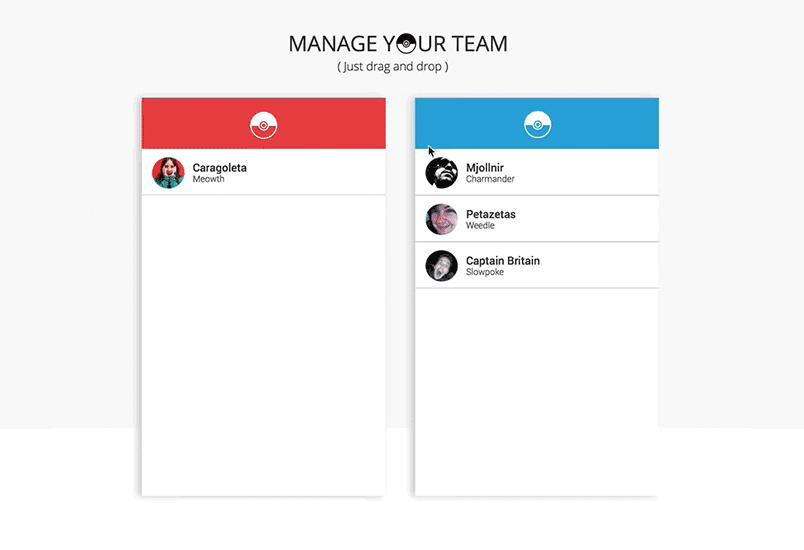 Nested navigation, where items are categorized into sub-menus and hidden until the user clicks on them.
Some nested navigation menus allow users to view and arrange all menus and categories at once, gives them total control over their browsing preferences. Examples of this type of nested navigation include Chrome's Bookmarks, where users can change the order of their bookmarks and categorize them within folders, and Shopify's customizable nested navigation menu.
It's easy to create customizable nested navigation using Justinmind dynamic panels. Create a sortable list with dynamic panels, like the example above, and add additional interactive panels to create different folders, or accordions.
Enable/disable options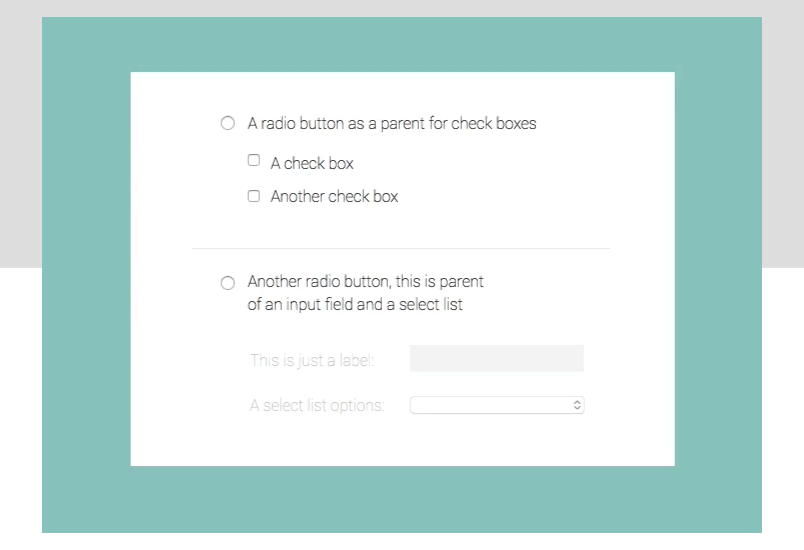 Combine Justinmind dynamic panels with radio button elements and create an input form with options that can be enabled or disabled depending on where the user clicks.
These forms are ideal when you've got deep navigation structures with many views, or when you want to enable quick navigation between unrelated views. They also help save space and reduce cognitive load.
Learn how to create yours here.
Zoom and pan examples with dynamic panels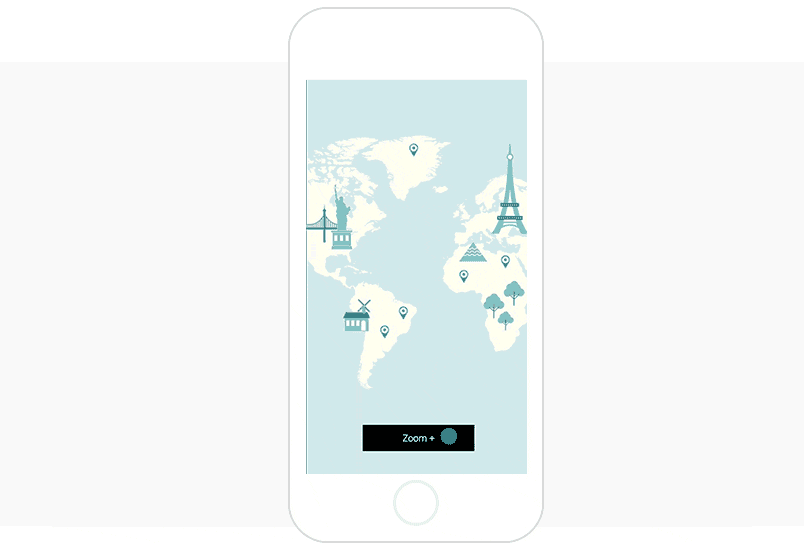 Zoom and pan are common features in small interfaces. Users can zoom in and out of the view, zoom to a specific area, reset the view and pan. Pinch to zoom is common in photo sharing apps, such as Instagram.
Zoom and pan can make for a more engaging user experience, as well as improve readability (particularly on small screens).
You can build an intelligent zoom experience with Justinmind using dynamic panels. Start by creating either an iPhone or Android mobile app prototype and follow these instructions.
So there you have it! 6 amazing things you can do with Justinmind dynamic panels. With interfaces becoming more personalized, you simply can't do without dynamic content anymore. Download it free now! and start creating your own now. And don't forget to download our examples either!

FOUND THIS USEFUL? SHARE WITH
Emily Grace Adiseshiah
Emily is Marketing Content Editor at Justinmind
Related Content
Navigation design is about creating a system that empowers your users to interact with and use your product. This is everything you need to know

What exactly are website mockups? This guide explores how they can help save you time and money in the design process by helping you nail your website's UX from the start. We'll also look at the best way to go about putting one together!

A mobile usability test may be similar to testing a website - but mobile devices have an impact on how you go about testing an app. Discover the best practices in this practical guide!