Speed up your prototyping with UI elements

UI elements are the essence of your prototypes. Explore five expert tips on UI element design and level up your prototyping skills pronto
Seeing your designs come together quickly is a rewarding experience. A quick and effective way for UI/UX designers to put their ideas into context and gain insights into how users will react to them is with prototyping.
Prototypes are made up of user interface elements (UI elements), such as buttons, text boxes and navigation bars. In most prototyping tools, including Justinmind, UI elements come pre-installed in the form of UI design kits or widget libraries. Having a set of reusable, easy-to-access UI elements speeds up the design process and cuts down on repetitive tasks for busy designers.
So if you're new to prototyping or want to make the most of your prototyping process, read on. Here are our top tips on UI element design, plus some industry secrets on boosting your prototyping skills.
---
Rev up your design process with Justinmind's UI elements. Over 400o to choose from!
---
Tip 1: master the basic UI elements
Kicking off a new design project is daunting. There are so many ideas, and often so many voices (colleagues and clients), to consider. The key is to keep things simple.
Start by creating a low-fidelity wireframe with simple UI elements. Design the basics of your interface with this wireframe: the layout of your screens and key UI elements. Think grayscale boxes, image placeholders and label-free buttons.
If you're using Justinmind, we recommend our Sketching UI library – perfect for creating rough, quick and simple designs. Drag and drop the widgets to Justinmind's canvas to get started.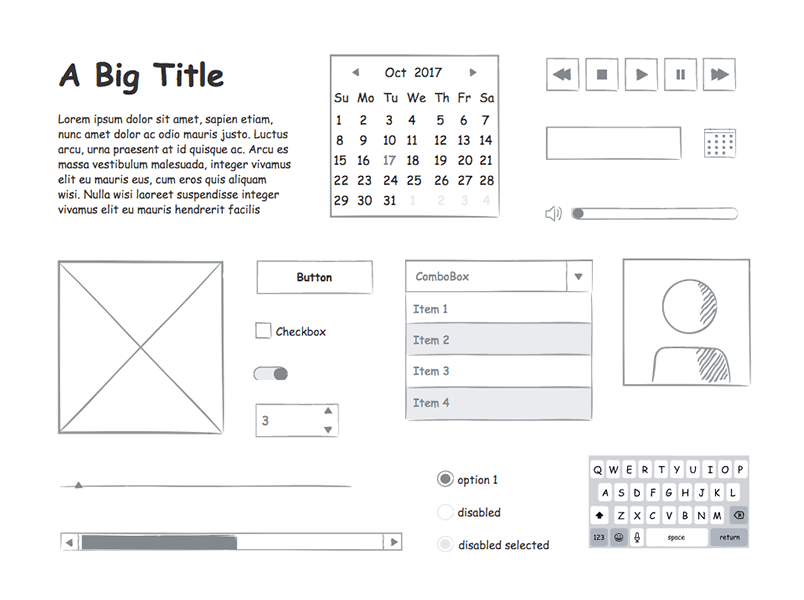 Tip 2: build up your prototyping fidelity with advanced UI elements
With your low-fidelity wireframe created, your user interface should begin to take shape. Now it's time build out your wireframe with visual detail and basic interaction using more advanced UI elements.
Any prototyping tool worth its salt will offer a variety of UI libraries, ranging from low-fidelity sketch-like components to high-fidelity interactive UI elements, content blocks and navigation widgets. You'll come across OS-specific UI kits, such as Justinmind's iOS 11 UI library for designing iPhone X apps.
Many of Justinmind's UI elements are interactive. For instance, you'll find the Forms and inputs section in our basic widget library. These UI elements allow you to add real data to your prototypes or facilitate form design, such as the radio button:

Tip 3: build out your user flow with navigation elements
Your users rely on your navigation system to find their way around your sites and apps. As UX Booth points out, "people rely on navigation first because it's easier and faster to click on links than to use search". That's why finding the right navigation pattern is so important.
Luckily, Justinmind has a whole set of navigation UI elements to help you design your web and mobile experiences and get users from Point A to Point B. Create drop down menus, grids, fixed-position navigation bars – whatever you need.
Tip 4: create and share custom UI design elements
Pre-built UI kits are great when you need to quickly mockup an screen or even an entire interface. But when you need to design something from the ground up, maintain design consistency, or just want more control in the design process, consider creating your own UI kit. It's also a great way to ensure that your design falls in line with your UX strategy.
With Justinmind, you can customize all of our 4000 ready-made UI widgets. Alternatively, create your own UI elements, personalize them down to the last pixel.
And sometimes you'll need to repeat patterns, not just across screens and prototypes, but across different projects and with different team members. Sharing your UI elements libraries with colleagues will help you save time and avoid misunderstandings in the design process. Learn more here.
Tip 5: use templates and masters to avoid rework
With Templates and masters, you can spread global changes across multiple screens in your prototypes and design more efficently.
Templates help you define default styles for UI elements (e.g. colors, border styles, font family and size), as well as the layout and navigation structure of each screen. Use masters to replicate specific content or functional areas across a set of screens.
UI elements are an essential tool for UI/Ux designers. Savvy application of UI elements and libraries will help you bring your ideas to life quickly and easily. Download Justinmind now and get started!

FOUND THIS USEFUL? SHARE WITH
Cassandra Naji
Cassandra is Marketing Lead at Justinmind
Related Content
US Web Design Standards UI kit: for accessible government websites

Designing a US government agency website calls for a high degree of accessibility and public impact. Justinmind's US Web Design Standards UI kit lets you can design a website that echoes the US federal brand, while maintaining your agency's style. Read on to find out how.

iOS UI kit: design sleek prototypes for the iPhone and iPad

If you want to design an app that your iOS users will love, you need to make it look and feel the part. Justinmind's iOS UI kit has been designed to help you do just that.