User experience & homeland security at Sandia National Labs: Q&A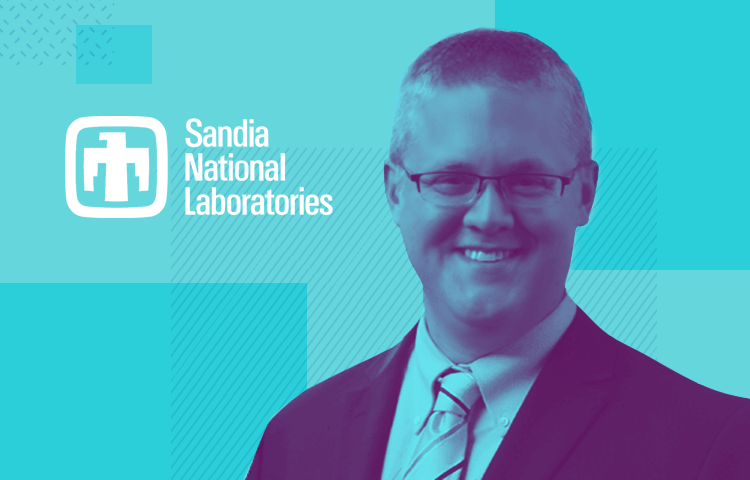 How UX research and design works at Sandia National Laboratories, the US's foremost national security center for science and technology
Sandia National Laboratories have a pretty important job. The two multi-mission labs, located in Alburquerque (New Mexico) and Livermore (California), aim to extend the lifespan of the US's nuclear weapons systems, research non-proliferation technologies and investigate how to dispose of hazardous nuclear waste. Oh, and they also produce a whopping 97 percent of the US's weapons systems non-nuclear components.
It's safe to say that the scientists and engineers working over at Sandia are at the cutting edge of technology today. Data gathering, computer modelling, extreme condition testing and open-source software development all fall under a Sandia employee's remit.
Justinmind wanted to find out what role UX plays in such a high level environment, so we emailed with Leif Berg, Sandia National Laboratories Senior User Experience Researcher & Designer. Leif spoke to us about user experience supporting homeland security, and how emerging technologies might impact UX.
Can you give us an idea of an average day for a UXer at Sandia? What are you working on?
User Experience (UX) professionals at Sandia consists of people with backgrounds in Human Computer Interaction (HCI), visual design, user interface design, and front-end development. Dozens of UXers engage in a variety of different projects across the laboratories.
Personally, my days are packed with a range of activities depending on the stage of the product. For projects just getting started, I often interview stakeholders and end users to help establish requirements. As the project progresses, I participate in design reviews with designers, developers, and project managers to help inform evolving design ideas. I also conduct usability evaluations (in numerous forms) to ensure the product is headed in the right direction at each step of the process.
UX professionals at Sandia support the laboratories on multiple fronts. First, to support Sandia as an organization, many UXers help design, develop, and evaluate business tools to keep everyday activities running smoothly. Tools in this category include timecard management, collaboration tools, data visualization software, and project management.
Second, UX professionals work directly with Sandia mission programs to support lab-wide goals and objectives. Work in this area may include conducting user research to support homeland security projects or developing web applications to support Nuclear Weapons work. Sandia UXers also support other federal agencies with HCI challenges.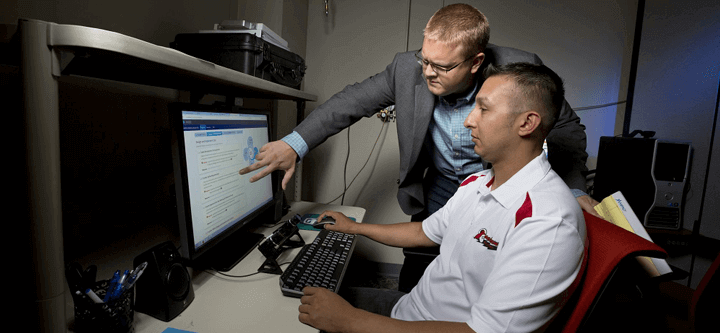 Leif Berg and colleague Ryan Gonzalez solving user problems. Photo by Norman Johnson, Sandia National Laboratories
Can you explain how user experience research and design works at Sandia? How is the team organized? Do you work on various external projects at once?
UX researchers and designers work together at all stages of user-centered design process from requirements and design iterations to final delivery. The role of UX researchers/designers varies based on the nature and needs of the project. Some people are fully dedicated to single projects while others may help with multiple projects at once.
Sandia is obviously at the cutting edge of science and tech – does that mean that, as a UX researcher, you've got to be coming up with new protocols for usability testing all the time? Yes, this means that we work to customize our methodology to fit the many different science and technology research and development projects that are conducted throughout the laboratory.
We strive to be a cutting edge user experience research and development team at Sandia.
Designers and engineers are sometimes seen as completely different species. How can good UX design help them work together more effectively?
While they can be very different species, designers and engineers always share the same goal: build a great product people will love. Great UX can work as a collaboration medium – concentrating on the user experience – to help bring the two groups closer together towards the shared goal.
For instance, I was once working on a team to redesign and improve an existing product that had been in use for many years. The designers and developers approached the redesign with related but different perspectives. Having a background in both design and software development allowed me to help integrate aspects of visual design and the capabilities of the technologies.
---
Download Justinmind and start prototyping today 
---
Do you ever use prototyping tools? If so, how?
UXers at Sandia use a variety of prototyping tools. While prototyping software has traditionally been thought of as an early stage design tool, UXers at Sandia have found great value in prototyping tools as a communication medium – being able to quickly create, communicate, and evaluate design ideas has been extremely powerful.
Thinking about emerging technologies like haptics, what kind of impact do you think these will have on UX and usability in the future?
Virtual reality and related technologies open the door for designing and evaluating complex sociotechnical environments – not only user interfaces, but the spaces in which they operate. We can investigate the implications of a collection of technologies in concert; discovering how the digital and physical environments define experiences.
Sandia National Laboratories does not endorse any commercial products, including Justinmind.
FOUND THIS USEFUL? SHARE WITH
Cassandra Naji
Cassandra is Marketing Lead at Justinmind
Related Content
Why should you use user personas and how do you create them? Get all the steps to build one, as well as a great example and a list of user persona generators!

UX design books that cover everything from layout design to the theory of user testing. Want to expand your horizons? Check out this awesome list!

UX design portfolios are your chance to showcase your top skills and best work. Check out this post for awesome portfolio examples and websites!