Prototyping user satisfaction: Q&A with UX Manager Robert Skrobe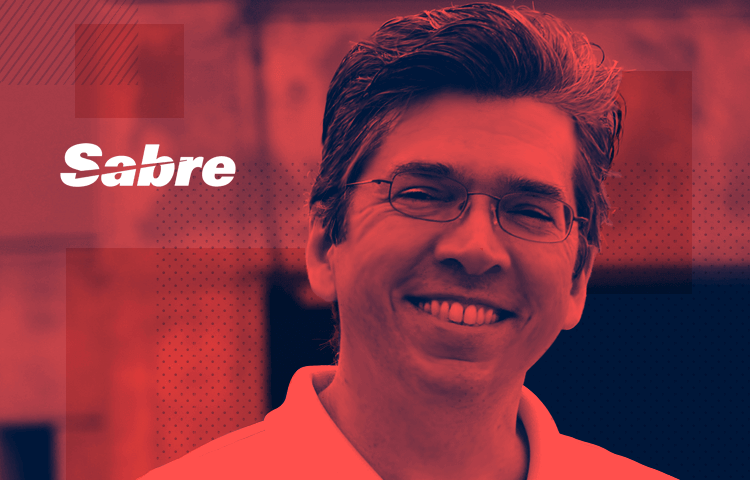 Sabre's UX Manager for Airline Solutions Robert Skrobe discusses how to keep UX teams ahead by leveraging agile methodologies and powerful prototyping tools
If you've ever flown on a plane, stayed in a hotel or interacted with a travel agency then it's likely you've come across just a few of the solutions that Sabre Airline Solutions is known for. At Sabre, usability, accessibility and collaboration make the user experience what it is.
We caught up with Robert Skrobe, Sabre's UX Manager for Airline Solutions, to talk about running an effective UX team, meeting tight deadlines and applying design thinking and prototyping to influence user satisfaction and product adoption.
What's a typical day like as Sabre's UX Manager?

Most of my work deals with managing conversations and careers while keeping an eye on the status of our projects. Several different conversation threads are usually active from one business day to the next, and it's always varied. One day you might be in several status meetings while another is reserved for ux research and observing usability testing sessions.
Either way, there's never a dull moment.
How do you encourage collaboration between teams?
I've empowered and encouraged our project leads to manage communication and collaboration between themselves, developers, marketing and sales. They co-locate with developers for feature development and organically evolve their own Agile processes for getting work done.
We've also positioned our designers to speak directly to the business on product vision and long term planning. We try to leverage each designer's strengths and interests with those various endeavors.
Learn more about design-development collaboration techniques with Justinmind.
---
Download Justinmind now and improve your Agile UX processes
---
How have you evolved the Agile process in your department, and how does it impact your engagement with development teams?
When I first started at Sabre in early 2016, we didn't have much of a say in terms of process. We were sandwiched between interpreting requirements from the business and developers banging down our door for screens and prototypes they needed to develop code against. All of this was going on within tight deadlines and high client expectations.
After interviewing everyone in the department to understand knowledge gaps and desired outcomes, I started working out a plan of action. It wasn't enough to shout for change and expect results. We needed to take ownership of the problem and work out a solution.
First, we expanded our interviews to include key members of our projects to explore what they wanted from process change. Second, we arranged agile scrum training for the entire department. Third, we worked out variations of the Agile process that each UX project lead could own, manage and modify to accommodate their unique set of circumstances.
Finally, we re-engaged our greater project teams to sync with enterprise-wide release cycles for our products.
These changes have produced amazing results. Almost all our project teams are at least two sprints ahead of Development work.
You recently spoke at UXPA about incorporating Design Sprints within a corporate environment. How does Sabre utilize these and other design thinking approaches?

At Sabre we're doing design thinking activities all the time. Folks like Brian Sullivan have been engaging clients directly with Design Studios and innovation workshops. I've been promoting and facilitating the use of Design Sprints for high risk/high reward ideas and concepts.
My own work with Design Sprints has been wonderful and challenging. I've partnered with some amazingly talented people (Adrienne Guillory and Cindy Ramirez to name a few) to explore and promote the method.
We've even worked out a 3-5 week process for combining design sprinting, innovation workshops and code sprinting for a complete MVP solution. I'm a vocal advocate of the approach.
How do you maintain design standards whilst staying current and innovative?
There's an entire team dedicated to maintaining an enterprise design library (EDL). They frequently engage Sabre's greater design/developer communities to align them on branding changes, form factor considerations and new UI standards. They work tirelessly to keep the library updated and relevant.
How does prototyping come into the UX design process at Sabre?
Prototyping is a standard deliverable for user experience design at Sabre, but it usually depends on the context and nature of the project. Analog and low-fidelity sketching is widely used to explore problem spaces with ideation and perspective from everyone involved. Medium to high fidelity prototypes evolve as our project teams work on solidifying use cases and interface components. Our EDL is heavily leveraged during this phase.
We also incorporate various levels of inquiry and research into our design process. This helps inform our decision-making process, understand client requests, and bolster our rationale for pursuing particular design directions. These benefits roll up into our final deliverables, be they prototypes, roadmaps or digital composites.
Learn how to create your Agile product roadmap with Justinmind.
Tell us about a time you overcame a problem or met a challenge at Sabre.

My biggest challenges have been incorporating servant leadership and emotional intelligence into what I do.
I work with and manage a lot of amazing designers and subject matter experts. Each of them are unique with what they bring to the table. It's my job to advocate on their behalf, positioning them for personal and professional success in what they aim to do.
If I get it right, I'm approaching each of my colleagues in a respectful manner that engages and empowers them. If I'm doing it wrong… I take a step back, reconsider my approach, and seek feedback.
Getting that honest, critical feedback is the most important (and difficult) part of evaluating my performance. I'm nowhere near perfect or close to it. However, I have an ongoing interest in improving my communication and approach with others I work with. If I can't work on becoming a better manager, coach and mentor to those that count on me, then what's the point?
Having 20+ years of experience doesn't excuse me or anyone else from reconsidering how one goes about their business. What matters most is what you bring to the table today, not yesterday.
You're presenting at this year's Big Design conference about playing to people's strengths and investing in UX designers that aligns with servant leadership. Can you elaborate?
Absolutely.
I've been experimenting with different approaches to managing others to better define what it means to be a servant leader in user experience. My journey has explored StrengthsFinder, goal mapping, individual brand statements and team norms.
In my Big Design presentation, I'll be showcasing these approaches as well as interviews I've done with other UX leaders on their approaches to managing others. I'm also suggest some activities to operationalize the basic tenants of servant leadership in the workplace.
Overall, the most rewarding part my work has been investing in our individual designers and learning from their perspectives. I've always encouraged them to explore and integrate different subject matter into their work, and I enjoy learning from their individual interests and pursuits.
In fact, I now know more about augmented reality, artificial intelligence, block chain, service design and connected intelligence than I ever have at any point of my career. I also have a stack of books and online articles to read every week. It's been amazing.
FOUND THIS USEFUL? SHARE WITH
Emily Grace Adiseshiah
Emily is Marketing Content Editor at Justinmind
Related Content
Why should you use user personas and how do you create them? Get all the steps to build one, as well as a great example and a list of user persona generators!

UX design books that cover everything from layout design to the theory of user testing. Want to expand your horizons? Check out this awesome list!

UX design portfolios are your chance to showcase your top skills and best work. Check out this post for awesome portfolio examples and websites!