"Prototyping brings ideas to life": Q&A with Coursera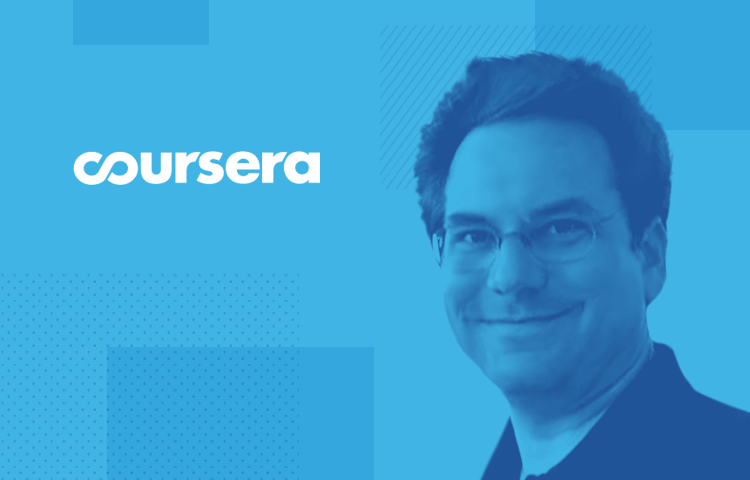 User experience and prototyping at the heart of the online education revolution, with Coursera's Senior User Experience Designer
If you missed your chance to study at Stanford, Yale or Johns Hopkins the first time round, Coursera has got you covered. Since 2012 the online learning company has provided everyday learners access to courses in almost 150 of the world's top institutions.
Started by two Stanford professors, in its salad days the online learning platform offered a handful of top-drawer college courses for free; nowadays Coursera has 25 million registered learners taking more than 2000 courses in everything from business and math to philosophy and foreign languages. There's even a good selection of courses in user experience and product design.
Perhaps surprisingly, Coursera is largely free, although users can pay if they want to access a Specialization or get an official certificate. With video lectures, interactive assignments and social media community areas for virtual students, Coursera has revolutionized the way we think about higher education and life-long learning.
It's also paved the way in user interface design for pedagogical purposes, and the platform's design team are at the vanguard of the online education revolution.
Justinmind spoke to Geoff Schuller, Coursera's Senior User Experience Designer about what makes his team tick, and why he can't imagine designing without prototyping his ideas first.
What does an average day look like for you and the UX Team at Coursera? What key product initiatives or updates are you working on right now?
It's hard to describe an average day, so I'll describe an average week on the design team at Coursera instead. Each of the designers are responsible for different parts of our product. Some focus on web-based course authoring tools for course instructors. Others focus on improving the web and mobile-based learning experiences for our learners.
Because there's a lot of separate design activity going on, we make a point to meet together 2-3 times a week, so that the team can show the work they're doing and get feedback on it. This allows designers to help each other solve bigger design problems, as well as keeping us all aware of the work that is being done on other parts of the product.
Can you walk us through the process for designing a new feature within Coursera?
Every feature that we pursue typically begins with a known or anticipated need, on the behalf of learners and/or course instructors. Designers work collaboratively with our Product Managers, User Researchers, UX Writers and Teaching & Learning Staff (experts on pedagogy) to help identify and understand those needs.
Together, we brainstorm potential solutions and choose which ones to pursue. Typically, at that point, the designers go into heads-down mode, detailing some of those options. We then evaluate those designs using a variety of methods (cognitive walkthroughs, prototyping, etc.) to determine what solution will ultimately best fit the needs of learners.
---
Download Justinmind today and start prototyping revolutionary products 
---
Online study has a pretty high user abandonment rate – how are you and your team working to ensure would-be students stay engaged? Any interface tweaks or innovations you can tell us about?
Yes! One of our biggest design challenges is keeping learners engaged and helping them stay on track. There are two important things we've done recently to address this:
We help learners focus on 'what to do next': Whenever a learner accesses a course they're taking via the website or mobile app, we show them how they're doing (with respect to the weekly course schedule) and show them what their next steps are – from lessons to assessments. We've seen that this helps learners stay focused and make progress.
We remind learners to 'finish things on time' while there is still time: Most assignments are due on Sunday nights and, if a learner has not finished that assignment by Thursday, we'll send them an email reminder and mobile notification while there is still time to finish.
How would you describe the design/UX culture in the office, and how is the UX team organized?
In terms of culture, our team is highly collaborative, constructively supportive and strongly committed. We're encouraged to work together, but are also empowered to work independently…and when we do come together, we do so with the intention of helping one another, in order to deliver the best possible designs to the people who use our product.
Prototypes allow users to tap, click and respond to the experience that you've designed, and as a result, gives them the opportunity to give you considerably richer feedback since they don't have to imagine how the design will work – they can actually try it and react in real-time.
Our team consists of a Design Director, four Managers and a group of amazing Designers and User Researchers, who come from a wide variety of disciplines and experience sets. And, even though the members of our analytics and engineering team are not formally part of our design organization, we collaborate with them frequently – from brainstorms to design to implementation and delivery of features to our users.
What role does prototyping play in the Coursera design and development process? As Senior Designer, what do you look for in a prototyping tool?
Prototyping is the thing that brings ideas to life! And I literally can't even remember a time in my career when I wasn't using prototyping to do this.
It's one thing to design a flat set of screens that depict a certain use case, and ask someone to stand back and look at them. You can get a certain kind of feedback, when you use that approach. The kind of feedback that you get when you bring those screens to life using a prototype is always better.
Prototypes allow users to tap, click and respond to the experience that you've designed, and as a result, gives them the opportunity to give you considerably richer feedback since they don't have to imagine how the design will work – they can actually try it and react in real-time.
Ultimately, this helps you (the designer) and others see where the design has succeeded and where it has not…and get constructive feedback, which you can use to improve your next design iteration.
Where does usability testing fit into the product design process, and what are your top tips for getting usability testing right?
We fit usability testing into the process at every possible turn. Our User Researchers are embedded on our design teams, not a separate part of the company. They are very flexible and rely on the design team to let them know when we need their support. We do up-front generative research to guide product definition, not just wait until usability for "validation", so it's a great combination.
When a designer has a version of a design that they want feedback on, they meet with our User Researcher Team to determine what we want to learn from the study and what we need to prototype in order to evaluate those things.
The designer builds the prototype and then steps back to let the research team do what they do best – watch users use what we designed in order to see what succeeds, and what doesn't. Here, they also gather the user's input, to determine how we might improve the design and experience.
How do you and your team use learner data to influence design decisions? Can you give us an example of how data has led to a UI change?
We tend to rely on analytics for slightly different reasons, and there are two ways that we use them. First, to understand learner success on Coursera, and more importantly, to look for patterns that help us identify where learners are NOT being successful and why. There are two product initiatives that began once we had a better understanding of these patterns:
The Guided Learning Experience: This helps learners 'know what to do next' and 'how they're doing in the course.'
'The Week Ahead' email:  This enables instructors to send emails to learners to help them prepare for the week ahead, so they know what to expect and how to succeed.
What are your predictions for how digital products will change education in the next 5 years?
I think things are going to change a lot, and we're already beginning to see it.
Digital services like Coursera enable anyone, anywhere to receive a quality education from highly-regarded institutions – at a fraction of the cost, without requiring relocation which enables them to learn in a way that fits in with their busy lifestyle.
We're honored to be a part of this movement, because of what it means to the people who would have (previously) never been able to receive an education like this. And we're constantly inspired when we hear stories from people who have changed their lives or started new careers, all because of the the things they've learned and the connections they've made while taking classes on Coursera.
The online education revolution is in full swing and we look forward to the great things it will enable learners no matter where they are in the world.
FOUND THIS USEFUL? SHARE WITH
Cassandra Naji
Cassandra is Marketing Lead at Justinmind
Related Content
Why should you use user personas and how do you create them? Get all the steps to build one, as well as a great example and a list of user persona generators!

UX design books that cover everything from layout design to the theory of user testing. Want to expand your horizons? Check out this awesome list!

UX design portfolios are your chance to showcase your top skills and best work. Check out this post for awesome portfolio examples and websites!