CX, UX & awesome enterprise software: Zendesk VP of Global Design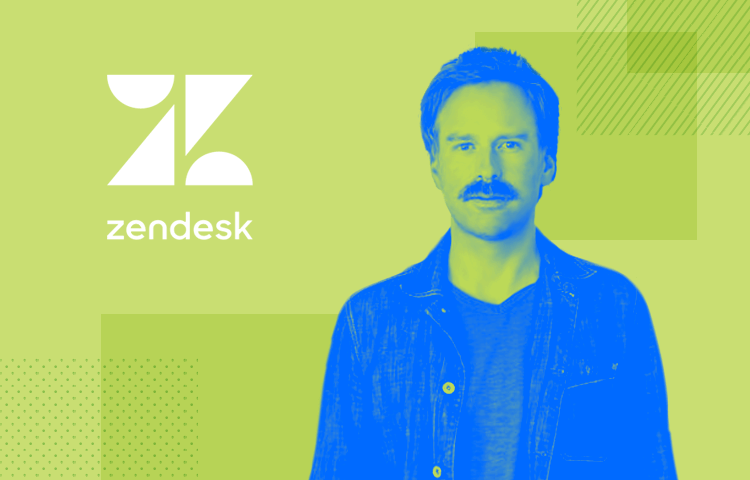 Zendesk's VP of Global Design explains his take on interactive prototyping, designing for AI, and leading the 'new' enterprise application generation
Back in 2007, three guys in a Copenhagen loft sat around a desk made out of a kitchen door, plotting to revolutionize customer service software. Ten years later, with 1,500 employees, clients worldwide and a San Francisco HQ in the Tenderloin, Zendesk is well on its way to achieving its mission of creating usable enterprise software that promotes productive, meaningful customer relationships.
With an already established 'family' of products, the customer service cloud application is looking to expand into AI and Big Data to deliver a 360 degree view of the customer experience, bringing customer service into the 21st century.
As the VP of Global Design, Ryan Donahue is the man in charge of adhering to Zendesk's design vision – "keeping it beautifully simple" – while keeping up with enterprise application innovation.
His past experience certainly stands him in good stead to mix business with design: Ryan was both a founding member of PayPal's design team and Entrepreneur-in-Residence at SV Angel, a venture capital outfit. He also founded BookFresh bookings platform and FreshGuide, which were acquired by Square and PopSugar respectively.
Justinmind sat down with Ryan to find out what happens behind the scenes at Zendesk,
Zendesk is an enterprise application but is frequently used by start-ups – what makes you guys different from more traditional enterprise apps, and why do start-ups favor Zendesk?
From the beginning, Zendesk has focused on design. Our mission: to build software for better customer relationships for any organization, large or small. When we first started, customer service software was clunky, inconvenient, and difficult to update.
From inception, we set out to reimagine the world of customer service, focusing on functionality and creating the best experiences possible for our customers.
Our founders are from Denmark, where beautifully simple design is everywhere. So the value of incorporating strong design elements into our product suite was never a question. After all, technology buyers and business users are ultimately consumers at heart. They respond well to good design.
Because the core of our product was built with design in mind, I think we have always been a part of the "new" enterprise generation. And as our family of products evolves and develops, so does our design.
Our recent rebranding introduced Danish design elements that tell meaningful stories about both our products and overarching brand in a unique and versatile way. Unlike more traditional enterprise UIs, we don't shy away from change, as long the change makes our products more valuable and unified. To not evolve your design is to deny your customers the experience they deserve.
Last year you guys rolled out the Satisfaction Prediction, and this year Automatic Answers. What challenges does AI throw up for design teams and how do you overcome those challenges?
AI requires designers to think less about responsive design and more about anticipatory design. On the consumer side, we had to consider the social cues that humans give when they are in a state of distress, confusion, or frustration. For our customers, we had to work together to discover the simplest ways to communicate these end-user needs.
Technology buyers and business users are ultimately consumers at heart. They respond well to good design
How has UX/CX grown internally in Zendesk over the last few years, and why?
Our growth and demand for product designers who are keen to manage much of their own user research responsibilities has been tremendous over the past several years. I see a movement towards more and more designers owning and managing their own user research activities during the course of a project with less reliance on full-time research professionals to do things for them.
In general, I think this trend is a positive one because it leads designers to be closer to the customer. The risk here is that designers can suffer from confirmation bias and fail to validate their ideas in a non-biased way.
---
Contact us now to learn more about what Justinmind Enterprise could do for your team
---
What role does prototyping play in the Zendesk design and development process? As VP of Global Design, what do you look for in a prototyping tool?
Prototyping is at the heart of everything we do at Zendesk. There has been an explosion of prototyping tools over the past few years. What I look for is something with a low barrier to entry that can be easily shared with non-designers.
Can you think of a time a prototype helped you solve a tricky problem or design something really cool?
We learn from prototyping everyday. Sorry to report I don't have any particularly awesome anecdotes to share.
We read you like to challenge your designers to think more 'entrepreneurially' – what does that involve and why is it important for designers?
It's no secret that people do their best work when they have ownership of it. The same holds true for designers. I encourage members of my team to think of every idea they bring forth as a business plan, so they consider the implications of their thinking beyond the design itself.
They need to be able to explain how the design is relevant to the client, the end-user, the third-party observer and the untapped target audience. Requiring this kind of thinking encourages them to bring a design to the table that they not only believe in, but are ready to defend.
Strong UX means better CX, which translates to dollars and success
It also encourages them to take risks to reap a bigger reward, as successful entrepreneurial leaders do. Brilliant design has multiple layers for multiple purposes – that can only come from minds that consider all perspectives and explore beyond what they know.
You're a mentor at the Copenhagen Institute of Interaction Design. What top tips do you give your budding product designer or product managers?
Zendesk has an office in Copenhagen which gives me the opportunity to spend some time getting to know the design community in that wonderful city, and CIID is a great school there. They have a program called NEST which strives to help designers who aspire to launch businesses of their own.
I advise them on a case-by-case basis but usually people are keen to figure out how to balance the demands of running a business with the time they want to invest in their first love, design.
What will enterprise software look like in 10 years' time?
I expect that we're going to see more agile development trends in enterprise software, particularly the focus on the MVP (minimum viable product). Demands require fast engineering, so teams need to focus less on creating the perfect product at once and instead push out a good part of that product in iterations.
Also, data and analytics will no doubt be table-stakes for all enterprise software. It is the backbone of business intelligence and will become even more important as we shift into this age of the consumer.
From a design look-and-feel standpoint, I expect that enterprise software is going to feel more and more like consumer software – as companies begin to realize that B2B buyers are only human. Strong UX means better CX, which translates to dollars and success.
FOUND THIS USEFUL? SHARE WITH
Cassandra Naji
Cassandra is Marketing Lead at Justinmind
Related Content
Why should you use user personas and how do you create them? Get all the steps to build one, as well as a great example and a list of user persona generators!

UX design books that cover everything from layout design to the theory of user testing. Want to expand your horizons? Check out this awesome list!

UX design portfolios are your chance to showcase your top skills and best work. Check out this post for awesome portfolio examples and websites!