Button shape is different on simulation
Hi Support.
I have an issue on simulating the button.
I made this button on design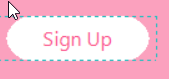 But what I got on simulation is like this

The round corner is different. Can you help please?
I am using Windows 10, Justinmind Version (Ver. 8.7.0)
Thanks!