Designing for iPhone X with Justinmind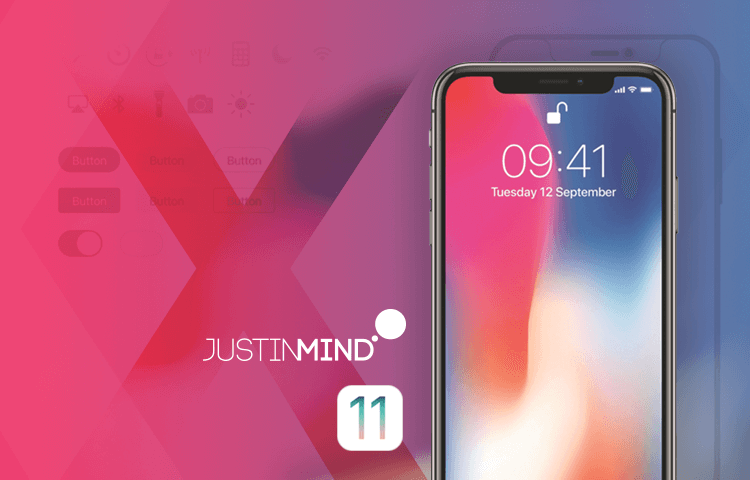 Designing for iPhone X with Justinmind – the most powerful prototyping tool for Apple's cutting-edge mobile device
A new version of Justinmind has arrived! Our latest release brings you a brand-new iPhone X mobile prototyping experience.
What's new in Justinmind 8.3 from Justinmind on Vimeo.
With our iPhone X mobile template, you can create clickable mobile app wireframes and mockups for iPhone X in a matter of minutes. Our iOS 11 Widget library has everything you need to design full-screen experiences for Apple's all-screen mobile device.
---
Update now for all the latest design features!
---
But that's not all! With our fonts update, you'll also find faster ways to create and collaborate with your team. Additionally, there are new search and replace capabilities, customizable privacy settings for shared prototypes and better transition effects when you download the latest version of Justinmind. Read on for an overview of all our headline features, plus some powerful improvements.
Don't forget to sign up for our New Release webinar, taking place March 20th!
Prototyping and designing for iPhone X
With our new release, Justinmind users can create clickable mobile prototypes for the latest smartphone technology, the iPhone X.
Thanks to our brand-new mobile template, you can start designing for iPhone X as soon as you open Justinmind. In the Justinmind editor, you'll find our brand-new device template.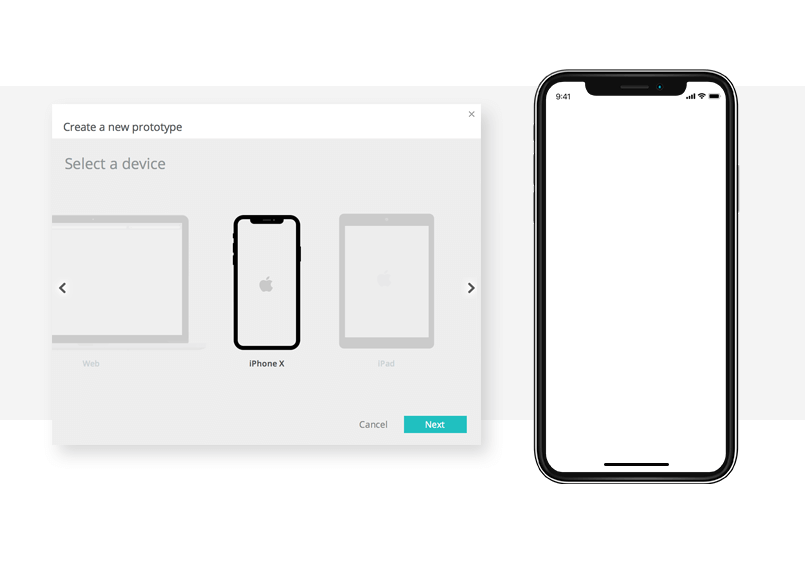 Justinmind's iPhone X editing canvas features a device shell, mimicking the rounded borders of the new Apple device, for a truly immersive prototyping experience.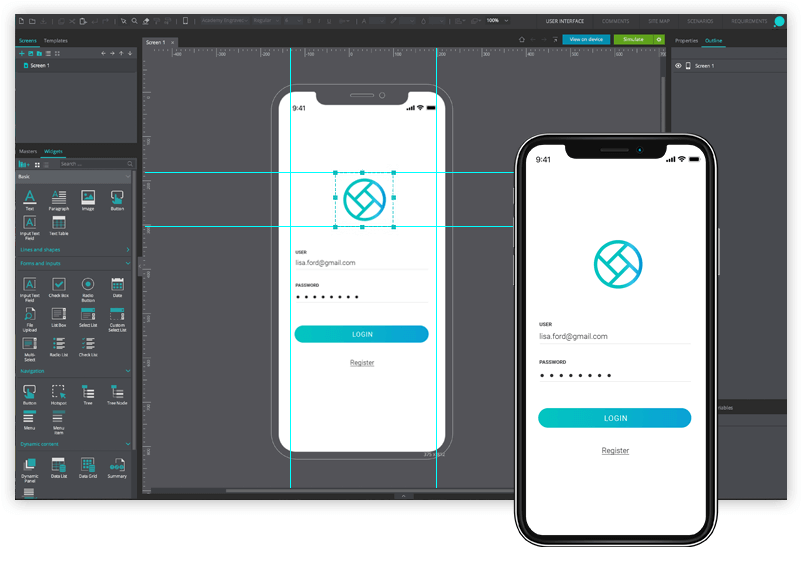 However, if you prefer to work with a blank canvas, you can easily remove the rounded borders from the canvas view.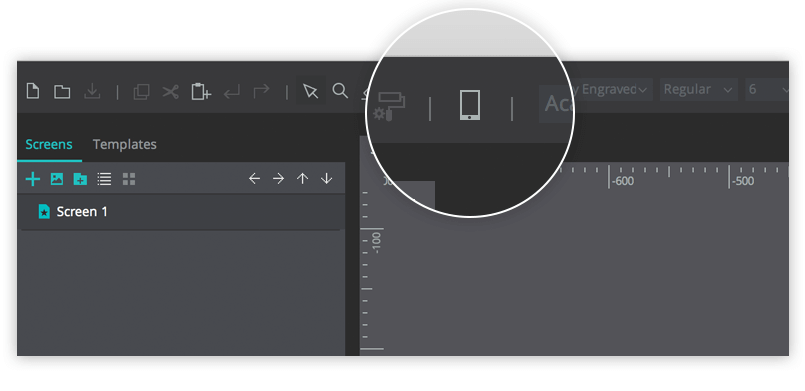 The iPhone X prototype template comes pre-loaded with our new iOS Widget library. With 100% iOS compliance, the new library packs all the iOS 11 icons and core components, UI layouts and screen templates – complete with the iPhone X super-retina display backgrounds. It's everything you need to get down to designing stunning iPhone apps.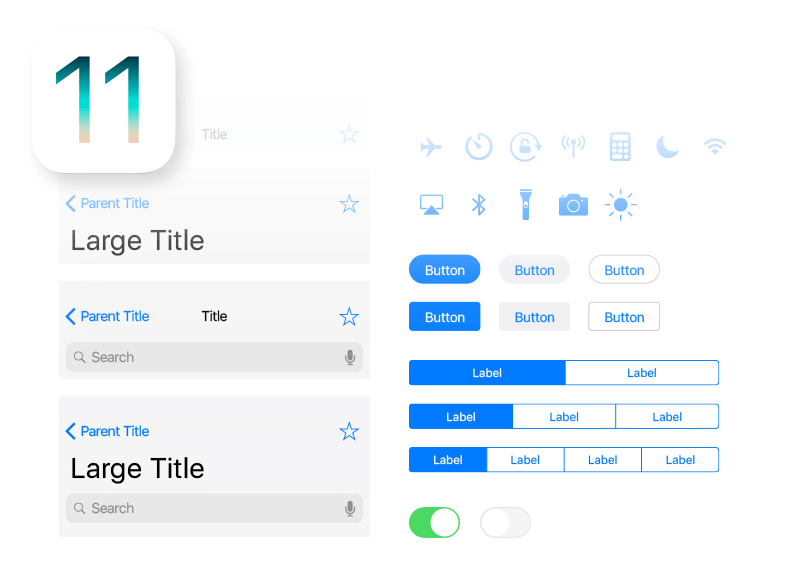 Apple lovers will know that when it comes to the iPhone X, the device is the display. Apple's made use of all available real estate this time around, stretching the display right out to very edge of the phone and eliminating the Home button.
To help you design apps for Apple's all-display, edge-to-edge device, our updated iOS Widget library includes a set of readymade UI elements and screens that fit the entire iPhone X screen.
---
Create realistic iPhone X mobile app prototypes with Justinmind now!
---
Embed fonts in your shared prototypes
With Justinmind's new release, you can now pair your design with the right fonts every time.
Pre-release, Justinmind users could only use the most common of system fonts. There wasn't much point getting creative with typefaces when the people you were sharing your prototype with were missing fonts. In fact, prototyping with non-standard fonts often ended with screens with missing text and extensive amounts of rework for the design team.
But all that's in the past. Now you can use any fonts you like in your prototype and make sure everyone involved in the project has access to them.
So how does it work? It's simple really. When sharing your prototype with other Justinmind users, or exporting your prototype to HTML, you can embed font code snippets within your Justinmind prototype and store them in your online account.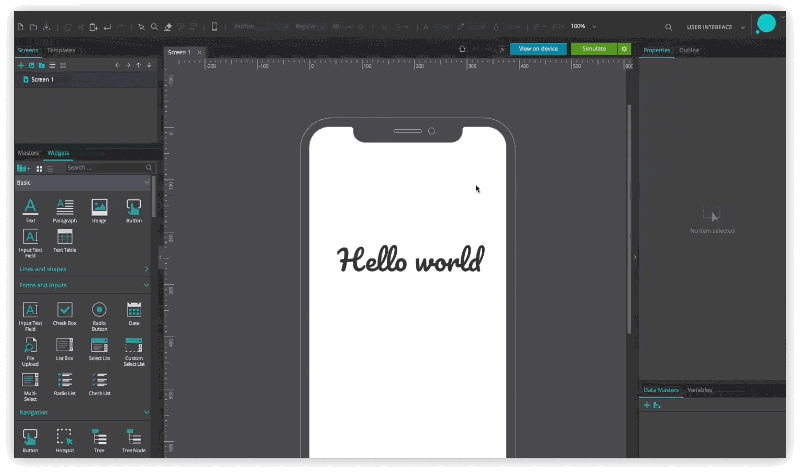 This means that any Justinmind user you share your prototypes with will see your prototype just as you do, fonts and all.
And if you choose not to embed the fonts, users viewing your shared prototypes will be notified about missing fonts: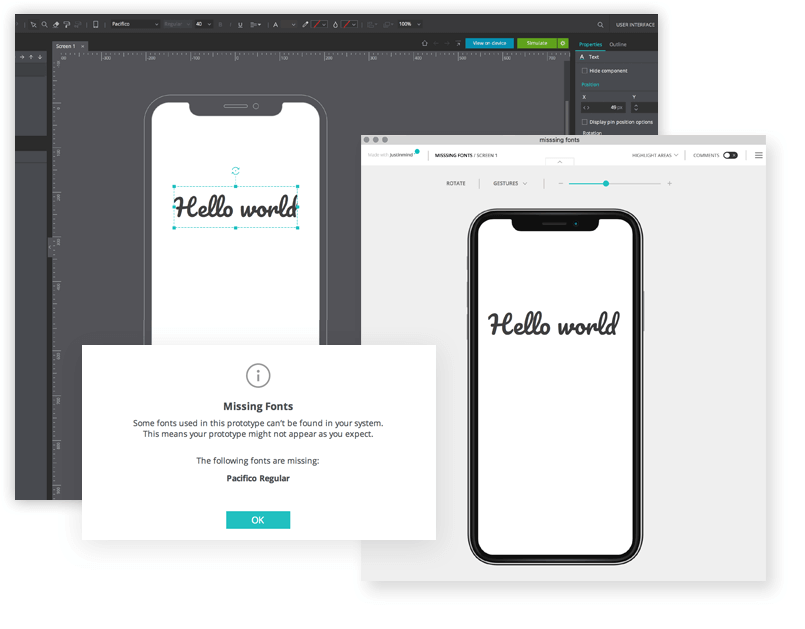 Find and replace for text editing
And for the more practical side of prototyping, there's our new find and replace feature. You can now search for text throughout your entire prototype and then replace each instance with another text entry. No more manual corrections!
This works with any screen UI element that contains editable text. It even works in Masters, so you can match changes globally throughout your prototype and replace all instances at once.
To find a specific entry, go to the "Edit" main-menu option and select the "Find" option.
To replace an entry, select the "Replace" option. You can choose to change this specific instance, or replace all entries in the current screen, or throughout the entire prototype.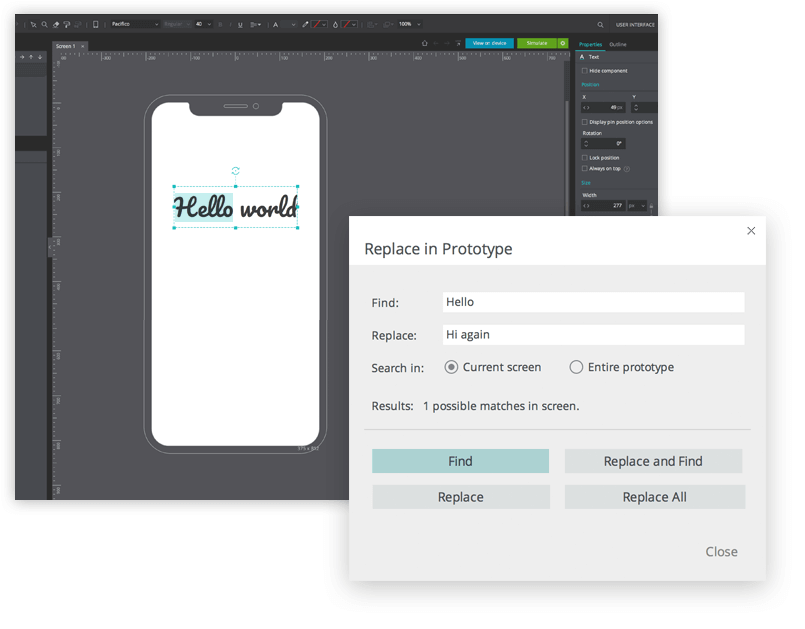 Pick which sections of your prototype you share with other users
Customize which prototype screens and scenarios you share with other Justinmind users with this update. To select specific screens and scenarios to share, go to the "Share" option in the main menu and select the "Settings" option.
In the dialog that appears, click the Screens/Scenarios "Filter" radio button and then click on the "Edit Filter" link. Here you can select which screens and scenarios to grant other users access to.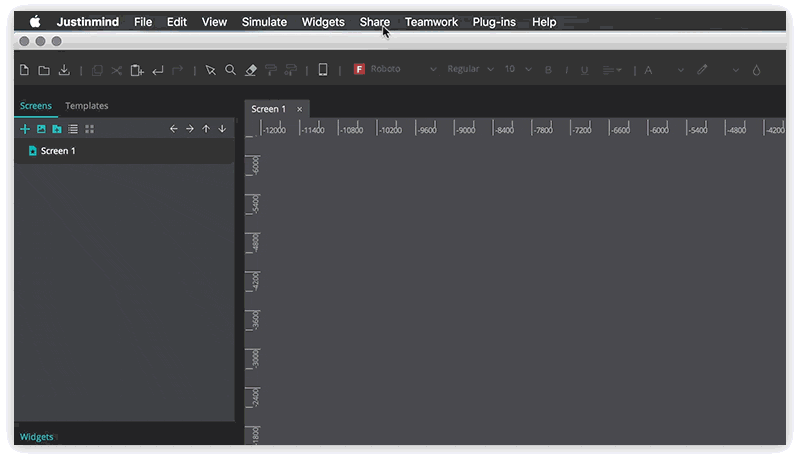 Note that this feature only works when sharing a prototype with other Justinmind users. When you send a link to reviewers, they will still be able to see your entire prototype, including all its screens and scenarios.
Take control of your transition effects
You can now control the speed with which your transition effects play out for events associated with screens and Dynamic Panels.
When you add an event (e.g. Link to/Show/Hide/Set Active Panel etc.) to a screen or Dynamic Panel, the event dialog will include a 'Duration' option that allows you to control a transition effect's speed.
Improvements to your prototyping tool
While we've been hard at work bringing you an exciting set of new features, this update also includes some important improvements to your Justinmind editor:
When you create an event, right click on an action in the Events palette and select "Select targeted components" to keep track of which UI elements have been included in this action
You can now change the order of Event interactions and actions, bringing the first interaction or action to the end of the sequence, or vice versa with the last
When a UI element within a group is selected, any other elements on the canvas will appear grayed out so you know which elements the group is made up of
You can now modify the name of a UI element within the Outline palette
Zoom is now smoother and includes more levels
Background image properties now includes a "contain" option, which allows you to fit the image within the UI element, in a fixed position
As always, we take your feedback seriously. If you have any queries or suggestions, you can get in touch with us via our Support page, Twitter or Facebook page.
So that's a wrap folks! Update Justinmind now for new features, improved performance and better ways to design! Remember, this is a free update for everyone with an active Justinmind subscription of license.
---
A few updates and bug fixes as of March 13th 2018:
Justinmind for Mac only: the simulation window now appears every time it is launched. Prior to this release, when the user clicked "Simulate", the window didn't always appear.
Fixed: variables associated with incompatible UI elements
Fixed: crash upon deleting a Data Master when certain event actions were copied to the clipboard
Fixed: bug when importing custom fonts when file extension appeared in caps
Fixed: incorrect order of widget libraries in the Widget library palette
Fixed: "Set Value" event action bug with a Data List or Data Grid as the event target
FOUND THIS USEFUL? SHARE WITH
Emily Grace Adiseshiah
Emily is Marketing Content Editor at Justinmind
Related Content
New library features, design system generation, and new export features are only part of the new and improved Justinmind 9.5. Discover the update!

Justinmind 9.4 is all about the marriage of interactive prototyping with UI design - check out an update that will change the way you create things.

Get Justinmind 9.3 - a more powerful prototyping experience, the power to convert data lists and grids to reusable widgets, easy image exports and more