Take designer-developer collaboration to the next level: Justinmind new release

New developer UI, an upgraded Sketch integration experience & more
Summer is well and truly here. The beach is calling, but the Justinmind team has been working hard on a new version of your prototyping tool: Justinmind 8.0! This new version is full of exciting new features that will strengthen designer-developer collaboration and give you greater control over your design process.
What's new in Justinmind 8.0 from Justinmind on Vimeo.
So read on for news on our brand new developer-friendly interface, Sketch power-boost and tons more.
A design inspector built for developers: Justinmind's developer-friendly UI
Getting teams on the same page is often easier said than done. Designers work with design and prototyping tools, developers have their software development tools, and hand-off gets messy. That's why we've built a brand new developer-friendly interface.
Now developers can inspect and implement designs, grab images and CSS styles right from the prototype, and stay up to date with design changes. Hand-off just got a whole lot smoother.
With a light, read-only version of Justinmind developers can:
Focus on the essential UI elements of the prototype and bypass the design noise
See the exact measurements of and between UI elements in pixels
Copy CSS styles including width, height, font family and size, element alignment, line height, and color and padding
Capture colors
Download image files and input them directly into the UI they're building, including vector files
Export to HTML and generate documents
Code their own plug-in with our software development kit
Simulate and comment on prototypes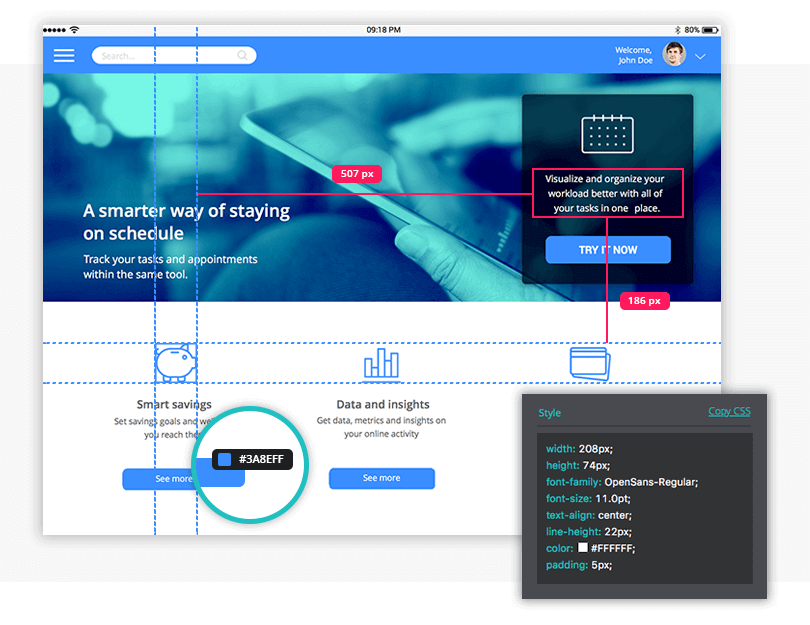 There's no need to worry about design elements being lost or changed: we've created a whole new developer role inside Justinmind. That means developers have their own version of the desktop app in read-only version, so you can guarantee the integrity of your work.
If the design team reworks anything whilst the developers are looking at the prototype, our Teamwork feature allows for real-time updates.
Check out our tutorial to find out how to set up the developer role for a user.
---
Boost designer-developer communication. Download Justinmind's latest version free.
---
Improved Sketch integration: Take full control of your design process
Before, you had to export all of your artboards to Justinmind. Our new release means you can now select the individual Sketch artboards you want to work on and export only those boards to Justinmind. You can still add animations, effects, any high fidelity interaction you want, all with intuitive drag-n-drop actions.
Get greater control over your design-prototyping process, plus cut the fat from asset organization and presentation. It's faster, slicker and more convenient.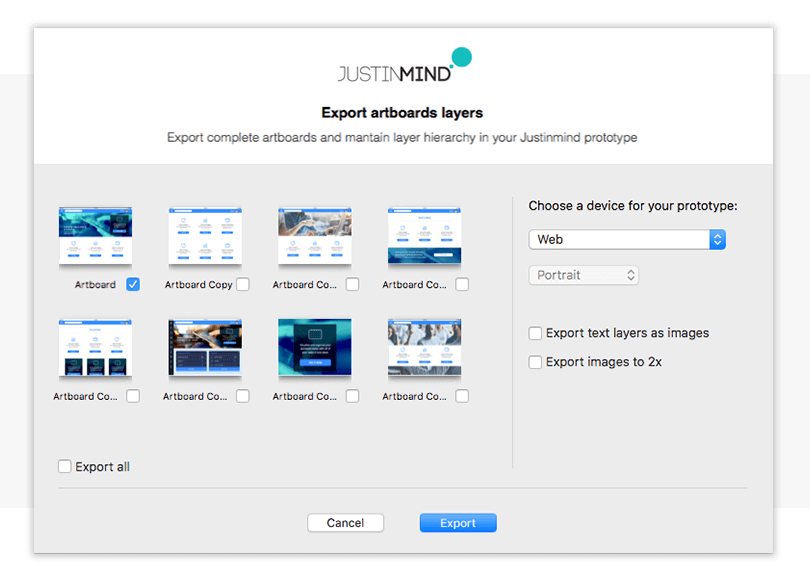 Find out more about our Sketch integration.
More new features Justinmind prototyping tool
Our smart guides are temporary 'snap to' guides that now appear when the user hovers over a UI element, changes the size of an element or drags it to a new location. The smart guides will make it easier to position and line up elements on the canvas. Activate them in the View menu.
A new set of arrows allows the user to easily expand and collapse the floating palettes. Collapsed palettes give a truer view of the prototype, and give the user more room to work.
Container widgets can now be arranged to include padding inside the widgets' borders. Dynamic panels, table cells and data grid/list cells now include the option to define padding when a layout other than 'free' is selected.
Elements can now be grouped within a master so it's easy to apply global changes to more than one element at the same time. Just right click the element and choose the Group in master option to do so.
Users can now remove the device's frame from view in the Scenarios tab and the Simulation window. This will allow them to visualize only the design.
There is now a placeholder widget in the Properties panel so users can now added labels without using events.
For Enterprise clients with onsite server installation, our desktop app and the iOS and Android apps now allow self-signed certificates.
Bug fixes & improvements
Our new light-themed UI has been updated. Configure the new UI in the Preferences tab.
Users can customize the look of their online account and shared prototypes. Change the background and font colors to match branding!
The structure of the Properties tab has been improved so that it's cleaner, more intuitive and easier to navigate.
The auto-reveal feature has been disabled. Now when users mark an element as hidden or locked using the Outline palette, the canvas scroll bars will no longer move.
You've now got access to the latest versions of Google fonts.
You can access to the open shared prototype option from the Welcome window.
There's a new speedy sign-out option in the Help menu of the desktop app.
Bug fix: the color of an image no longer changes when a data grid is filtered using 'Set value'.
Bug fix: we've fixed the error when updating teamwork projects with events containing expressions using table cells.
Bug fix: when copy-pasting a condition in an existing Event, the Event visuals now maintain their correct order.
Bug fix: Now when you select and drag items they maintain their correct order in the outline panel.
---
Additional updates as of July 24th
We have fixed two additional bugs, both related to Google Fonts:
Text in prototypes was illegible in the canvas but displaying correctly in simulation mode. Now text is luegible both in the simulation and the prototype itself.
Google Font text inside Data Lists was not displaying correctly in simulation mode
---
Additional updates as of August 23rd
This time round we've made some improvements to the Developer UI:
See font size in pixels not points when in the CSS view
Export graphical assets without the default image viewer opening
Export graphical assets up to twice as large without compromising asset quality
View screens in tree mode by default, instead of screenshots
And they're not the only updates we've made…
It's now free to add developers to your Justinmind projects. Add as many as you want!
Import multiple developers from a CSV to save time
Access Align Menu options with a simple right-click
Published prototype versions now show the date of the last change made
Vertical lines of only 1 pixel width are now easier to select in the canvas
Latest bug fixes
Fixed a bug in the iOS app that prevented some On Click events working
Set Original Size option now also works for SVG files
Clicking on the scroll bars Track now moves the scroll as expected
Expressions dialog now maintains the last zoom level selected
Download our update now to see how powerful your prototyping can be.

FOUND THIS USEFUL? SHARE WITH
Emily Grace Adiseshiah
Emily is Marketing Content Editor at Justinmind
Related Content
New library features, design system generation, and new export features are only part of the new and improved Justinmind 9.5. Discover the update!

Justinmind 9.4 is all about the marriage of interactive prototyping with UI design - check out an update that will change the way you create things.

Get Justinmind 9.3 - a more powerful prototyping experience, the power to convert data lists and grids to reusable widgets, easy image exports and more