Justinmind New Release: Atlassian JIRA Integration & light UI

It's that time again! Read up on all of our new release features and get updated right away!
---
Update Justinmind now and check out the new features
---
New integration with JIRA
We've added support for importing requirements from the API: New plug-in integrates JIRA with Justinmind.
Justinmind's new release sees advances in the integration with software development tool, Atlassian JIRA. With the update, Justinmind Enterprise users can now easily import and export tasks between JIRA and Justinmind, and have their changes synced as they work. Consolidate tasks between software and teams with this new feature.
Users can now import JIRA tasks and requirements, with 2 fields: name (summary in JIRA) and description (description in JIRA). There is also an option to simulate requirements and then view them in JIRA. More on this in this tutorial.
Improving accessibility with a customizable user interface
Last year we published a survey asking our users what kind of user interface they preferred to design with: black, white or other (color). The results showed that some of you prefer black, others white and a small percentage weren't too bothered.
Well we took this feedback on board and have added a brand new interface look to the tool. Users can now switch between the classic dark theme and the new light theme for Justinmind's interface. We've added this feature for users who are looking for an interface with more contrast. We've heard that some of you prefer this theme: with a cleaner look that allows you to differentiate types of text and other UI elements better. To change your UI theme, simply to to File > Preferences and change the UI mode from Dark to Light.
But have no fear! Our classic dark theme is still very much available 🙂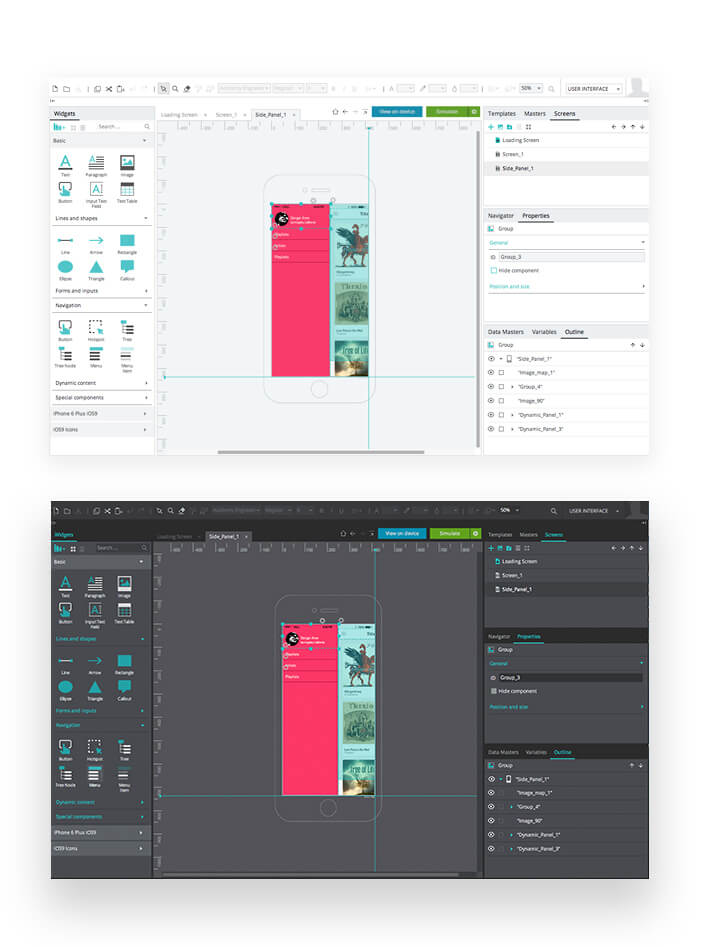 Apart from this, we've fixed some bugs for you guys too!
Bug fixes
We've fixed the behavior of comments inside Masters.
The URLs inside Justinmind have been changed to HTTPS.
We've fixed a bug where floating shells couldn't be resized or moved.
Widget IDs can now end in "_0".
We've fixed the behavior problems with Show and Hide events inside dynamic panels and other container widgets.
The display of the Events tab in Mac has been improved.
Upon duplicating a screen, you can now copy the scroll lock options.
New columns and rows in the table widget are now correctly displayed in the Outline tab.
SVG vectors no longer display as a list of random characters.
We've fixed the problem with importing SVG vectors from Sketch.
Hierarchy of elements related to dynamic panel events has been fixed.
Shared prototypes won't become corrupted when opened in older versions.
We've dealt with the crashes. Phew!
So what are you waiting for? Get updated now! If you haven't already, download Justinmind and start creating beautiful, thoughtful and usable user interfaces today!

FOUND THIS USEFUL? SHARE WITH
Emily Grace Adiseshiah
Emily is Marketing Content Editor at Justinmind
Related Content
Justinmind 9.4 is all about the marriage of interactive prototyping with UI design - check out an update that will change the way you create things.

Get Justinmind 9.3 - a more powerful prototyping experience, the power to convert data lists and grids to reusable widgets, easy image exports and more

We are proud to introduce the new Justinmind 9.2. Enjoy new features, many improvements and a better performance for truly powerful prototypes.